Note: Durability Matters is reader-supported. When you buy through affiliate links on our website, we'll make a small commission, without impacting your price. Thank you. Learn more.
Looking for your next great backpack is no easy task. There are so many backpack brands out there that it can be hard to know where to start. Which ones guarantee quality, and which should you stay away from?
That's where we come in.
We have made it our mission to uncover the best durable products, and we have uncovered many quality backpack brands in the process. We have compiled our knowledge into 15 of the best brands so you don't have to search.
Related: 8 Best Heavy-Duty & Durable Backpacks For Every Situation
All you have to do now is browse the brands for the backpack that encompasses who you are.
Our Favorite Backpack Brands
1. King Kong
King Kong was founded in 2011, with the idea of producing a series of gym bags that were both functional and durable. Their reinvention of the traditional gym bag changed the way gym bags are seen and used, making them a tool to help the avid fitness lover with their preparation and organization before and after each gym session, rather than just a receptacle for dirty clothes.
Related: The King Kong PLUS26 Backpack Review
King Kong say that their designs are about changing the status quo, and that they value intelligence, performance, and community over all else. Having the support of a durable, high-quality bag while you challenge the existing state of affairs can only work in your favor.
Their bags are known for their functionality, and smart storage, as well as the company's promise that every bag will be free of defects in material and workmanship within its practical lifetime. Defected products will be repaired or replaced, free of charge and shipping expense.
2. Monarc
Monarc was started by two friends in 2013. They were both developing products for other companies and got to travel the world and visit factories where working conditions were less than desirable. And it was not only the working conditions but also the impact on the environment: the smog and waste that was produced on a daily basis.
They knew that they could do better, and that was how Monarc was born. They wanted to make better products and do better for workers and the environment.
Related: The Monarc Settra Duffel & Backpack Review
A big part of that is the problem that plastic places on the environment. They have kept thousands of plastic bottles out of the oceans and landfills by cleaning and sorting plastic bottles, shredding them, stretching them into thread and fabric, and creating great bags.
When you buy from Monarc, you are not only getting a durable and stylish bag; you are helping the environment, too.
3. Harber London
Harber London only uses premium materials. They use full-grain leather in all of their products, and that creates durable backpacks that will stand the test of time, with a material that ages elegantly, becoming more graceful over time.
Harber London is a family-run business with a passion for genuine leather goods. If you are looking specifically for a leather backpack, then check them out. They are obsessive about simple and elegant designs that bring tons of functionality. Each piece is crafted in Spain by skilled artisans, and they don't stop until they get it right.
Related: Harber London's Slim Laptop Backpack Review
They want to create products that are unique, and you will find amazing backpacks that are durable and functional.
4. Loctote
Loctote is all about durability and security. Not only do they create amazing backpacks that are functional and high-quality, but they allow you to secure your belongings behind slash-proof materials and locks. If you need to go anywhere where you need to leave your bag unattended, such as the beach, then a Loctote bag will give you peace of mind.
The story began with a vacation gone wrong and lost possessions. Loctote was created to ensure that the same did not happen to anyone else. These lockable backpacks push the boundaries of durable bags, protecting your stuff when you can't keep an eye on it.
Related:
For the most secure backpack on the market, take a look at Loctote.
5. Brevitē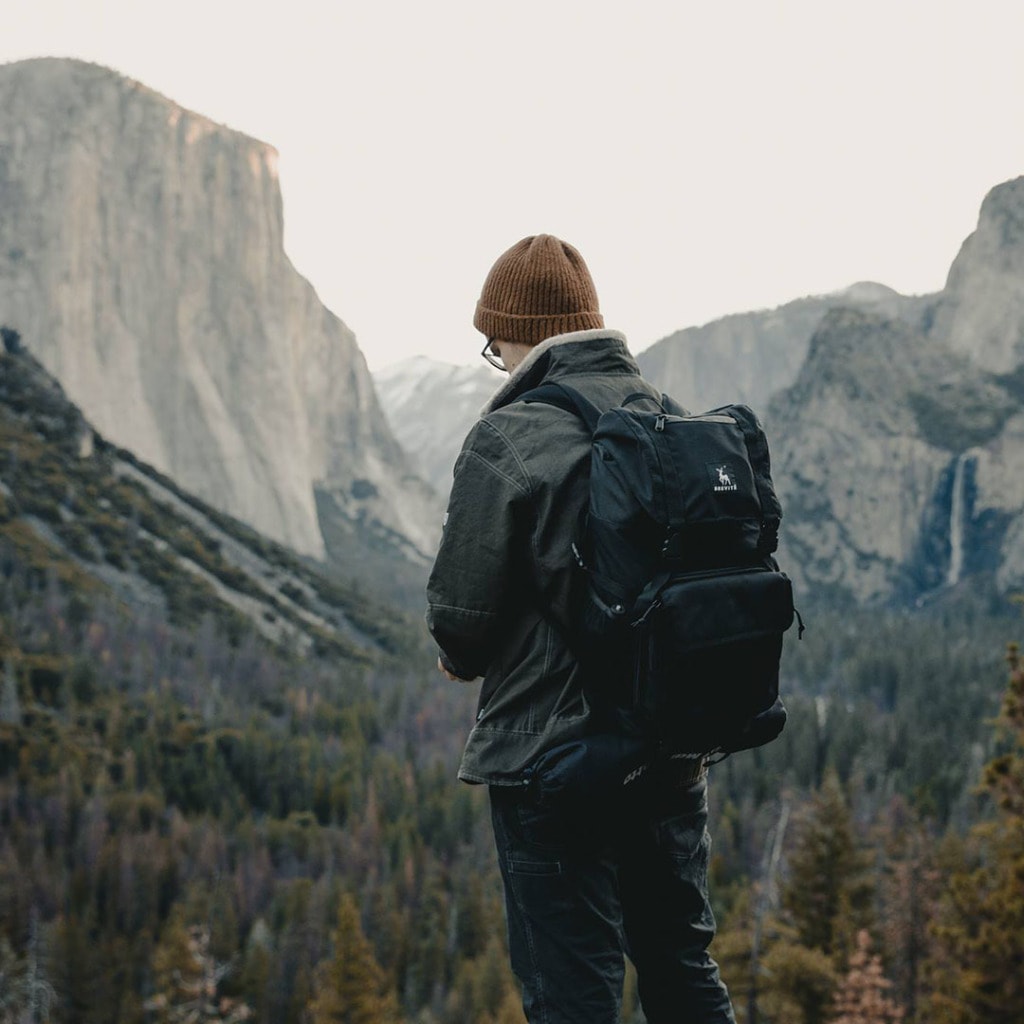 Brevitē has a simple mission, and that is to be about much more than just their backpacks. When you take a look at just how good their backpacks are, that becomes a lot to live up to, but they are rising to the challenge to become one of the best backpack brands on the market.
Brevitē started with just a sewing machine, and it evolved into the great brand that it is today. They want to help people and the planet.
Related: Brevitē Jumper Backpack Review
To help people, they have donated to the homeless in New York, to Direct Relief to help the fight against Covid, and donated directly to young people. They have a commitment to incorporating recycled materials into every product by the end of 2021 and want to build products that will last a lifetime.
6. Time Resistance
Time Resistance is all about bringing "old-school cool" into the modern day. High-quality and stylish bags are nothing new, and not everything needs to be reinvented. Time Resistance has managed to successfully dip into the past to be inspired and create vintage bags that are made with modern materials and processes. The result is a backpack unlike any you will have seen before.
They are one of the fastest-growing companies in Lithuania, and have been nominated for excellence three years in a row. They work with local designers and have the flexibility to try new ways of working and designing to stay cutting edge when many other companies are locked into their established processes.
Related: Time Resistance 'On The Road' Leather Messenger Bag Review
But, don't worry. Time Resistance still guarantees quality and style.
Get 10% off your purchase on timeresistance.com by using "DM10" discount code.
7. Camelbak
Camelbak is also a company that you may have heard of, and they have years of experience with outerwear. You probably associate them with hydration system backpacks, but they create all kinds of high-quality bags, too.
Many brands are becoming more interested in sustainability, as they should, and Camelbak is no different. They have a commitment, like The North Face, to be 100% sustainable by 2025. This starts with reducing climate impact, using recycled fabrics and materials, and better design.
Related: CamelBak MULE Backpack Review: 15 Years Later
They are constantly trying to reinvent hydration and carry solutions, and they have an ethos that the best is not good enough. They care about how their products are used and how they impact the environment, and they are constantly evaluating their processes to ensure that they meet their sustainability goals.
8. Columns Studio
Columns set out to create bags that were perfect for everyday city living, and boy have they done so. Each piece is extremely functional but also has enough style and elegance to fit into your city life. You can wear these bags to work or dress them up with your favorite outfit for a client meeting or employee drinks.
They use materials that are ethically sourced and will stand the test of time so that they do not end up in the landfill. The Cordura 1000D they use is a premium material that will last. Their team of graphic designers and artists use this material to reinvent how backpacks should look. If you are looking for a statement piece, then a Columns backpack will give you just that.
Related: Columns Louie Backpack Review
A wonderful combination of durability and style.
9. Bellroy
Bellroy is an Australian-based company that was founded in 2010. They want to do good in the world, and they are trying to achieve that by making products that last and have a positive impact on the planet. A major part of this is in the materials they use.
Bellroy uses materials that are environmentally sustainable, such as plant-based materials and ethically sourced leather. They also have a focus on using recycled materials when they can. Their eco-tanned leather harnesses a unique tanning process that locks in the moisture, saving water and reducing the need for harsh chemicals. Their polyester comes from 100% recycled plastic bottles, saving them from entering waterways, and their recycled nylon is created from industry off-cuts.
Bellroy creates functional and eco-friendly backpacks while focusing on the environment and the happiness of its employees.
10. Incase
Incase was started in 1997, and their initial focus was on design. One look at some of their amazing backpacks, and it is easy to see that the idea has carried through to the present day. They are also deeply connected to those who work on Apple platforms, and you will find that many of their backpacks and bags are created to protect and transport Macs and other Apple products. Of course, their backpacks are excellent for other brands of electronics, too.
Right from the start, design has been obsessed over, and each product is created to fit your lifestyle seamlessly. They want to create products that will stand the test of time, both in durability and style.
Incase has strict design protocols when crafting each new backpack, and that means that you only get the very best from them.
11. Osprey
Osprey creates backpacks for the great outdoors, and that has given them a real focus on sustainability and the environment. Sustainably creating durable products has been one of their core values since they started manufacturing backpacks.
When they are designing and making backpacks, they look for high-quality solutions that can help create a bag without doing additional damage to the world as a whole. This brings about a holistic approach that deals with every aspect of the production: materials, employees, processes, and waste.
Only the highest-quality and lowest-impact materials are used, all dyes and chemicals are safe for the environment and users, and they ensure that their workers get a fair deal (their customers too).
Osprey is a company filled with innovation and integrity.
12. The North Face
The North Face is a well-known name in the world of outdoor wear, and that includes backpacks too. With years of experience and exceptional bags, it is not hard to see why.
The North face wants to create the best of the best, and that is why they use athletes to test their products. This leads to new innovations and inspiration, and that drives the use of advanced materials and design. The created backpacks are then tested both in the lab and in real-life conditions around the world.
Related: How to Clean Your North Face Backpack in a Few Simple Steps
Along with excellent innovation, there is also a commitment to sustainability. The main step in this process is to source used materials and create a circular process where materials are not sent to the landfill and are reused instead. They have a commitment to be a 100% responsibly sourced company by 2025.
13. Timbuk2
Timbuk2 wants to "Give A Damn" about the environment. They created this initiative because they know that we all live in this world and want to continue that. The more they think about the environment and encourage others to do the same, the better the planet can be for us all.
What does this mean for you?
Zero Timbuk2 bags have been sent to the landfill since 2014. The approach to this is twofold. First, they create high-quality and durable bags that last. Second, they have a lifetime warranty. They will try to repair any bag that is past its best, and any bag that cannot be repaired, cleaned, or donated will be sent back to their partner company to be upcycled or recycled.
14. Aer Bags
If you are looking for a backpack especially suited for travel, then Aer Bags has you covered. They have designed all of their bags with travel in mind, and that includes long-distance travel such as vacations and short trips such as going to the gym or the office.
They started as a crowdsourcing project in 2014 to create a combined gym and work bag, and all of their products evolved from there. The beauty of these products is that they are not only designed for short or long trips but are created to be multifunctional. You will find that you can use the same bag for your holidays as you can for traveling to school and back.
They aim for simplicity, durability, and utility, and they achieve that in every product.
15. Goruck
Goruck is all about toughness, not only in the bags but in the people empowered by using them or empowered by Goruck's social programs. The company was created by a couple who worked in the special forces and the CIA. They have traveled the world and worked in some of the harshest environments, and they expect their backpacks to be able to do the same.
Goruck creates everything that you need to survive outdoors, and their backpacks are a big part of that. They also host rucking events to build teams and enable individuals to lead an active and rugged life. By joining the Goruck clubs, you can also meet outdoor enthusiasts from around the world.
Goruck makes some of the toughest backpacks out there.
16. Patagonia
Patagonia is another well-known name on our list, and they are here for a reason. They have some core values that they live by, and this means great backpacks that are durable and high-quality.
They want to build the best product. Not only does this mean a functional product that will help you to get through life, but also a backpack that will last or can be repaired easily. They also want to cause no unnecessary harm. This means protecting the environment and also their workers.
They use their business to actively protect nature, funding special interest groups to protect the world that we live in. And they are not bound by convention. We all know what backpacks are and how they are to be used, but Patagonia thinks outside the box to revolutionize the industry.