Note: We received this product for free. No other compensation was provided, and as always, all opinions are our own. We may earn money from links on this page, but we only recommend products we back. Learn more.
You can never have too many bags. In life, no matter where we go, we have to take things with us— keys, food, laptop, wallet, clothes, rain gear, and more. Bags make that all possible, but some bags do a little more than that.
I was excited to try the Columns Louie Backpack. I use a backpack on almost any day I venture out of the house. Mainly, I'm carrying food and a laptop, and often additional items on top of that. I have a sporty backpack that I use, but not one with some elegance and style.
The Louie Backpack gives me exactly that.
Related: 16 Best Backpack Brands Known for Quality & Excellence
First Impressions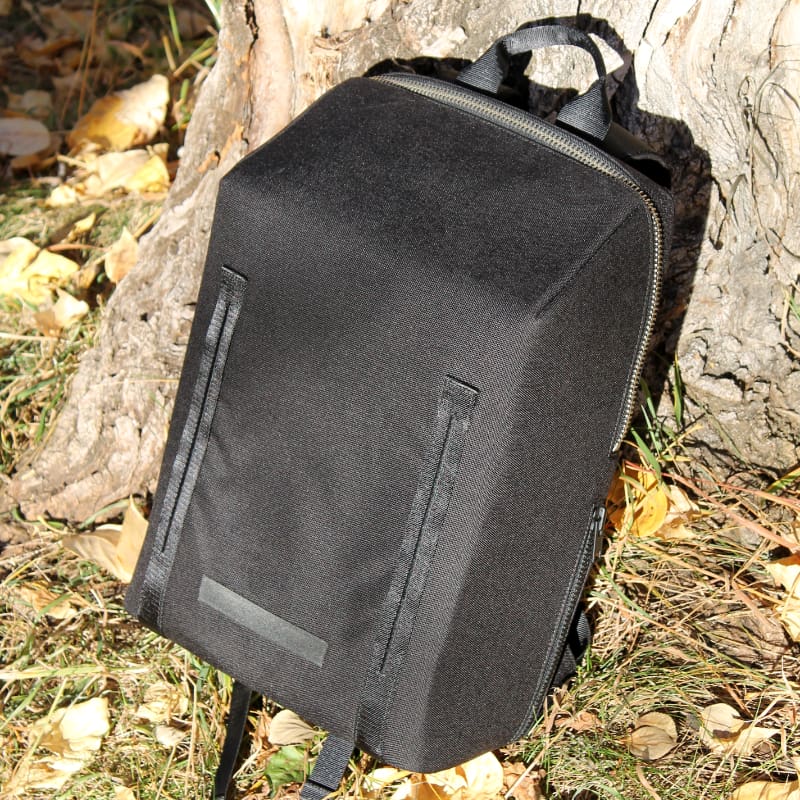 The backpack came secured in a delivery box and was shipped by Canada Post, which meant that it came quickly and without any damage. The bag was surrounded by plastic and stuffed with paper inside to retain the shape and protect against any damage. I popped it out of the packaging and immediately loved the look.
The bag is crafted from 1000D Cordura fabric, and that creates a soft shell that maintains its shape. The backpack is entirely black, save for the metal zipper.
The look is minimalist and stylish. My first thought was that it could be paired with any clothing style, and it could be casual or elegant.
The Cordura fabric feels strong, and there are some strips stitched into the bag to offer more strength, and also to display the brand logo, which was also in black—understated and simple.
The bag is stitched in such a way that it retains its shape, whether full or empty.
I would classify the size as medium to large, and it definitely has enough room to store all of my belongings if I am going out. The zipper is oversized, which offers more durability and also makes it easy to zip and unzip. The Cordura fabric is strong, but it is light too, and that is a benefit.
My first impression was positive.
Specs
Dimensions: 16.5" x 10.75" x 5.75"
Zipper: YKK Japan No. 10 heavy-duty metal zipper with nickel finish
Pockets: Interior 13" laptop pocket, interior tablet pocket, 2 interior slit pockets, exterior back slit, 2 zippered exterior utility pockets
Material: 1000D Cordura shell, nylon webbing handles, cotton lining
Features
This bag looks stylish, but there is more than meets the eye—there is a ton of functionality behind the simplicity.
Material
The shell is crafted from 1000D Cordura fabric, which is an extremely durable and water-repellent nylon canvas. The shell keeps its shape thanks to the fabric and stitching, and it is going to protect your belongings inside. It is not going to protect from drops and dents (the padded pockets will offer some protection), but it will stop rips and tears. Adding some waterproofing is also extremely beneficial when you are carrying electronics.
Nylon webbing has been used on the handle and combined with Cordura on the straps. This feels extremely durable, too, and adds some welcome strength to typical backpack weak points.
The interior has a light gray cotton lining. While this adds softness to the interior and helps to pad the laptop and tablet pockets, it is tough too.
Overall, this is an extremely sturdy backpack.
Pockets
There are two padded pockets on the inside, one for a 13" laptop and the other for a tablet. The padding inside feels rigid, and I would be comfortable transporting my laptop in this, knowing that it could take some bumps and dents—potentially even some drops. The main pocket is large enough for my MacBook.
The main space inside is large enough for this to be a travel backpack, and you could easily fill it with enough clothes for a week (if you are a frugal packer). There are also 2 slit pockets inside, large enough for smaller items that you want to separate.
On the exterior, you have a large slit pocket, which would be perfect for documents that you need to access quickly, and there are two zippered pockets that can be used for wallets, passports, etc.—things that you need quick access to but still with some security.
The only problem that I had with the backpack was the interior laptop pocket. The main zipper on the bag offers access from the top, and because of the rigidity of the shell, it can be hard to snap the interior pocket closed. It is a minor inconvenience and only takes a couple of seconds to clip it shut, but it does take away from the overall elegance of the design.
Comfort
The straps of this backpack do not have padding, but that does not mean that they are not comfortable. They are more rigid than the ones on my other backpack, and you might have to get used to that when you are wearing it, but less padding means more durability and less wear and tear.
There has been a compromise here, and the look and durability of the backpack have been the main focus. When making a backpack that is truly going to last, some comfort has to be sacrificed, and I believe that the right choice has been made here. The backpack is not the most comfortable in the world, but it more than makes up for that with how it looks—understated elegance and simplistic beauty.
Related: 8 Best Heavy-Duty & Durable Backpacks For Every Situation
Having said all that, I have to point out that the backpack is still comfortable, just not to the levels that a padded backpack will be. The durable fabric is light, and that adds comfort where other backpacks will be lacking.
Overall, elegance trumps comfort here, but the backpack is still comfortable enough to be worn all day.
Who Is This For?
This is definitely an everyday carry backpack. I do not work out of the home, but I would use it if I were. Being so durable, this is a bag that you can wear all through college and university and beyond, and is well-suited for any type of job. Use this backpack instead of a briefcase.
With dedicated laptop and tablet pockets, this is a backpack that fits school or the of-fice.
But is that all?
No, it is not. I have talked about comfort a little and want to reiterate that while comfort is not the main focus, this is still a comfortable backpack and one that would be perfect for travel. It has enough space for all of your belongings when on short or backpacking trips, along with exterior and interior pockets to organize your belongings. The durability means that it can be taken on multiple trips and hold up to the elements, wear and tear, or overeager baggage handlers.
Really, this backpack will fit any situation.
Conclusion
I love finding durable products, the ones that are going to last for years. The Columns Louie Backpack is certainly one of those products. It is the most durable backpack that I have owned, and I see it lasting a long time.
The thing I like most about the Louie backpack is the blending of durability and beauty. You can see how durable the bag is just from looking at it, and you want to look at it because it is so stylish. This is a backpack that can be worn over and over without it wearing out, and that is a good thing because you are going to want to take it everywhere with you.
I'm ready to throw out my old backpack and use this one instead. It is well made, as tough as they come, and beautiful. I will use it lots and expect it to last for many, many years.