Note: We received this product for free. No other compensation was provided, and as always, all opinions are our own. We may earn money from links on this page, but we only recommend products we back. Learn more.
Minimalist watches have long been favored. For some, it is the sleek and understated look that is most appealing. Others appreciate the uncomplicated design that is often coupled with reliable movement. And for many, the appeal of minimalist watches lies in their ability to be combined with any outfit or style.
Whatever the reason, minimalist watches are a popular choice for those looking for a timeless and versatile timepiece.
The Nordgreen Philosopher is an elegant, minimalistic watch with some interesting details. But does it possess the same level of quality as more established brands?
The Brand
Nordgreen is a microbrand based in Denmark that was founded in 2017 by Pascar Sivam and Vasilij Brandt.
The brand name is a blend of two words "Nord" and "green." "Nord" represents the company's Nordic roots and its design philosophy, which is known for functionality, simplicity, and clean lines. The Nordic design principles also dictate that things should be made in harmony with nature and that things should be made to last rather than be replaced—hence the word "green."
Nordgreen remains faithful to its principles and furthers its sustainability efforts by ensuring great working conditions, having a traceable supply chain, carbon-neutral shipping and logistics, working towards being plastic neutral, and much more.
The company also has a "Giving Back Program" which allows you to donate a portion of your purchase price to different charitable organizations they work with. You have the opportunity to help someone in Africa gain access to clean water, help to educate a child in India, or choose to protect 200 square feet of rainforest in Latin America.
And as if that's not enough, their watches are designed by the famous Danish designer, Jacob Wagner, who has worked with the likes of Bang & Olufsen, Alessi, and B&B Italia.
Packaging and Unboxing
The watch was delivered within two days via UPS express delivery service. It arrived in a standard-looking cardboard box; however, upon closer inspection, the Nordgreen logo was visible on the top, and a message on the inner side of the cover noted that the box was made from FSC-certified paper, which originates from responsibly managed forests.
The actual product package has a pleasant, rubberized finish and a good weight which makes it feel premium.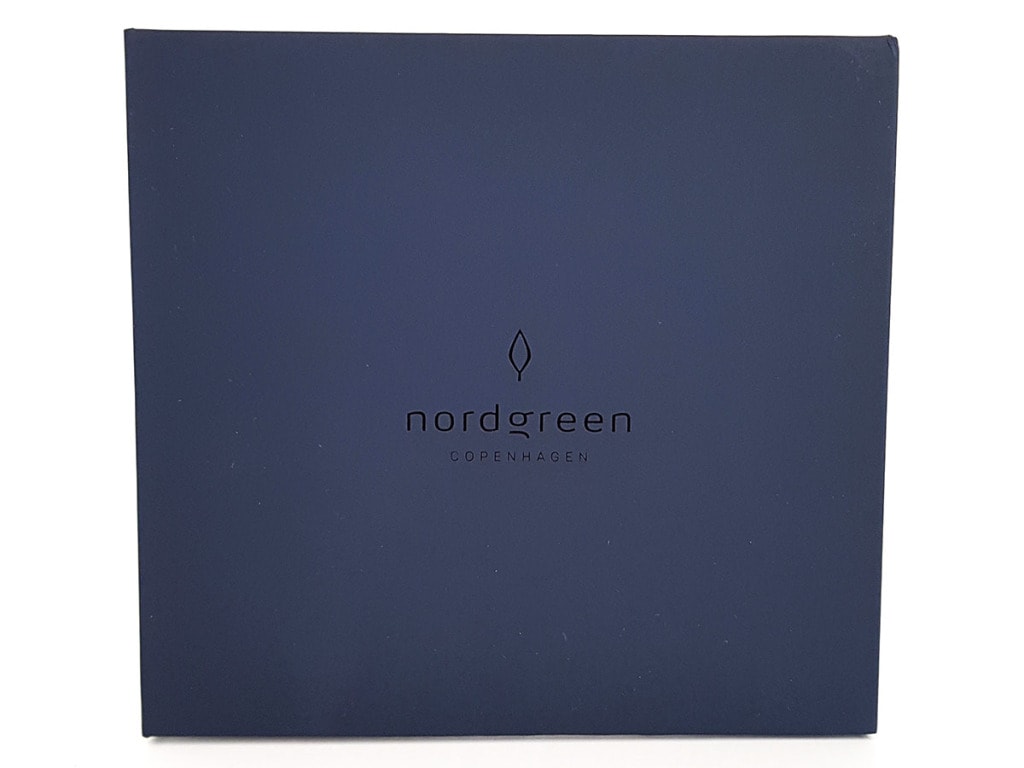 Like the watch itself, the packaging is minimalistic, too. This not only adds to the sophistication but also allows Nordgreeen to use fewer materials (all of which are fully recyclable). The product box, like the shipping box, is FCS-certified and the inner box is made from recycled plastic bottles.
The inside of the box is revealed by pulling the pull tab. The contents of the box and the box size depend on whether you ordered just the watch or a bundle with an extra strap. Depending on the current promotion, you might be able to get a discounted second strap or even an extra strap for free.
My bundled box included:
The unisex Nordgreen Philosopher watch (40 mm)
An extra strap – Navy Blue Nylon (20 mm)
Two extra 20 mm quick release pull-back spring bars (for attaching the nylon strap)
An extra link
A greeting card, manual, and warranty card
Design
While many watch brands offer multiple series of watches, each series with numerous differing designs, Nordgreen adheres to one basic design for each series. What you can customize are the color of the case, the dial color, and the strap.
I opted for the Philosopher in Gun Metal (I generally prefer matt, muted finishes to shiny ones) with a white dial and a 3-link metal strap. I also added a Navy Blue Nylon strap to my order, which is made from recycled plastic. With these two straps, I can wear the watch in both formal and casual settings.
The watch's design is eye-catching and was awarded the Red Dot design award in 2021, which is a great accomplishment for a relatively new brand.
The Philosopher, while in essence a minimalist watch, boasts some unique twists which make it stand out.
The case has round finishes, smooth curves, and a thin profile, all of which give the watch a timeless and elegant look. The sides and the bottom of the watch feature a very subtle brushed finish, which is hardly noticeable but adds a pleasing aesthetic.
The chapter ring is slightly elevated and angled toward the center of the watch. At closer inspection, you'll notice that it's texturized, which again, is a nice detail.
The dial of the watch features the Nordgreen logo, a calendar window at 3 o'clock, simple lines for the hour mark, and softly pointed minute and hour hands. The second hand is shaped asymmetrically and according to Nordgreen, it "resembles the symbiotic combination of taking a glimpse into the past, envisioning a better future and acting in the present." I certainly couldn't tell that from the design itself; however, I like the blade-like shape and it adds to the uniqueness of the watch.
The crown has a small Nordgreen logo on top and delicate knurling which helps with the grip.
The lugs protrude from the case in an interesting fashion. They are positioned far under the case, which gives the watch a more compact and interesting look. I'm not sure if I have ever seen something like this before.
The case has a mirror-polished back with an etched design of an hourglass.
No matter which strap you choose, they are all attached with pull-back spring bars that act as a quick release.
Quality
There are several indications of a high-quality watch, such as its weight, the movement it uses, time accuracy, the country of assembly, the type of watch glass, water resistance, warranty, and the brand reputation.
Weight
The watch has a solid weight (3.77 ounces / 107 grams) with the 3-link strap and it strikes a great balance between its weight and comfort. The weight also adds to the feeling of quality and durability.
The movement
In the past, Nordgreen used to say they use a Japanese movement, but they didn't give any details about which one. Now they've decided to be transparent about it – the movement is made by Miyota.
Miyota quartz movements can be found in many entry-level watches, and they are known for their quality and reliability.
However, some people prefer the movements from Seiko or Citizen, which are of comparable quality but don't create audible noise.
I have observed that in the past there have been a few individuals (even some reviewers) who have voiced complaints about the second hand not being properly aligned with the minute and hour marks. I can confirm that on my watch, the second hand is aligned perfectly. Maybe this was a quality issue that was since resolved.
Accuracy
The Miyota quartz movement is a workhorse and one of the most widely used quartz movements in the world. Although there are some arguably better movements out there, like the ones from Citizen, Seiko, or Ronda, the accuracy is comparable. Quartz movements are the most accurate of all the movements and are estimated to only be around 15 seconds off per month.
I've been wearing the Philosopher for a little over a month now and compared to my radio-controlled watch, it's only 5 seconds late.
The country of assembly
When considering a quality timepiece, one often thinks of Swiss-made watches. In the early days of watchmaking, the two powerhouses were the USA and later Switzerland. However, nowadays, due to overall advancement, almost everyone can produce high-quality watches.
All Nordgreen watches are designed in Denmark and produced in China. The factory is Danish-owned, and they adhere to the highest quality standards while following Danish labor practices.
The glass
The Philosopher uses hardened mineral glass, which is scratch and impact resistant. I've never owned a watch with mineral glass, so I don't know how well it will hold. However, I am aware that my Tissot PR 50 has sapphire crystal glass and it does not have a single scratch, despite being worn for 18 years.
While the more expensive watches from Nordgreen (like the Pioneer and Unika) use sapphire crystal glass, it wouldn't be unreasonable to expect the Philosopher to use it as well. After all, it's a 244 USD watch, and many of its competitors use sapphire crystal.
Water resistance
The watch is water resistant to 3ATM. This means that it can withstand light water splashes or rain, but it is not advisable to shower or swim with the watch.
The 3ATM rating is a baseline for quality designer watches, but 5ATM wouldn't hurt.
Warranty
Nordgreen watches come with a 2-year warranty and a 14-day return policy, which is in line with other well-established watch brands.
Brand reputation
Nordgreen is a young microbrand, but based on customer satisfaction ratings, they compare favorably to more established brands.
Straps
Nordgreen has a great selection of straps, and I chose the 3-link gun metal band to give the watch a more classy, elegant look. I also got the Navy Blue Nylon band, which looks a bit sportier. With these two bands, I can wear my Philosopher for any occasion.
The 3-Link Strap
This classic design was first introduced in the 1930s by Rolex. The so-called "Oyster" strap quickly became popular and nearly every watch brand produces a version of its own.
The wide center bars provide a lot of stability for the links which make this strap exceptionally durable.
The finish is excellent, with no sharp edges, and the brushing perfectly matches the brushing on the case of the watch.
My wrist size is 6.9 inches or 17.5 centimeters. Based on the watch sizing guide that I found independently (surprisingly, Nordgreen doesn't have one), I opted for the 40 mm case which comes with a 20 mm strap.
The strap, by default, was too large for my wrist, so I took it to my friend, who sells and repairs watches, to remove one link. Now the strap was too tight and after wearing the watch for an hour, it left visible imprints on my skin.
I contacted Nordgreens support, and they informed me that the 3-link strap does not have a removable half-link. This means that fine adjustments are not possible. I was surprised by this news since it meant that I would not be able to use the metal strap.
However, my friend was able to find a way to remove a half-link that is supposedly non-removable. Now the 3-link fits perfectly and it's comfortable to wear all day long.
On a side note – since my friend is obsessed with watches, he took the opportunity to thoroughly inspect the Philosopher (of which he never heard of before) and told me that he was impressed with the overall build quality. He said that it easily compares with well-known brands in the same price segment.
The Navy Blue Nylon Strap
Nylon straps (also known as NATO straps) are known for their durability, making them ideal for tough conditions. They are also a great choice for when you want to sport a more casual look.
I prefer the strap on hot days as it is less sticky than a metal strap. It is also more comfortable to wear in the heat.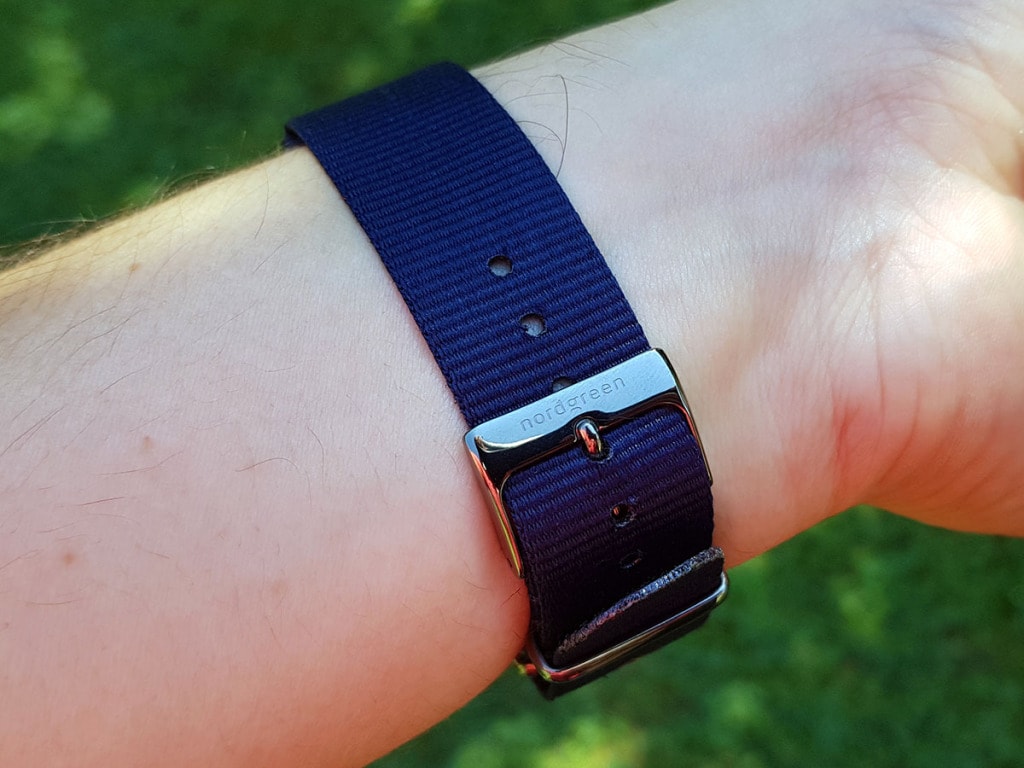 Changing the strap is easy and Nordgreen even provides video instructions.
Value for Money
As of writing, the Philosopher retails for 244 USD. There is a lot of competition in this price range from brands such as Timex, Seiko, Casio, and Swatch—to name a few.
What you receive for your investment varies from brand to brand, but the discrepancies are not significant. You might obtain a different movement, a higher waterproof rating, or perhaps sapphire glass, but ultimately, it all evens out. The distinctions are only in the minor details.
Nevertheless, the Philosopher has a lot going for it. It was designed by a renowned Danish designer, it received the Red Dot design award, and it has the seal of approval for its quality by my friend who has been in the watch business for almost 20 years (with his father prior to him for another 40). Nordgreen also ships its watches worldwide for free (although, the shipping price is certainly included in the price), and depending on the current promotion, you might also get a second strap for free. The company is proud of its ethical business practices, eco-friendliness, and giving back program, which truly makes it a modern company.
Based on this information, I think you receive value for your money, and even slightly more when compared with the competition.
Conclusion
There are a lot of minimalist watches on the market (especially from designer brands), but the Philosopher manages to stand out. It features many small details that elevate the watch, and the brand is leading the way in terms of ethical business practices and eco-friendliness.
Many microbrands are appearing in the market lately, but Nordgreen stands out from the crowd. While they heavily invest in marketing and social media, they manage to back up their claims with high-quality products. The Philosopher watch is on par with any other well-established brand—and in some respects, even outperforms them.
This watch is a great unisex option for anyone who wants a high-quality and durable watch without spending a fortune.
UPDATE
I have owned this watch for 18 months. Unfortunately, the battery has already died; a disappointingly short lifespan considering the price. In contrast, my Tissot PR 50 ran for seven years on a single battery. However, the watch itself is still functioning well, other than the battery issue.