We live firmly in the present but are constantly looking back to the past and forward to the future. Time dictates our schedules and patterns. Time is the building block of our day. Time can also be fashionable.
A durable timepiece can bring a lot of satisfaction both in style and timekeeping. Pocket watches have a certain timeless elegance (excuse the pun), but there is nothing like an elegant wristwatch.
That is exactly what I have.
My Tissot PR 50 Titanium wristwatch has stood the test of time (again, excuse the pun), and I still wear and rely on it 15 years later.
So, before I tell you exactly what I love about this particular watch, let's go back in time for a little history lesson.
Tissot History
The year was 1853; the place was Le Locle, a small city in Switzerland. The time was different back then. I mean, it still flowed at the same rate as today but times were simpler.
Charles-Felicien Tissot had a dream, and going by his last name, I bet that you can guess what that dream became. Together with his son, he founded a 'comptoird'etablissage'. Wow, that is a mouthful. Translated, it means a network of artisans.
When he started watchmaking, each of the various parts was crafted by one of these members, being brought together later to be assembled and sold.
The Tissot brand began by creating pocket, complication, and pendant watches that were sold in the region and eventually also shipped to the United States. By the 1920s, they were also shipping watches to the Russian elite, where several Russian Czars enjoyed wearing the brand.
From there, the company continued to flourish and is still around today, creating timeless timepieces.
My Tissot History
2004 was a different time for me. I was young and eager (I like to think that I am still young and eager, but I was definitely younger, at least). It was 15 years ago that I decided to invest in a watch.
I had always been interested in buy it for life products and decided to take the plunge and put my money where my mouth was. I looked into watches. I wanted something stylish, without being gaudy or too trendy, and functional, with functionality built to last.
I landed on the Tissot PR 50 Titanium.
It fit the bill in almost every way. I loved the way it looked, it was not monstrously huge on my wrist while still maintaining a presence, and it had tons of quality. The only problem was the price tag.
Investing In Quality
It took me a long time to decide to invest in quality products, but this watch was one of the first that I did it with.
Back in 2004, $215 was quite a lot of money for me. In today's market, that would amount to ~$300. Did I want to pay that much for a watch?
I remember being in the store with the watch on my wrist and almost handing it back to walk out empty-handed (or empty-wristed). I went back and forth on it before eventually deciding that the investment was worth it.
Now, 15 years later, my durable Tissot wristwatch is still going, and as reliable as ever.
The Test Of Time
If you were to take the original cost of the wristwatch ($215) and divide it up over the years I have worn and used it (15), you would get the figure $14. This watch has only cost me $14 a year (~$18 in today's money). To me, that is very reasonable, and the best part is that the watch still works.
The longer I wear and use it, the less the cost will become each year. I see no reason why the watch will not last for at least another 15 years, if not a lifetime.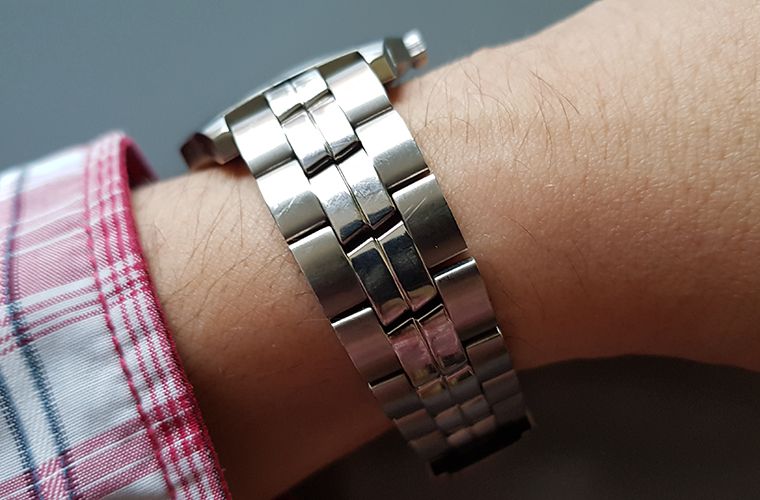 The watch goes nearly everywhere with me.
What Do I Like About This Watch?
Finding a durable watch is about a lot more than a watch which lasts a long time. The watch needs to be functional too, and there are many things which I appreciate about the quality of this timepiece.
Related: The 9 Toughest and Most Rugged Watches For Men
The one thing which struck me when I was deciding on the watch was the sapphire crystal. I knew at the time that this was more durable than plastic or glass, and would resist scratches, holding up to a lot of wear and damage, but I was even more impressed to see it in action.
Over the years, the watch has been bumped, dropped, and scratched. You can see from the pictures how well the sapphire crystal has held up. It swayed me into buying it and has constantly impressed me over the years.
So, what else?
The watch is thin, measuring in at only 8mm thick, and, due to the titanium used to craft the body of the watch, it is also extremely light. It feels great on your wrist and is very unassuming. The titanium also adds to the durability.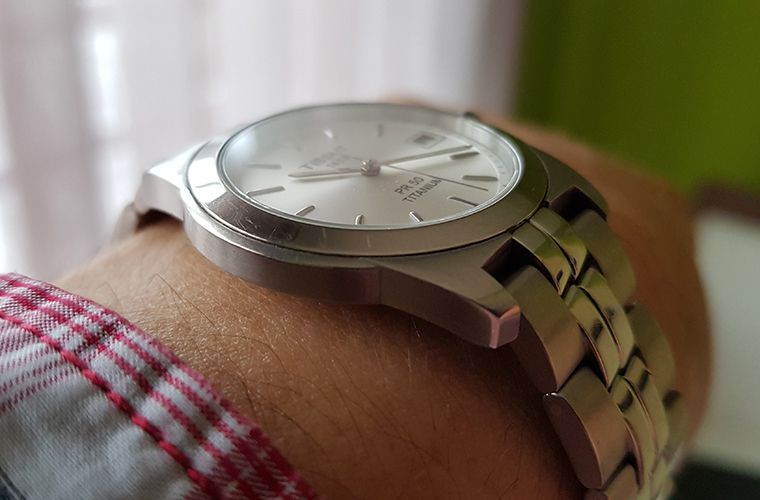 The watch model is J376/476T and it has a quartz movement, which is very accurate. It also has a date function which is often missing from many analog watches.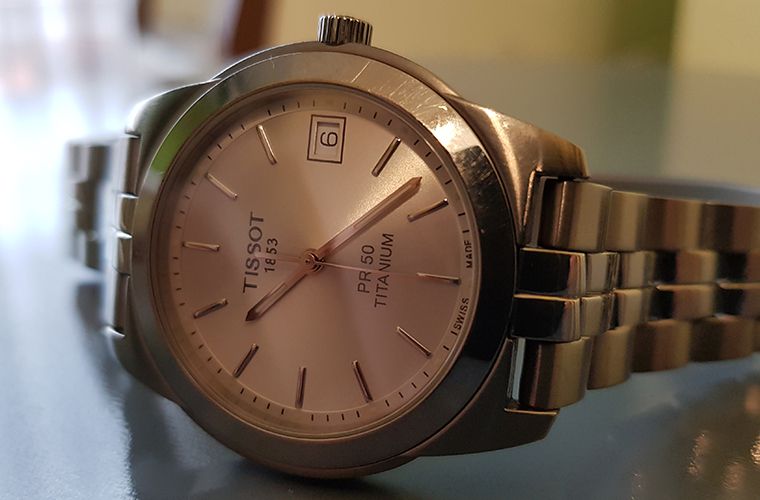 One feature which I really like is the End-Of-Life (EOL) function. When the battery starts to get low, the second hand will move in two-second increments instead of one. This is very handy and has meant that I can change the battery before it runs out, creating an extremely reliable and robust watch.
The battery lasts for around 8 years, so I have only had to change it once, though a second change must be coming up soon.
The watch also comes with a 2-year warranty which protected me against any manufacturer faults and damage but, as you can guess, I have not needed to use that.
The watch was discontinued in the late 2000s, making way for newer T-classic models which use many of the design elements from the Tissot PR 50 Titanium.
Time Is At An End
I have taken care of my watch as best I can. I use it every single day but have been careful with it. I wash my hands with the watch on but do not submerge it in the water. I try to keep it out of the rain and will clean it by hand every so often.
A durable watch really can last a lifetime, and I am 15 years into proving that.
Update

My watch will soon be 18 years old. I can't believe how time flies. The watch still works flawlessly, but I don't wear it daily like I used to, mainly because I now wear a fitness tracker instead. I still prefer the PR 50 on formal occasions, but for everyday use, I find the fitness tracker more useful.

When I wrote the original review, I thought that I'd need to replace the battery soon, but it held for another two years. This time the battery lasted me for nearly 9 years, which seems incredible to me.

It looks like the PR 50 will last me for many more years as it is made with durability in mind. It also still feels modern because of its slim and minimalistic design, which is almost identical to the current model, the PR 100. Rarely is it possible to buy something that, even after 18 years, still feels fresh.