Note: We received this product for free. No other compensation was provided, and as always, all opinions are our own. We may earn money from links on this page, but we only recommend products we back. Learn more.
Fenix is known for making tough, reliable, and user-friendly flashlights, and that doesn't change even when it comes to their smallest flashlights. For this and many other reasons, they are considered one of the best flashlight brands on the market.
The newly released Fenix E05R and Fenix E09R are among the smallest flashlights that Fenix produces. These two models are part of their "E Series," which includes keychain and everyday carry (EDC) types.
While the E05R is basically a shrunken version of the E09R, some differences are worth noting. Let's have a closer look.
What's in the Box (E05R & E09R)
For this review, both flashlights were sent to me barebone, but customers will get them in beautiful boxes, which are typical for Fenix products.
Besides the flashlight itself, you'll also get:
Micro USB charging cable (with the E05R) or USB Type-C charging cable (with the E09R)
Key chain
Spare O-ring
User manual & warranty
Main Features and Specifications
Despite its small form, the E05 boasts impressive characteristics. While not that much bigger, the E09 model has a noticeably brighter output, a much longer throw (beam distance), and a better runtime.
Fenix E05R
Cree XP-G2 S3 white LED light with a lifespan of 50,000 hours
High-efficiency lens with a reflective coating
Maximum output of 400 lumens (210 feet / 64 meters)
Instant burst
320 mAh built-in Li-polymer battery
Hidden micro-USB charging port
Metal switch for on/off and output selection
Made out of durable A6061-T6 aluminum
Premium type HAIII hard-anodized anti-abrasive finish
Size: 2.68" x 0.6" x 0.59" / 68 x 15.3 x 15 mm
Weight: 0.85 oz. / 24 g
Fenix E09R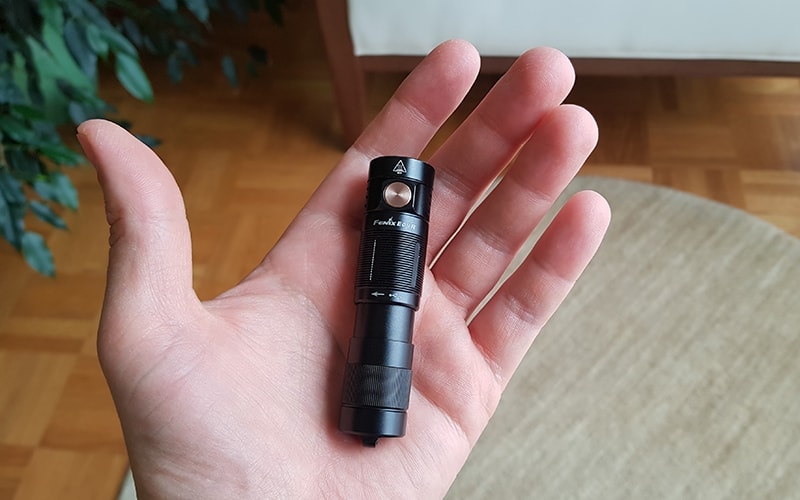 Luminus SST20 LED light with a lifespan of 50,000 hours
High-efficiency lens with a reflective coating
Maximum output of 600 lumens (406 feet / 64 meters)
Instant burst
800 mAh built-in Li-polymer battery
Hidden USB Type-C charging port
Metal switch for on/off and output selection
Made out of durable A6061-T6 aluminum
Premium type HAIII hard-anodized anti-abrasive finish
Size: 3.11" x 0,76" x 0.72" / 79 x 19.3 x 18 mm
Weight: 1.59 oz. / 45 g
Output, Runtime, and Throw Distance
The size difference between the E05R and 09R adds to the higher beam output, longer runtime, and greater throw. Fenix E09 also has one extra output selection, which is Moonlight.
Fenix E05R
Burst: 400 lumens, burn time N/A, throw distance 210 ft. / 64 m
High: 150 lumens, burn time 55 mins, throw distance 131 ft. / 40 m
Medium: 25 lumens, burn time 5 hours, throw distance 55 ft. / 17 m
Low: 3 lumens, burn time 30 hours, throw distance 26 ft. / 8 m
Fenix E09R
Burst: 600 lumens, burn time N/A, throw distance 407 ft. / 124 m
High: 300 lumens, burn time 1.5 hours, throw distance 298 ft. / 91 m
Medium: 100 lumens, burn time 4 hours, throw distance 184 ft. / 56 m
Low: 25 lumens, burn time 16 hours, throw distance 92 ft. / 28 m
Moonlight: 3 lumens, burn time 70 hours, throw distance 29.5 ft. / 9 m
Both flashlights are impact resistant up to 1 meter and have an IP68 waterproof/dustproof rating, which means that they can be submerged underwater 6.5 ft / 2m for 30 minutes. For mini EDC type of flashlights, these are hard-to-find features.
Body Design and Materials
Fenix uses the same A6061-T6 aircraft-grade aluminum as they do for their tactical and other high-performance flashlights. This durable aluminum (which is more robust than many types of stainless steel) is exceptionally durable and has a nice, high-quality feel.
The body has a finely machined knurl with the same vertical groove pattern as some of Fenix's newer flashlights, including the TK16 V2. This pattern has a good feedback to the touch and provides an excellent grip even if the flashlight is wet or if your hands are sweaty.
The machining is the same quality as any other tactical flashlight from Fenix. There are no faults on the groves, threads, or bezel.
The tail has a sturdy ring for attaching the flashlight to a keychain. While the ring is very smooth and pleasing to the eye, its design prevents you from tail standing the flashlight. For an EDC flashlight, this would be a nice option to have.
While both of these flashlights came in black, you can also get them in a stylish brown or green.
The Beam
The Fenix E05R has white light with a smooth flood beam. This beam type is great for up-close and general usage because of its ability to evenly light up space.
The Fenix E09R has a warm-white beam with a cohesive hotspot and a smooth spill. Since it's a more powerful flashlight, this beam type makes sense because it gives a longer throw while providing a peripheral beam.
Operation
Because both flashlights are essentially the same and are operated in the same way.
To turn the flashlight on or off, you need to press and hold the switch for 0.5 seconds. When the flashlight is on, a single click on the switch will cycle you through the various outputs (three on E05R and four on E09R). To access Instant Burst, press and hold the switch for 1.2 seconds (either when the flashlight is on or off). When you release the switch, the flashlight will either turn on the low mode (if it was turned off) or return to the previous setting (if it was already turned on).
Due to the ultra-compact size of these flashlights, they can be carried in pockets or somewhat larger wallets, messenger bags, documents folders, and similar accessories. Because these are all cramped spaces where buttons can be accidentally pressed, a lockout function is available. To lock the flashlight (when turned off), you need to press the switch twice within 0.5 seconds. The flashlight will signal a successful lock with two blinks. To unlock the flashlight, repeat the process, but keep in mind that when the flashlight unlocks, it will be activated to the Low (E05R) or Moonlight (E09R) setting.
Modern high-performance flashlights can produce an exceptionally bright light for their size. By doing so, they also get quite hot when used on maximum output for extended periods. To prevent overheating and potential damage, Fenix uses an "Intelligent Overheat Protection." This means that when the flashlight reaches or exceeds 140 °F / 60 °C, it will automatically lower the output level by a few lumens to cool down. When the temperature falls below the cut-off point, it will allow the user to use the High output setting again.
Battery Charging
Both flashlights have an integrated (Li-polymer) battery. I'm a fan of integrated batteries because these rechargeable batteries are eco-friendly; you don't need to own a separate battery charger or store batteries in bulk. It's a win-win-win.
The E05R has a Micro USB charging port, while the E09R has a USB Type-C charging port.
The charging procedure is simple and straightforward. To access the charging port, you need to twist the body of the flashlight to the left, hook up the USB cable, and connect it to your computer or any other USB outlet.
Charging is signaled by a red indicator which turns green once the battery is charged. Both flashlights require approximately 1 hour for a full charge.
Usage
I didn't realize how much I needed a small EDC flashlight until I had one (two, actually).
I've been using both of them almost daily for about a month now. Below are some of the situations where they proved to be very helpful.
Fixing my mountain bike: I was doing some maintenance on my mountain bike, and I had to do it inside my garage due to the bad weather. The lighting in my garage isn't the best, so I used the E05R to find all the spots that needed deep cleaning and lubrication. Because of the weight of the flashlight, I could keep the flashlight between my lips when needed so that I could work with both hands.
Finding stuff under the car seat: I don't lose stuff in the car often, but when I do, it always ends up under the car seat. This time the item that went missing was a chip for the car wash. While I could have used my phone's flashlight to illuminate the space under the seat, it's really hard to maneuver a 'brick' in hard-to-reach places.
Finding toys: We have a 4-year-old who likes to play with paper planes, wooden blocks, and all kinds of tiny toys that go missing by the end of the day. They are usually found in the darkest corners of the house (behind or under the closets, beds, sofas, etc.). With mini flashlights always at hand, we now make finding toys a part of playtime.
Illuminating the way home. For the past two weeks, it rained frequently, but that doesn't keep us from going outside for walks. Sometimes we go for a walk after dinner, and that means that we're returning home in the dark. If it happens to rain, the visibility also goes down a notch. To keep us safe on the sidewalks and when crossing streets, we use the E09R in Moonlight mode. And when we need more illumination, it's readily available.
I have also used the E05R and E09R to check the health of our bush plants, monitor the dust build-up in my desktop computer, and check the water pipe when changing the Bosch dishwasher AquaStop hose.
I find myself using these mini EDC flashlights far more often than my other flashlights simply because of their size.
Check the video below to see both flashlights in action.
Conclusion
The Fenix E05R and E09R are premium compact EDC flashlights built to perform and last a lifetime. The LED's have a lifespan of 50,000 hours (that's 5.7 years of 24/7 illumination), and the A6061-T6 aluminum body is nearly indestructible.
Most people probably do not realize (as I did not) how useful these compact EDC flashlights are. We think that the flashlights on our phones are enough (and sometimes they are), but once you try one of these purpose-built flashlights, there's no going back.
Both E05R and E09R are fast to deploy, easy to handle, and prove useful in many everyday situations. When needed, they can perform in more serious situations, too (imagine a lengthy tire change on a rainy night or getting lost).
Fenix E05R and E09R are excellent choices for your EDC needs (and great gift ideas as well).