Note: We received this product for free. No other compensation was provided, and as always, all opinions are our own. We may earn money from links on this page, but we only recommend products we back. Learn more.
They say the shoes make the man. They also say that clothes make the man. But guess what—even the shiniest of shoes and the sharpest of clothes will mean nothing if you show up to a meeting with a wrinkled and worn-out plastic portfolio. The only thing worse would be to carry your laptop, papers, pens, and notepads under your arm and lose stuff as you go.
Every little detail counts when you want to look professional and make a statement. You want to impress not only with your words and actions but with your style, too. And one thing that can certainly help you with that is a premium, real leather portfolio. It will keep your things organized and make you look on top of your game at work, in a presentation, or at an interview.
The 'Candide' leather documents folder from Time Resistance is such a portfolio.
Since I already purchased a messenger bag from Time Resistance, I expected this portfolio to be nothing short of amazing. I wasn't disappointed.
The portfolio comes in an elegant and minimalistic gift box, absent of any excess text or images, which makes it pleasing to the eye.
As you open the box, you'll immediately notice the subtle but rich smell of natural leather, which is characteristic of premium leather products. Some even call it the smell of success. This earthy, slightly sweet smell is the result of vegetable tanning, natural dyes, and a chemical-free conditioning process, which is used for all Time Resistance products.
With the portfolio, you get a brief set of leather care instructions, a certificate, and a welcome note, all printed on recycled paper. It's worth noting that the bag isn't wrapped in plastic which makes everything more eco-friendly.
The design of this document folder is minimalistic and elegant—just like every timeless piece should be. It looks contemporary now and it will look contemporary many decades later.
The 'Candide' has no front or back pockets on the outside, which only adds to the elegance, and I would not feel comfortable carrying important documents tucked into the outside anyway.
The portfolio has a zipper which closes very smoothly. Some people prefer buckle or strap closure for easier access; however, a zipper closure will hold everything in place and you don't risk losing stuff. Some would argue that zippers tend to wear out, but that is only true for cheap portfolios. This zipper is made out of brass which ensures durability even with daily usage.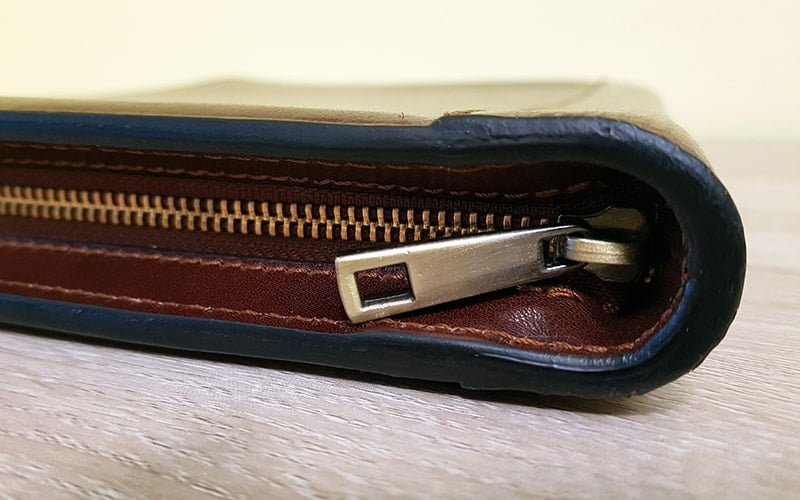 The Italian sourced full-grain cowhide leather looks shiny, and feels very smooth, giving it a professional look. A more rugged leather might work in different settings, but for elegance, this is the look to go with.
The shine will probably subside on the areas of wear (where it rubs against your bag or spots that flex all the time), but that only adds to the character of your portfolio. However, if you want to keep your document folder in pristine condition for years to come, I would highly recommend a regular maintenance schedule with a high-quality leather balsam (more on that later).
The portfolio itself has a sturdy feel to it which also helps with making it feel durable. The soft and squishy portfolios simply can't project such a presence.
Related: 6 Best Real Leather Portfolios & Padfolios For Men
The dimensions are pretty standard for a legal-sized portfolio at 14.2 inches in length, 10.2 inches in width, and 1.6 inches deep. This should provide you with more than enough room for all your essentials.
Inside you'll find a continuation of the simplistic, yet functional form.
On the left-hand side of the portfolio you have:
A laptop compartment which fits laptops with up to an 11" diagonal
A pocket for a tablet
An organizer panel for business/credit cards with two leather pen holders
A zippered pocket
A pocket for half-letter / European A5 sized documents
A small leather pocket (also suitable for mobile phones)
On the right-hand side you'll get:
A side compartment
A notebook/legal pad holder (8 ½ x 11 letter size or European A4)
The thread used for stitching is made out of cotton, which again, makes this product eco-friendlier while adding a premium look and feel. You can even choose between a black or red lining color while ordering this portfolio on the Time Resistance website.
The compartments extend quite well, so even beside your essentials, you can carry your favorite magazine or two.
As mentioned earlier, if you'd like your portfolio to look as good as possible for years to come, you must keep the leather nourished with a high-quality leather balsam.
Related: How Long Does Real Leather Last?
You can use any high-quality brand, but if you don't have one, you can purchase a proprietary balsam from Time Resistance.
Although the 'Candide' portfolio comes pre-treated with leather balsam (they treat it just before sending it), Time Resistance recommends treating the portfolio every 1 to 3 months, depending on the frequency of use.
Their proprietary Leather Care Balsam (which is made in Germany) has a blend of all-natural waxes, oils (beeswax, jojoba oil, and avocado oil), and herbal extracts. It comes with an application sponge so you can treat your leather goods as soon as you open the jar.
Just like every product by Time Resistance, the 'Candide' portfolio is made by Lithuanian artisans while the design comes from Italian designers. A product like this deserves some TLC (tender loving care).
You can get the 'Candide' portfolio in many different colors. Mine is brown, but you can also get it in amber, yellow, black, green, navy blue, or red.
As for the warranty, it's the standard 12-month warranty, which is the same for all Time Resistance products. However, based on how well this portfolio is made and based on my experience with their messenger bag, I honestly think that this is a "buy it for life" purchase.
Another important thing to note is that Time Resistance offers free and fast shipping all over the world and customers based in the US and UK have the luxury of local returns.
If you're a businessman, a student, a teacher, or if you work in any kind of professional setting, you probably already own a document folder. But if you don't or if you're looking to replace your existing portfolio, check out the 'Candide' from Time Resistance. It will probably be the best and the last portfolio that you ever buy.
Get 10% off your purchase on timeresistance.com by using "DM10" discount code.