A messenger bag has been my everyday carry bag for almost a decade. I got my first messenger bag back when I bought the Samsung Galaxy Note smartphone, which was the first 'phablet' on the market, and it was, for that time, unusually big. In order to carry the phablet around (without stuffing it in my pocket), I needed a bag, a messenger bag, to be precise.
I was looking to buy one anyway because I had grown tired of hauling my everyday items in my pockets. Overstuffed pockets are not exactly a pretty sight. They make wearing clothes uncomfortable, and sitting on a full back pocket can actually hurt your spine. Plus, in the summer, you run out of cargo space very quickly.
I started looking for a leather messenger bag, but I couldn't find one that I really liked. So, I bought a high-quality PVC messenger bag made by Lacoste. It had the timeless simplicity I was looking for, it was weatherproof, and the size was perfect (the bag has remained mostly unchanged and is still for sale).
I'd still happily use this bag today but, as phones grew in size, the bag became too small. With my latest phone inside, I could hardly close the zipper. This meant that it was time for an upgrade, not only in size but in material, too.
When buying clothes or accessories, I always look for minimalist design, because they will stand the test of time. I also wanted to find a smaller brand that was not yet universally known, and worked with or employed local artisans.
These types of brands can usually offer superior quality without the inflated prices.
As I was doing my research, I came across a brand called Time Resistance. The name alone has already given me hope that I had found what I was looking for. And, I was right.
I liked their products from the moment that I saw them. When I read about the company, I found that they pride themselves in making timeless leather products, with a focus on design and quality. The prices were very reasonable, too.
Related: Review: Leather Documents Folder 'Candide' from Time Resistance
The brand was established in 2015 with the help of a Kickstarter campaign. The campaign is not visible anymore, but I remember reading that it overshot the funding goal by a lot.
Their leather goods are now all crafted by Lithuanian designers and local Italian artisans. Everyone who has ever owned an Italian bag knows that Italian artisans are among the best at combining style, durability, and practicality.
I bought my messenger bag, the 'On The Road' model, in August 2019. It's sold under the brand's 'premium' collection.
The package came only a few days after I ordered it. It contained the bag itself, a 100% cotton dust bag, and a few product-related information cards.
I chose the dark brown color (they sell it in a lighter brown and orange, too), mostly because I like the color and I can wear it with almost anything.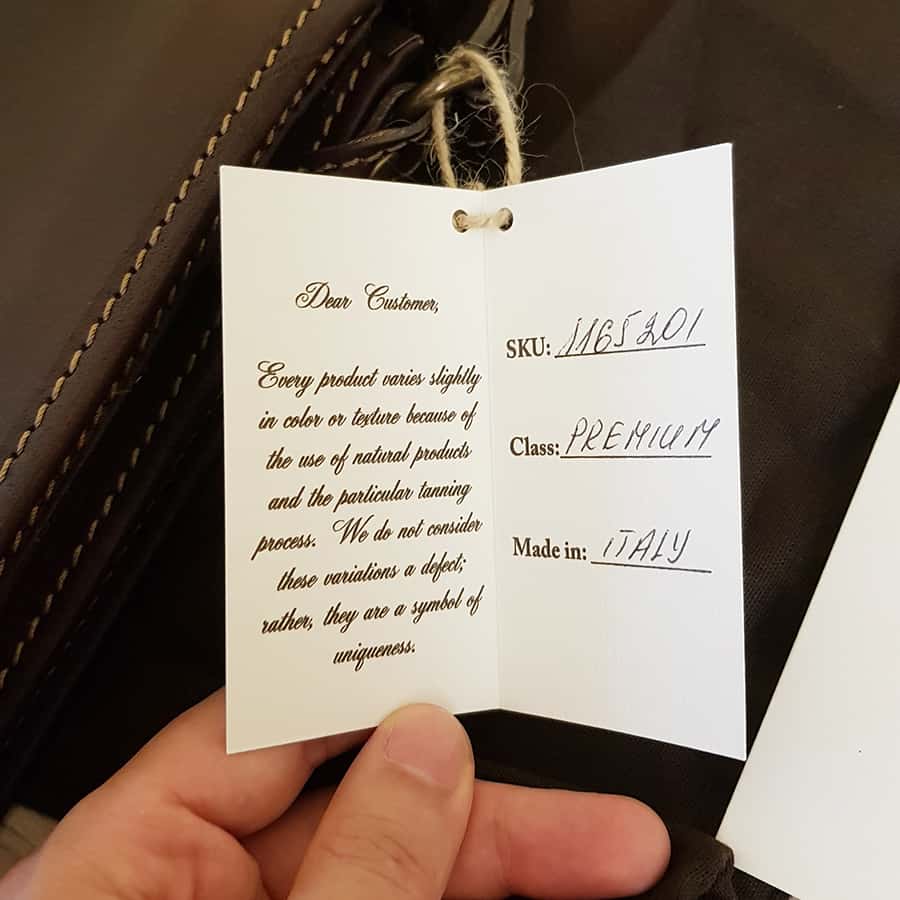 I've been wearing this bag almost daily ever since I purchased it.
The bag comes pre-treated with a coating of leather balsam, so it's ready to be used right away.
The exterior is made from full-leather calfskin. It's soft and smooth to the touch and has a medium thickness. It's quite rigid, too.
Calfskin is very robust, long-lasting, and doesn't require a whole lot of maintenance. However, if the bag is used daily, it's a good idea to condition the leather at least every other month.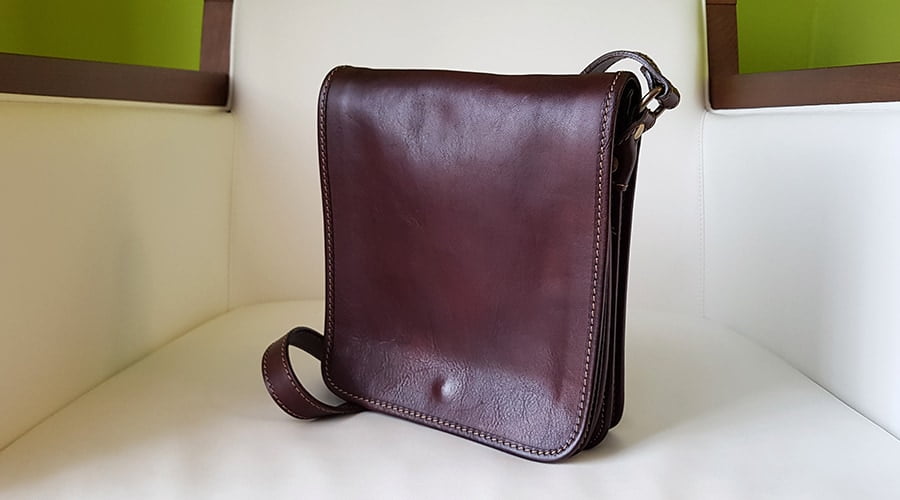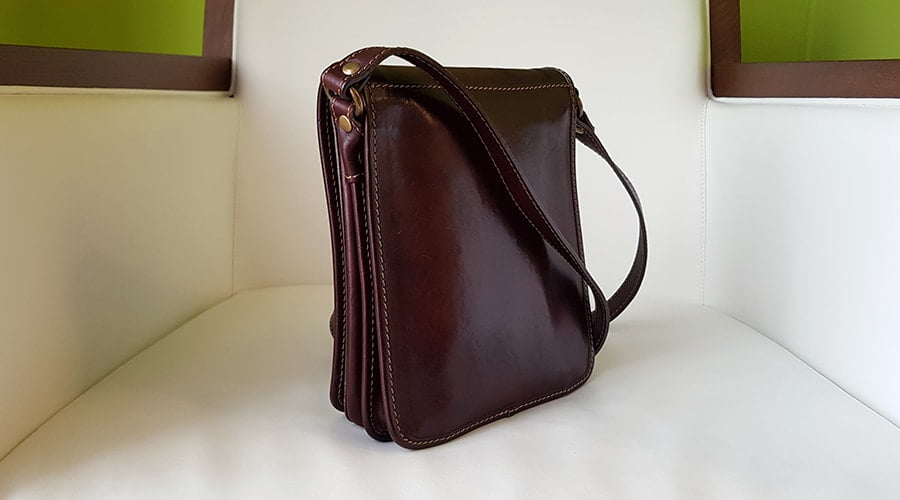 The interior is lined with leather, too. It has two main compartments and an inside pocket with a zipper. The main compartments are spacious and can easily accommodate an 8" tablet.
In my bag, I usually carry car keys, house keys, two wallets, a phone, mints, pocket tissues, and a lip balsam (in the winter).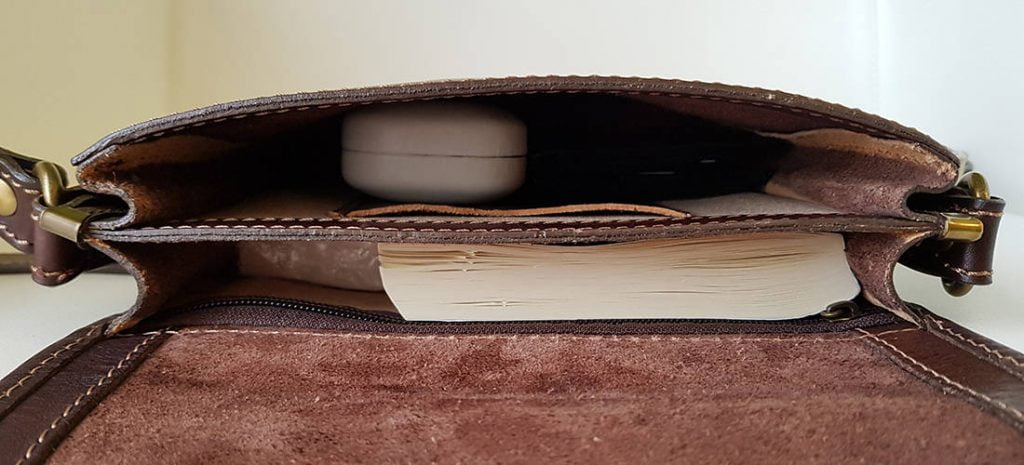 This still leaves me with lots of space, which is appreciated, especially when I'm running errands. I can fill my bag with any small purchases, take papers and documents with me (including coupons and vouchers), and carry energy-boosting snacks.
Depending on the situation, I also carry:
power bank
phone charger
earbuds
compact umbrella
small reusable water bottle
The bag is closed with a magnetic brass clasp that holds the flap securely. It also makes it easy to quickly access the interior.
This messenger bag is hand-dyed using the vegetable-tanning method. This is a very old and 100% natural method for tanning leather (it has existed for over 5,000 years).
Because this method is time-consuming and relatively expensive (compared to modern tanning methods that rely on heavy chemicals), it is estimated that only 10-12% of today's leather products are vegetable-tanned.
Not only is vegetable tanning eco-friendly, but it also gives the product a natural, earthly smell. This is definitely something worth appreciating.
The dimensions of the bag are, for my needs, exactly right. They are 8.7" L x 2.8" W x 10.2" H. The bag is also very lightweight.
Another huge bonus is that Time Resistance offers fast and free worldwide shipping. Depending on where you live, you can get your order in 1-8 days. I got my bag in 3.
For clients in the US, UK, and EU, they even have local return addresses, which makes returning a bag hassle-free.
The bag comes with a 12-month warranty, which is somewhat surprising, based on the level of quality. I strongly suspect, but I might be wrong, that this is due to their pricing model.
The bags themselves aren't that pricey. In fact, my bag cost me $99 USD, which is a very good price for a messenger bag of this quality. I have found several similar models from better-known brands and none of them were selling for under $150 USD. And, I'm confident that the brand-name quality isn't any better than this one.
I wouldn't be surprised if Time Resistance raises their prices once they become more recognized and break into the market. But, for now, their products are very accessible.
If you're looking for a mid-sized messenger bag, I highly recommend that you check out Time Resistance. I'm very happy with my bag and I know, that with a little care, my bag will last me for years, possibly decades.
Get 10% off your purchase on timeresistance.com by using "DM10" discount code.