Note: Durability Matters is reader-supported. When you buy through affiliate links on our website, we'll make a small commission, without impacting your price. Thank you. Learn more.
Where would the modern gentleman be without a stylish wallet?
A wallet is about more than just having a place to store your cards and cash, it is a piece of attire which can make a statement. From the moment you pull it out to pay for your date (even if you are splitting the bill) to flicking through it in line at Starbucks, a great wallet is a part of who you are.
With so much emphasis on how we look, it makes sense that you invest in a rugged wallet which provides you with functionality along with style and elegance.
There has never been a better time to upgrade your wallet from whatever ragged piece of attire that you have now to a classic and timeless 'buy it for life' (BIFL) product and, in this journey, you are not alone. We know that you deserve the best, so that is exactly what we have found.
In This Article
3 Most Durable Leather Wallets
There is nothing quite like a beautiful leather wallet. Leather has a timeless style and elegance in bucketloads. Yet, there is a lot of difference between leather types. With a little knowledge, you can ensure that you get the best wallet possible.
Related: Men's Valentini Leather Wallet: 20 Years Later
There are different grades of leather, and understanding the quality can help you to find a wallet that will last nearly forever.
Full-grain leather is what you want to look for in a leather wallet. Not only does full-grain look amazing, but it lasts for a long time too. As full-grain leather ages, it does so naturally, adding character to the wallet where other materials would become shabby.
Top-grain leather is beautiful but does contain weak points. If you cannot afford full-grain, then this will give a smooth and luxurious look, while still lasting a decent amount of time.
Genuine leather sounds fancy but is actually the lowest grade of leather. It is usually pieces of leather glued together and is anything but genuine (except that it is leather).
Once you have high-quality material, you want it to be put together well. Excellent craftsmanship can make or break a wallet. A slight mistake in the crafting stage can lead a wallet to break down quicker or lose its style before its time.
Here is a little secret to help you spot quality craftsmanship: look for turned as opposed to cut edge. Cut edge is when the leather is cut and then stitched and coated with resin. With turning, the leather is thinned first and then stitched. Look at the seams on the inside of the wallet. If the leather looks thinner and not covered in resin, then it has likely been turned and will last longer.
Let's take a look at our three favorite leather wallets.
1. Main Street Forge Bifold Leather Wallet
Pros
Comes in 4 distinct shades
American made, hand crafted
Full grain leather
Read our hands-on review: Main Street Forge Bifold Leather Wallet For Men
Another bifold wallet which folds up to be unassuming when in your pocket. The wallet is crafted in the USA and features full-grain leather (the top choice of leather in our opinion). There is no chemical bonding, and you can be assured that the leather has been hand-stitched for extra durability. The lifetime warranty shows you just how serious they are about the quality of this wallet.
The wallet measures in at 8.2" x 3.5" x 0.5" (when empty and unfolded). As you fill the wallet, the thickness will change. We like that the wallet is fashionable, the fantastic grain of the leather apparent in all its glory, and that the wallet can hold up to extended use. The wallet is handmade and not bonded, adding strength and durability.
This heavy-duty Main Street Forge Bifold Leather Wallet has enough room for all of your bills and cards with six card pockets and a generous bill section. This wallet is all about being minimal, and will help you to carry only what you need and nothing more. Because of this, the wallet fits sleekly and elegantly into your pocket and does not bulge.
An excellent wallet with a distressed rustic leather look which will leave you feeling anything but distressed.
2. Bellroy Hide & Seek Slim Leather Wallet
Pros
Comes in 3 colors
RFID protection
Environmentally certified leather
Cons
Not as slim as advertised
Not only is this a stylish leather wallet, but you also have the option to add RFID technology to the wallet, protecting your identity and sense of style in one fail swoop.
The Hide & Seek wallet from Bellroy is a bifold wallet, folding over on itself to create a slim wallet that will fit into any pocket. It comes in two distinct heights, so you will always have enough room for your bills, no matter what currency you are using. The card section features extra protection, and there is a specific spot for your business cards.
You can fit between 5-12 cards in this wallet, along with coins, flat bills, and more. There is a hidden bill section where you can store some higher denominations, removing them from wandering eyes.
The standard wallet measures in at 3.3" x 4.5" and is extremely thin. The leather is environmentally certified and looks impressive, no matter which color you choose. The grain of the leather is shown off in incredible detail. With a 3-year warranty, you can be assured that this wallet is going to last.
3. Harber London Leather Bifold Wallet with RFID Protection
Pros
6 color options
RFID protection
Cons
May not fit bills perfectly
Read our hands-on review: Harber London Leather Bifold Wallet with RFID Protection
Harber London's Leather Bifold Wallet is expertly handmade in Spain by skilled craftsmen, from premium full grain leather. This means it is high quality, stronger, longer lasting, and able to age uniquely and gracefully, promising you years of use. This wallet can fit 18 or more cards in it, along with your coins, notes and anything else you like to keep in your wallet, yet it is the perfect size to fit in your pocket.
Minimalist, slim and compact, this wallet is approximately 3,54 x 4,09 inches when closed, and 7 inches long when opened – being handmade, actual measurements may vary slightly. The magnetic clips will ensure your wallet stays closed in your pocket or bag, and the thin RFID (radio frequency identification) blocking material installed in this wallet will ensure that your personal information is safe from radio frequency scanning devices. Keep your cash and your personal information safe with this stylish leather wallet.
3 Most Durable Minimalist Wallets
A minimalist wallet is about more than just finding a small wallet. A minimalist wallet is about finding a smart wallet that helps you to organize your life, leaving you with the smallest wallet footprint which you can find. If you truly embrace the minimalist mentality, then you are getting rid of the unnecessary junk in your life (or at least from your wallet).
You want to start with something small but also something which has ample carrying capacity. It should have enough room for some cards and cash, but only the cards which are a necessity. Think about how small you can go and try to go smaller. Get rid of the clutter, and you will discover more contentment.
Leather is often used for minimalist wallets, but you can also find them crafted from synthetic leathers, fabric, and metal. Some even come with RFID technology.
The best minimalist wallet will save your lower back from the pain. Say goodbye to sitting on a brick for most of the day and say hello to lightweight organization. The wallets listed here as the best minimalist wallets for men; they are clean, minimal, and simple while being heavy-duty and durable too.
1. Ridge Slim Minimalist Wallet
Pros
8 exciting color options
RFID protected
Has thumb notch & money clip
Cons
Initially complicated to use
If you want a minimalist wallet, then aluminum is the way to go. Not only does this material hold its shape when you fill it with cards, but it also stops you from overfilling it, and helps you to choose the cards that you actually need to carry.
Along with being tough, this metal wallet features RFID technology. If you are worried about your identity or credit card information being stolen, then this Ridge Slim Minimalist Wallet will stop any potential information thieves.
The Ridge also has so much faith in their product, that they offer you a lifetime guarantee, something that we believe shows exactly how durable a product is. The longer the guarantee, the more durable the product tends to be.
The aluminum plating helps to keep the wallet slim, but you can still hold up to 12 cards, making it a functional and protective wallet.
There is also a money clip on the outside that allows you to carry some extra cash.
A minimalist wallet for those who want to protect their cards and information.
2. Trayvax Venture Billfold
Pros
RFID blocking
Made in the USA
65-year heirloom warranty
Cons
Doesn't conceal/secure cash well
Read our hands-on review: Trayvax Venture Billfold Wallet Review
Keeping track of cards and money can be a nightmare — at least if you have the wrong wallet. The Trayvax Venture Billfold is one of the top-rated wallets when it comes to both durability and convenience. Available in black and brown, it features a raw tumbled metal clasp edge that clips everything in place.
You can even engrave yours with a message or your name to make it special. It fits up to 9 cards — or 12 when expanded — and holds up to 20+ bills. Plus, its handy card chip window allows you to tap to pay one top-facing card without even opening it. The wallet itself is also TSA-approved and features RFID blocking.
One of its best features is how lightweight and compact it is, lending itself to tighter pants and denim jean pockets. While definitely one of the most durable leather wallets on the market, the additional 65-year heirloom warranty is a real bonus.
3. Vaultskin MANHATTAN Slim Minimalist Bifold Wallet
Pros
Affordable
RFID blocking
8 distinct colors
It is not often that companies can pull off minimalist bifold wallets, but Vaultskin manages it. This stylish wallet, that comes in 9 different colors, is durable, slim, and refined.
Like any good protective wallet, this one comes with RFID blocking technology, preventing identity theft when the wallet is in your pocket.
You can hold up to 9 cards in the wallet, with 1 in the front pocket and 8 on the inside; it is in the inside pocket where they will be protected by the RFID technology.
The Vaultskin Manhattan wallet folds up to 4.09" x 2.99" x 0.39", and is a great travel wallet if you are looking for something a little slimmer for your adventures.
The luxurious top-grain Italian leather has a look and a feel that is sublime, and you will be hard-pressed to find anything as luxurious at this price. The stitching helps to reinforce the edges and adds to the overall look and feel of the wallet.
The perfect travel companion, but also a wallet that will work for everyone.
3 Most Durable Tactical Wallets
Sometimes you need something with just a little bit more to it. You still want the organization and minimization of the minimalist wallets, and you also want superior materials, but sometimes life throws more at you than the average wallet can handle. That is where tactical wallets come in.
From heavy-duty construction work to the great outdoors, there is a great need for a wallet that is extra durable without losing any of its functionality. Tactical wallets will help you to organize your life, but they also offer more.
Every square inch of a tactical wallet has been designed and crafted to bring you added functionality. From bottle openers and blades to tools and RFID-blocking technology, there is almost nothing that these wallets cannot do.
These wallets are heavy-duty and sturdy, feature weatherproofing, have multitools, and overall are the most durable wallets out there; great if you find yourself in a pinch.
1. Dango M1 Aluminum Tactical Wallet
Sale
Pros
Made in the USA
RFID blocking
Many color options
Cons
Somewhat hard to add and remove cards
Manufactured in the USA, this wallet is built around a metal core made from aerospace-grade aluminum. The Dango M1 wallet hides a suite of tactical tools in the aluminum core, which can be removed. Some of the included tools are a bottle opener, two rope tensioners, a chisel, two wrenches, a seatbelt cutter, and two cutting edges. The actual body of the wallet is made from high-quality leather, which acts as a sheath for the metal core.
The wallet is a compact 3" x 4.3" x 0.5". But do not let the size fool you: there is plenty of space inside. You can store up to 16 cards plus cash, and thanks to the RFID blocking design, you can be sure your credit cards are secure. The design is bifold, but includes a number of pockets and clear windows for easier access to ID and other cards.
If you want a sturdy yet fashionable wallet that can save your life in a pinch, this might just be the tactical wallet for you.
2. MURADIN Aluminium Tactical Wallet
Pros
RFID blocking
Very affordable
Sleek carbon fiber look
Cons
Sharp metal edges may damage clothes
Looking for a durable and secure wallet to pair with a new outfit? The sleek profile perfectly suits your everyday getups and adds a touch of style. The aluminum frame holds the wallet's shape while also protecting it from damage. And because it is metal, RFID wavelengths are interrupted and cannot read the chip on your credit cards. The frame also includes a clip for attaching a lanyard, so you can make sure the wallet cannot be pickpocketed.
Measuring at 3.5" x 2.2" x 0.3", this wallet is especially slim compared to others on the market. The small size means it fits perfectly into a jacket or blazer breast pocket. You can slip 12 cards inside with ease, and a silicone band helps hold in your cash while keeping it flat. The card pockets are spread around the wallet's interior and exterior to take full advantage of all the available space.
The Muradin Aluminium Tactical Wallet comes with a carbon-look exterior by default, but a number of other colors are available, such as subtle imitation leather exteriors. This is an excellent tactical wallet for taking out on the town while retaining the security of other such wallets.
3. Rapdom USA American Flag Tactical Wallet
Pros
Many pockets & compartments
Flexible & strong
Cons
May be bulkier than expected
Tactical wallets do not need to be crafted from metals and carbon fibers, and this fabric wallet is proof of that. This is a trifold wallet, so you are going to get a lot of space inside at the expense of minimalism. There is a choice of colors, and the American flag is emblazoned on the front.
When the wallet is closed, its dimensions are 4.75" x 3.5" x 0.75", and when opened, it measures in at 11" x 4.75" x 0.30". There really is a generous amount of space for all of your belongings. In fact, there are 18 separate compartments and pockets. You also have a non-stick ID window, zippered pocket, media card storage, and velcro flap. There is so much here to love.
The Rapdom Tactical Wallet is flexible yet secure and is designed to stand up to the harshest conditions; perfect for hunting, camping, and fishing trips. No need to worry if this wallet falls into the water or is swallowed by a bear. There is also anti-shake technology, meaning that nothing will fall out of the wallet is shaken.
With four colors to choose from, this wallet is great if you need to carry a lot with you when you are in the great outdoors. The wallet is also backed by a lifetime warranty. This is a durable wallet that will last.
What To Know Before Buying a Wallet
Choosing a wallet need not be a stressful experience, but it should also not be one which is taken lightly. Our goal today is to find you a wallet that is functional, stylish, and will stand the test of time.
You want something rugged yet thin; elegant yet sturdy. You want a showpiece that fits in your pocket and protects your life. Take the time to consider the basics, and create the building blocks to find the perfect wallet.
Simplicity
With many "buy it for life" products, simplicity is the key. The more something has, the more that can go wrong. Thankfully, wallets are straightforward by nature, though that has not stopped manufacturers from adding more and more. It can be helpful to find something which does everything but do you need that?
When you are looking for a wallet, you want something which holds your cards and cash (and anything else which you would carry in your wallet). You want to carefully consider the colors and pattern, and look for pure materials, which are put together well.
A plain color may seem dull at first, but it will go with everything and is suitable for every event.
Size
It goes without saying that your wallet should hold what you need it to hold, but there is often the temptation to go bigger or go home. Much like our houses, if we have more space, we will often find a way to fill it.
A larger wallet may carry more, but it will also look unattractive and bulky. With a thin wallet (and you can still get slim and heavy-duty wallets), you hold your wallet in your pocket while showcasing a streamlined look. A fat wallet takes its strain on your clothes, looks unsightly, and makes you more of a target.
A smaller wallet means that you carry what you need and do not hold onto any unnecessary items. Steer clear of the clutter, and keep with simplicity and style.
Type
There are many wallets to choose from, and each one comes with its own pros and cons. The one you need will depend on what its use is going to be. Let's take a look at your options.
A bifold wallet is basically what it sounds like. It folds in half so that you can open and close it when needed. It is excellent for simple money management and provides easy access to your cards and bills. It is usually thin and lightweight with options for storage, but it does feature fewer card spots than other wallets.
A trifold wallet has two folds, leading to three main compartments in the wallet. When you are comparing them to bifold wallets, they usually have more space and are a little bulkier. If used correctly, they can still be slim and lightweight while having more storage space. They typically feature more organizational options and often have zippered coin storage.
Minimalist wallets are great if you want something which is super-slim and thin in your pocket. They have a few credit card slots and fewer cash options. If you use card more than cash, they are perfect. They are lightweight but have fewer storage options.
Money clips are old-school. They are often created by designers, so have a lot of style and elegance to them, but they also have the least options when it comes to cards and other items. If you want to flaunt your wealth, then go for it.
Travel wallets have more space than the traditional wallet and will easily hold your passport along with cash and cards. They are larger than regular wallets, so are not recommended or day to day use, but are the perfect option for traveling.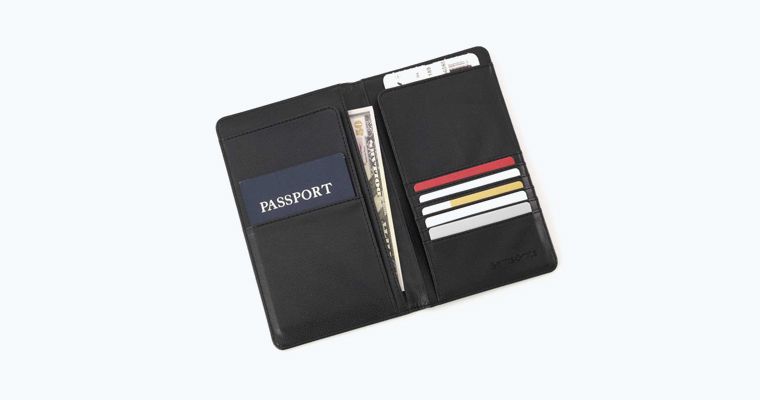 Specialty wallets offer you a little more. They are often hybrid wallets or provide more protection than a regular wallet would; such as RFID and tactical wallets. They often make great wallets for construction workers who are looking for something extra-durable and functional. If you are looking for extra protection, then they are the way to go.
RFID Technology
Just because you have your wallet in your pocket, that does not mean that your credit cards are protected. Having your credit card details stolen is a common occurrence nowadays, and it often cannot be stopped.
If you want to minimize the threat of your credit card being stolen when it is in your pocket, you can invest in RFID technology. Many modern wallets come with this extra protection, and it will protect from identity theft.
RFID technology will cost you a little more but can save you from a lot of problems.
Price
Of course, price is going to be a significant factor when you are choosing the perfect wallet. If you genuinely want a "BIFL" wallet, then you should expect to pay a little more for quality. You should always start with a budget and be prepared to invest the entire budget in the right wallet for you, but know that you always get what you pay for.
A higher price does not always guarantee a better wallet, but it does give you a better chance of finding a rugged and tough wallet that will last. With the right investment, you can find a durable wallet, which looks fantastic.