Note: We received this product for free. No other compensation was provided, and as always, all opinions are our own. We may earn money from links on this page, but we only recommend products we back. Learn more.
Sometimes you need to be able to conjure up daylight with the simple press of a button. Other times you need a flashlight that can continuously run for 85 hours. The Fenix TK35UE V2.0 promises both, but does it deliver?
With five brightness levels in addition to a strobe mode, this light should meet your lighting needs for any situation you get yourself into. The tactical mode ensures simple, reliable operation in high-intensity situations. And the light lockout mode prevents accidental activation resulting in a dead battery or hot flashlight heating up your gear.
This flashlight boasts a lot of great features, but how does this light perform? I was thrilled to find out. And this review will dive into all the details to help you decide if this flashlight is the right choice for your needs.
What's in the Box?
The Fenix TK35UE V2.0 does not come with batteries included. So, it arrived in two boxes.
The first included:
The flashlight itself
A holster
Lanyard
User manual
Warranty information
The second box included the Fenix ARE-A2 Dual Channel Charger (sold separately), which is required to charge the two 18650 rechargeable lithium-ion batteries.
First Impressions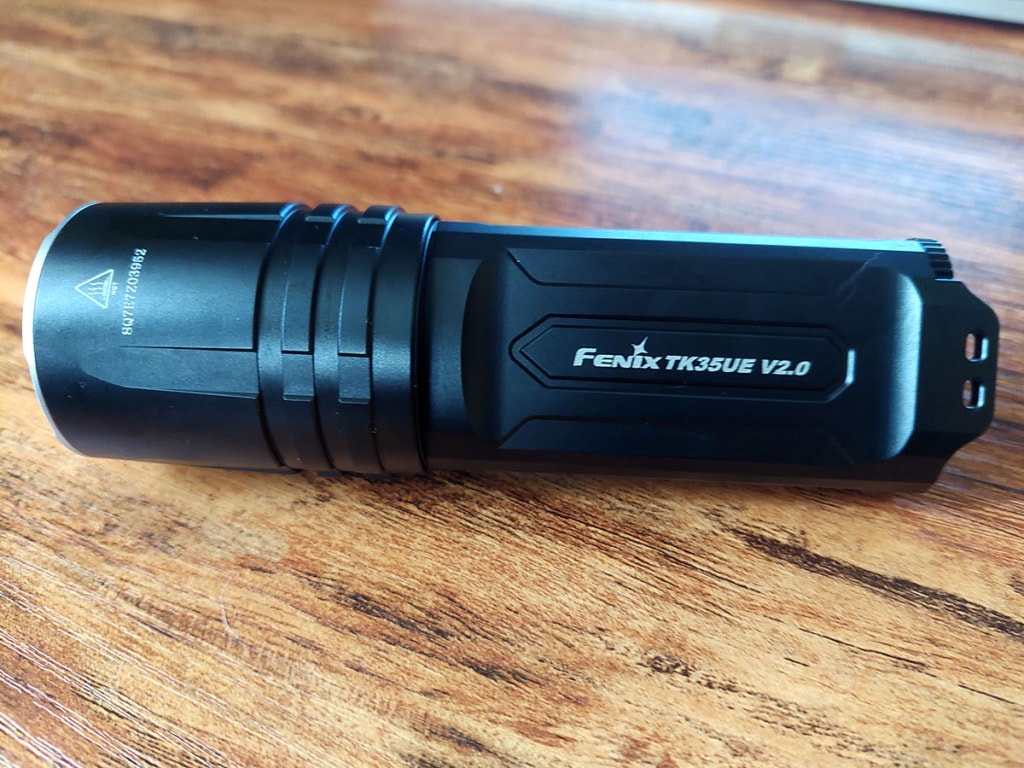 The TK35UE V2.0 has an interesting and attractive design. The flat sides are reminiscent of plastic 90's flashlights, but that's where the similarity ends. The sleek metal design feels extremely solid, although it does tend to feel a bit top-heavy. If you were to balance the light with the lens beyond your palm and the body in your palm, the flashlight tilts away from your palm. This means you must keep a decent grip on the unit while handling it.
The operation of the mode toggle switch is simple, though it wasn't immediately clear what the modes were for until I read the user manual (more on that later).
Unscrewing the light cap to access the batteries reminds you of the thorough and quality waterproofing Fenix prides itself in. When loosening the light cap, it takes more than a few turns to get to the battery chamber because of the waterproofing–which I appreciate but may catch some users off-guard.
The TK35UE V2.0 is designed to pack a powerfully brilliant punch in a compact package. It feels dense, and the oversized lens houses three LEDs.
Before turning it on, I started to wonder how bright 5,000 lumens really are.
Features
Speaking of 5,000 lumens, let's run through the impressive specs of the TK35UE V2.0.
5,000 lumens max output
400 meters / 437 yards max beam distance
7.13 oz / 202 g weight (excluding batteries)
5.63 inches / 143 mm in length
1.69 inches / 43 mm width
1-inch wide handle
85 hours max runtime (Eco mode)
Impact resistance up to 1 m / 3.2 ft
IP68 dustproof/submersible up to 2 m / 6.5 ft
Output and Runtime
The TK35UE V2.0 has 6 output modes, as well as a strobe mode.
Eco mode: 30 lumens, runtime 85 hours, beam distance 32 m / 105 ft
Low: 350 lumens, runtime 13 hours 40 minutes, beam distance 100 m / 328 ft
Medium: 800 lumens, runtime 4 hours, beam distance 160 m / 525 ft
High: 2,000 lumens, runtime 2 hours, beam distance 250 m / 820 ft
Turbo: 5,000 lumens, runtime 1 hour 40 minutes, beam distance 400 m / 1,312 ft
Tactical: 3,500 lumens, runtime 1 hour 50 minutes, beam distance 320 m / 1,049 ft
Strobe: 3,500 lumens
Mode Toggle Switch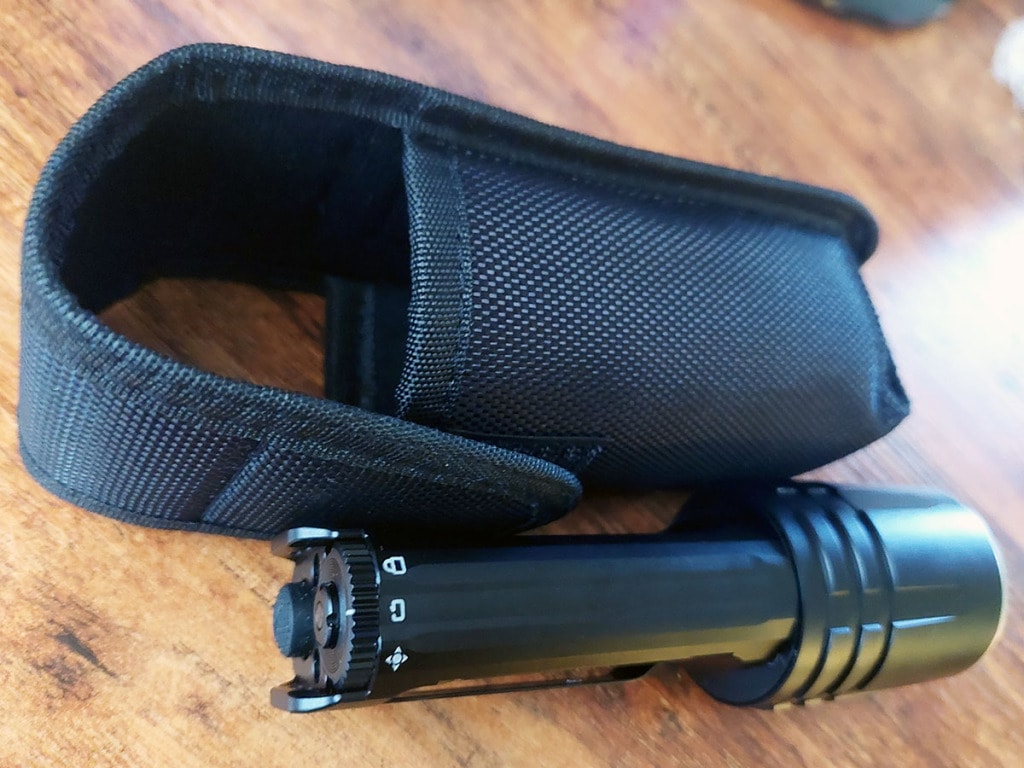 The designers of the TK35UE V2.0 planned ahead for users who need a flashlight that can do it all.
The mode toggle switch allows instant switching between lockout mode (which prevents accidental activation), tactical mode, and duty mode.
While in duty mode, 5 output modes are available to meet any need of light level.
While in tactical mode, the light can toggle between the 3,500-lumen tactical output and strobe.
As for illuminating the light, itself, you simply press the button on the butt of the flashlight. There is no button on the side body. This makes operation straightforward, but also requires either two hands while holding the light to change the handling position to switch it on.
Extremely Powerful Output
As it turns out, 5,000 lumens is a serious amount of light. For anyone needing to light an alleyway, find their way in the dark, or see nearly a quarter of a mile at night, this ought to do it. I was very impressed by how bright this flashlight truly is. It allows the user to illuminate the ground as well as the area overhead for a wide area of visibility.
I would say this is the perfect choice for anyone with a large property since it floods a wide area as well as quite a bit of distance with consistent light. It would be perfect for checking fields, as well.
Durability
The solid metal construction of the TK35UE V2.0 feels dense and durable. The smooth metal is sleek and attractive, and the flashlight has impressive drop, dust, and water resistance ratings.
The body has a hard-anodized anti-abrasive finish, which should handle falls and regular wear without scratches or dents.
Holster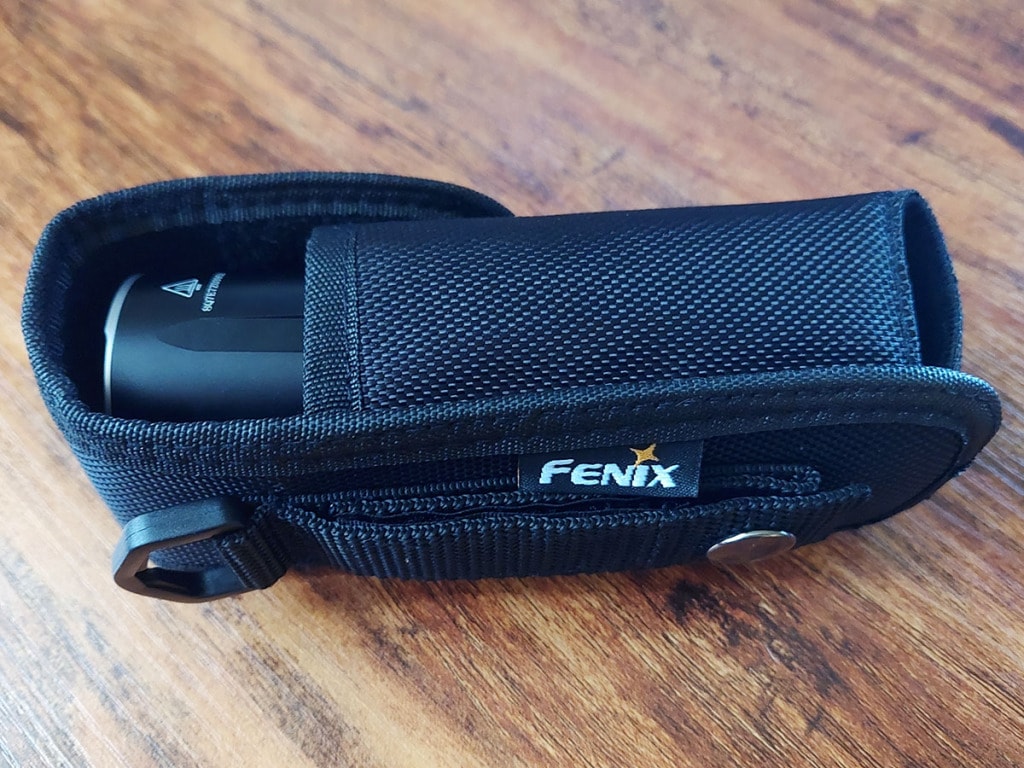 The holster that comes with the TK35UE V2.0 is durable and offers several attachment styles. It has a durable snap, strong velcro, or a weave-through option. So, you can attach it to your belt, backpack, or another bag.
Battery Indicator Light
On the tail, you will find a green battery-level indicator light that turns reds as the battery gets closer to dying. This is a wonderful feature for those who use their flashlight daily.
The light will let you know when the batter is between:
85% – 100% with a solid green light
50% – 84% with a flashing green light
25% – 49% with a solid red light
1% – 24% with a flashing red light
Battery Charging
The two 18650 lithium-ion batteries used by the TK35UE V2.0 (which are sold separately) must be removed from the body of the flashlight to charge in a specially purchased battery charger (in this case, the Fenix ARE-A2 Dual Channel Battery Smart Charger). This adds a few extra steps compared to flashlights that can charge without the removal of batteries.
Luckily, the Fenix ARE-A2 charger is quite affordable and is compatible with 9 battery types (Li-ion batteries: 10440, 14500, 16340, 18650, 21700, 26650; Ni-MH / Ni-Cd: AA, AAA, C). It features a short-circuit protection, over-current protection, over-voltage protection, and reverse-polarity protection. Probably the coolest feature, next to the LCD screen, is the option to charge two different battery types at the same time.
Grip
The TK35UE V2.0 is both top-heavy and somewhat slippery. I definitely wouldn't use it without slipping the lanyard around my wrist. For users with smaller hands, you may find the flashlight a bit cumbersome.
Alternatives Available
Fenix makes a more powerful flashlight, the Fenix LR35R Rechargeable Flashlight, that can be charged with a USB Type-C without removing the (included) Lithium-Ion batteries and illuminate at 10,000 lumens.
Closing Thoughts
The TK35UE V2.0 Fenix flashlight is certainly powerful and reliable, and any outdoor enthusiast would find it meets their needs. However, the drawbacks of this model make it less competitive than Fenix's other offerings in some ways, especially considering you have to purchase the batteries and charger separately.