Note: We received this product for free. No other compensation was provided, and as always, all opinions are our own. We may earn money from links on this page, but we only recommend products we back. Learn more.
My laptop is my lifeblood. As a GIS specialist who works in the office, at home, and in the field, my laptop comes along with me nearly everywhere I go. In some ways, it's my sidekick. This is all to say that keeping my laptop safe and sound is a top priority—and a tough task to fulfill when you face the elements along with everyday wear-and-tear. Lo-and-behold, Harber London asked me to put their Slim Laptop Backpack to the test.
I knew it would be a tough job to keep my laptop safe, secure while keeping the rest of my field equipment in tow. Additionally, I needed a laptop bag that could see occasional rain, snow, and high temperatures.
Having tested a Haber London wallet, I had high hopes, but only time would tell if their backpack would live up to my high standards. And after some rain, several trips into the woods, and back-and-forth to and from the office, I have the results.
First Impressions
Harbor London knows how to make an unparalleled first impression. The Harber London Slim Laptop Backpack arrived beautifully packed in its cloth storage bag.
As I opened the cloth bag, I found a glowing tan leather bag that looked petite but classy. The color is pretty true to the pictures in the online listing. But I actually like rich, warm tan better than the photos on the website. If I had to categorize the brown, I would say it's burnt umber. I know as the bag ages, it will soften a bit to a warm sienna.
I inspected all of the details and was overwhelmed by the thoughtfulness of every detail and stitch. The leather is soft, smooth, and glistens.
Style
So, at first, I thought this Slim Laptop Backpack might appear too fancy for a forest-exploring map maker. However, it actually adapts to my style well.
I appreciate the unique squareness of the corners and the gunmetal strap adjustment hardware.
The black, heavy-duty zippers make the bag look more masculine and rugged, and the subtle logo at the top center of the bag is perfectly discreet. The rivets where the handle and zipper attach create a nice balance of utility and style, as well.
Design and Utility
While looks matter, I know you want to know how this laptop bag actually performs. So, after several weeks of toting it into the woods, creekside, and between my workplace and home, I can give you a thorough picture of this bag's optimal durability and utility.
Size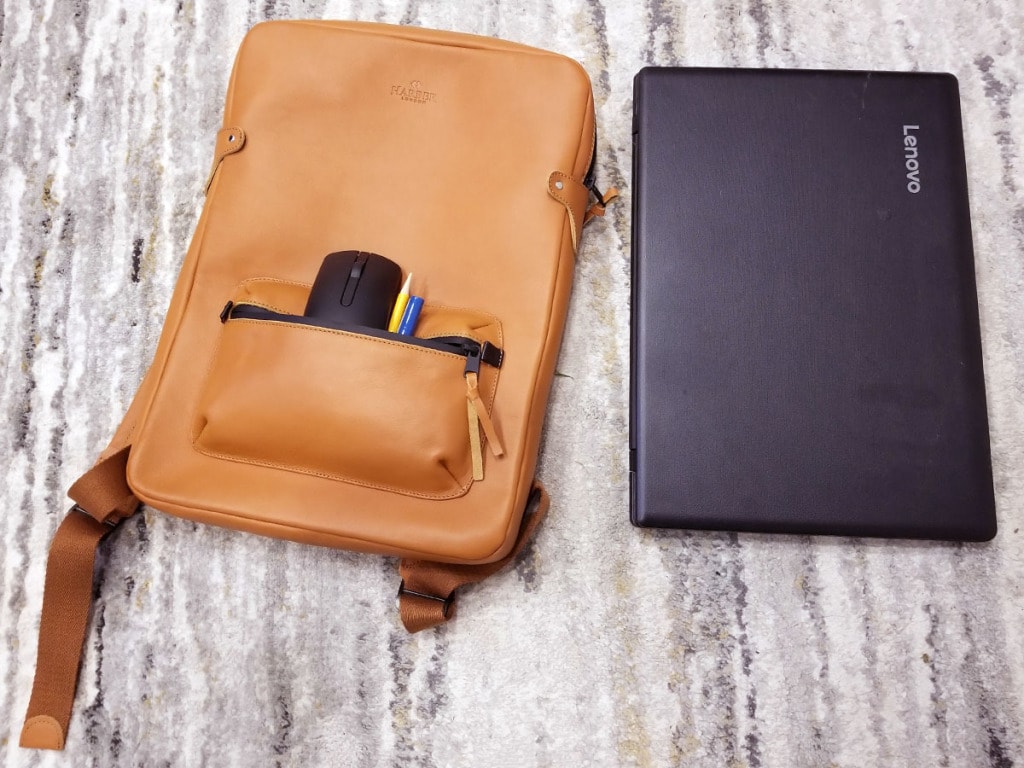 So, let's talk size. I did raise an eyebrow when I saw the "large" bag was about one-third of the size of other laptop bags I've owned. However, I can confidently say, the Harber London Slim Laptop Backpack does not leave me wanting when it comes to space or storage options. It's great at carrying everything I need without feeling like a turtle.
Furthermore, the bag fits my 17-inches laptop perfectly (Yes, I know the website says it should fit up to 16-inches). When I wear the bag, I never feel my computer shift or shake. It stays put.
My personal laptop is a 16-inch laptop and the bag held it snug, as well. I haven't tried putting both in the bag at the same time, but I believe it could fit both in a pinch.
I have carried my mouse, charger, wallet, phone, notebook, phone battery backup, and laptop simultaneously without issue. I think this bag would also work well for carrying a laptop and a tablet (and phone).
Storage
If you are a storage junkie, you need more Harbor London products in your life. This bag is like the laptop bag equivalent of a luxury clown car. You can fit everything you want and need in it without trouble.
The front pocket is ideal for your charger, wallet, keys, mouse, phone, and quick-access pen.
The interior front pockets keep smaller items secure and convenient. I keep my USB stick, wallet, pens, and other small items in these pockets. The larger fabric pockets keep your laptop upright and stable while you move.
Functional Details
This laptop bag truly exemplifies "smart carry gear for your everyday life." You can tell this bag has been designed with care and consideration for how people work and use it. Through the use of this bag, I feel more organized. I can locate what I need when I need it, quickly.
The front pocket key clip: This feature helps me find my keys while in the field quickly and easily. And the magnetic clasp reduces fumbling when putting my keys into the bag.
Darted front pocket: The darts in the front pocket allow for extra room. They're even and add character to the backpack's style.
Roller bag strap: I use this strap with a seatbelt to secure my laptop while on the road.
Handle: The handle between the shoulder straps is perfectly positioned to balance the bag's weight, so the bag doesn't swing forward when I go to get my laptop out.
Riveted zipper support: This feature screams "longevity." The added support prevents excess wear and tear on the zipper ends.
Leather zipper ties: excellent for handling the zipper pull easily.
Heavy-duty stitching and buckles: Every seam of the bag is flawless, and the aviation buckles are shaped to allow a secure hold but easy adjustment.
Comfort
One-shoulder bags have been unmanageably annoying and uncomfortable in the field—they shift, rub your shoulder raw, and do not distribute the weight evenly. Backpacks are bulky and do not keep my laptop secure, which I could feel moving around. This slim laptop backpack is the opposite. It's lightweight and comfortable.
The straps on this backpack are soft and do not dig into your shoulders. In fact, it keeps your laptop centered and flat against the back.
Weather Resistance and Overall Durability
In the past, laptop bags left my laptop vulnerable to rain. So far, the Harbor London Slim Laptop Backpack has stood up to light rain. The interior pockets stayed dry. The zippers have a tough rubber exterior to prevent water intrusion.
Related:
Additionally, the non-bulky padding has prevented my laptop from receiving unnecessary blows and bumps.
Drawbacks
While it's difficult for me to find drawbacks to this sturdy and elegant bag, I have come up with a few. First, there is no attachment or place to carry a water bottle. Secondly, it can be difficult to find anything that falls to the bottom of the large back pouch. This is because the zipper only allows the bag to open so far. Of course, this feature keeps your laptop from tumbling out, so I'm not sure how you would change it. It's also a minor issue.
Closing Thoughts
Harber London does it again. The Slim Laptop Backpack is a lifesaver. It has kept my laptop safe and secure while keeping my items in neat, designated spots for better organization. It has also kept the rain rolling off the exterior and kept my belongings dry.
So, my overall impression of this laptop backpack is it truly is where utility meets luxurious style. I look forward to carrying it for years (and decades) to come.