Note: We received this product for free. No other compensation was provided, and as always, all opinions are our own. We may earn money from links on this page, but we only recommend products we back. Learn more.
A good tactical flashlight is a must for those who are regularly in the trenches. Whether you're searching for survivors in a smokey room, or suspects hiding in the dark, there's no replacement for a good tactical flashlight. Even if you work in a less dangerous yet more hands-on field or live in a remote area, having a reliable, bright flashlight makes operating in the dark easier.
I often rely on a flashlight as I perform land visits. And with increasing storms in Nashville that knock my power out for days, I wanted a flashlight that could illuminate a room or dark cavern. So, when I got the chance to try out the Acebeam Defender P15 I was thrilled. This tactical flashlight pulls double duty as an EDC and is compatible with several mounting options.
What's in the Box?
This flashlight comes accessorized, let me just tell you. Despite the small size of the box, they've packed it full. Inside you'll find:
The Acebeam Defender P15
Charging cable
Attachable lanyard
Tools and extra O-rings
M-LoK rail mount and hardware
Remote switch and mount
Picatinny mount hardware
Tactical ring
One-touch strobe switch
User manual, warranty, and safety information
First Impressions
Tactical flashlights always remind me of lightsaber hilts. Some are top-heavy while some are elegantly slim. Some look like they are designed for beating someone over the head, while others are unobtrusive. If the Acebeam Defender P15 were a lightsaber hilt, it would be Master Yoda's – small and slim, but no less powerful.
The Acebeam Defender P15 fits comfortably in your hand, although the pre-installed clip is a bit bulky compared to the slim profile of the flashlight. When mounted on a firearm, the flashlight's 1-inch diameter keeps it out of the way, and because it's only 5 ⅛ inches long, it shouldn't extend far beyond the muzzle.
However, the main feature that stood out to me at first was the unique charging port, which doubles as the contact for the remote switch and one-touch strobe switch. This feature allows you to leave the flashlight mounted on your firearm while charging the battery and instantly be ready for service when it's full.
Features
5.16 inches / 130.7 mm in length
1 inch /25.4 mm head diameter
1700 lumens max output
330 meters (1,082 feet) max beam distance
840 hours max runtime
151.5 g / 5.34 oz. with battery
Aerospace aluminum alloy body
Stainless steel bezel
18650 rechargeable lithium battery
2.5 hour charging time at 1.5A
Output and Runtime
The Acebeam Defender P15 has five continuous modes as well as a strobe mode.
Turbo: 1,700 lumens, throw distance 330 m / 1,082 ft, runtime 1 h 45 min
High: 600 lumens, throw distance 200 m / 656 ft, runtime 2 h 45 min
Med: 200 lumens, throw distance 120 m / 393 ft, runtime 8 h 30 min
Low: 45 lumens, throw distance 40 m 7 131 ft, runtime 37 h
Ultra-low: 2 lumens, runtime 35 days
Strobe: 1,200 lumens
Super-strong, Consistent Beam
I don't know about you, but 330 meters (1,082 feet) is a long way for me to see in the dark. This flashlight's turbo mode is like having a miniature sun at your disposal. This beam doesn't just go far, it is BRIGHT.
This makes it ideal for hunting, camping, hiking, and security-related occupations.
Not only does this flashlight's beam illuminate objects and areas 330 meters (1,082 feet) away, but it can also flood a room with light. I used the flashlight in my crawlspace, and it filled the space with a bright glow, allowing me to work easily and seamlessly.
Remote Switch & Quick-Function Switch
The remote switch allows you to easily illuminate the torch while it's mounted on your firearm. The finger-switch allows you to not only turn on the flashlight, but it gives you access to strobe with a simple push-and-hold of the button.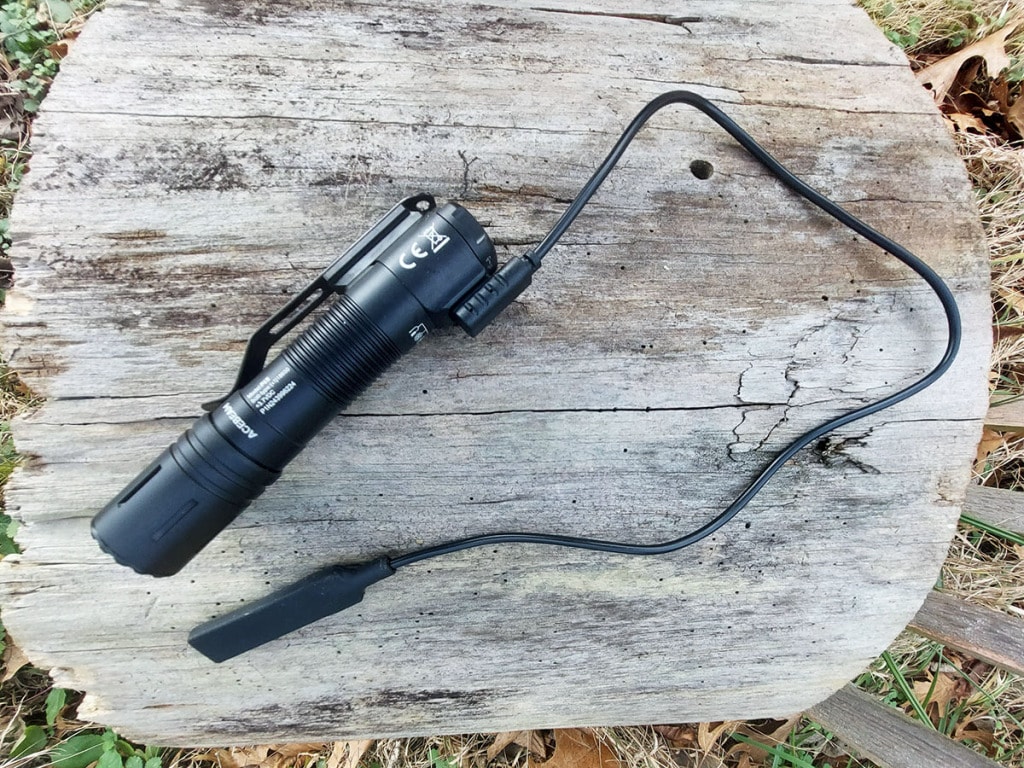 The quick-function is also a wonderful addition. It gives you a bit more distance for longer-barrel firearms.
Modular Mounting System
You can tell the engineers at Acebeam know what firearm enthusiasts want when it comes to tactical lights. They've made the Acebeam Defender P15 compatible with just about every mounting system out there. The remote switch attaches and locks directly to the charging port, eliminating the need to dismount the light to charge.
Assembling the mounting system is also easy. It comes with everything you need to put together and take it apart. I keep all the bits and bobs in the box it came with to make them easy to find when needed.
Slim, Lightweight Design
If you've ever spent time carrying gear on your back you know how important every ounce can be. The Acebeam Defender P15 lets you carry a powerfully bright light with you that weighs less than your wallet. And it is slim enough to squeeze in anywhere in your gear, so you can keep it within reach or pack it into an area where you have just a bit of extra room.
Charging
In just 2.5 hours the Acebeam Defender P15 goes from completely dead to ready to light up the woods, and there's a handy indicator light to let you know when you're ready for business. The charging port is accessible while mounted and the charging cable can be locked in place to ensure full contact.
Warranty
Since we're all about durability, we want to know how long this light should last. Acebeam's products all come with a 5 year (60-month) warranty and a limited lifetime warranty. However, I feel confident that the Acebeam Defender P15 will last much longer than 5 years with its solid construction and quality materials.
Heat
The Acebeam Defender P15 comes with a warning not to point its beam at anything flammable. This is a little bit overly cautious, but only a little bit. It can put out some real heat! With continuous operation, the lens could pose a serious burn hazard, and I give it a minute or two to cool off before putting it in my pocket.
Instruction Guide
While this flashlight is a fantastic option as a tactile flashlight, and it comes with all the bells and whistles, the instruction guide can be difficult to decipher. Despite this, many of the functions are intuitive and do not require reading the instructions.
Closing Thoughts
This flashlight offers superb value for the price. If you like to have options for how you'll mount your tactical flashlight, or if you need a powerful EDC with a slim profile, the Acebeam Defender P15 will get the job done. Its versatility extends beyond compatibility with mounting systems to a lightweight yet powerful daily flashlight.