Note: We received this product for free. No other compensation was provided, and as always, all opinions are our own. We may earn money from links on this page, but we only recommend products we back. Learn more.
The Marin (Soft Toe) boots are the first pair of boots (besides my motorcycle boots) I've had in years. When I was younger, I loved wearing large hiking and work-style boots as part of my everyday footwear, but I have since moved away from that style in favor of more casual sneakers. As a result, I was pretty excited to see how these panned out.
Context and First Impressions
The boots were shipped promptly, and came in a neat box that serves as both the shipping box and product packaging – a nice touch to reduce waste. The unboxing was a pleasing experience, as everything was well packed, and there was a nice message on the inside of the box upon opening.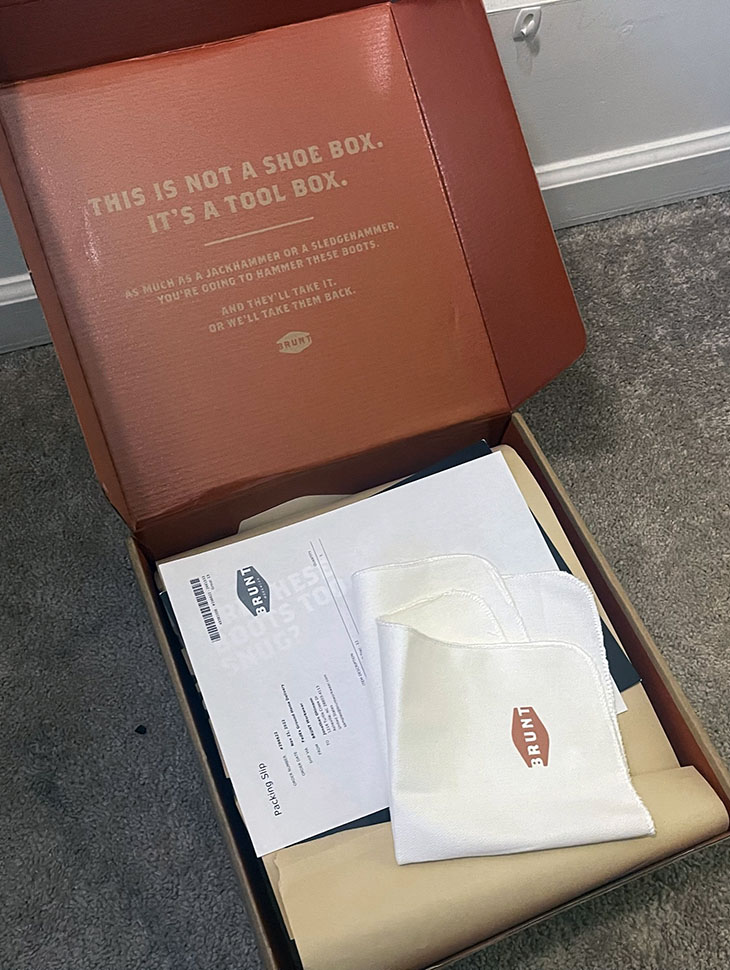 I was surprised to find that the boots came with a polishing rag, which is pretty sweet. Other items inside the box include a sticker (hurray!), some literature, and the receipt.
Build
The boots themselves sit neatly together in the box, and the quality and feel of the boots, as I first picked them up, was reassuring.
They are hefty (even compared to my motorcycle boots which need to be able to take a beating), the leather is stiff, the sole is very thick, and they are nicely padded with moisture-wicking material on the inside. All the stitching is consistent and solid throughout, with no loose threads. The boot itself is very stiff – this is no lightweight sneaker – but this makes sense for its intended purpose as a hard-wearing work boot.
Style
These boots have classic styling and minimal branding. Personally, I'm not a fan of big logos, especially on something like a boot, and I'm happy to report that Brunt keeps their branding lowkey, here.
A small embossed logo on the tongue, side, and outsole (if that counts) is all they add, and the emblem on the laces is easily removed, if you so desire. Even the waterproofing tag at the rear of the boot blends in, with its black and brown coloring. The solid cream coloring of the thick sole is broken up by a single orange block, which serves as a little flare on an otherwise conservatively-styled boot. I like the modern touch. I also enjoy the simple geometry of arrows and blocks on the bottom, which some shoes really overdo these days.
It's hard to quantify, but I feel confident wearing these in public. The Brunt Marin is a nice boot.
Fit
I think this is where these boots really shine. I wear a size 12 in most sneakers and boots, and I went with that size without second guessing it. The fit is nearly perfect. Coming from wearing my normal comfy sneakers, I was skeptical that a burly boot like the Brunt Marin could be very comfortable. I certainly never imagined it would be as comfortable as it has proved to be during normal walking.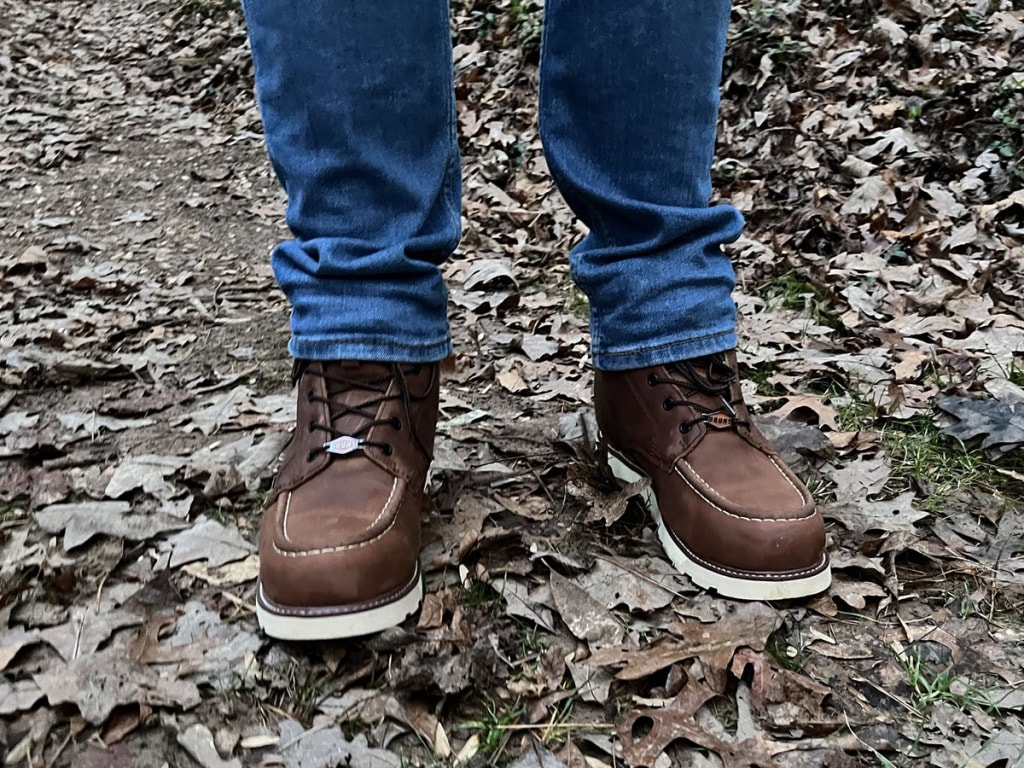 The leather uppers have some give to them, to make the boot comfortable. They also allow some room for the boots to break in. The toe box is just right, with enough room for my toes to move around, but also a more snug fit near the ball of my foot so the boot stays in place. There is some arch support, and heel comfort is achieved by a nice concave sole at the rear.
The sole itself is firm, with a slight give; that is to say, it's not too squishy, nor too firm – it's just right. I am confident that once these break in a little, they will be even more comfortable than they already are. For added comfort, the sole is adjustable, so you can customize it to fit your foot perfectly.
The laces also offer good adjustability. I chose to leave the top hooks unlaced, to give the tongue more room to move, and that's worked for me. Speaking of the hooks: You have the option to lace or hook the laces at the top two rungs, which is a nice choice, depending on your needs. The hooks allow you to loosen up the laces to get the boot off easier, and the normal lace holes provide an ultra-secure hold, if needed. Overall, I am very impressed with how the boots fit my feet.
Against the Elements
This boot reminded me how nice it is to have a shoe that can protect you from the elements. Brunt labels these as waterproof, and while I haven't tested them extensively in this regard, I did stand in a stream for a few minutes without any leakage.
The trail had plenty of mud, which I was happy to walk through, and rough gravel was also no issue for these boots. The sole is thick enough to insulate you from all but the sharpest objects, and as a heavy-duty hiking boot, this shoe does pretty well. While the outsole's lugs aren't super aggressive (a feature I'm sure makes this a more comfortable all-day work boot), it still grips rocks and roots really well. For casual hiking like I like to do, it suits me just fine.
Overall
I must admit, I was skeptical that these boots would work for me, but they do. They gave a good impression from the get-go, with superb packaging and enjoyable unboxing. The quality didn't disappoint me, and the boots seem like they will last for years.
Even though the style of big boots isn't normally my thing, these Brunt Marin Boots have really grown on me. They are a good mixture of classic and modern, and I've received a couple of compliments on them in the short time I've been wearing them. Most importantly, the fit is superb, and they deliver as rugged work boots. It's hard not to recommend Brunt Marin to anyone looking for a reasonably priced boot that is built to last.