Note: We received this product for free. No other compensation was provided, and as always, all opinions are our own. We may earn money from links on this page, but we only recommend products we back. Learn more.
When you think about flashlights, it's not often that you think of something that fits snugly in your pocket. But the Cyansky M1R is not your usual flashlight. It is small and powerful and attaches to your keys so that you will never be without a light.
There is enough functionality here to meet your everyday carry needs, and that includes three levels of brightness, a red light, a flashing red light for emergency situations, and a UV light. I didn't even need to test this flashlight to know that I would use it.
But, this review would be useless without testing it, so test it, I did.
Unboxing and Unwrapping
This is a keychain flashlight, so I expected it to be packed up in a small box, and that is exactly what I got. The box itself could fit easily in my pocket, and I quickly opened it to check out the flashlight within.
The flashlight is smaller than expected, and that is only a good thing. The aluminum casing feels solid and tough, and it details on the back of the box that it can withstand a fall from 6.5 feet / 2 meters, and I have no doubt that it could take more than that and come out fine on the other side. Being aluminum, the flashlight is also lightweight, and that is a must for a flashlight that you will be carrying around with you.
Along with the flashlight, there is a small strap with a metal keyring, a charging cable, and an instruction manual. With a keychain flashlight, you don't need any more than this, and I am glad that the flashlight is not shipped with any unnecessary extras.
First Impressions
The main thing that I look for in a keychain flashlight is size—the smaller, the better, in my opinion. Of course, you don't want something that is so small that it can't give you the power you need for everyday use. The Cyansky M1R has a good balance between size and power, and I am happy to report that it fits nicely on my keyring without taking up too much pocket real estate.
The body of the flashlight is relatively smooth with some knurling on the sides. This does mean that there is not a massive amount of grip, but that is not what the flashlight is all about. This is a keychain flashlight and not a tactical flashlight. Because of the simplicity of the design, there no corner or edge joins on the body, and the one-piece casing remains strong.
A cuboid instead of a cylindrical body allows the flashlight to be held easier for its size, and this also allows for three separate LED bulbs to be set into the head. There is one button on the body of the device, and it protrudes a little, making it easy to find when you fish it out of your pocket.
Overall, I like the simple and intuitive design.
Function
Check out the included video below for live-action brightness checks.
You don't expect a massive amount of power from a keychain flashlight, but Cyansky has packed in as much as they can, giving you 200 lumens at full intensity.
There are five main modes on this flashlight:
Low: 1 lumen; Throw: 1 meter / 3 feet
Med: 25 lumens; Throw: 5 meters / 16 feet
High: 200 lumens; Throw: 55 meters / 180 feet
Red: 1.3 lumens; Throw: 2 meters / 6.5 feet
UV: 100 mW (distance is not applicable)
Here is the flashlight in action, showing Low, Med, and High modes along with the red light and UV:
The battery life for each mode is as follows:
High: 1.2 hours
Med: 5.5 hours
Low: 40 hours
Red: 1.5 hours (3 hours when flashing)
UV: 2.5 hours
There is a lot here to like. The three main white-light modes give you options. The brightest setting is great for when you are out walking, hiking, or camping. The medium setting is perfect for working in the dark. The lowest white light is good for finding a lock or any settings where you don't want to disturb someone.
The red light makes a perfect reading light. The softness of the red light is better for your eyes, and it won't disturb anyone else in the room. You can use the flickering red light when you want to be seen—it could be used when your car breaks down at night or when you are biking.
UV light is not something that you usually carry around in your pocket with you, but there are a number of applications in daily life, including:
Fake currency detection
Forensics
Mineral & rock observation
Lizard and insect detection
Stains and fluids
I was not expecting to have as much functionality as this with a keychain flashlight, so I was extremely happy with this.
Ease of Use
There is only one button on this flashlight, but there are a number of things that you can do with that button.
On/Off
Hold down the button for half a second, and the flashlight will turn on. Hold it down again for half a second, and the flashlight will turn off.
When turned on, the flashlight will default to the last used selection.
LED Bulb Selection
When the flashlight is off, hold the button down for 1.5 seconds. The flashlight will first switch on to the last setting before it cycles to the other light option. For example, if you were last using white light, it will switch to red/UV light, and vice-versa.
Output Selection
Once the flashlight is on, you can press the button to cycle through the options.
If you are in white light, you can cycle through as follows:
When you are in red/UV, you can cycle through as follows:
Red > Red Flash > UV > Red
Lock/Unlock
When the flashlight is off, you can double-press the button to lock the flashlight. The bulb will flash twice to show that the flashlight is locked and will flash twice every time you press the button to remind you that the flashlight is locked. To unlock the flashlight, double-press the button again. It will flash twice again to show that the flashlight is unlocked.
Battery Level Monitor
You can also single-press the button quickly to check the battery. After you press the button, it will light up to show you the status of the battery:
Green: >80%
Flashing Green: 50%-80%
Red: 20%-50%
Flashing Red: <20%
Charging
There is no removable battery on the flashlight, and to charge the device, you attach the USB-C charging cable directly to the flashlight.
There is a protective rubber cap over the charging port that can be easily pulled back—the cover also helps to keep the device waterproof. Once you have the flashlight plugged into a power source, it will take no more than 1.5 hours to charge fully. The button light will change from red to green once the flashlight is charged.
What Else?
The Cyansky M1R keychain flashlight comes with an IPX8 rating. It can be completely submerged in water without the flashlight being damaged. While the flashlight can hold up to being underwater, I would recommend letting it sit in water as little as possible.
The flashlight has been impact tested to 6.5 feet / 2 meters, though the weight, size, and toughness of the aluminum body suggest that it can withstand a lot more than that.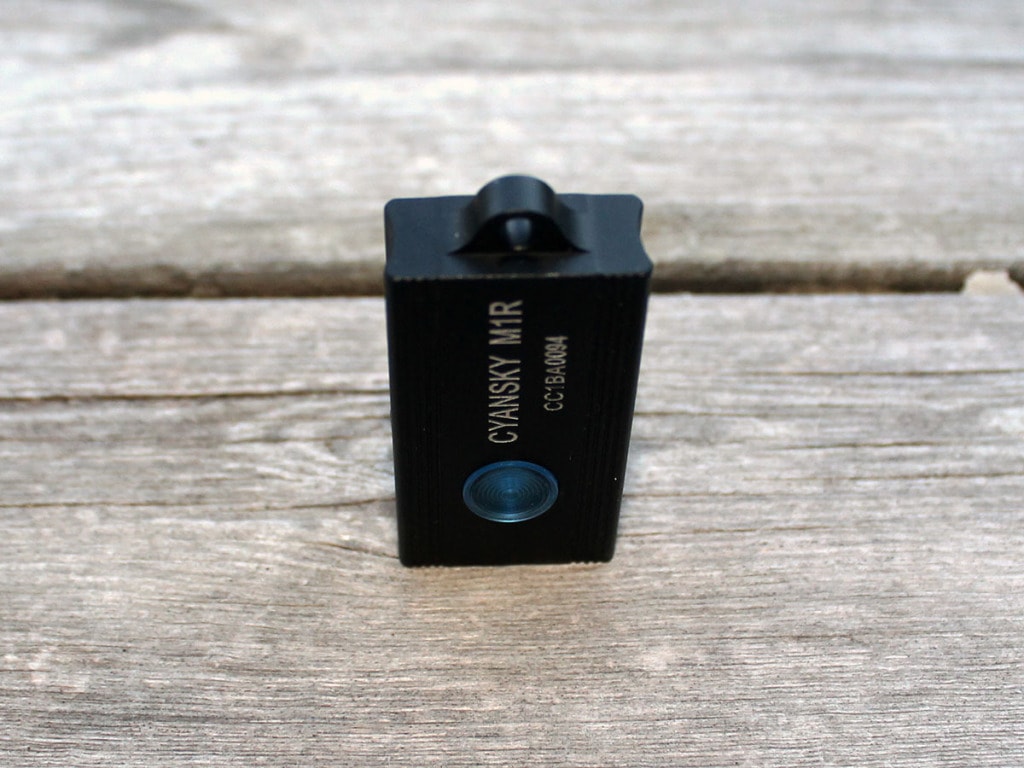 The M1R comes with a 15-day free replacement warranty, a 60-month free repair warranty, and a limited lifetime warranty (when the flashlight is past the free repair warranty, Cyansky will repair the product for free and only charge for parts).
Who Is This For?
This is a flashlight for anyone. You don't even need to attach it to a set of keys for it to be useful. Simply stick it in your pocket, and you will have light wherever you go.
There are a lot of options when it comes to the M1R. You can use it much as you would a regular flashlight, and it provides enough illumination for you to go walking at night. The flashlight is also a great addition to camping equipment or a survival bag. It does not take up a lot of space, and it is not heavy. It can fit in a backpack without you knowing it is there, and it is bright enough for most everyday needs.
This is also a great flashlight for children. Adults will love it, of course, but it is small enough to fit in a child's pocket, durable enough to withstand drops, and easy to use.
Conclusion
This is a great flashlight. I have never had a keychain flashlight before, and I know that I am going to use this one. It is going straight on my keyring, and I don't even have to take it off to charge it.
With many products, you don't know you need them until you have them, but this is the opposite. There have been many times when I would have liked a flashlight on hand, and now I will have that.
So, do I like the Cyansky M1R?
The answer is a resounding yes. This is a flashlight that is going to go everywhere with me, and it is a flashlight that is going to get a lot of use.