Note: We received this product for free. No other compensation was provided, and as always, all opinions are our own. We may earn money from links on this page, but we only recommend products we back. Learn more.
When I first got the message that I would get to try a Brevitē backpack, I have to admit, I was pretty excited. You see, right now, this brand and its bags are the 'it thing' all over TikTok. And, here was my chance to put social media recommendations to the test!
Not wanting to waste a minute or miss this opportunity, I hurriedly placed my order for The Nimbus Grey Jumper and waited for its arrival with great anticipation. I'd never seen a Brevitē in person and I wasn't sure what to expect but had good assumptions based on the brand's reputation for tons of space in a compact design.
Related: 16 Best Backpack Brands Known for Quality & Excellence
My only concern was that it is made to hold cameras and I'm not a photographer. Is it really useful as just a normal bag like people claim on social media?
That said, almost immediately my positive feelings about Brevitē got a boost. The order was placed on a Thursday and the package arrived at my doorstep by the next Monday. Now, while I've only had the backpack for a few days, so far, so good. Delivery time was excellent. The space and styling surpass my expectations. It's a cool bag even for non-photographers like me. It's a win. I really like it.
Keep reading to find out exactly why this backpack is a win for me and if this bag might be right for you.
First Impressions
As I lifted my new lightweight—it's only 2 pounds—backpack up, I could tell right away that this bag was made with L-O-V-E, love. To explain what brought me to this conclusion, let me walk you through my first impression of the subtle details.
Logos and Name Tags – I'm not a fan of brands that plaster their name all over a product. And, was very happy to see Brevitē's subtle placement of both their logo and name. The logo—a deer with antlers—is beautifully printed in the center of the front panel. On my backpack, the print is grey and didn't stand out too much. I checked the other bags on their website to confirm logo coloring and, sure enough, each comes with a print that matches the fabric color. Phew. The same thing goes for the name tags. One is elegantly stitched at the top right of the front pocket and the other is printed at the back.
Stitching – Speaking of stitching, one of the first things I do, whenever I get a new backpack, is to check how well it is put together. Stitching is a tell-tale sign if the company just throws products together or takes the time to ensure quality. With an examination of the strap ends, I see a triple fold and very secure stitch work. I noticed the same thing when I looked at the shoulder strap connections. Again, good job Brevitē. This backpack is made to last.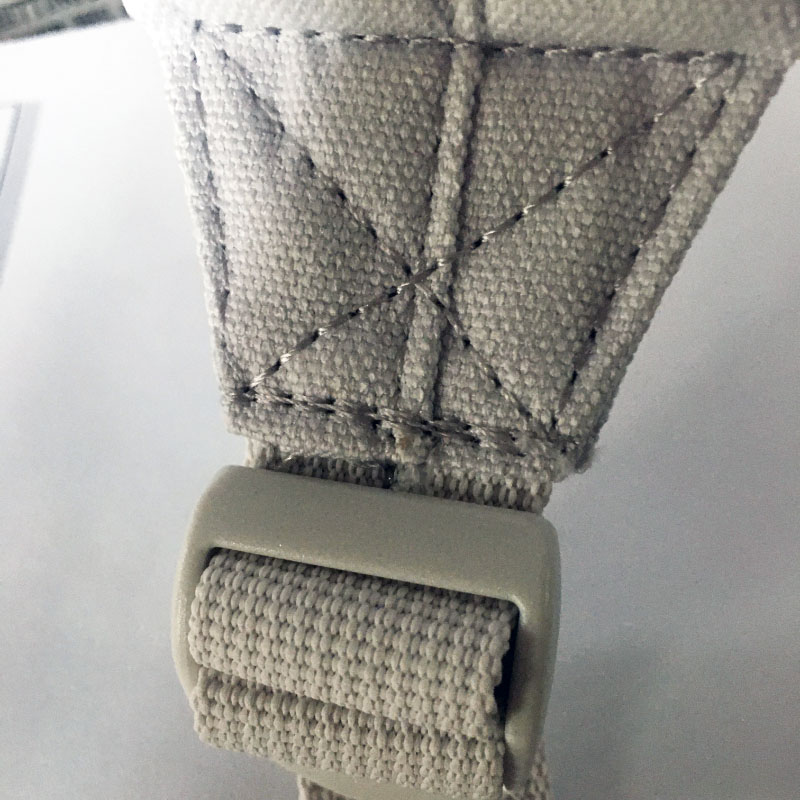 Product Tag – Every new product comes with some sort of packaging. And, my new Brevitē came with a pretty simple yet very effective tag. The message on the tag felt, well, inspiring. It spoke to me and actually made me want to grab the backpack and go explore. Maybe that's the creative in me, but I have to give the company some major bonus points for good vibes.
Okay, now, with all of those subtle details out of the way, let's chat a little about my first impression of how the bag fits and its styling.
I laugh at this part because after unboxing, in my haste to try it out, my first reaction was to put the backpack on right away. But, the thing was empty. And, if you have ever put on an empty, new backpack you will know how weird they fit. This kind of bag needs weight. So, off I went to find some heavy items. Oddly enough, I opted for three 2 lbs bags of coffee. Why? Because I want to test this baby out and I think it's a good item most people can judge size with.
So, how did the bag fit with all the coffee? It fits pretty well. I have a smaller frame and often find that backpacks are too big, but not this one! The small size works.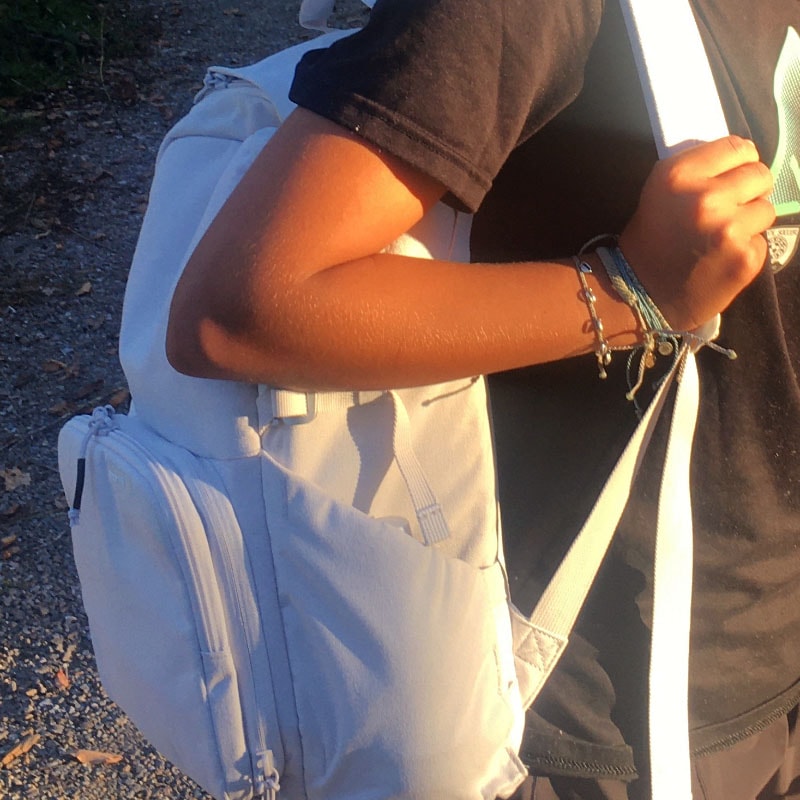 Speaking of small size, here is some food-for-thought for all the people thinking this is a girly-looking backpack. Truth is, I kind of thought so too, but my husband and father keep saying how they want one. Both are avid travelers and each is impressed with the sleek design, concealed zippers, ample pockets, and how the bag—full of stuff—can be worn in the front. Even on a 6-foot-tall man.
Simply put, right off the bat, I found this bag to be basic, not flashy, and for a lack of a better word, beautiful. Oh, and, the fabric is pretty soft to the touch, which is nice if you wear it with a tank top on.
Pros
Function
Alright, let's get into the nitty-gritty and talk about the Jumper's function. At first glance, it's not a fancy bag at all, however, a closer look reveals a lot. We're talking, lots—I mean LOTS—of storage and capabilities. Let's break it down by features.
Laptop Sleeve – I put this first on my list of features because, in the age of laptops, safe storage space for a computer is key. And, in this particular backpack, what makes the laptop sleeve so special is that it is its own compartment. Nestled along your back with a top zipper and padding, in there, your laptop is protected like none other. Bonus points for easily fitting my large 16" MacBook Pro!
Related: 9 Best Rugged & Durable Laptops For All Your Needs
Pockets – When I say pockets, I mean pockets. We're talking a front pocket, an organization pocket with removable dividers (this is where if you are into cameras, your gear would go), the main compartment with a small inside zippered pocket, small hidden side pockets for keys or your phone, a passport pocket, and a water bottle pocket. This bad boy comes with so many! In fact, all of the pockets are what make Brevitē so intriguing to me. Do I really need all of these pockets? Short answer, I like it. No more fishing for my keys or phone, everything has its own place.
Luggage Attachment – I really enjoy this addition. As a member of a family who travels, we're people who are often running through train stations and airports, this luggage attachment is life. It's sleek and doesn't add any bulk to the bag, which I'll admit when I was reading the description made me think it might. But, no. When on I don't feel the attachment in my back. Actually, I think it adds a little padding.
Side Access – This is something I have never seen in a backpack before. However, now that I see it and have tested it out, it makes so much sense. With the lower side access, instead of digging through my bag to get to the items at the bottom, I can just unzip and pull things out neatly. And, yes, a 2 lbs bag of coffee slides right out.
Nylon Straps – The backpack comes with the standard handle at the top of the bag. I appreciate this for being able to hook it or carry it quickly in my hand. It also comes with two adjustable straps at the bottom of the bag, I'm guessing this is for holding more equipment. For me, personally, I'm not sure how much I'll be using those straps. But, they might come in handy for someone who takes yoga and needs to carry a mat. For reference, I strapped a bag of coffee in and it was pretty secure. Also, there is a nylon strap with a quick-release hook on the top of one side.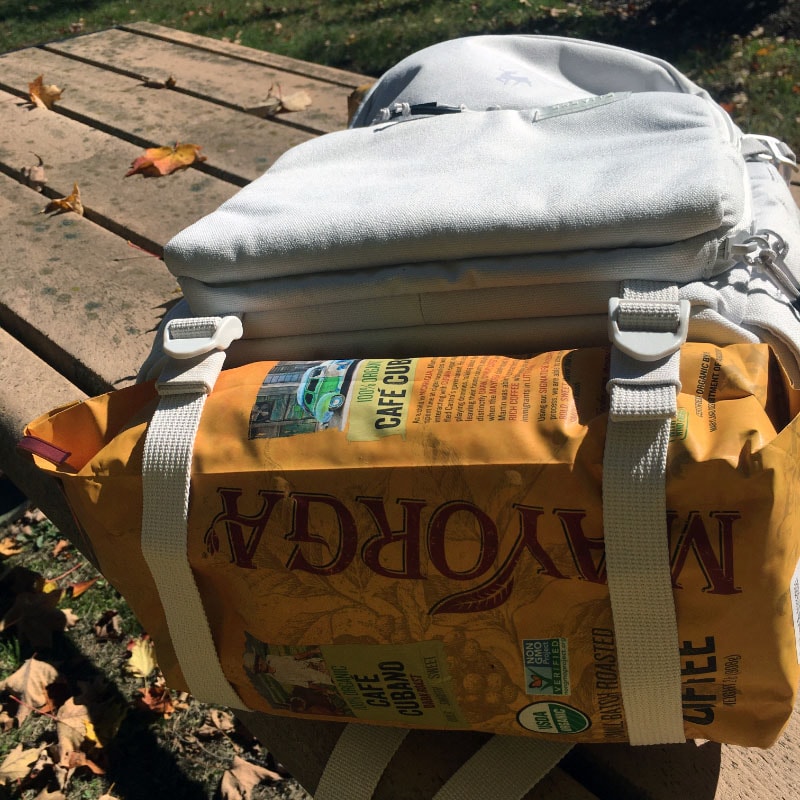 Durability
When it comes to a truly useful backpack, durability is everything. There are no ifs, ands, or buts, about it. This is especially true for camera bags and laptop cases. You don't want the bag to break with your expensive gear in it.
So, getting to the bottom of the backpack's strength was something I really wanted to do.
Like I said before, the bag has solid stitching, which is a key marker of durability. Beyond that, with some research, I found that the body is made of 600D polyester, while the zippers are metal, and the nylon straps have plastic adjusters. All of these materials are known for their strength. This leads me to say, despite the seemingly flimsy, simplistic design, the Brevitē Jumper is pretty darn tough.
Related: 8 Best Heavy-Duty & Durable Backpacks For Every Situation
On that note. Yes, I've only had it for a few days, so time will tell the real durability story. But, I tugged on the straps and pulled as much as I could. Not once did I hear a ripping or tearing sound.
Cons
Comfort
There is no other way to put it, this is a basic bag. If you are looking for an ultra-padded hiking backpack, the Brevitē is probably not for you. It has foam padding, but not a lot. The shoulder straps are thin and the back is straight.
However, if you are looking for an around the town, to school, to work, to the gym bag, the Jumper is perfect. When wearing it for short periods, the padding is enough to keep the straps from digging into the neck and adds the perfect amount of cushioning to the back.
Flimsy
I did some research to see what some of the biggest complaints of customers are and I found that a lot of people find the bag to be flimsy on the inside. They specifically mention the removable dividers as well as the part that separates the compartments. Side note, these were mostly photographers.
Taking a look at these parts in my bag, I'll have to agree. Yes, while I took my dividers out to fit the coffee, I can see how, if I were using the dividers to hold camera gear, they may move around. I guess this is a con that really comes down to how you use the bag.
Closing Thoughts
For the love of a good backpack, Brevitē definitely cuts it.
While the company could work on comfort and a few other small details, overall, I find that the bag fits well, is ideal for both men and women, is diverse in its utility, and has great durability.
Heck, even in the short time I've had it, it's already become my go-to backpack. Beyond using it to go to cafes—the coffee stays at home—and to the gym, I see myself taking it on my next trip.
I recommend the Brevitē Jumper to everyone, even if you do not plan to use it for carrying your camera!
All said and done, I agree with this internet, this backpack is wonderful and a must-have.