Note: Durability Matters is reader-supported. When you buy through affiliate links on our website, we'll make a small commission, without impacting your price. Thank you. Learn more.
When it comes to transporting your belonging, work documents, school work, or just about anything else, there is almost nothing better than a backpack. They are versatile and spacious, having multiple compartments for your stuff and various ways to carry them. They are comfortable to wear for long periods of time and can go almost anywhere with you. If only they lasted forever.
Well, if you invest in the right backpack, then you can find one which will last forever (or, for a very long time, at least). If you spend a little more on quality, you can find a wonderful backpack that is not only long-lasting but comfortable and functional too.
In This Article
3 Best Heavy-Duty and Durable Backpacks
Whether you need a backpack to transport your laptop around the campus or around the world, you'll appreciate the value of a good quality, durable backpack. To take a backpack from 'great' to 'out-of-this-world', add additional compartments for all your other paraphernalia plus anti-theft pockets and USB chargers.
1. Kroser Heavy-Duty Backpack with a Hard Shell Compartment
This multi-purpose heavy-duty backpack, for men and women, is as stylish as they come, but don't let the stylish looks deceive you! This backpack is heavy duty and made of water-repellent ballistic fabric.
The Kroser backpack is 18.6" x 13.5" x 10.8" and weighs 3.08 lbs. Laptops up to 17.3″ can fit inside the main Hard Shell Saferoom. There are also additional compartments for your iPad, power bank, files, wallet, toiletries and some clothes. There is a specially designated hard-shell zone for your sunglasses and cell phone, and additional side mesh pockets for your umbrella and water bottle.
The bag's clever design allows for a USB port to charge your device from a power bank (the power bank is not included). RFID Pockets with identity protection function protects data encoded on IDs, credit cards and passports.
The bag has a sturdy handle, reinforced with steel cable, comfortable padded straps, adjustable chest strap, and breathable padded back panels to make carrying the load much easier. The straps can also be fastened to your luggage trolley for peace of mind while traveling.
The Kroser Travel Laptop Backpack is perfect for travel, hiking, camping, college or business.
2. Kroser Heavy-Duty Backpack
This extra-large backpack is ideal for those who need a bit more space. The backpack is 18" x 17" x 10" and has a 60 liter capacity. It has space for two laptop computers including the larger gaming laptops from 15" to 18".
Apart from all your laptop accessories, the main compartment can hold clothes for several days. There are also additional pockets for travel essentials, stationery, notebooks, toiletries and your cell phone. An RFID Pocket helps to secure personal data encoded on your passport, ID and bank cards. The anti-theft pocket on the back is the ideal space for your phone, passport and wallet.
There is a conveniently situated USB charging port with charging cable for cell phones and other devices, but the power bank is not included with the backpack. The clever addition of a hole for your headphone cable allows for the convenient use of headphones while your cell phone is tucked away safely in a compartment.
The Kroser backpack is specifically designed with airport travel in mind but is also suitable for indoor and outdoor use, travel, college, and activities like hiking and camping.
The backpack has a U-shaped ventilation design for cool carrying, adjustable shoulder straps with padding, adjustable chest straps, and a luggage strap for your comfort and peace of mind.
3. Oakley Men's Kitchen Sink Backpack
Need to fit "everything but the kitchen sink" into your backpack? The Oakley Men's Kitchen Sink backpack was designed with extensive luggage demands in mind. Featuring multiple storage areas, as well as external clip brackets and plenty of padding, it's both practical and protective.
On-board storage space includes a convenient side-access 17" laptop sleeve, organizer panel and mesh optic, eyewear, and hard-media pockets. Many of these expand and are supported by clips and adjustable straps for extra reinforcement. The bottom compartment with drainage is ideal for wet or dirty items, such as shoes, towels, or swimming costumes.
To improve durability, the top flap is reinforced with steel threading, which also features on its zip pulls. This bag's compression-molded back panel and adjustable padded straps optimize ergonomics and comfort when carrying heavy loads. Available in various color combinations, including black, black with red accents, stealth black, canvas, and khaki, you're spoilt for choice.
5 Best Stylish and Durable Backpacks
Backpacks are a functional accessory but that doesn't mean they can't be stylish. On the flip side, just because something is stylish, doesn't mean it can't be durable. Whether you need a backpack for school, college or work, you're bound to find one that suits your needs to a tee.
1. Harber London Slim Laptop Backpack
Read our hands-on review: Harber London's Slim Laptop Backpack
The Harber London Slim Laptop Backpack is handcrafted with premium full-grain leather which ages gracefully over time. Each bag will form a unique patina after daily use. Leather is timeless, ageless and a symbol of class. Black water-resistant zips add to the functionality of the design. The excellent craftsmanship extends to the handles, which, over time and with frequent use, will become softer and more pliable. The Slim Laptop Backpack is available in Tan, Black or Brown.
There is a dedicated built-in pocket inside the backpack for your laptop. Additional internal pockets hold your tablet or notepad, cords, pens, etc. The outside pocket is ideal for your cell phone, charger, power bank, and wallet. The detachable magnetic key chain is a clever addition.
Even though the Slim Laptop Backpacks are handcrafted, you don't have to wait for Harber London to make one from scratch after you place your order. They carry stock and are ready to dispatch the next working day!
2. Brevitē The Jumper
Read our hands-on review: Brevitē Jumper Backpack
The Jumper is a compact, lightweight, and functional camera backpack that can also accommodate a 16" laptop. It has dividers to organize your camera setup, and a quick access pockets on the side ensures that you never miss a shot. There is a secure passport pocket and an additional hidden pocket for valuables–both of which will guarantee you peace of mind when you travel. Speaking of guarantees; Brevitē offers a Lifetime Warranty on their Jumper backpacks!
The Jumper is 17" x 11" x 5.5" with a volume of 18 liters. There are ten colors to choose from, so you are sure to find one that suits you… or buy two if you can't decide.
The Jumper is ideal for photography students who navigate between the classroom, the studio and out on the field, photographers who are on the move between shoots, or backpackers and travellers who love to take photos. Having a backpack that can hold your camera equipment and a laptop is super convenient.
3. Columns Louie Backpack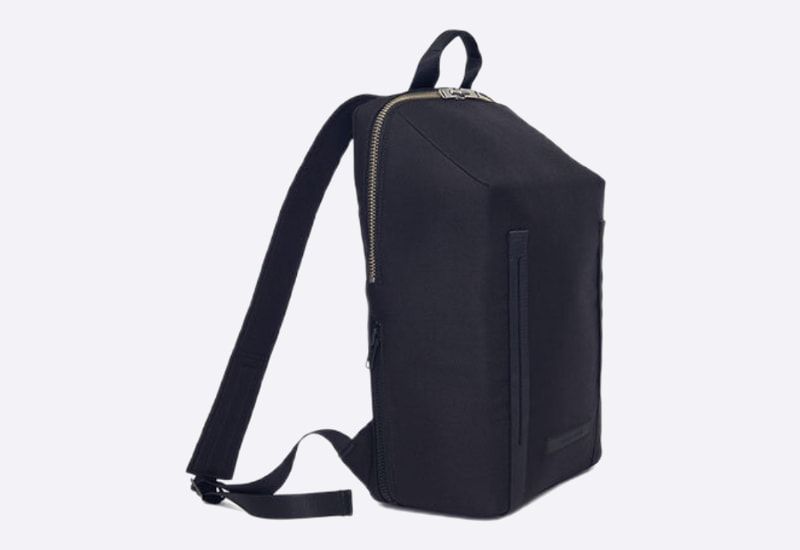 Read our hands-on review: Columns Louie Backpack
The Columns Louis Backpack has a modern, sturdy design. The sleek black exterior and 100% grey cotton interior lining ensure that this backpack looks like it belongs in the boardroom, but the secure build and good quality zips mean you can take it anywhere.
Inside the backpack you will find a padded compartment for a 13" laptop, a padded tablet carrier, two interior slit pockets suitable for your cell phone, charger, power bank, cables or other accessories. The exterior pocket compartment at the back is secure and therefore ideal for your paperwork or travel documents.
The backpack measures 16.5" x 10.75" x 5.75". It is made from a highly durable, water-repellent, nylon canvas and has two YKK No. 10 heavy duty zippers that meet in the middle. Attractive and durable nylon webbing handles make it easy to carry both on and off public transport, through airport security, or simply down the hallway at the office or college.
4. Bellroy Transit Backpack Plus
This cleverly designed travel backpack offers easy access and loads of organization, making it ideal for a long weekend adventure or a business trip. It is airplane travel-friendly as it meets carry-on luggage size restrictions.
The Bellroy Transit Backpack Plus is 21.6" x 16" x 9.5" and has a volume of 38 liters. It is made from durable, water-resistant woven fabric, recycled materials, and premium, environmentally certified leather. The Transit Backpack plus is available in four colors: Black, Lunar, Marine Blue, and Ranger Green.
This backpack can carry a 16" laptop in a quick access compartment for quick airport checks. It has external access pockets that are 'invisible' because of the clever cover design. These pockets allow for the secret storage of your passport, wallet, and other valuables. The front pocket has a key clip. There is a special soft-lined pocket for sunglasses, and there is space for a water bottle.
The removable sternum strap and hideaway waist belt help evenly distribute the load, plus, the back of the bag has an ergonomic contoured shape with breathable padding for comfortable all-day carrying. This water resistant bag carries a three year warranty and is great for traveling, work, or school.
5. Incase ICON Backpack
The main compartment in the Incase ICON Backpack provides space for larger items, flat documents and small accessories. The secondary compartment has smaller pockets and is ideal for organizing smaller accessories and other items. There is a dedicated side access pocket for laptops up to 16", or tablets and notebooks. For the ultimate protection of your laptop, the compartment is padded and lined in faux-fur.
In addition, there is a hip-side power pocket with integrated cable port to allow access to portable power if your devices need charging. This means there is no need to remove your laptop or your phone from your backpack to charge it.
The ICON backpack understands that the modem businessperson is not office bound, and that they need to take their office with them wherever they go. Made from heavy-duty, durable 840D ballistic nylon that will withstand daily wear and tear, the backpack is ideal for public transport, air travel, moving between home and the office, and college or school. The padded shoulder straps are adjustable for optimal comfort and a sternum strap offers secure carrying. The backpack is 13" x 19" x 9" and has a volume of 17 liters and is available in black or dark blue.
What To Know Before Buying a Backpack
We set out to find the most durable and heavy-duty backpacks out there and came back with some wonderful ones. On our way, we set some criteria for what we wanted in a backpack and used it to guide us on our journey.
Related: 16 Best Backpack Brands Known for Quality & Excellence
Material
If you want your backpack to be durable and heavy-duty, then you need to find a material to match.
When we went in search of long-lasting backpacks, we paid particular attention to the ones crafted from canvas, duck fabric, nylon cloth, polyester, and leather.
These are not the only materials out there that are used to create durable backpacks, but they are among the strongest and toughest. They are also water-resistant, which is very important in a backpack that you want to take anywhere with you.
Related: CamelBak MULE Backpack Review: 15 Years Later
We recommend finding a waterproof backpack if you can, but water-resistant is generally a good choice (you want to take every precaution to protect what is inside). You will often find a backpack made from one of those materials, containing some of one, or be a blend of two of them.
Construction
Now that we have great materials, we want them to be put together well. You can have the greatest materials in the world but if they are poorly constructed; then the backpack is not going to last. Look for backpacks that are reinforced at the stress points. Double stitching is ideal if you can find it. Look at the areas around the straps and handles, as well as the zippers. If you are going to be putting a lot in the backpack, you want the stitching to be solid on every part of the bag.
Functionality
Just because we are looking at the most durable backpacks out there, that does not mean that you should compromise on functionality. There are many types of backpack out there, and each comes with a specific purpose. If you want a backpack to use when on your motorcycle or one to protect a laptop, then that is going to be very different from the one which will hold business reports or schoolwork.
We have tried to find a variety of bags which will suit many needs. This includes bags with large compartments or ones with multiple smaller compartments. You can have the most durable backpack in the world, but if it does not function as you need it to, then it is as good as worthless. The longer it lasts, the more you are going to dislike it.
Along with functionality, we have focused on the look of the bag. Just because a bag is durable and long-lasting, it does not mean that it cannot also be elegant and stylish. We want a bag that is tough and will look good after a few years, and we also want a bag that will stand the test of time and remain beautiful. We have shied away from bags that feature short-lasting trends or fads and remained focused on those which have a timeless elegance.
Warranty
A bag that is built to last should have something to back up that claim. Some bags do not come with a warranty while others do. It depends on the company, but we see a lengthy warranty as a sign that the company has faith in its bags. If you can find a bag with a lifetime warranty, then you will never have to buy another one again (unless you want multiple bags). If any faults are apparent in the bag, then you can get a replacement, free of charge.
Nothing lasts forever, and normal wear and tear will not be covered. We have tried to find bags which offer a warranty but do not do so for an extra cost. if a manufacturer believes in their bag, then the warranty should back that.
Affordability
The final thing which we looked at was the price. We firmly believe that you always get what you pay for and it is wise to pay a little more to get a quality item. If you pay more initially, then you are going to have a backpack which will save you money in the long run.
A durable backpack is going to cost you more than one which will not last.
Having said that, we are still firmly focused on affordability. Durability does not mean spending needlessly. All of the backpacks on our list are durable and affordable.