When it comes to high-quality and durable purchases, you usually get what you pay for. That does not mean spending a lot, but it does mean spending a little more. It is better to buy a product once than have to buy a product over and over.
Now, there are times when you buy a product and find that it does not work as it should. You should not be held to ransom for this. Check below for a list of amazing companies which offer great products and welcome warranties.
1. Benchmade
Products: Knives
You carry a knife around with you because you use it every day, but daily use takes its toll. When you are buying a knife, you want to know that it will last. A knife from Benchmade comes with a lifetime manufacturer's guarantee. Benchmade really is a cut above the rest.
2. Big Green Egg
Products: Kamado-style ceramic charcoal barbecue cooker
The unique Big Green Egg ceramic outdoor grill not only looks good, but it is also built to last. Grill, safe in the knowledge that your Egg is going to hold up to the elements with a lifetime warranty on materials and artistry. Go cook up a storm.
3. Buck Knives
Products: Knives
With over a hundred years of experience, you already know that you are getting quality. With the Buck Forever warranty, you know that the quality is guaranteed. Everything from manufacturing faults to material defects is covered.
4. Calphalon
Products: Cookware, cutlery, bakeware, kitchenware & more
Never again feel the heat in the kitchen with Calphalon's warranty on their kitchenware. Kitchenware can be expensive enough without having to pay for replacement equipment. Choose a high-quality brand and focus more on your food.
5. CamelBak
Products: Hydration packs, water bottles, travel mugs & more
I don't know about you, but I get the hump when I have to replace my water carrier. This is not an issue with CamelBak. If your equipment breaks down, other than what is normal with regular wear and tear, then CamelBak will replace it.
Related: CamelBak MULE Backpack Review: 15 Years Later
6. Craftsman
Products: Tools, storage, lawn, garden equipment & work wear
Why should you have to fix your tools when you want to use your tools to fix? With Craftsman tools, you never need to worry about your tools letting you down. A lifetime warranty means you can get back to what you do best, fixing that which is broken.
7. Columbia
Products: Outdoor clothing, outerwear & accessories
The classic outdoor brand Columbia has a reputation for high-quality equipment. With a lifetime warranty on select products, there is no reason not to go out into the great outdoors. Check what is covered before you buy and enjoy life.
8. Dakine
Products: Backpacks, luggage, surf, snow, & bike gear
Outdoor gear takes its fair share of wear and tear. Outdoor equipment is built to last in extreme temperatures and extreme conditions. Those extremes can take their toll. At Dakine, you get a lifetime warranty on all of their bags and packs. Get out there and enjoy the slopes.
9. DeWalt
Products: Power tools & hand tools
When you think of DeWalt, you think about toughness and durability. What is equally impressive is their lifetime warranty. Not only are their tools going to last, but there is also a warranty should they not. Never stop working with DeWalt at your side.
Related: The 13 Best Power Tool Brands For Professionals and Homeowners
10. Duluth Trading
Products: Men's and women's workwear & clothing
You work hard. Your clothing and equipment should work hard too. If your equipment fails for any reason, then Duluth will replace it for you. One thing which I love about this company is their no-nonsense customer service and dedication to you. Buy from them and know that you are always covered.
11. Eddie Bauer
Products: Outerwear, clothing, shoes, gear for men & women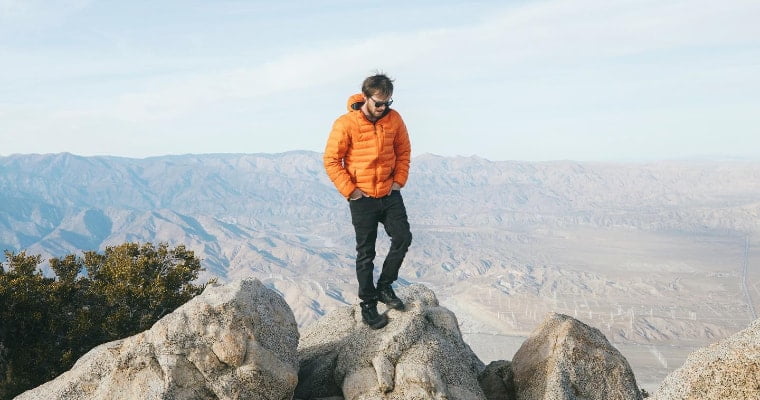 Eddie Bauer has always outfitted people with durable and high-quality clothing. Having been around for over a hundred years, this company knows how to make quality, and they know what people want. Stick with this trusted brand and know that you are always covered.
12. ESEE Knives
Products: Knives
ESEE has a commitment to creating some of the toughest and hardest blades in the world. For a knife which you carry around with you every day, that is extremely important. If your blade ever breaks or needs a repair, then ESEE will replace it for you, no questions asked.
13. Fisher Space Pen
Products: Pens
What is good enough for an astronaut is good enough for me. Every NASA astronaut carries a Fisher Space Pen with them and you can too. If it can stand outer space, then it can stand whatever you throw at it. With a lifetime warranty, these pens really are out of this world.
14. Fiskars
Products: Yard and lawn care equipment
Hand tools take a lot of pummeling, hammering, twisting, and more. You want them to be durable and tough. Fiskars tools are exactly that, and you never have to worry about a defective tool. Submit a claim within 30 days of a problem, and you will have a brand-new tool to replace it.
15. Gibson
Products: Guitars, other musical instruments, consumer & professional electronics
When you think of Gibson, you immediately think of high-quality guitars. Guitars are extremely complex pieces of equipment, and a slight defect can ruin the entire sound. Gibson will repair or replace an instrument which does not sound as it should. Now, you have no reason not to start that band.
16. Goruck
Products: Backpacks
Backpacks from Goruck are unbelievably durable, with them even being described as 'bombproof.' This bag is so tough that it will last you a lifetime but, if it doesn't, then Goruck will replace it for you. The same goes for all of their equipment.
17. Kingston
Products: SD cards, SSD drives, memory modules and USB flash drives for consumers, businesses, enterprises
Computers are the new lifeblood of the word. I mean, where would you be without yours? Kingston has a lifetime warranty on all memory product, including modules, flash cards, and adapters. Never worry about your computer memory failing again, even when yours does.
18. Koss
Products: Headphones
Lifetime warranties are like music to my ears. Those who know music, know Koss and the quality which they bring. With a lifetime warranty to protect against defects, they repair or replace a product when needed, so you can concentrate on playing that sweet, sweet music.
19. Le Creuset
Products: Cookware, bakeware, pots, pans, kitchen and bar tools & more
When you think of Le Creuset, you think of iconic, durable, and stylish kitchenware. One reason as to why it is so recognizable is that it lasts. This amazing cookware is tough but, should it not be, then the company will replace it for you — some great food for thought.
20. Red Oxx
Products: Luggage
When you travel, you want to travel in style. It does not matter if you damage your luggage (unintentionally, of course) or, if the airline damages your luggage, Red Oxx will replace it for you. Take flight and never worry about being without your prized possessions.
21. The North Face
Products: Activewear & outdoor sports gear
You know that you are getting quality gear when you buy from The North Face. Getting outside and into the great outdoors should not be hampered by substandard gear. With The North Face, you can put the gear through its paces and enjoy whatever comes your way.
22. Vortex Optics
Products: Optical equipment for hunting, bird watching, wildlife watching & more
When you take a closer look at the issue; binoculars, scopes, and everything else which temporarily brings the world closer to you should be covered by a warranty. Without these important parts or stand-alone pieces of equipment, you cannot hunt, track, and more. Vortex guarantees all of their products and will replace or repair, even without a receipt.
23. Zippo
Products: Lighters, hand warmers & fire products for the outdoors
There are some who say that you can't hold a flame to Zippo (please excuse the pun). It is true though. They make high-quality and durable lighters, warmers, knives, and more, and, yes, they also give you a lifetime warranty on them — a trusted brand with a trusted warranty.