Note: Durability Matters is reader-supported. When you buy through affiliate links on our website, we'll make a small commission, without impacting your price. Thank you. Learn more.
It does not matter if you are traveling domestically or internationally, durable luggage should be able to stand up to both. Large or small, a high-quality piece of luggage should be well-made, have smart storage, and be easy to move.
Of course, there are some things to take into account when you are traveling. A business trip to China is going to need very different luggage from a backpacking trip around Europe. You also need to be aware of check-in and carry-on sizes of different airlines to take advantage of the space.
If you can find a piece of luggage that can work for any trip, then all the better. To help you on your luggage-finding journey, we have compiled a list of the best and most durable luggage out there.
Check out your options and find the best durable luggage for your next trip.
In This Article
Our Top 5 Carry-On Luggage Picks
Flying is fun, but it can also be stressful, especially when worrying about your belongings. We can't take away your fear of flying, but we can take away your carry-on luggage stress. Choose any one of these durable brands, and you will know your carry-on luggage is safe and secure in the overhead compartments.
1. LEVEL8 Gibraltar Full Aluminum Carry-On 20"
This Red Dot Award winning suitcase is one of LEVEL8's best sellers, and we can see why. Made from Aerospace-grade aluminum magnesium alloy, it is both lightweight and durable, making it the perfect carry-on luggage for just about any situation. LEVEL8 prides itself on a product line that is functional and intelligent and shows its excellence as a brand.
With dual integrated TSA-approved locks and a complete absence of zippers and keys, the LEVEL8 Gibraltar Full Aluminum Carry-On will keep your luggage safe in transit. It also boasts improved mobility and comfort when handled, featuring durable, quiet, 360° spinner wheels and no-noise, slow-release handles.
For ease of packing, the luggage has a mesh interior divider pocket and comes with a 4-piece organizer bag set. You will enjoy a logical packing space of 36 liters, which is plenty for any short trip, or for the carry-on basics for a longer time away. The luggage is 15 x 8.5 x 22 inches and weighs just 10.14 lbs.
Get 10% off your purchase on level8cases.com by using "durablelevel8" discount code.
2. Away The Carry-On with Pocket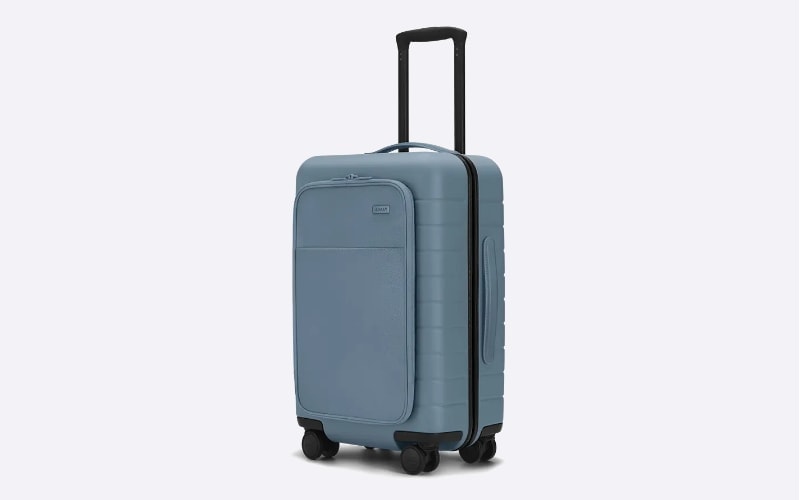 The Away Carry-On comes with a water-resistant nylon front pocket with a lockable zipper and a padded compartment for a laptop or tablet. The pocket has space for all your travel documentation, as well as those items you will need to access easily, like your phone and your cash. The case comes in black, navy blue, coast blue, or blush pink, and has fashionable leather trims on a durable polycarbonate hard shell.
For a small extra fee, you can order an optional ejectable, 37-watt lithium-ion battery and USB charger to be built in to your suitcase. This charger is capable of charging your phone up to four times, and is TSA-approved and completely safe to take on a flight with you. The case comes standard with a TSA-approved combination lock, an interior compression system, a water-resistant hidden laundry bag, and 360° spinner wheels for a smooth ride.
The case weighs in at 8.8 lbs, holds 38 liters, and is 21.7" long, making it compact enough for most airlines' carry-on specifications, as well as any car or train trips you might like to take.
3. Pelican 1510 Protector Carry-On Case
If you're looking for durable, you cannot do better than the Pelican 1510 Protector Case. This rock solid case is made from polypropylene material, and can withstand temperatures from -40 to 210° Fahrenheit. It is watertight, crushproof and dustproof, and has an automatic purge valve which equalizes the air pressure inside the container. If this all sounds too good to be true, just trust in Pelican's Lifetime Guarantee of Excellence.
The case comes in black, desert tan, or OD green, and is the maximum airline carry-on size at 22 inches long, so check with your favorite airline before buying this one specifically for air travel. Completely empty, the 1510 weighs 11.99 lbs, but it can be ordered with foam, padded dividers, a TrekPak divider system, or a TrekPak and foam hybrid configuration, any of which would increase the base weight.
This rugged case comes with two strong polyurethane wheels with stainless steel bearings, and has a retractable extension handle for ease of carrying. Security is maintained via stainless steel hardware and padlock protectors, and the case has easy-open double throw latches, so you don't struggle to open it once unlocked. Pelican has been the best name in rugged luggage production since 1976, and you will do well to choose them if you are venturing off the beaten path.
4. Briggs & Riley Sympatico Domestic Carry-On Expandable Spinner
This expandable carry-on case has a convenient compression system which allows you to pack up to 22% more into your luggage before closing it, when it will compress back to its normal size, keeping your clothing tightly and securely packed. The adjustable garment compression panels and speed buckles, together with the soft-touch interior lining, ensure that your belongings are safely and snugly stored for your journey.
The bag weighs in at 9,2 lbs and is 22 inches long, with a capacity of 41.3 to 50.5 liters, depending on the compression. The handle is recessed, so as not to encroach on your valuable packing space, and is made from aircraft grade aluminum. The telescoping handle system has two stopping heights and an ergonomic grip, and soft-touch handles are installed on both the top and side of the case for easy carrying when rolling is not possible. Proprietary, lightweight, ball bearing double spinner wheels and a wide, tilt-resistant wheel base will ensure easy rolling when it is.
The Briggs & Riley Sympatico case is made from 3 layers of high strength, lightweight Makrolon® polycarbonate material, which gives the case its resilience and elasticity, and the ability to contract around your belongings after packing. A power pocket on the back of the case allows for a USB cord to be pulled through for easy charging, and protective drawstring bag is included to keep the case safe while in storage between trips.
5. TravelPro® Platinum® Elite Carry-On Expandable Hardside Spinner
This carry-on case is built for comfort and convenience. With the exclusive TravelPro® PrecisionGlide™ System-8 MagnaTrac® spinner wheels that self-align and an adjustable PowerScope Lite handle with four height stops and a Contour Grip, this suitcase will give you no trouble, whether gliding or being carried. It is also durable and long-lasting, as well as expandable for extra packing space, though fully expanded, it has not been tested for airline overhead luggage fit.
For added convenience, the TravelPro® Platinum® Elite Carry-On Expandable Hardside Spinner has external USB A and C ports so you can fast charge your devices on the go – just place your own powerbank in the dedicated external access battery pocket.
The 100% polycarbonate hard shell is textured to hide scratches and scuffs and bends on impact to reduce damage and protect your belongings, which are also secured by an integrated, TSA-approved lock. The interior sports two zippered divider panels, multiple accessory pockets, and a water-resistant pocket for toiletries or damp clothes. For peace of mind, the case comes with a limited lifetime warranty that covers material and workmanship defects as long as they have a negative impact on the case's performance.
Our Top 5 Checked Luggage Picks
Checking in all your favorite clothes for a long trip is terrifying. All sorts of things can happen to luggage on an airplane! But fear not, with any of these five check-in cases, your luggage is bound to survive just about any unforeseen drama you can think of.
1. LEVEL8 Matte Check In 24″
Stylish and sleek, this LEVEL8 Matte check-in suitcase comes in black, gray and navy blue, and is made from Germany Makrolon® polycarbonate hard shell material. The hive texture of the material allows for an anti-scratch surface, so your luggage will hide signs of wear very well. The durable, lightweight luggage weighs 9.63 lbs, is 26 inches long, and has a carrying capacity of 68 liters.
The ergonomic grip on the aluminum alloy telescopic handle allows for comfortable pulling on four ultra-quiet, anti-shock, durable 360° spinner wheels. A TSA-approved combination lock allows for the safety of your belongings, as well as easy compliance with airport security should they wish to inspect the contents of your bag.
The interior of the case boasts a light, protective fabric lining, as well as an interior mesh pocket divider for documents and books, and hold-all straps to ensure your belongings stay where you packed them during the course of your travels.
Get 10% off your purchase on level8cases.com by using "durablelevel8" discount code.
2. Away The Large: Aluminum Edition
This monster suitcase is the largest bag that Away has on offer. At 29 inches and 15.8 lbs, it has a whopping 95.1 liter carrying capacity. Even the worst of packers should be able to fit a decent amount in there! The Large: Aluminum Edition in silver or onyx black, with leather details for a sophisticated look. The slow-release handles will slowly fold themselves down once you let go, so there's no danger of them getting in the way.
The Large's tough aluminum hard shell is built to withstand the aggressive wear and tear inflicted by airport baggage handlers, and any marks and dents your suitcase might gather over the years will be a visible story of your travels with your suitcase. Two TSA-compliant combination locks will keep the contents of your luggage safe, and you don't have to worry about broken zippers, as this rugged suitcase has no zippers on the exterior at all.
The interior of the case has a built-in compression pad to squeeze in as much as possible, and a clip-in pocketed panel for any smaller items that could get lost in the bag otherwise. A hidden laundry compartment will keep your dirty clothes away from the clean ones, allowing for more organized travel.
3. Pelican 1615TRVL Air Travel Case
This rough and tough air travel case comes in your choice of four colors: black, indigo, charcoal and oxblood, and is equipped with packing cube organizers to help you keep your belongings in an orderly state while you travel. These can be swapped out for TrekPak dividers, padded dividers or foam, which are all for sale from Pelican as well.
The Pelican 1615TRVL Air Travel Case is set onto two quiet rolling stainless steel bearing wheels for ease of use, and comes with a retractable handle that slides neatly back down into the back of the case. With a carrying capacity of 71 liters, the 1615TRVL weighs 16.66lbs completely empty, and is 32.58 inches long.
The interior contains mesh and zippered storage compartments in the lid to compliment the packing cube organizers, and this is all protected by two press and pull latches with TSA key locks for airport security access. The case is built to the maximum airline check-in size, so be sure to check with your preferred airline before boarding.
4. Briggs & Riley Large Expandable Spinner
This expandable travel case has a lightweight hybrid fiberglass frame, and is made from ballistic nylon fabric, which is wear-, moisture-, dirt-, and abrasion resistant, as well as self-healing. Its standard carrying capacity is 83.64 liters, but it is capable of expanding to an incredible 104.55 liters with its CX (compression-expansion) Technology. Simply pull to expand the case, and push down to compress it again once packed.
The Briggs & Riley Large Expandable Spinner suitcase can hold four to seven days' worth of clothing and essentials, and comes with cinch-down mesh garment panels, a mesh zip pocket in the lid, and a built-in tri-fold garment folder with a foam roll bar which is capable of holding three or four suits without any creasing.
An aircraft grade aluminum handle system with three stop heights, and a cushioned top carry handle make for comfortable transport of the case, aided by the four double swivel wheeled spinners. A large U-zip front pocket makes for easy access to important documentation, and a self-repairing YKK lockable zipper helps to keep everything safe.
5. Travelpro Platinum® Elite 29" Expandable Spinner
This travel luggage is built for both style and durability, as well as extreme packing. This massive 143.5-liter case will fit in enough clothing and essentials for an extended trip, and even has a tip-resistant tapered expansion option that increases the packing capacity by two inches. A fold-out suiter will ensure your suits arrive at your destination uncreased, and the deluxe interior tie down system will ensure that your luggage stays put. Built-in accessory pockets will ensure you know where all the most important items are in your luggage.
The fabric the Travelpro Platinum® Elite 29 is made with is both scuff- and stain resistant, and the leather accents make for a classy look, especially when supported by the chrome zippers. The PrecisionGlide™ system consists of eight MagnaTrac® self-aligning spinner wheels which are guided by the adjustable PowerScope extension handle for an excessively smooth ride.
The suitcase is 32.5 inches long, and weighs 11.5 lbs, and as with all Travelpro products, it comes with a 100-day trial period and can be returned with no questions asked if you decide you don't like it. Integrated TSA-approved locks will ensure the safety of your belongings.
What To Know Before Buying Luggage for Travel
There is no one way to pack your clothes and other travel belongings, and that is why there is no standard piece of luggage. Your luggage options are as unique and varied as you are compared to the next traveler.
But, that does not mean that there are not some commonalities between travelers.
No matter where you are going, you want a piece of luggage that can last, that helps you to stay organized, and that keeps your belongings secure. If you can find some luggage that features all three, you are on your way to finding the perfect luggage. Of course, a warranty does not go amiss either.
Here are some things to consider when you are looking for luggage.
Brand
Some brands dominate the industry, and some of that is down to clever marketing but there are many who have created staying power because they have a great product that has stood the test of time.
Related: The 11 Most Durable Luggage Brands
If you want to be sure of a product, you can choose one of the respected brands that have been in the industry for years. Of course, that does not mean that up and coming brands cannot have good products too.
The best way to know what you are getting is to check the reviews and receive feedback from real customers.
Hard vs. Soft Shell
You have two main options when it comes to the outer shell of your luggage; you can opt for a soft shell (softside) or a hard shell (hardside). Both come with their advantages and disadvantages.
A soft shell (softside) is more flexible and gives you the option to pack in slightly more if you need to add one more shirt. That flexibility also means that you have less possibility of having to check your bag if you are taking it as a carry-on. If you can squeeze it into the slot (and the overhead compartment), then you are fine. With a hard shell, you may not have the option. The same goes for packing your luggage into a car (or anywhere else). A soft shell will give you a little more flexibility.
With a hard shell (hardside), you are opting for more protection. They may not have the flexibility of soft shells, but they will give your belongings ultimate protection. They cannot be ripped or torn (accidentally or intentionally) and will protect what is inside should the luggage take a blow. They generally feature good locks that will hold everything together and prevent anyone from getting into your stuff.
Because hard shells are made from durable materials, they are usually heavier than their soft-shell counterparts. If you are going to be wheeling around or carrying your luggage a lot, then you may want to trade a little security for a lighter bag and a more flexible one.
The Wheels
Are you packing your bag with a lot of stuff? Do you need help carrying that stuff? Wheels are your answer. A set of wheels on the bottom of your luggage can save you from having to carry your bag (and save your back too).
You will find that there are two types of wheel at your disposal. You can choose between spinner wheels and skate wheels.
Spinner wheels usually come in a set of four, with one wheel at each corner of your case. These wheels can move freely in any direction by being able to spin. They are larger than skate wheels and make it extremely easy to move your case around without having to take any of its weight. On the downside, being large, they stick out from the bottom of your suitcase. They may make it easier to move your suitcase around, but they are easier to break too.
Skate wheels usually come in pairs and are partially hidden in your suitcase. Think about the wheels on a skateboard. As they are hidden and less flexible than spinner wheels, they have less chance of breaking with any impacts. They still work to take the brunt of the weight of your suitcase, but you will have to drag the luggage behind you, taking a little of the weight.
Zippers vs. Latches
For the longest time, you only had latches on a suitcase. Then we had zippers. Now, latches are becoming common again (but not the old and flimsy ones). As with the shells and wheels, you are compromising when you choose between a zipper and a latch.
Zippers are easy to use but can run into problems if mistreated. The puller can break off (so make sure to look for a durable zipper when choosing your bag), the teeth can get crooked, and the zipper can get stuck. Problems with zippers are more common than problems with latches, but they are also easier and cheaper to fix. Having the zipper repaired or replaced entirely is cheap to do.
Latches are more durable and secure. They have less chance to become stuck or broken when compared to zippers, but they are more difficult and costly to fix. Latched luggage is definitely more durable in the long run but may end up costing you more money over time and can be a headache.
Weight
The more that you travel, the more you realize just how important luggage weight is. With baggage restrictions being tightened, it has never been more important to invest in lightweight luggage, especially if you want to pack in as much as possible.
With advances in technology, a lightweight piece of luggage does not mean that durability is sacrificed. Lighter materials can be more expensive, but they are as durable as the heavier materials and make traveling a lot easier.
Warranty
When a product comes with a lengthy warranty, it shows that a company has faith in its product. A piece of luggage is also an item that you want for the long haul (excuse the pun), so it should come with a decent warranty.
Always check the fine print of the warranty before buying a product, looking for any exclusions that could affect your future travel plans.
Generally, the better the warranty, the more durable the product.