Note: Durability Matters is reader-supported. When you buy through affiliate links on our website, we'll make a small commission, without impacting your price. Thank you. Learn more.
Not all luggage brands are created equal, and we should celebrate that fact.
Some luggage brands focus on style, others on functionality, many brands create durable luggage, while others only deal in large cases. Some brands have been around for a long time and are a well-known name in the travel industry, while others are new on the market, fresh upstarts that are taking the travel world by storm.
Related: The Most Durable Luggage That Will Last a Lifetime
There are some brands steeped in heritage, while others are redefining the way that we travel and reimagining what luggage can be.
All of the brands below are worthy of your consideration.
1. LEVEL8 Luggage
Whether you're a businessperson, a backpacker, an elite traveler, or a student, LEVEL8 has the right travel gear to suit your needs.
Their high-quality, skillfully manufactured luggage is durable and functional, yet sleek and fashionable.
LEVEL8 produces backpacks, check-in, carry-on, and luggage sets, as well as a women's range which has a much larger selection of colors to choose from.
With an aluminum alloy frame and an aluminum-magnesium alloy shell (or Germany Bayer Makrolon® scratch-resistant hard shell material), each LEVEL8 suitcase is built to protect your personal belongings like the precious cargo that they are. The ergonomic handle grip and almost noiseless 360° spinner wheels make for comfortable and effortless rolling of your luggage. Built-in, TSA-approved combination locks, and rivet corner protection round off the quality and durability offered with every piece of LEVEL8 luggage.
Select a color and style that suits your personality, and travel efficiently with LEVEL8.
Get 10% off your purchase on level8cases.com by using "durablelevel8" discount code.
2. Away
If your style of luggage is more minimalist-chic, then this is the luggage brand for you.
Away was founded in New York in 2015, one of the highest-funded female startups in history, and one that is taking the travel industry by storm.
When Away was created, they set out to bring built-to-last products to the market, focusing on the longevity and durability of a product, as well as elegance and style.
And, boy, have they done just that. These are not only extremely tough products, but they look beautiful too.
There are numerous styles and colors to choose from, smart features such as TSA-approved removable batteries, and sizes for every type of trip.
And, by offering products directly to consumers, and cutting out the middle-man (or middle-woman), they keep the prices low without sacrificing quality. A 100-day free trial and a lifetime warranty help make this luggage an easy choice.
3. Pelican
If you want luggage that is more rugged and outdoorsy, then Pelican has what you need.
Pelican is one of the leaders when it comes to high-performance luggage. Their products are not only durable, but they also come with temperature control, lighting systems, extra protection, and a variety of options too.
They are the kind of bags that you will find in the military, and that is the perfect choice if you know that your bag is going to be subjected to harsh climates and severe environments.
These cases are built to last a lifetime. With a molded plastic shell, water- and air-tight gaskets to protect your belongings, and a barometric relief valve to regulate the internal pressure, these bags will protect against impacts, water, dust, dirt, cabin pressure, piercing, over-zealous baggage handlers, and more.
Related: Pelican 1495 Protector Laptop Case
The bags seal against small unwanted particles, are waterproof to 1 meter, follow all ATA standards, and look pretty good too. With a lifetime guarantee, this might just be the last travel bag that you ever buy.
4. Briggs & Riley
Founded in New York in 1993, Briggs & Riley set out to engineer high-quality and durable luggage that meets the requirement of the modern traveler. They offer every type of travel bag imaginable.
There are traditional travel bags: carry-on and checked bags. They come in a variety of materials and styles, with many of them being designed to expand, giving the flexibility to move between short overnight trips to long-haul business trips. They also offer other travel options, such as briefcases, backpacks, totes, and more.
The one thing that stands out about all of the bags in the Briggs & Riley range is that they are amazingly stylish.
The colors range from muted to bold, and there are a host of handy features and innovations, including the Outsider handle (giving more room inside the luggage) and the CX Expansion Compression system (increasing your interior luggage space by up to 33%).
The best feature, though, in our opinion, is the 'Simple As That' lifetime warranty. Briggs and Riley are so confident in the durability of their product that they will repair your bag for free if it is ever damaged, no questions asked.
Related: Buy It For Life: 33 Products That Can Last A Lifetime
5. Eagle Creek
Eagle Creek luggage is well-known for its durability, style, and overall quality. The company offers a wide variety of luggage pieces that will meet the needs of any traveler under any circumstance. Whether you're looking for a small carry-on bag, a large suitcase, or a set that will take you all over the world, Eagle Creek has you covered.
Because of the company's commitment to quality, you can rest assured that your luggage will last for years to come.
Not only concerned with the quality of their products, Eagle Creek focuses on the long-term usability of their luggage to save the environment and ensure that their products don't end up in landfill. They offer a lifetime warranty, showing their absolute belief in their product as well as their concern for the happiness of their customers. There's nothing worse than stressful travel, but with Eagle Creek, your stresses certainly won't be because of low-quality luggage.
6. Samsonite
If you have ever traveled, and even if you have not, you have probably heard of the name, Samsonite.
Born in Denver in 1910, Samsonite has been around for a long time, and there are good reasons for that. They started with high-quality and durable products, and have been able to use over 100 years of experience to constantly improve their product line.
They have a massive amount of products, so you are sure to find the travel option that is right for you but, more than that, all of their luggage is built to last.
They have built their brand to cater to the frequent traveler, offering all types of luggage options, while using their years of experience to give that luggage style, durability, and affordability.
Their journey is as eventful as yours is sure to be when you travel with Samsonite luggage. They have weathered the Great Depression, two World Wars, and lots more. They came out stronger on the other side.
If you are still not convinced, then take into account their lifetime warranty as a sign that they have full confidence in the longevity of their products.
7. Delsey
Delsey started in France in 1946 and they originally sold leather camera cases. It was almost twenty-five years later that they delved into the world of luggage with their first hardshell case.
The quality and robustness of the luggage were excellent, but it may have been the touch of Parisian style that appealed to their now-loyal customer base.
Style is at the core of the Delsey brand, and they draw inspiration from the world around them, studying French architecture to create luggage that is almost art.
The proportions are inspired, and the silhouettes of each piece are polished and dripping with elegance. They are one of the most fashion-forward brands on our list.
But, don't let the elegance and style fool you; they build robust luggage that lasts.
The unbreakable amper-free double zipper is seamless and tough, creating one of the strongest closures where you usually find the weakest point of a bag.
The cases are extra-stylish, lightweight, easy to handle, and bring a touch of French elegance to your travels.
8. Travelpro
Travelpro is a company that was in 1987 established by a Boeing 747 pilot. With extensive travel knowledge, the company set out to create the perfect bag for every traveler.
What came out of that is a favorite bag of many seasoned travelers around the world.
The products fall into the mid-range category, making them an accessible luggage option, while also being durable and high-quality.
Travelpro was the inventor of the wheeled, carry-on case, and they have only grown more innovative since then, all to make travel the best experience possible.
The suitcases are designed to be the maximum allowed, both in size and weight, and each suitcase is tested well above the maximum allowed weight.
With options in hard and softshell, you can customize to your needs, and the internal fold-out suiters help to keep your clothes organized and wrinkle-free.
All of the luggage in the brand lineup is built to last and with functionality in mind. Each one also comes with a 5- or 10-year warranty.
9. Victorinox
The company that created the Swiss Army Knife is also credited with creating some of the best luggage on the market, though their cases do not have as many fold-out options as the knives do.
Victorinox has boiled their luggage down to the bare minimum so that they can focus on building the best of the best. When it comes to the outer shell, you can choose between virgin polycarbonate hardshell or abrasion-resistant nylon softshell. Both are extremely tough and durable.
Each piece of luggage is subjected to 30 intense quality tests to ensure that the reinforced seams hold up, the puncture-resistant zippers do not split, and the lightweight aircraft-grade aluminum handles do not bend.
You also get unique tracking IDs, TSA-approved locks, spinning wheels, expandable storage, space-making solutions, and a lifetime warranty.
Luggage this good should not come this cheap, but it does.
10. American Tourister
If you are not an intensive traveler and do not want to spend a lot of money on a case that you may not use constantly, then the lineup from American Tourister could be just what you are looking for.
They are mainly focused on softshell cases for holiday travelers, offering high-quality baggage at affordable prices.
If you think that durable luggage should be gorilla-proof, then you have come to the right place. Tested by having a gorilla stand on the luggage, these bags are going to have no problem holding up to flights, baggage handlers, impacts, drops, and more.
They are also owned by the same company as Samsonite, but cater to different groups of travelers, though you know that knowledge and experience will have been shared by both companies.
An affordable brand with a real focus on durability.
11. Paravel
Founded in 2016 with the goal to become the world's first 100% sustainable luggage brand, Paravel has made much progress towards that goal.
Paravel's luggage is a perfect blend of function and fashion, looking great while also being very durable.
Their pieces all share a gorgeous minimalist aesthetic that still manages to stand out in a crowd. And with their suite of products to choose from based around standard airline baggage sizing, you can get the exact shape and size of luggage you need for your next vacation.
One of the focuses of Paravel's luggage is its sustainability. Their manufacturing process cuts back on environmental costs wherever possible, and Paravel engages in lots of recycling and tree planting initiatives to help make up for the costs they cannot cut. All their luggage incorporates upcycled plastics, too. They have even been awarded for their forward-thinking business practices.
If you are looking for good-looking luggage that you know was manufactured with the environment in mind, Paravel is just the brand for you.
12. Hartmann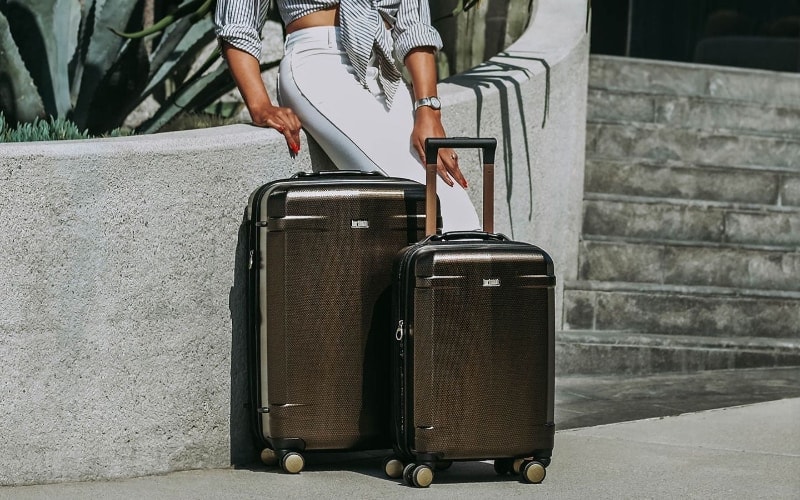 Hartmann originally made high-durability luggage, and as their clientele insisted on good looks, the luggage evolved into the classy, top-quality bags available today.
This is a pricey brand, but you are absolutely getting your money's worth.
From the design to the manufacturing, these luggage pieces are made to exacting standards meant to furnish you with the best luggage on the market.
In addition to making luggage with a more common hard-shell casing, Hartmann has a line of vintage-style bags. These range from tweed or herringbone fabrics to faux-woven plastic shells. The look is completed by genuine leather and titanium detailing for style and durability. The result is beautiful luggage you will always get a kick out of when you see it coming down the baggage claim.
Hartmann also offers a wide variety of shapes and sizes, from overhead to under-seat luggage. If you think you are ready to invest in a set of luggage that you will use for decades to come, look no further than Hartmann.