I purchased the Valentini leather wallet in 1999 when I was 17 years old and finishing high-school. 20 years later, I still use this same wallet every day.
This is one of the oldest things that I own. Most of my other items that are over 10 years old are made by well-known brands. This wallet is made by a relatively unknown brand, Valentini, which is based in Italy.
Finding any kind of information about this company is almost impossible – and my research skills ain't that bad. However, what I am able to find are dozens of leather wallets sold by Valentini on various online stores throughout Europe and on all Amazon websites in Europe. They seem to specialize in wallets only because I can't find any other leather product made by the same company.
Based on their current wallet lineup, the company is focused on producing mid-range real leather wallets for men and women, and all of the wallets are made in Italy. The cheapest wallet is priced at $23 while the most expensive is sold for $39.
They use either high-quality cowhide leather or high-quality genuine leather. For stitching, durable synthetics are used.
If you're not familiar with various leather types, then you probably don't know what cowhide leather is. It can also be confusing when you hear the words, genuine leather. That must be the best kind, right? It is genuine, after all. I believed that, too, before doing my own research. However, it's not that simple. There are many various types of leather and describing them would warrant an article of its own.
All you need to know is that cowhide leather is the most common leather source and it offers the best value for money. It's very durable, has a beautiful appearance, showcasing the natural texture of the leather, and is soft and supple. It's used for all kinds of leather products because it's relatively inexpensive due to its abundance.
As for genuine leather – this label is used for all types of leathers. It can mean that a product was made out of low, mid-range or high-quality leather. You simply can't know, unless you're an expert (and most of us aren't). There's no industry standard for leather labeling, unfortunately.
In many cases, "genuine leather" is used for low-quality or mid-range leather products. Low-quality means that the leather was composed of several layers of leather which have been glued together. The leather used is often second grade but processed to look like higher-quality leather. However, some manufacturers, like Red Wing Heritage and L.L.Bean use the label on all their leather products, but they use high-quality leather only.
Now, if you were to buy a wallet from Valentini, based on what you know about leather, you would probably think that their wallets can't be BIFL (Buy It For Life) products. However, my wallet is proof that they can be.
Related:
My wallet is made out of cowhide leather, which is durable and often used for mid-range wallets. The lining is made out of durable polyester. The lining is the most common failure point for wallets, but, as you can see, there have been basically zero issues with mine.
The wallet is a bifold type, and it features two main compartments, six card slots, one plastic ID window, three slim pockets, and one big coin pocket. It definitely has a lot of capacity for credit cards, membership cards, receipts, and everything else that belongs in a wallet.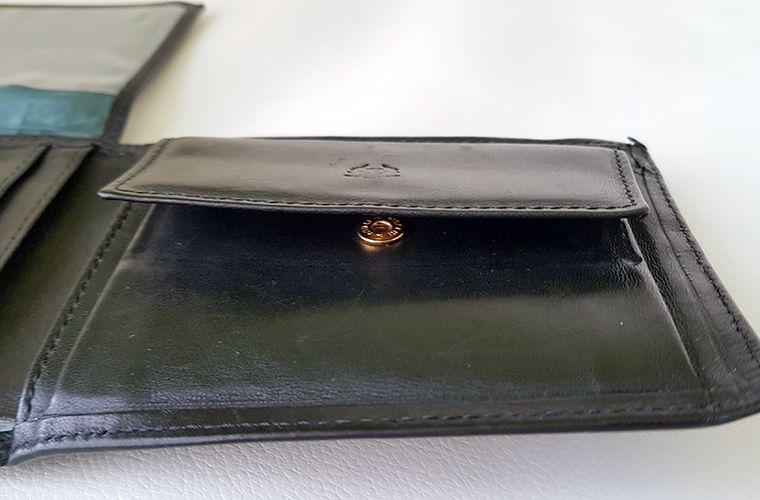 The most worn down part of the wallet is the ID window, but that's not surprising. It's made out of plastic and plastic becomes brittle as it ages.
Except for a few scratches on the outside of the wallet, the wallet looks almost new.
This is not a slim wallet, so wearing it in a jeans pocket is definitely not advisable – but, still, many people do it.
This is probably the number one way to destroy your wallet (and pockets on your jeans) quickly. Constant rubbing, squeezing and, on hot summer days, humid pockets certainly won't do your wallet any favors.
Rarely is an accessory under so much stress as a wallet with all the bending, squeezing, and usage.
So, despite my wallet being only mid-range quality and the company that makes it not being a world-renowned brand, it has stood the test of time. This basically proves two things.
Even small and relatively unknown brands can produce high-quality products at a reasonable price.
You need to take care of your things and put some effort into preserving them.
My wallet is rarely carried in a pocket. For most of the time, I carry it in one of my two messenger bags where it can't be damaged.
This year I'll buy a new, full-grain leather wallet, despite the excellent condition of my old wallet. After all, some people change their wallets every year – they either get worn out, or they simply want something new. I think that I deserve something new after all of these years. A new premium wallet every 20 years seems just about right to me. Consumerism won't stand a chance.