Note: We received this product for free. No other compensation was provided, and as always, all opinions are our own. We may earn money from links on this page, but we only recommend products we back. Learn more.
When I say "I travel," I truly mean it. It seems like every week I find myself traveling for work, visiting family, running a race, or going on an expedition. This past weekend I took a weekend trip to run a 10k in the mountains. The weekend before I was visiting family 400 miles away. And I fly from Tennessee to Florida at least four times per year. I would be considered a high-use traveler.
This is all to say that my travel bags never collect dust. Instead, they collect scuffs, scrapes, and less-than-fond memories of being shoved into the overhead compartment. And when I found out I could test the Monarc Settra Duffel, I was thrilled to find out if it is a truly better travel bag.
Related: 16 Best Backpack Brands Known for Quality & Excellence
Initial Impressions
The Settra Duffel arrived well-packaged. I was surprised to find Monarc includes a dust guard bag. I've only seen this with super-premium products, which the bag seems to be, although the price point is anything but exorbitant.
Style
I have a bit of a crush on this duffel bag. It's extremely attractive. The pictures of the bag on the Monarc website make the gray appear slightly lighter and more solid than it is in person. I appreciate the deckled, medium gray of the body fabric. I consider it more attractive in person. It's both refined and sophisticated.
The logo adds character without being loud. My favorite aspect of the bag's appearance is the tan loops. If hiking with this bag, I snap my knife sheath to these loops for easy access (and to keep my knife from weighing down my pants like it does when attached to my belt).
Additionally, this travel bag is perfectly balanced in terms of style and utility. There are no frivolous details.
Eco-Friendly + Durable?
Often recycled plastic products wind up in dis-use from being subpar, and in my mind, that adds to the waste stream. For example, there are so many reusable water bottles that people wind up tossing. So, I am always mindful of whether or not a "green" product is truly green rather than just making the consumer feel good about their choice.
The Promise
Monarc includes their mission of creating durable, sustainable products with responsibly sourced materials on their product tag.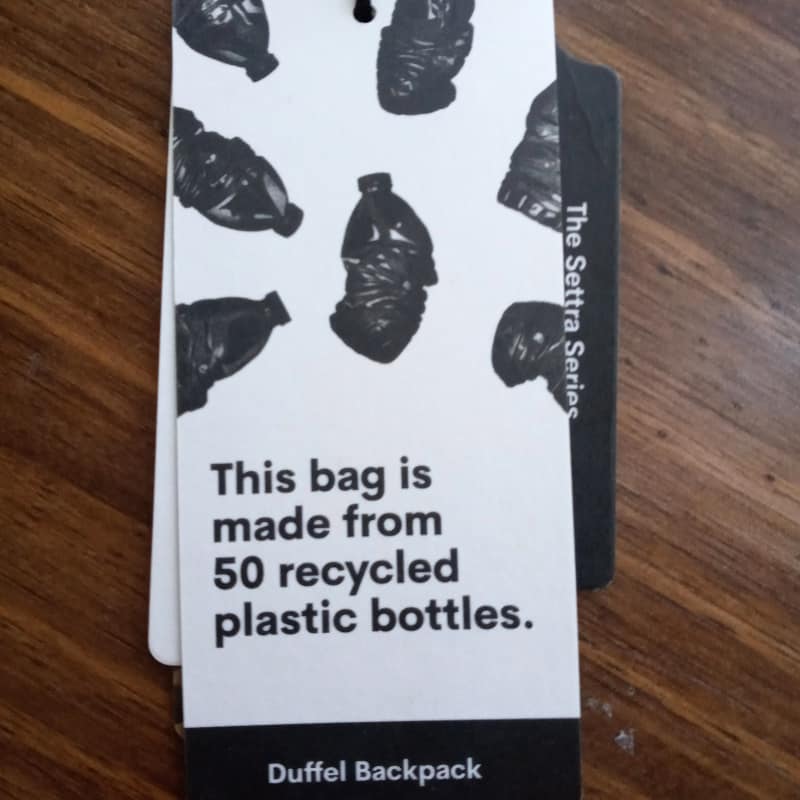 The Settra Duffel's claim to fame is that it's a plastic negative. Not only does it incorporate thread made from used plastic bottles, but the company also removes twice as many bottles from the environment in their effort to neutralize their impact—plus some. Knowing this, I wanted to test the bag's durability and fabric "feel."
The Results
I can confidently say that the Settra Duffel may be the last duffel bag I ever own. This bag is not only built like a rhino in its toughness, but its smart design makes it superior to any other weekend bag I've owned. The fabric feels luxe and thick. It doesn't have that stiff, scratchy, or thin quality some recycled plastic fabrics can have.
The Settra Duffel Backpack In Use
Since receiving the Settra Duffel Backpack, I've gotten a ton of use out of it. It is now my go-to choice for weekend trips. In fact, I haven't gone a weekend without using it—and here's what I've discovered:
Dual Functionality: Switching from Duffel to Backpack
If you spend time on the Monarc website, you will find countless videos that explain how to convert the duffel into a backpack. The bag also comes with instructions explaining how to make the switch. I didn't find these necessary. The bag easily transforms from duffel to backpack. It takes less than a minute to do so.
The clips appear to be plastic at first glance, but they're not. They're galvanized metal.
Capacity
The duffel is perfect for one person to pack for a weekend trip. My spouse and I tried to pack together for a 2 night trip and the bag was just a bit too tight to include everything we needed. However, it is ideal for just one person.
I had no trouble fitting:
An extra pair of shoes
Sandals
3 pairs of jeans
2 PJ pants
8 t-shirts
Toiletry bag
Laptop
Tons of socks and undies
2 books
Comfort
Carrying this bag is overall quite comfortable. However, I thought breaking it down by wear style would give readers a fuller picture of what it's like to carry the bag.
Duffel
The strap pad that goes over the shoulder is thick and has mesh to provide airflow and prevent a sweaty spot on your shoulder.
The duffel handles hold tight. The handgrips don't pinch your skin at all. I used to tuck something under the hand straps (a coat or extra pair of shoes), but with this bag, they're a bit too short.
The strap adjustment holds, so the bag doesn't slowly creep down. I find the bag easy to wrap my arm around and reach into the side pockets as needed.
Backpack
The backpack is extremely comfortable to wear. All of the straps are well-padded, don't pinch, and provide adequate airflow. The adjustment hardware keeps the straps in place.
The bag stays in place and the hip straps do not rub. The bag rides high up, but not so much so that it will bump the back of your head. I would describe the bag as snug but not too snug.
The back pads are phenomenal. They're cozy and anything but sweaty. The flap that you unzip and tuck in also stays put.
Durability & Weather Resistance
This bag is built to keep water out and your belongings dry and safe. The ends of the bag are rubberized material that water rolls off. Each zipper also has a rubber outer liner which prevents water intrusion (note that the zipping and unzipping the bag feels less smooth because of these flaps).
The bottom padding when in duffel mode adds cushion to keep your laptop safe.
Related: 9 Best Rugged & Durable Laptops For All Your Needs
This same padding is more comfortable than having your laptop pressed up against your back while in backpack mode.
Seamingly Indestructible
This bag has tight, durable, well-crafted seams. The weight is distributed well from the handles to the body of the bag, so the straps experience less direct stress.
After filling the bag to full capacity and taking it on my weekly trips, I have yet to see any wear to the seams and straps. The only indication it's been used is the slight scratching of the coating on the clips.
Smart Details
The beauty of the Monarc Settra Duffel lies in its ingeniously designed and well-thought-out details. This bag has features I didn't realize I needed. Some of my favorite details include:
Removable hip straps: If you're casually wearing this backpack, you may not want or need the hip straps. So, you can easily unclip them and store them in the bag.
The ventilated and removable shoe pocket: I run races about once per month. This feature is great for wet, dirty shoes. It keeps them off my clean clothes and helps them to dry out quickly. I appreciate that the compartment is removable, so it doesn't get in the way when it's not needed.
Clip loops: I love that there are plenty of places to clip on a carabiner for carrying a jacket or hand sanitizer on the outside of the bag.
Water bottle pockets: I appreciate that there's a mesh pocket in duffel mode and a thicker upright pocket in backpack mode.
Pockets within pockets: Everywhere you look in this bag you will find pockets. These do an amazing job of keeping small items in place and convenient. I never have to dig to find my charging cables, chopstick, or any other items.
Locking zippers: If checking the bag, you can lock the main compartment.
Cons Regarding the Settra
So, you may be wondering if this bag is too good to be true. And in many ways, it is. This bag is so smartly designed and tough. However, there are a couple of minor aspects that you will want to know before committing to the Monarc Settra Duffel.
The bag is slightly heavy when empty. It's not a brick or anything…but it probably weighs more than the typical duffel.
As I mentioned, the zippers feel stiff due to the waterproofing outer material.
While the bag is advertised as a hiking bag, I do not believe it would be my top choice for hiking overnight. However, I would use it to hike with my camera and lenses.
Final Thoughts
The Monarc Settra Duffel is truly going places—eco-impact wise and smart design-wise. This duffel will be the last weekend bag you buy. It's durable, weatherproof, keeps you organized, and is quite the looker. I recommend the grey since it stands out against other travelers' bags.