Note: We received this product for free. No other compensation was provided, and as always, all opinions are our own. We may earn money from links on this page, but we only recommend products we back. Learn more.
Like most people, I take my wallet everywhere with me. My wallet gets rained on, sat on, and exposed to extreme heat and cold due to my work. So, I need a wallet that can survive some abuse. Needless to say, I was both excited yet dubious to see if the Harber London Leather Bifold Wallet could stand up to my needs.
What do I look for in a wallet? I don't want to have to think about whether my wallet is going to be damaged by my lifestyle. That said, I'm not a big fan of tactical and velcro wallets. I've always preferred leather wallets, but I've been disappointed with the durability of nearly every wallet I've had.
There's no reason a leather wallet shouldn't last a lifetime, yet all of my wallets get stretched out or their stitching falls apart after a few years of use. I started to think no wallet would survive more than 5 years in my pocket.
Could the Harber London Leather Bifold Wallet with RFID Protection be the one to prove it's possible? So far, it's impressed me with its durability and comfort.
First Impressions
The Harber London Leather Bifold Wallet with RFID arrived within a couple of days of ordering it. This fast delivery may not seem like a big deal, but considering Harber London is an ocean away, I was impressed.
I'm used to my orders showing up in yellow envelopes or corrugated cardboard boxes, so I was surprised to see an elegantly gold-printed cardstock box. The black box was almost flat enough to be an envelope.
Inside the ritzy packaging was my wallet, wrapped in black tissue paper with a golden seal. Even though I ordered this myself, these touches gave the opening experience added excitement and surprise.
I unwrapped the paper, and there was my new wallet, looking thin and nondescript. Upon seeing its size, I questioned whether the wallet would be able to hold more than a few cards comfortably.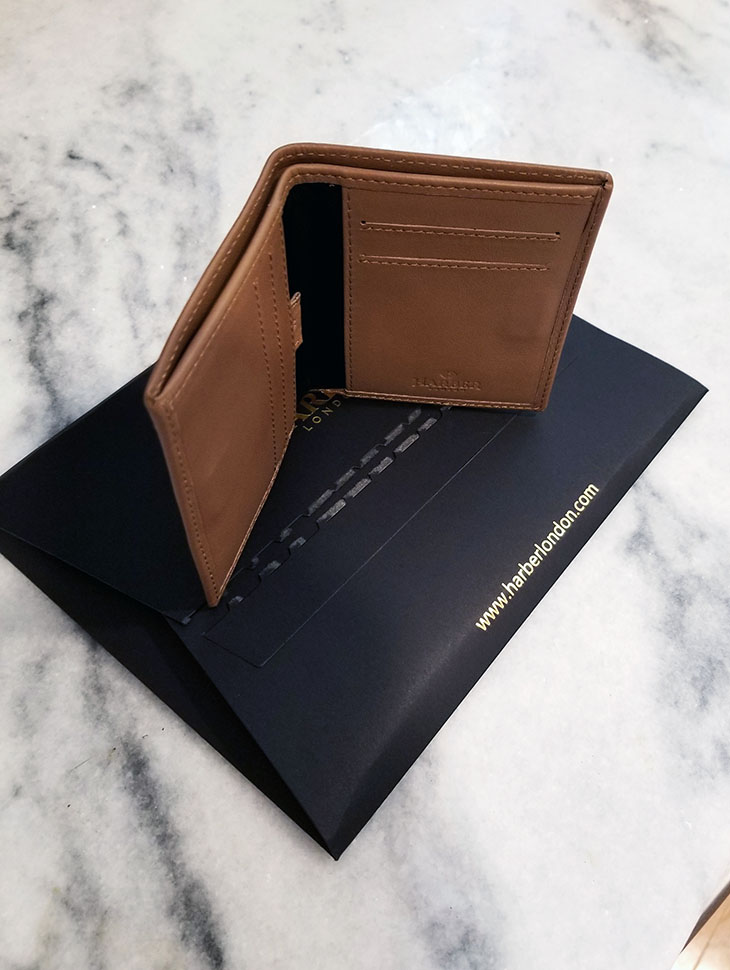 I also appreciated the unique shade of brown–I ordered "Stone." I haven't seen another wallet with this hue before or since receiving mine. The wallet is an earthy shade of light brown.
The wallet's texture is smooth with subtle wrinkles and the stitching is thin and tight–you can hardly feel it on the face of the wallet. Talk about soft–the full-grain leather is like butter in your hands. And it's not stiff whatsoever.
The Wallet's Structure
There are two card slots on each side of the fold. The two on the left are vertical, so your cards slip in horizontally. The right side slots are horizontal. Each side of the wallet also has a horizontal pocket where you can store additional cards.
The pocket on the left has a cleverly placed strip of leather that can be used to pull the contents of the pocket out without having to do the awkward claw game. This has come in handy so many times when getting ID'd for a beer or needing to locate my credit card for a quick checkout. In fact, this may be my favorite feature of the entire wallet. I don't miss this feature on the right side, though, because the orientation of the card slots seems to help hold the pocket open. It's also nice to know exactly where to locate my most used card—Yes—it does help with organization.
Hidden in the bills compartment are two more card pockets. This could come in handy for stacking some extra folded bills or more cards. However, I have yet to use them.
The Magnetic Closure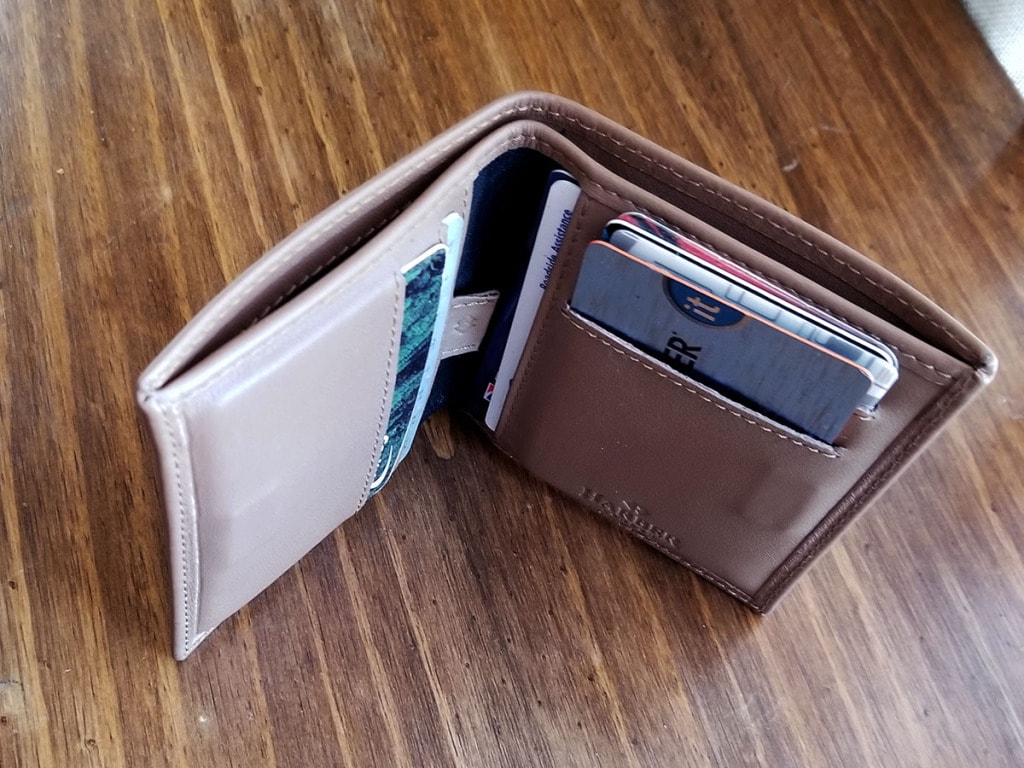 The magnet is much less pronounced in person than it is on Harber London's website. Visually speaking, you don't really notice it. However, it truly does its job–even when the wallet is full. Thanks to the magnet, I don't have to squeeze and force the wallet into my back pocket. And I don't know why, but it used to always bother me that my wallet sat semi open on the table. Now, it stays neatly closed and compact.
Card Capacity
The Harber London website boasts that the Leather Bifold Wallet with RFID Protection can hold up to 18+ cards. I keep 12 in the wallet at all times. And I believe their claim is correct that it could hold 6 more.
How has the Harber London Leather Bifold Wallet with RFID Protection performed?
After a few weeks of daily use, the Harber London Leather Bifold Wallet with RFID Protection has lived up to and exceeded my expectations.
Well-Crafted Comfort
When they describe the wallet as "thoughtfully designed to look timeless while keeping an old school craft, all wrapped up in a slim fashion," they mean it. This wallet is elegantly minimal. And oh-so slim!
I used to spend every day riding around in a truck on forest roads and if I left my wallet in my back pocket, I felt the pain of my mistake later. Do you know that feeling of sitting with a mini-brick in one pocket, throwing your hips off-kilter, and torquing your spine? I don't get that with this wallet whatsoever. In fact, I find my back feels fine even when I ride around with it in my pocket all day.
This wallet also disappears during hikes through the woods. I can barely feel it in my back pocket.
Yes, I still have trust issues with the magnets—I worry they won't really hold the wallet closed, but they absolutely have.
As someone that prefers understated beauty, I appreciate the minute logo on the exterior of the wallet. I also appreciate the tight, even stitching—especially at the corners where most wallets tend to have slight imperfections.
If you're worried about bulk—this wallet is truly a bulk-buster. And the leather continues to feel like a dream. I look forward to watching it age.
RFID Protection
Before receiving this wallet, I had my bank card information stolen. I'm not sure if it was an RFID issue or skimmer, but the RFID fabric liner does give me peace of mind.
Coin Compartment
I have yet to use the coin compartment. I think my previous wallets conditioned me to leave them in the coin slot in my car. However, I do think it will come in handy in the future. I could see putting my wedding ring in the compartment for safekeeping while working with my hands or while at the gym.
Conclusion
The Harber London Leather Bifold Wallet has proven itself to be the best wallet I've owned. If you've continued to wonder if the perfect wallet is out there—this may be your white whale. It's a slim wallet that is actually slim without compromising on capacity. Its magnets actually keep your wallet flat, and I have found that it's comfortable to carry all day long.
With soft, supple leather, and a stylish yet smart design, I would argue that this Harber London wallet is the ideal gift for a boyfriend, husband, father, son, or for yourself. And it could become a long-lasting tradition since Harber London offers so many matching items.
Long-Term Update (June 2022)
The Harber London Leather Bifold Wallet continues to be a pleasure to own. After nine months of daily use, its seams continue to hold strong. There is absolutely no sign of loosening or pulling apart at the corners or edges of the wallet. There is no buckling or puckering of the pockets. While the leather feels like it's relaxed a bit, it still holds my cards and cash securely.
I continue to love the slim profile and how comfortably this wallet 'rides' in my back pocket, and the magnet still holds strong. The design continues to exemplify intuitive use.
The exterior still appears free of scratches or scuffs, and the wallet itself has conformed beautifully to my cards. I do not see any signs of fading in the rich, solid coloration.
Harber London's superior craftsmanship and quality leather prove to be impressive. I look forward to continuing to use this wallet as it evolves in character and comfort.