Note: We received this product for free. No other compensation was provided, and as always, all opinions are our own. We may earn money from links on this page, but we only recommend products we back. Learn more.
The Fenix TK16 V2.0 Tactical Flashlight is an upgraded version of the TK16 best-seller. The original TK16 was already a capable tactical flashlight, but the V2.0 is taking it to a whole new level.
Mainly used by police, military personnel, security, and first responders, it's also a popular choice among outdoor adventurers (hikers, campers, hunters, anglers, etc.), various professionals, and tactical flashlight enthusiasts.
This high-performance flashlight is designed to be versatile and to perform in every imaginable condition.
What's in the Box?
For this review, the flashlight was sent to me barebone with battery and belt clip included. For end-consumers, the flashlight comes in a nicely designed box which includes:
Fenix TK16 V2.0 flashlight
ARB-L21-5000U rechargeable (5000 mAh) Li-ion battery
USB Type-C charging cable
Belt clip
Holster & lanyard
Spare O-ring
User manual & warranty card
TK16 V2.0 vs. TK16
The Fenix TK16 V2.0 has quite a few notable upgrades compared to the original TK16. The overall design is quite similar to the old model, but it looks more modern.
The LED emitter was changed from Cree XM-L2 U2 LED to Luminus SST70 LED, which can now emit up to 3,100 lumens and has a beam distance up to 1,246 feet / 380 meters. The previous emitter was able to produce up to 1,000 lumens with a throw up to 787 feet / 240 meters. That's a whopping 58% increase!
The flashlight now also has 5 brightness modes (instead of 4) and ships included with a high-performance ARB-L21-5000U (5,000 mAh) rechargeable Li-ion battery.
The dimensions of the flashlight remain almost the same, but due to some technical advancements, it's now 0.35 oz. (10 g) lighter.
These are some of the main differences, but it doesn't stop here. We'll uncover even more changes and upgrades as we go along.
Main Features and Technical Specifications
Before diving into the specifics, let's check the features and specifications of the new Fenix TK16 V2.0 flashlight.
Luminus SST70 LED with a lifespan of 50,000 hours.
Maximum output of 3,100 lumens (1,246 feet / 380 m beam distance).
Fenix ARB-L21-5000U (5,000 mAh) rechargeable Li-ion battery (USB Type-C).
Stainless steel strike bezel with tungsten breaking tips.
Toughened ultra-clear glass lens with an anti-reflective coating.
Made out of durable A6061-T6 aluminum.
Premium type HAIII hard-anodized anti-abrasive finish.
Advanced Pulse-Frequency Transmission System – APF System1.
Intelligent Memory Circuit2.
A digitally regulated output that maintains constant brightness.
Tail mode switch for easy and fast output selection.
Instant strobe mode.
All-weather IP68 waterproof (6.5 ft / 2m submersible for 30 mins) and tolerates -31 to 113 °F (-35 to 45 °C).
1.5 m impact resistance on 6 sides.
Specialized Remote Pressure Switch Integration compatible with AER-05.
Size: 5.63 " x 1.34 " x 1.00 " / 143 x 34 x 25.4 mm.
Weight: 3.95 oz / 112 g (excluding battery).
APF is a new technology developed by Fenix which enables single-battery flashlights to emit 2,200 lumens and above; it makes multi-functioning tail caps easier to implement and allows for more compact and lighter single-body manufacturing.
Intelligent Memory Circuit allows the flashlight to remember which mode it was in when turned off and turned on again.
Output, Runtime, and Throw Distance
The TK16 V2.0 has varying degrees of brightness and exceptionally long burn times.
Turbo: 3,100 lumens, burn time 2h 40min.*, throw distance 1,247 ft. (380m)
High: 1,000 lumens, burn time 2h 50min., throw distance 722 ft. (220m)
Medium: 350 lumens, burn time 8h 20min., throw distance 410 ft. (125m)
Low: 150 lumens, burn time 19h 10min., throw distance 262 ft. (80m)
Eco: 30 lumens, burn time 43h 20min., throw distance 131 ft. (40m)
Strobe: 3,100 lumens
*This measurement includes output at reduced levels which are activated when the flashlight reaches a temperature of 140 °F / 60 °C.
Body Design and Materials
The TK16 V2.0 has a single-layer body crafted out of A6061-T6 aircraft-grade aluminum. This specially treated aluminum is the hardest type available (its strength can exceed certain types of stainless steel), and it makes the flashlight impact resistant up to 4.9 ft / 1.5 m on 6 sides.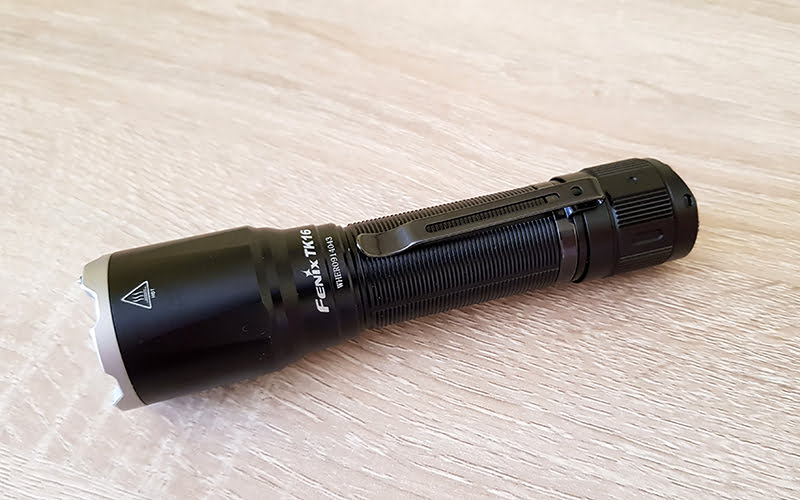 The original TK16 had a classic knurling pattern around the body and the tail switch, while the V2.0 features a different texture, which to me, is more comfortable to hold, and it feels even more grippy.
Fenix managed to create a much more powerful flashlight compared to the original while keeping the dimensions basically identical – not only that, they even managed to make it 0.35 oz. / 10 g lighter. This could not have been achieved without advanced engineering and newly-developed technologies.
The battery compartment has a double spring design which means that there's a spring inside the body of the flashlight and on the tail switch. This ingenious feature ensures better impact resistance if you drop your flashlight or use the strike bezel to break a window. Once you're aware of this feature, it might seem logical that every tactical flashlight should have it, but it's not common at all.
All the materials used to manufacture the TK16 V2.0 are industrial grade, making it highly durable, reliable, and operatable in all weather conditions, including bitter cold and extreme heat.
The anodizing finish is flawless, and the overall build quality as good as it gets.
LED Emitter and the Beam
The V2.0 is now equipped with a Luminus SST70 LED emitter with a lifespan of 50,000 hours which is capable of producing up to 3,100 lumens. The LED is covered with a toughened ultra-clear glass lens which has an anti-reflecting coating.
The reflector texture is smooth like a mirror that produces a cohesive hotspot with a smooth spill, giving it a very long throw. The beam color is warm white.
TK16 V2.0's beam pattern is designed for tactical use, which means that it provides a long beam distance (giving you more light on your target) and sheds a bright peripheral beam.
Tail Switch & User Interface
TK16 V2.0 now features a dual tail switch for instant activation and strobe. The On/Off button or the "Tactical Tail Switch" can be used in two stages. To momentarily turn on the light, you just have to tap and hold the button, and for a constant on, you press the button past the clicking point.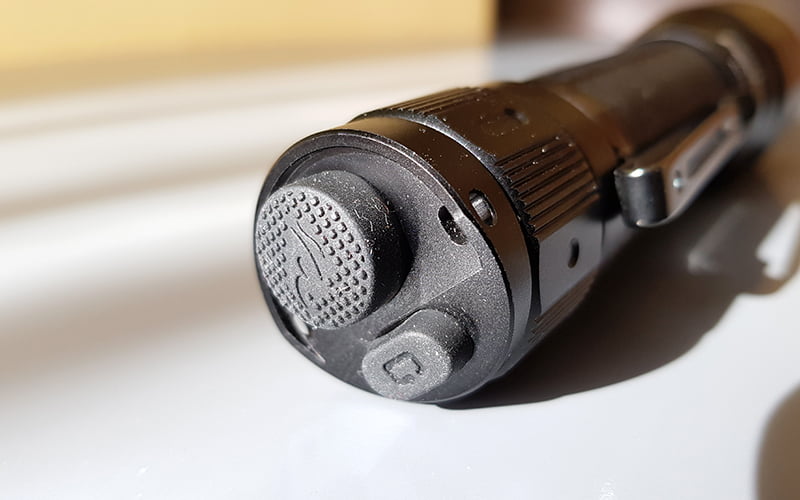 The switch has a high-quality feel and a pleasant-sounding click to it.
The smaller button is a "Functional Tail Switch," which is basically a mode switch. When the flashlight is on, you press it to cycle through the modes. To access the strobe, press and hold for half a second. It's also used to instantly access the strobe when the flashlight is turned off (just press and hold the switch).
The "Tactical Tail Switch" is very intuitive and easy to use. The exposed design makes it quickly accessible even when using gloves. The only downside of this design is that you can't tail-stand the flashlight; however, with tactical flashlights, this isn't a priority.
As mentioned earlier, the TK16 V2 has a memory mode, so it will always turn on in the same mode as it was turned off (except for the strobe mode, which is not memorized).
Brightness Modes
We've already covered the brightness modes that are available on this flashlight. Now it's time to see them in action both indoors and outdoors.
When using the flashlight in Turbo mode for an extended period, it will heat up noticeably, which is to be expected from a powerful flashlight like this, but while I used it, it never exceeded 105 °F (40 °C). I noticed that the increased temperature stayed concentrated around the head of the flashlight, and it didn't overly expand down the body, which helps with comfort.
If you keep the TK16 V2.0 on Turbo for 20 minutes or longer, it can heat up to 140 °F (60 °C). When this happens, the flashlight will temporarily reduce the lumen output to prevent overheating. When it cools down to a safe operating level, it will again allow the user to select the higher brightness modes.
Strike Bezel
The old TK16 had a stainless-steel strike bezel which has now been upgraded with inlaid tungsten steel breaking tips. It can be used for breaking glass or self-defense. These small metal tips might not look like much but they can make all the difference.
Battery
The battery is another upgrade from the original TK16. While the original didn't come with the battery included, the TK16 V2.0 does. It is a single Fenix ARB-L21-5000U 21700 (5,000 mAh) rechargeable battery that has a USB Type-C port in the neck. The battery can be charged with the included USB cable or with one of Fenix's fast battery chargers.
The battery is a high-performance & high-capacity battery that is mainly used in high-drain devices, which TK16 V2.0, with 3,100 lumens, certainly is. But because the battery is a high-powered model, you'll get some serious run time out of it. Since I first got the flashlight, I have been using it in various conditions at various intensities, and it still runs on its very first charge!
To charge the battery, you have to take it out of the body of the flashlight. Some flashlights have a built-in USB charging port that is shielded, and while this certainly adds to the convenience, I think it makes the flashlight slightly more vulnerable to the elements outdoors.
There's a small LED indicator on the top of the battery that will either signal that the battery is charging or that it's fully charged.
The battery compartment has reverse polarity protection, so even if you insert the battery backward, it won't ruin your flashlight. There's also built-in low voltage protection (LVP) that prevents the cell from over-discharge, prolonging its overall lifespan.
Before the LVP kicks in, the flashlight will signal its low battery status by flashing 3 times every 5 minutes to remind you that charging is needed.
Accessories
There's a wide range of accessories available for this flashlight, including a bike mount, traffic wand, diffuser tip, and more. This shows just how versatile the Fenix TK16 V2.0 is.
Conclusion
The Fenix TK16 V2.0 is a very light and compact flashlight with a wide range of accessories, making it perfect for almost anybody. It can withstand extreme cold, extreme heat, it can handle drops, and can be used in any kind of weather.
Related:
The sturdy build and its reliability make it a great choice for professionals and enthusiasts alike. The TK16 V2.0 is compact enough to carry it with you wherever you go.
With a price tag of $130, it's not a cheap flashlight, but you do get what you pay for. In this case, you get an extraordinarily well-made and versatile flashlight that might last you a lifetime.
You can buy the Fenix TK16 V2.0 Tactical flashlight on Fenix's online store or Amazon.
Long-Term Update (March 2022)

I've been using the TK16 V2.0 for a year now and it still impresses me. The battery capacity hasn't deteriorated and the flashlight still looks and feels new.

I've also lent the flashlight to some of my friends who used it for night fishing, night patrol, and hunting. They all returned the flashlight with a smile, saying how good it was.

The TK16 V2.0 continues to be my favorite allrounder.