Note: We received this product for free. No other compensation was provided, and as always, all opinions are our own. We may earn money from links on this page, but we only recommend products we back. Learn more.
Fenix E03R is a rechargeable dual-beam (with white and red LED lights), all-metal keychain flashlight that is lightweight and highly compact. It's one of the best-selling flashlights from the "Fenix E Series," which includes powerful keychain, pocket, and EDC flashlights.
Let's see how it performs and what makes it so popular.
Packaging and Contents
The E03R comes in a disposable blister pack. Included are:
Fenix E03R flashlight
Keychain ring
User manual
Warranty card
USB Type-C charging cable
When first launched, the package didn't include the USB Type-C charging cable, but now, like with all other Fenix flashlights, everything that you need for immediate usage comes included.
Main Features and Technical Specifications
While the Fenix E03R is a pocket/keychain flashlight, it still comes with some impressive features that are not common with these types of flashlights.
260 lumens of maximum output (white light)
Dual-beam – white LED and red LED
MATCH CA18 white LED and Everlight 2835 red light LED with a lifespan of 50,000 hours
Rechargeable 200 mAh Li-polymer built-in battery
Battery level indicator and low-voltage warning
Intelligent overheat protection
Ultra-compact
USB Type-C charging port (10 watts max)
All-metal body (aircraft grade A6061-T6 aluminum)
Premium type HAIII hard-anodized anti-abrasive finish
Impact resistance on all 6 sides up to 4.92 ft / 1.5 m
IP66 water and dust resistance
Single switch operation
Recessed switch for avoiding accidental activation
Lockout function
Size: 1.85" (L) x 0.94" (W) x 0.47" (H) / 47 (L) x 24 (W) x 12 (H) mm
Weight: 0.78 oz. / 22 g
Output, Runtime, and Throw Distance
The E03R comes with two LED lights, white and red.
White LED Light
High: 260 lumens, burn time 45 min.*, throw distance 138 ft / 42 m
Medium: 80 lumens, burn time 1h 15 min., throw distance 82 ft / 25 m
Low: 30 lumens, burn time 3 hours, throw distance 52 ft / 16 m
Eco: 5 lumens, burn time 18 hours, throw distance 23 ft / 7 m
*This measurement includes output at reduced levels which are activated when the flashlight temporarily overheats.
Red LED Light
The red LED outputs a constant red light and a flashing red light. The constant red is at 4 lumens, the runtime is 5h 30min, and the throw distance is 33 ft / 10 m. There is no data available for the flashing red light, except that it also shines at 4 lumens.
Check out the video below for a demonstration of all the brightness modes, both indoors and outdoors.
Body Design and Materials
The body of the Fenix E03R is made from a single block of aircraft-grade A6061-T6 aluminum and has a premium type HAIII hard-anodized, anti-abrasive finish. Since this is a keychain/pocket flashlight, the ultra-durable construction makes sense because the flashlight will probably have to withstand more everyday wear and tear than most other types of flashlights.
The flashlight is lightweight (weighing only 0.78 oz. / 22 g) and very compact (only 0.47 inches / 12 mm thick), so it'll easily fit in your pockets or in your wallet.
The design is sleek and stylish, and I think that they've decided against a more rugged design simply to appeal to wider audiences. If that was their intention, then they've certainly succeeded because the flashlight immediately caught the eye of my wife.
There are smooth grooves on the side of the flashlight to help with the grip, but I wish that they would have a more prominent knurling pattern for an even better hold. Due to the fine finish of the flashlight, it feels somewhat slippery at times, especially if used in wet conditions. However, omitting a more prominent knurling pattern was probably done by choice, simply to keep the design cleaner. After all, for those who want a more grippy flashlight, Fenix also offers "tactical" E05R and E09R pocket/keychain flashlights.
RELATED: Fenix E05R and E09R Flashlight Review
The tail of the E03R is flat enough that you can tail-stand it. You can even tail-stand it at an angle. For a pocket/EDC flashlight, that's a significant benefit.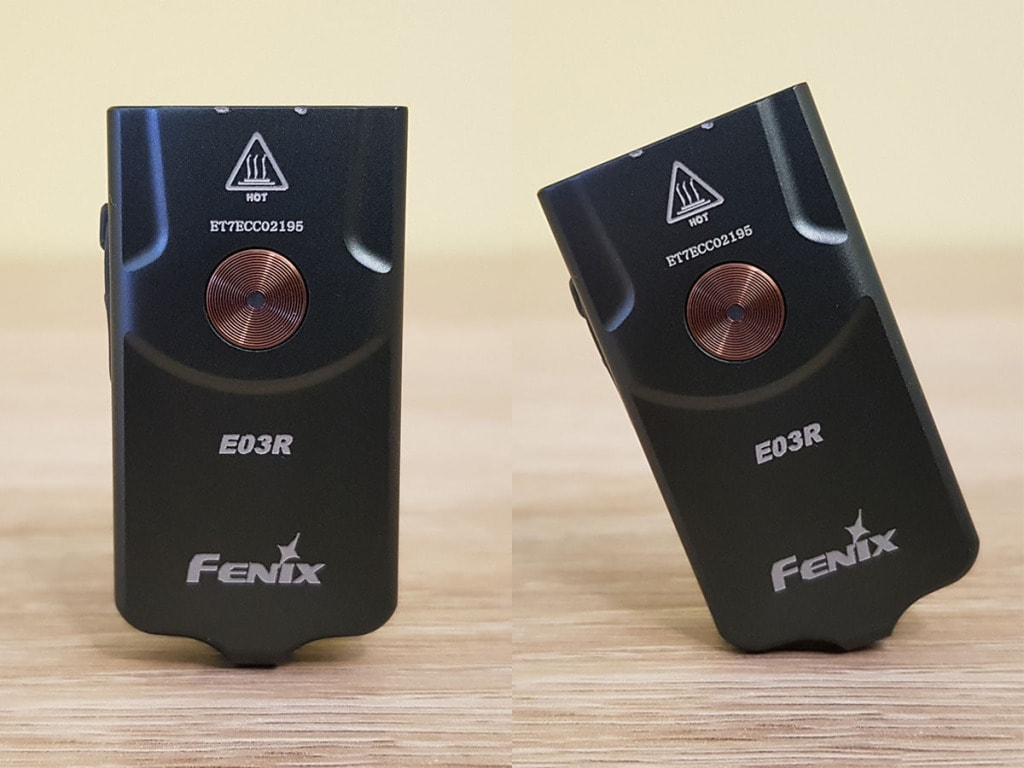 Like the rest of the flashlight, the operating switch is also crafted from metal and is recessed, which helps avoid accidental activation (the flashlight also has a lockout mode, but more on that later). An operating switch made out of metal is another indication that the E03R is build to last.
What also helps with the durability of this flashlight is the IP66 rating, which means that you can use it in dusty conditions and heavy rain.
Here are a few size comparison photos for a better feel for the size of the E03R.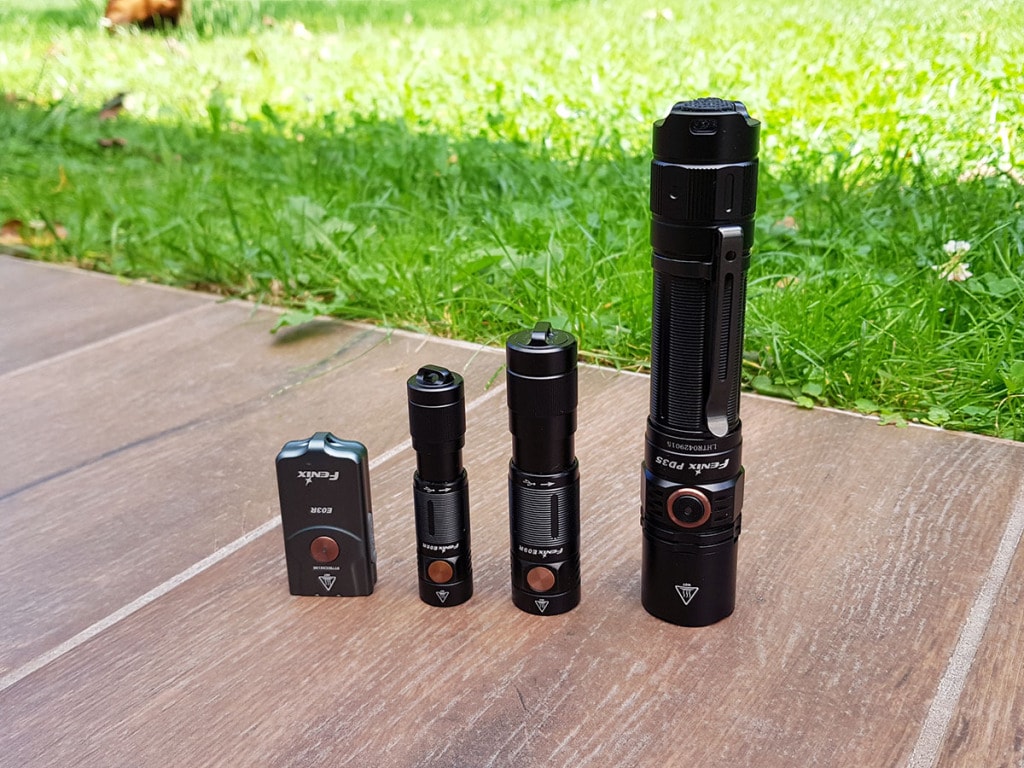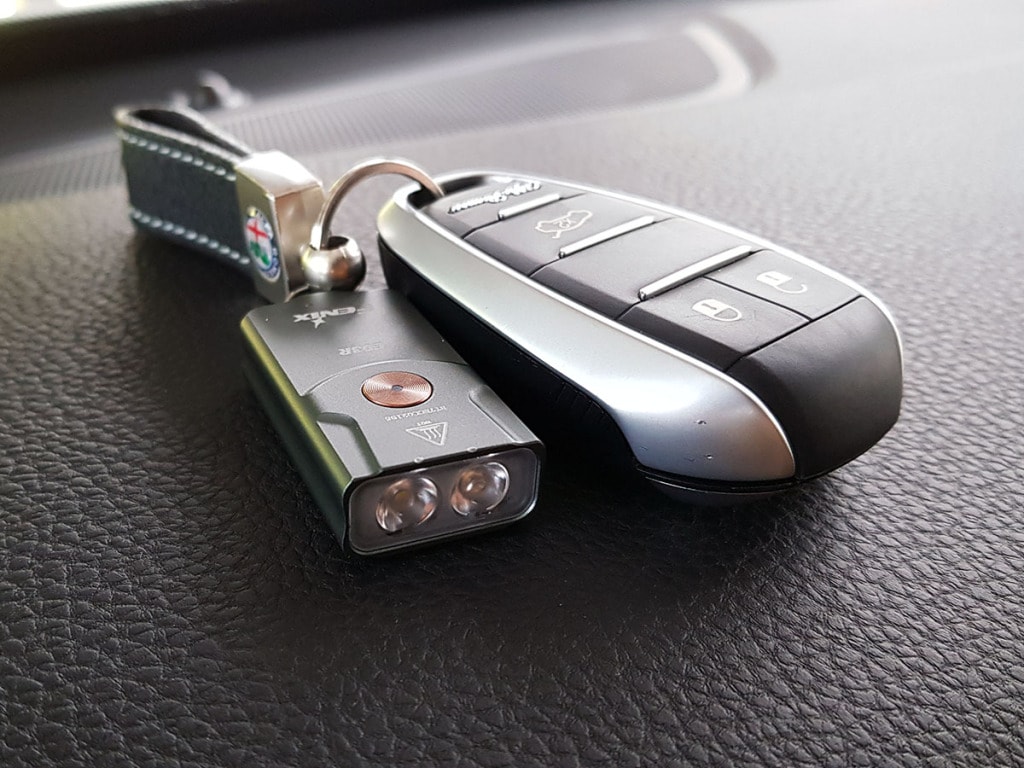 The Beam
Keychain flashlights are used for illuminating nearby objects and spaces, so naturally, the beam is wide with a well-spread flood.
The beam is almost identical to that of Fenix E05R, which is also one of the smaller pocket flashlights offered by Fenix. However, if you need a more powerful pocket/EDC flashlight with a concentrated, whiter spot in the center of the beam, then the somewhat larger Fenix E09R is the one for you.
Opposite to the white LED light, the red LED light has a more concentrated and focused beam. As a result, with its 4 lumens, you can see farther than with the white LED light in Eco mode, which produces 5 lumens.
The red light will mostly come in handy when you need to find your way around late at night and you don't want to wake anyone. It's also very helpful when you need to maintain your night vision – for example, if your passenger in the car needs to find something while you're driving, the red light won't be as distracting. It's also useful for alerting ongoing traffic and making yourself visible or signaling an emergency.
Operation
The E03R is operated by a single switch (made out of metal) which is similar in design and feel to most other Fenix lights that utilize an operating switch.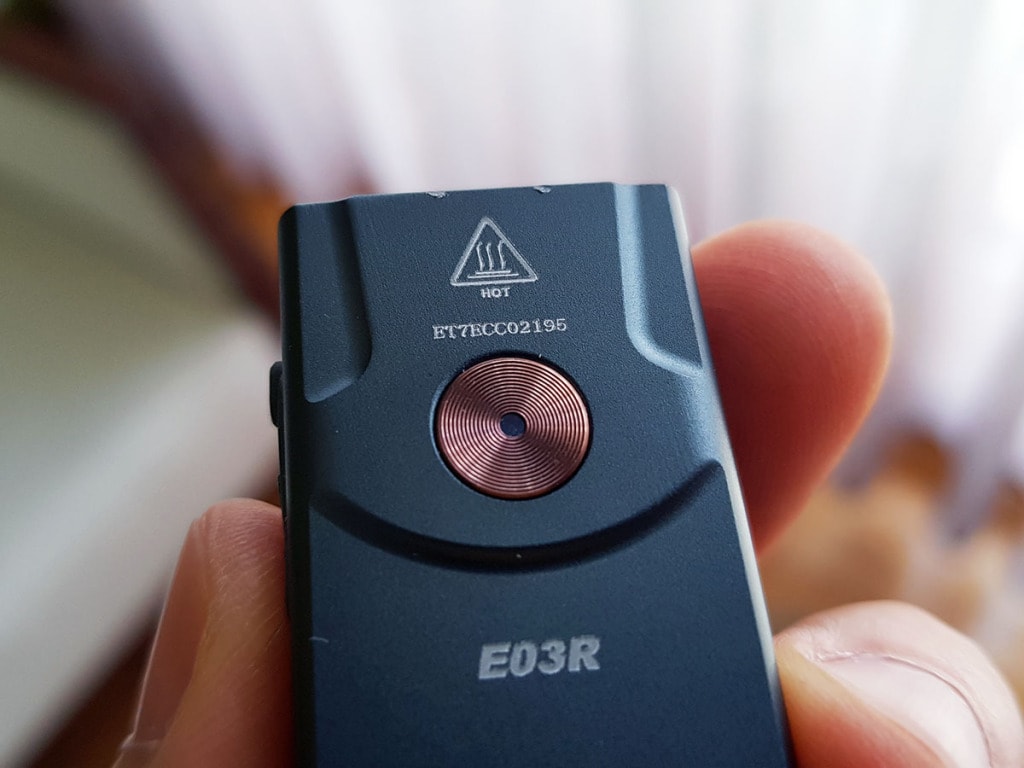 To turn on or off the E03R, you need to press and hold the switch for 0.5 seconds. To cycle through the white LED brightness levels, single press the switch to change the output mode (Eco -> Low -> Medium -> High).
To activate the red LED, press and hold the switch for 1.2 seconds (either when the flashlight is on or off). Press again to activate red flashing mode.
There's also an option to lock the flashlight to prevent accidental activation. When the flashlight is turned off, quickly double press the switch to lock it. There will be two short blinks to indicate that the flashlight is now locked.
To unlock the flashlight, you need to double press the switch again. When it unlocks, the Low mode is automatically activated.
The E03R, like all other flashlights from Fenix, features intelligent overheat protection. If the flashlight ever gets too hot, it will automatically lower the lumens so that it can cool off and protect and prevent any damage. Once cooled enough, you can then re-select the High output again.
Battery and Charging
The flashlight has an inbuilt 200 mAh Li-polymer battery charged via the USB Type-C charging port located on the left-hand side of the body. The port is secured with a rubber gasket which also doubles as an additional gripping point.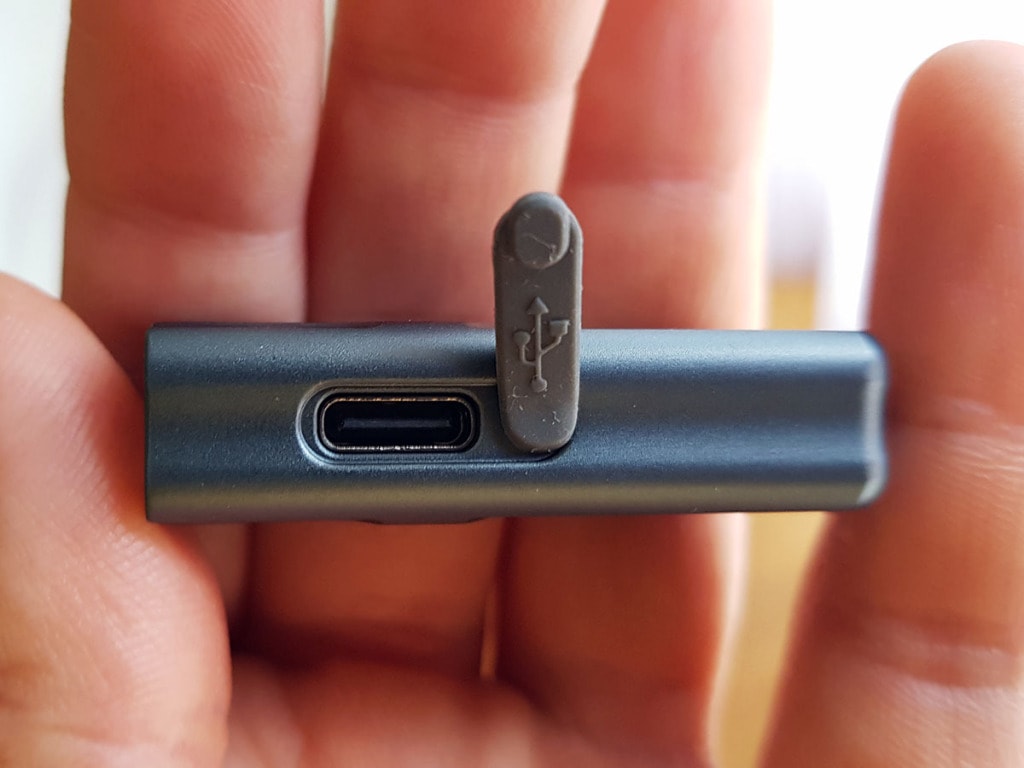 When you charge the battery, a red indicator is displayed on the switch button. Once the charging is complete, it'll turn green.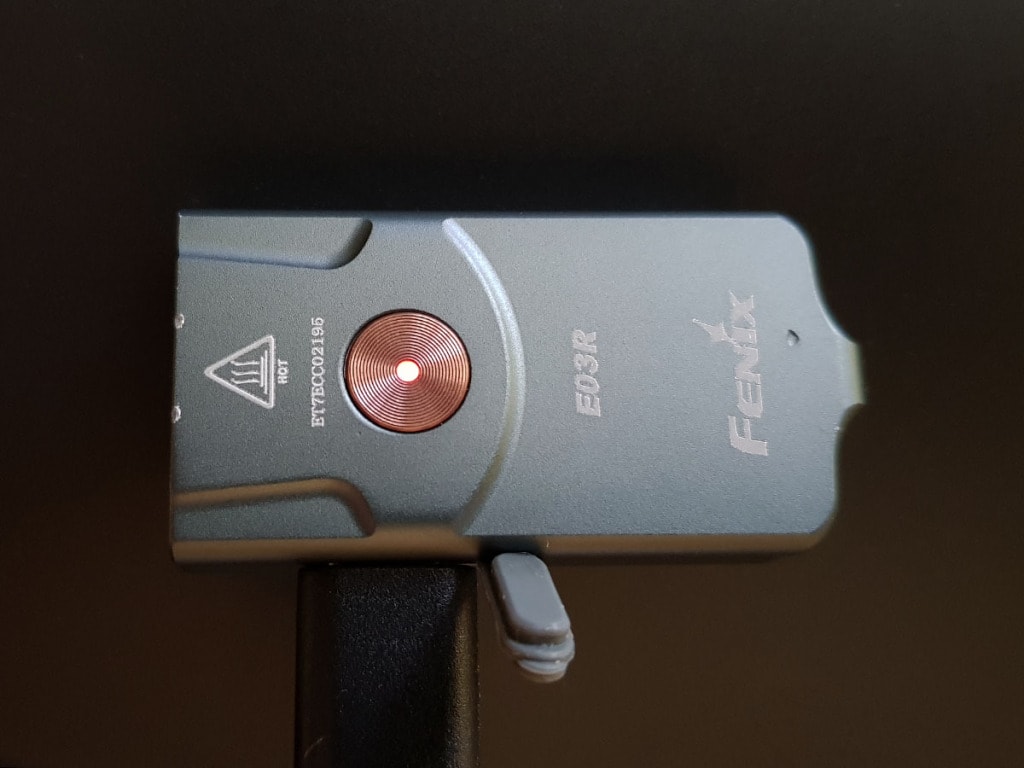 It's useful to know that while you charge the flashlight, you can use the Eco and Low modes, too.
You can also use the operating switch to check the battery level. While the flashlight is turned off, press the switch once, and the battery level indicator will display the battery status for 3 seconds.
Green light: battery level between 70% and 100% (good)
Flashing green light: battery level between 40% and 70% (sufficient)
Red light: battery level between 10% and 40% (poor)
Flashing red light: battery level between 1% and 10% (critical)
The battery status will also be displayed each time you turn on the flashlight.
If you plan to store the E05R for a long time, make sure to recharge it every 4 months to keep the battery in optimum condition.
Warranty
Like all Fenix flashlights, the E05R comes with a Lifetime Limited Warranty against any defects in material and craft.
Conclusion
The E05R is a compact, lightweight, stylish, and durable flashlight that offers an outstanding balance between size and power. The additional red LED light elevates it above most other keychain flashlights.
Related: 5 Best Keychain Flashlights For Every Situation
This is not meant to be your primary flashlight, but something that you can always carry around in your pocket, wallet, or with your keys and use in everyday situations.
At the time of this writing, the E03R sells for $26.95 which, considering what you get, is affordably priced. At this price point, it also makes it a smart gift idea for your loved ones.