Note: Durability Matters is reader-supported. When you buy through affiliate links on our website, we'll make a small commission, without impacting your price. Thank you. Learn more.
I've been using reusable water bottles for the last 10 years or so, but I have never owned an aluminum water bottle before. I was stuck switching between water bottles made out of glass or BPA-free plastic.
A glass water bottle is an accident waiting to happen. The question is not if it'll break, but when and how it'll break. That was the case with me, at least.
BPA-free plastic bottles do not break, but they are two major issues. The water never seems to taste as fresh, and if you wash the bottles in a dishwasher, they'll get a worn-out look very quickly.
Could a water bottle made out of aluminum be the perfect solution? Well, the good people at SIGG® sent us a sample to find out.
About SIGG®
SIGG is a Swiss-based company that was founded in 1908. Its long history and expertise have helped them gain recognition (according to market research, 70 percent of people in German-speaking countries know the brand).
They pride themselves in producing stylish water bottles (some of them are permanently displayed at the Museum of Modern Art in New York) with impeccable quality. Most of their water bottles are made in Switzerland, and some are made by their top-class suppliers based in Europe or Asia.
As a brand, they are mainly focused on water bottles for travel and the great outdoors, but their product lineup also covers city dwellers.
All SIGG water bottles are recyclable and contain no toxic materials.
The SIGG® Original Alu Water Bottle
This particular model is a homage to the original bottle that was first introduced in 1929. The redesigned model is a celebration of the company's 110th anniversary.
The Materials
Crafted from high-quality, single-piece (recyclable) aluminum, the bottle stands out for its lightweight design and durability. The "Original Alu Water Bottle" is made in Switzerland and positioned at the premium end of the market.
With its unique properties, this bottle is one of the lightest (weighing only 5.1 ounces / 146 grams) and most robust bottles on the market.
Drinking Experience
Once the bottle is shaped into its final form, the inside is coated with a BPA-free liner, which prevents direct contact between the liquids and the aluminum.
The BPA-free liner is a 40-micron thick powder coating that is applied using an electrostatic process. The lining is resistant to fruit acids and isotonic drinks, plus it boasts taste-neutral properties.
The result is fantastic. Drinking from the SIGG Original bottle is like drinking fresh water from a stream. It's perfectly natural with no aftertaste. If you ever drink water from a low-quality water bottle, you'll appreciate how amazing the contrast is.
Safety
The safety of this bottle starts with the round-edged thread at the top of the bottle, which is also very finely and softly shaped. There is simply no way of hurting your lips while drinking from the bottle.
The materials used are free of harmful chemicals, including BPA, BPS, phthalates, PVC, and polycarbonates.
For a water bottle to be safe, it also has to be leak-proof, and this one is. I've read a couple of customer reviews where they've said that their bottles leaked. However, as you can see in this short test, the bottle seals perfectly fine.
I also did an extended test, where I've put the bottle upside down in an external pocket of my backpack, and carried it like that for half an hour (I don't want to know what people who saw me must have thought). There was no leakage whatsoever. I guess that the reported leaks are probably a result of an under-tightened or overtightened screw cap.
Uses
These days you can spot reusable drinking bottles everywhere. They are ideal companions for leisure activities, office, school, or travel.
I replaced my old glass bottle with this aluminum bottle the day I received it, and I've been using it every day since.
I carry it to work, and the weight difference is noticeable. I also don't have to worry about breaking my water bottle (which I carry in my handbag), which is a welcome relief.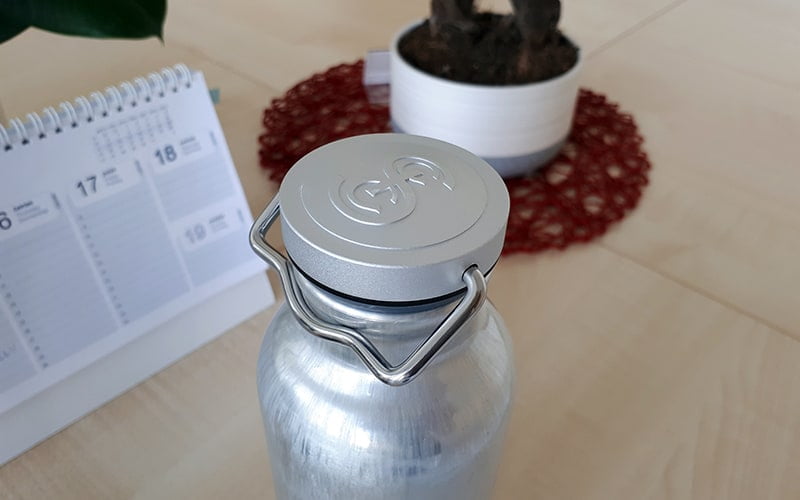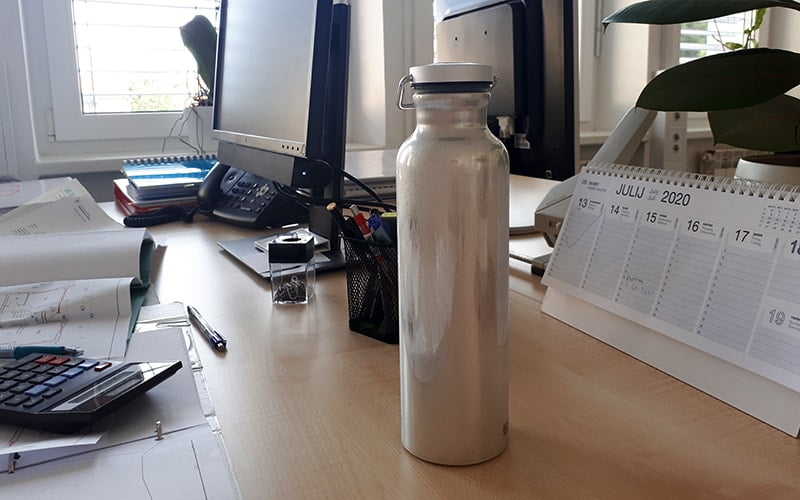 It's worth mentioning that the bottle hasn't gone unnoticed. Some of my coworkers not only complimented me on it but wanted to know where to buy one.
I have used the bottle on our family hikes, too. My husband, for whatever reason, likes to hold the bottle by its carrying handle and swing it as we walk. I'm sure this new habit will pass, but for now, if nothing else, it serves as a durability test for the handle.
Our daughter is also happy to play with the new bottle.
When I fill up the SIGG bottle at home, I usually add a few ice cubes to keep it cold for longer, however, since this is not an insulated bottle and aluminum is an excellent heat conductor, the water doesn't stay cool for long. But this isn't an issue for me. I prefer lukewarm water anyway because it has some extra health benefits when compared to cold water.
The SIGG Original water bottle comes in two sizes. The smaller is 17 oz (0.5 l), and the larger is 25 oz (0.75 l). This is the larger one, and it still fits perfectly in my car's cup holder.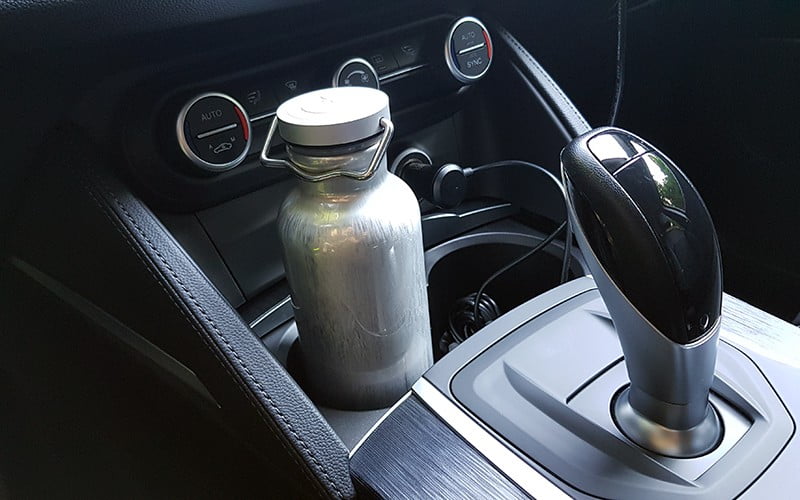 When not out in the woods or my office, I use the SIGG water bottle around the house. I fill it up with filtered tap water and aim to drink two to three bottles per day. This makes measuring my water intake during the day easy.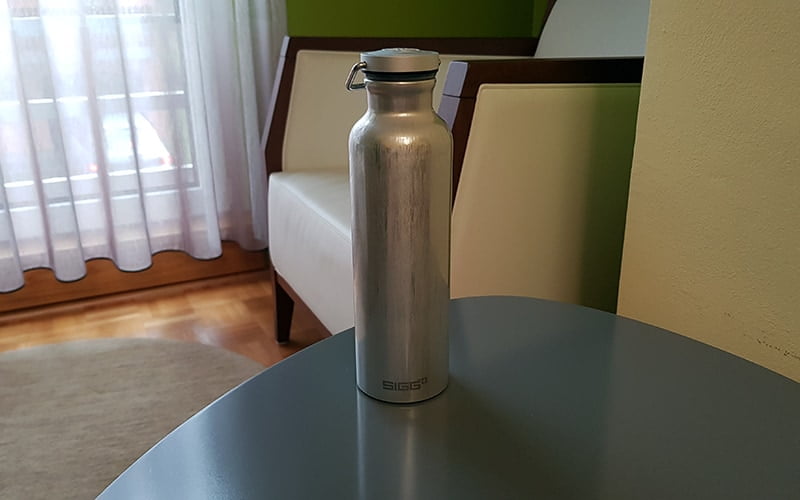 The bottle is easy to clean, but beware, like every other aluminum bottle, it is not dishwasher safe.
Conclusion
The SIGG Original Alu bottle does everything right. It's a high-quality product, nicely finished, stylish, and durable. With its timeless design and durability, this bottle is definitely a "buy it for life" product.
Compared to a glass or plastic water bottle, this aluminum drinking vessel has multiple advantages. It's light, it easily withstands day to day stresses, it doesn't leave any aftertaste, and it won't pick up taste or odors from the previously-stored liquids.
It's also great for the environment. The bottle is recyclable and, of course, reusable.
For the first time ever, I'm perfectly happy with my water bottle in every single aspect.
You can buy the SIGG Original Alu Water bottle on Amazon or SIGG's online shop.