Note: We received this product for free. No other compensation was provided, and as always, all opinions are our own. We may earn money from links on this page, but we only recommend products we back. Learn more.
Winter in Calgary is predictably unpredictable. The temperature fluctuates constantly, but one thing is always certain. At some point, it will get cold. It will be cold for a long time. And then it will be cold some more.
When I got the chance to try out the heated hoodie from Venustas, I knew that I was getting more than just an item of clothing. I was getting more access to the great outdoors come sun or snow.
But, with temperatures that plunge down to -22°F / -30°C and below for weeks at a time, does the Venustas hoodie do the job? Spoiler alert: it does.
First Impressions
The first thing that impressed me was the shipping time. It only took a few days from being offered a heated hoodie to having it in my hands. The Venustas hoodie was shipped through Amazon (where they sell their clothing, along with through their own dedicated website). For me, this meant quick shipping time. We were already off to a good start.
The first thing I did was to try the hoodie on. The website includes a sizing guide, and I took the necessary measurements and based my selection both off of that and my regular clothing size. I opted for XL, and it fit me perfectly.
The hoodie came shipped in a box, and within that, the item of clothing comes in its own protective bag that contains both the hoodie and a box with the battery and charging cable. I don't know if I will use the bag again, I don't need to store the hoodie for a period of time, but it does add an extra layer of protection and keeps everything in one place.
I received the pullover heated hoodie in black, and the color is rich. The material also feels soft and comfortable, and I wouldn't know that there were graphene heating panels inside the hoodie. A definite positive is that this is a heated hoodie without looking too much like one—perfect for wearing all year round.
I have tried out heated clothing before, and I went straight to the included instruction sheet. There was not much to look at. Again, this is a big positive. When heated clothing is intuitive in its use, I'm in!
Features & Specifications
Hoodie Material: Cotton & Polyester
Heating Elements: Graphene
Weight: 3.2 lbs
Heat Zones: 4 on the front / 1 on the back
Heat Settings: Low: 95°F / 35°C, Med: 104°F / 40°C, High: 122°F / 50°C
Battery: 7.4V 6500 Lithium-Ion
Battery Life: Low: 9h, Med: 5.5h, High: 3.5h
Material
Cotton
I can't claim to know a whole lot about clothing material, but I know that cotton is generally good. This is a cotton and polyester blend, but it feels like straight cotton. The hoodie is soft against my skin and extremely comfortable to wear. The polyester adds some durability to the hoodie, and I can feel that this is an item of clothing that is going to last for a long time.
The hoodie is also simply designed with no extra decorations and can be worn by all sexes. The design makes this a versatile hoodie that is perfect for the cold and great outdoors but can also be used for sports or relaxing at home.
Graphene
The 5 heating elements are graphene. Graphene is extremely strong and durable, and this means thinner heating elements that do not create a bulky item of clothing. They are also flexible, and completely machine washable. Graphene conducts heat efficiently and can withstand a lot of damage. The use of graphene means a thinner and lighter hoodie that still gives optimal heat.
Where Does The Heat Come From?
Five Graphene Heating Elements
There are five graphene heating elements spread across the hoodie. There are four on the front, two on the chest, and two on the stomach. There is also one large heating element on the back. The heating elements are 30% larger than previous models.
Pocket Heat
The Venustas Hoodie has a large pocket on the front. The graphene elements are also positioned so that two of the five elements are integrated into the pockets. Not only are they placed strategically to ensure good heat coverage of your torso, but they warm your hands too. Stick your hands in your pocket and warm your fingers on extra-cold days.
Charging The Battery
I want easy charging, and that is what Venustas has provided.
The hoodie comes with a 7.4V 5,000 MAH lithium-ion battery, a type-C USB charging cable, and a mains adaptor.
You can charge your battery from any wall outlet or with USB. I chose to charge straight from an outlet.
Without even checking the instructions first, I plugged in the battery and I was excited (it doesn't take much to excite me) to see that there was an LED display on the side of the battery indicating the charge of the battery as a percentage. The battery was shipped at 75%, and I proceeded to charge it more.
The battery is small, weighing only 200 g, and the hoodie can be worn with or without it. There is also a USB port included, so you can charge your phone (or other devices) straight from your hoodie battery. What a world we live in!
Using My Venustas Heated Hoodie
There is a zippered pocket on the side of the hoodie, and the battery sits in there. When you first plug the battery into the cable in the pocket, the power button on the chest of the hoodie should pulse in red/white/blue. This is exactly what happened.
To turn on the heat, you hold down the power button on the chest of the hoodie for 3-5 seconds. The power button will then pulse gently in red to show that the hoodie is pre-heating. When it is done, the light changes to white (medium heat).
3 Heat Levels
There are three heats levels on the hoodie, and each changes the color of the light on the power button to show the selection. Hold the button for 1 second to cycle through the heat options.
High (Red): 122°F / 50°C
Medium (White): 104°F / 40°C
Low (Blue): 95°F / 35°C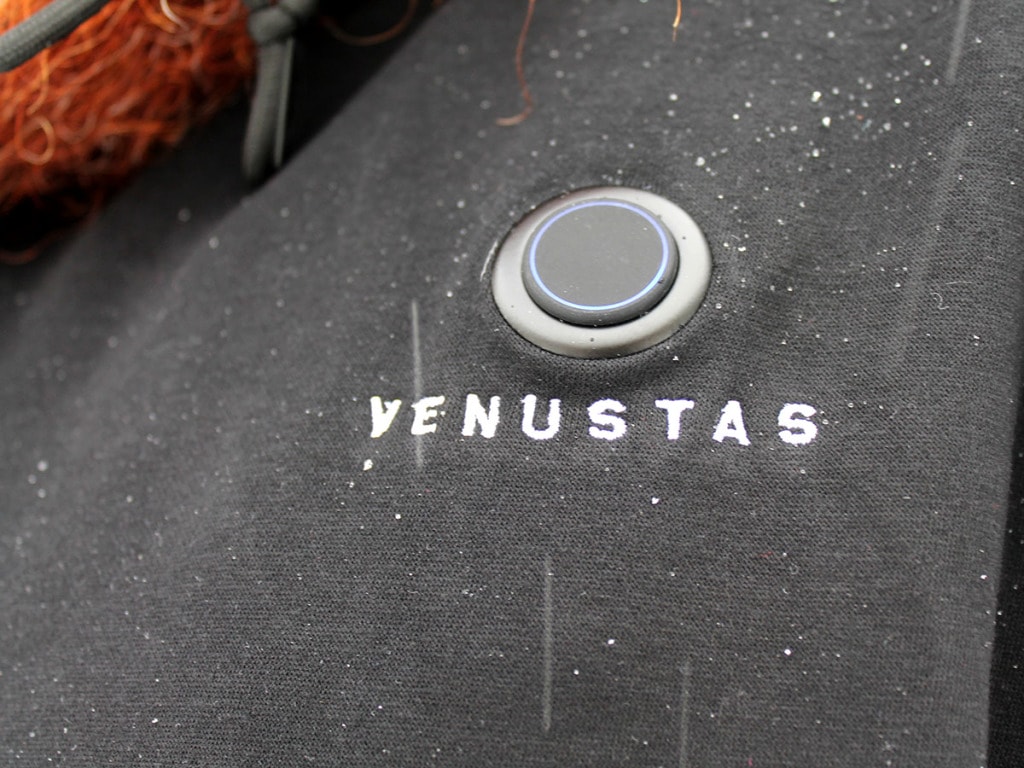 To switch the heat off, hold the power button for 3-5 seconds again, and the light will turn off to indicate that the power is off.
Care Instructions & Warranty
The hoodie is machine washable, and the graphene panels are flexible and strong, so they will not be damaged when washing. It is recommended that you use a cold water wash and a gentle cycle, and dry cleaning is not recommended.
The graphene panels can be damaged if they are twisted tightly, so don't ring the hoodie dry and don't use your dryer either. It is best to hang the hoodie to line or air dry.
If you are not using the hoodie for a long time, you should disconnect the battery. The battery works best when it is fully charged every 3 months.
There is a 1-year manufacturer warranty that covers defects and malfunctions for the heating components and battery pack.
Who Is This For?
Who is this not for? The hoodie is unisex, and the simple design means that everyone can wear them. The hoodie is easy to take care of, and it is easy to use too. The rich black makes it a perfect item of clothing for any body shape.
Of course, you are buying a hoodie such as this more for the heated element than the look (although it does look great too). With that in mind, anyone who lives in a colder climate is going to benefit from this. In Calgary, we have a good 3-4 months of cold weather, and a heated hoodie is going to make that more manageable.
Related: 5 Best Heated Hoodies For Men And Women
If you like to be outdoors in any season, camp in mountain regions, ski, skate, snowboard, or enjoy outdoor winter sports and the colder seasons, then a Venustas hoodie is going to keep you warm.
Conclusion
This is the second item of heated clothing that I have gotten to try out, and it is the second item of heated clothing that I am going to wear regularly. It is going to work well when paired with a jacket, and in spring and fall when it is still cold, it is a good outer layer.
I am pleased that Venustas has paid attention to the look of the hoodie, and there is elegance without overcomplicating things. This is a hoodie that I can see myself wearing over the next few months (March-May), and I will definitely wear it beyond that without the heat.
Overall, this is a heated hoodie that is intuitive and stylish. I can't help but recommend it.
Get 15% off your purchase on VenustasOfficial.com by using "DM15" discount code.