Note: Durability Matters is reader-supported. When you buy through affiliate links on our website, we'll make a small commission, without impacting your price. Thank you. Learn more.
I love a little luxury. I mean, who doesn't? We all deserve a treat every now and then, and with a luxury brand, you are also getting something that is going to be a bit more exclusive. I am all about paying a little more for something special, timeless, and well made. In the end, you could say that I'm actually saving money in the long run.
Many new designer brands are now delving into the world of streetwear-inspired clothing. Luxury clothing is not what it once was, and the luxury clothing world is becoming more about a way of life, a way to make an impact, rather than being focused on price.
Niche and online brands have been making an impact in luxury clothing, and it is evident that they are here to stay.
No longer are premium fashion brands the say all and end all; affordable luxury now accounts for a large share of the luxury clothing market.
What Do We Mean By Affordable Luxury?
Can clothing be affordable and luxurious? The answer is yes.
Now, when we are talking about affordable, we are not talking about cheap. By affordable, we mean high-quality at reasonable prices and by luxury, we mean exclusive (most of the listed brands will produce their clothes in limited runs).
We love fashion, we love luxury, and we also love affordability. Here are some of the best luxuriously affordable brands out there.
For: Women | Product Range: Dresses, Casual, Tops, Bottoms, Jackets, Swimwear, and more.
Trina Turk is a fashion brand that was born in California and takes its inspiration from the sunshine coast. They merge a lot of classic, vintage, and contemporary trends to bring you clothing that is stylish and timeless.
Trina Turk is all about bold prints, unique shapes, and clothing that you cannot find anywhere else. They have a mix of formal and casual wear, including dresses, outerwear, activewear, tops, bottoms, and a range of basics.
For: Women, Men | Product Range: Dresses, Pants, Jeans, Sleepwear, Swimwear, Shoes, Bags, and more.
Ted Baker has always stood for quality, and that is exactly what you get when you shop there. The clothing is stylish, affordable, and is built to last.
They are also a quirky company, providing more than just elegant clothing. They go above and beyond for their customers, the first stores offering a laundry service with every shirt purchased, which gave them momentum from the outset. Even without spending on advertising, Ted Baker has managed to grow into a big name in the fashion world.
They are a designer label that does not act like a designer label.
For: Women, Men | Product Range: Jeans, Top, Blouses, Dresses, Jackets, Shorts, Shoes, Handbags, and more.
If you want to get lucky with clothing purchases, then look no further than Lucky Brand. They are a luxury fashion designer with lower prices than you would expect.
They are particularly known for their denim. Their clothes have a fit like no other. You know that they have put a lot of time and effort into the design and construction of their denim-wear and it shows.
Along with comfort, you get clothing that is stylish and elegant. Denim is not all they carry. Along with amazing pairs of jeans, you will also find sweaters, dresses, tops, accessories and more.
The pieces are created with a nod to their Southern Californian heritage and culture. There is inspiration taken from vintage styles, art, music, nature, and more. The result is some wonderful pieces that you cannot get anywhere else, all at a fraction of the cost of most high-end brands.
For: Women, Men | Product Range: Sweatpants, Trousers, Polos, Sweaters, Dresses, Activewear, Shoes, Bags, and more.
Lacoste was founded in 1933 by French tennis player, René Lacoste, and is known for its classic, preppy style. The most popular item by Lacoste is their polo shirts, which have become a staple in the wardrobes of many men and women over the last few decades, and their green crocodile logo has become one of the most recognizable in the fashion world.
While Lacoste is most commonly associated with its casualwear, the brand also offers a range of other clothing and accessories, including dress shirts, trousers, jackets, and more. Despite their excellent quality and extreme popularity, Lacoste has remained an affordable and accessible brand, boosting its reputation and gaining a global following, the central points of which are Europe and North America.
For: Women | Product Range: Bottoms, Dresses, Jackets, Jumpsuits, Top, Handbags, Shoes, and more.
This company, founded in 2015 by Sarah Staudinger and George Augusto, is becoming famous for its retro west-coast-inspired aesthetic.
Staud has grown its media presence in recent years and is becoming a favorite amongst those in the fashion industry.
If you want some Instagram-worthy clothes, then look no further. The pieces are accessible, chic, trendy, and beautiful. With puffy sleeves, flared pants, jumpsuits, and more, you are going to love the vibrant designs and retro style.
For: Women | Product Range: Dresses, Knitwear, Jackets, Tops, Shoes, Accessories, and more.
Kate Spade New York is a vibrant and world-renowned brand that is mainly known for its luxury shoes and handbags. They also create accessories and more. They are not as well known for their clothing, and that is good news for you, as this could be a part of the reason as to why their prices are so reasonable.
There are clothing collections for every situation, from evening dresses to sleepwear to fall sweaters, they have it all. Are you looking for something for your wedding (or someone else's)? They have you covered for that too. They have the perfect handbag and accessory to go with your outfit too.
When you purchase from Kate Spade, you know that you are getting style and quality. You will also be doing so at low prices.
For: Women | Product Range: Dresses, Tops, Jeans, Skirts, and more.
Coming from the land down under, this quirky fashion brand from Australia is all about individualistic style and creativity. They have a wide range of clothing, including dresses, tops, bottoms, activewear, and more, and you will always find yourself on-trend when you are wearing their clothing.
Finders Keepers was created to help women find their fashion and offer risky textures and patterns while always remaining stylish and elegant.
They are also a socially-conscious business, holding themselves accountable to their customers, and encouraging customers to shop with awareness. They are part of the global movement of sustainable fashion and will be around for years to come with their blend of fashion and forward-thinking.
For: Women | Product Range: Dresses, Tops, Sweaters, Outerwear, Handbags, Shoes, and more.
Famed for its handbags, this designer brand also offers dresses, tops, bottoms, and much more. They have a minimalist approach to all of their designs, developing high-end and chic designs, and is well known as being one of the most affordable designer brands out there.
They have 300 stores around the world and are a family-first company that empowers female entrepreneurs. The Tory Burch foundation continues to support women over the globe with various programs, and even a bestselling book.
Tory Burch is a company that cares about the clothes and the people.
For: Women | Product Range: Dresses, Knitwear, Top, Blazers, Pants, Denim, Shoes, and more.
Ganni is a company that is making waves in the fashion world. They are competing with the big names out there but without the big price tag. They are constantly amazing people in the fashion world with their lines of high-end pieces which are fashionable, trendy, and stylish — all of this style at only a fraction of the cost which you would expect.
Ganni has clothing with bold designs. Each piece of clothing is a statement piece, and you will feel amazing wearing one of them.
They have graphic t-shirts which jump out at you, jumpsuits which are firmly rooted in the modern-day, and blouses which are perfect for a summer stroll. They have a wide selection of items, allowing you to find the perfect outfit for your perfect day.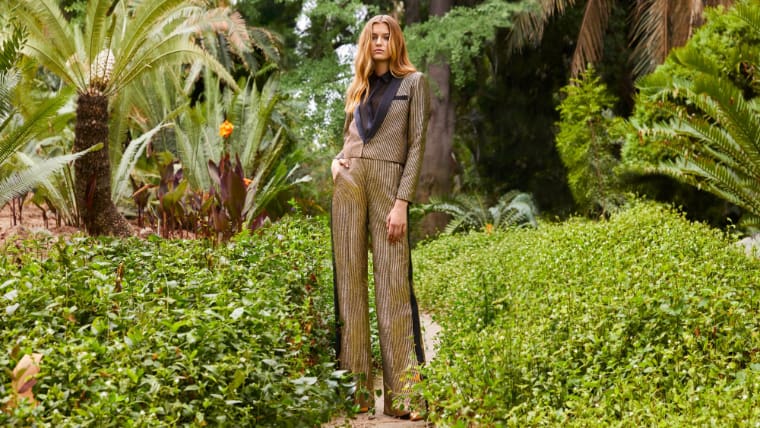 For: Women | Product Range: Jackets, Outerwear, Jumpsuits, Dresses, Tops, Shoes, Handbags, and more.
Rachel Zoe was inspired by the fashion hubs of Los Angeles and New York when she set out to make her name in the world of fashion.
With models and major celebrities wearing her clothes, it is obvious that she is here to stay. People in the fashion world love her looks, and you will too.
With Rachel Zoe clothing, you get elegance, sophistication, professionalism, and style. The clothes are extremely versatile and bring an amazing balance between casual and carefree and glamorous elegance. It does not matter what you are looking for, you will find it here. From jumpsuits to wedding dresses, Rachel really does make it all.
For: Women | Product Range: Tops, Pants, Dresses, Skirts, Outerwear, Swimwear, and more.
How would you like to find a brand which has high-end fashion, does not cost you an arm and a leg, and is environmentally conscious? Well, you may have just found it with Mara Hoffman.
All of the brands on this list are fashionable and affordable, but this one goes one step further with clothes that are designed and created with the environment in mind. This means that you get fashionable and high-quality clothing which will help to actively reduce clothing waste worldwide.
The clothes are made mostly with organic or recycled materials, making the company responsible and eco-conscious. You cannot tell the difference between these fashionable clothes and those of any other high-end store.
The pieces are exuberant and vibrant, bringing you style and elegance at a low cost.
For: Women, Men | Product Range: Dresses, Jumpsuits, Bottoms, Jackets, Coats, Swimwear, Accessories, and more.
Clothes from Norma Kamali are just luxurious. You will want to give them more money when you buy their clothes (not that you actually will). That is how great the clothes look.
They have a lot of high-quality wardrobe staples along with some novelty and niche products. They are your one-stop-shop. You can add some combination pieces to your wardrobe and accessorize them with some stand out ones. Whatever you are looking for, they have it here.
They were pioneers of the athleisure trend which started in the 1980s, and their style and fashion continue to be cool. Find the perfect top, skirt, jumpsuit, or dress, and be assured that you will get it for less than you will find something as cool elsewhere if you can find something as cool elsewhere.
For: Women, Men | Product Range: Clothing, Bags, Wallets, Shoes, Watches, Jewelry, Accessories, Eyewear, Fragrances.
Michael Kors is an award winning designer, known across the world for his luxury accessories and ready-to-wear fashion. The brand was established in 1981 as a women's all-American sportswear label, and now consists of a broad range of products for both women and men, from clothing and footwear to watches and fragrances.
Michael Kors really puts the "luxury" back into affordable luxury, with faux fur, leather, and shiny gold showing up regularly in his collections. The clothing options range from very affordable to very expensive, so there is something for everyone in this fashionable and diverse range.
Not only is Michael Kors a renowned and glamorous designer, he is also an honored philanthropist with close ties to the United Nations World Food Programme (WFP), who has helped deliver over 17 million meals to hungry children. Be sure to buy a 'LOVE' t-shirt, cap or mask to support this cause while buying Michael Kors.
For: Women | Product Range: Dresses, Knitwear, Skirts, Tops, Jackets, and more.
Whenever we hear the words modern and vintage together, we always get excited. Rixo is a fashion brand from London, founded by Henrietta Rix and Orlagh McCloskey, that looks to empower the wearer with everyday fashion.
This brand is all about playfulness and vibrant aesthetics. The company is free-spirited, embodying the bohemian lifestyle. While the clothing features big and bold patterns and luxurious fabrics, it remains incredibly wearable. The designs are bright without sacrificing quality, and each print is hand-painted.
Using the hashtag, #HumansofRixo, this is a brand that cares, and they encourage their community to share their Rixo pieces to inspire others. We know that you will be inspired too.
For: Women | Product Range: Jeans, Tees, Tops, Jackets, and more
If you are a professional, then the fashions from AYR are just for you. With a ton of style, high-quality designs and materials, and an affordable price, these pieces are perfect for the person on the go.
We love the minimalist design, stylish looks, and versatility of each piece. The pieces feature lots of quality and will last almost forever. The prices are a little higher than some others on our list, but you definitely get what you pay for.
For: Women, Men | Product Range: Jeans, Knitwear, Outerwear, Jackets, and more
There is no middleman with DSTLD; the pieces come straight to you. The Los Angeles-based brand prides itself on its edgy designs, premium products, and affordability.
The genesis of the company came from seeing a gap in the market, and the brand was born. Most of the pieces come in at under $200, giving you designer wear without the label or the price tag that goes along with it.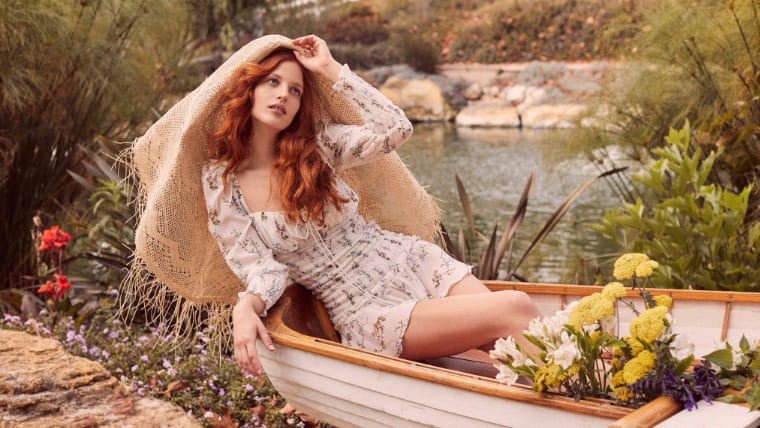 For: Women | Product Range: Tops, Dresses, Bottoms, Knitwear, Lingerie, and more
You do not have to play it conservatively to look professional and sophisticated. With Love & Lemons, you can go bold, take risks, and look fantastic. This is a company that prides itself on not following the trends and, instead, setting them.
The look is floral, artistic, bohemian, chic, and classy. There is a lot of femininity in the styles and designs, and each piece is about making a statement while showing off your individuality and fearless style.
Collaborations between the creative team make all of this possible. The people who design the clothes also wear the clothes; there is a ton of personality in each piece, and that shines through. Don't be afraid to buck the trend and take some risks.
For: Women | Product Range: Tops, Dresses, Jackets, and more
This bold company, established in Australia in 2010, is all about making your mark. Each piece is a statement piece, and that is down to the high-quality fabrics, strong colors and prints, and unique silhouettes. Yet, that boldness does not stop you from wearing these pieces every day. There is a fantastic balance between making a statement and accessibility.
C/MEO Collective is focused on cutting-edge design and innovation, constantly pushing the limits of what fashion is, and they are becoming known for their chic and sophisticated looks. They have firmly burst out onto the Australian fashion scene, and they are about to take the world by storm.
With yearly collections, we recommend that you get some of the clothing now before it is snapped up by someone else.