Note: These clothes were sent to us from Unbound Merino. No other compensation was provided, and as always, all opinions are our own. We may earn money from links on this page, but we only recommend products we back. Learn more.
When I got the chance to try some clothes from Unbound Merino, I took it and eagerly awaited the delivery. They sent me the Merino Wool Crew Neck T-Shirt in navy blue, the Merino Polo in charcoal, and the Compact Travel Hoodie in maroon. I had never worn Merino wool clothing before, so I was excited to see how it felt, knowing a little about Merino's strength and temperature regulation.
I have only worn each item a couple of times so far, but I really like them. Read on to find out why I like them so much and if Merino wool might be right for you.
Ordering
I got to browse the website to check out the clothes and pick out a few pieces. The one thing that I liked about the website was the minimalistic nature. There are a select few clothing items that look to be high-quality, and within that, there are size and color options. I was happy that I was not trawling through numerous items of clothing looking for something that I wanted. They stick to the basics, so there really is something there for everyone.
I was worried about was the sizing. I am a bigger guy, and that means bigger clothes. That can make ordering online a minefield. What helped, or so I hoped, was the information with the clothes and the customer reviews.
By checking out the sizing guides and reviews (which include specific information about the fit of the clothing), I decided to order a size up. Usually, I would choose XL, but I decided to go for XXL this time. So, was that a wise choice?
Sizing
When the clothing arrived, with a nice handwritten note on the inside, I tried the three items on straight away. To my relief, they all fitted perfectly. Now, I could enjoy the clothes.
What I would recommend, based on my ordering experience, is perhaps ordering a size up if you are a bigger guy. If you have a more defined physique, then order the size you usually do but order a size up if you are worried that the clothing will be too constricting or want a baggier look.
When the clothes arrived, they were also boxed up together in a sturdy shipping box, branded with the company name, and they came undamaged (though how much can you dent clothing?). I appreciated that there were no tags on the clothing, and I didn't have to rip out any plastic, leaving a hole behind. There were also care instructions included in the box and, as I already mentioned, a hand-written note thanking me for my order.
First Impressions
When I put on the t-shirt, polo, and hoodie, the first thing that I noticed was how soft they were. When I did a little research, I found out that Merino wool is thin and that the fibers are well below the itching threshold. The wool fibers bend easily when they come into contact with your skin, which means that there are no edges that rub against you.
When wearing the wool items, there was a pleasant feeling. They are soft, but there is also something about the way that they flow. Most of my clothing is not itchy or rough, but the Merino wool garments felt more like they were not there, bringing comfort that I didn't know I needed.
Of course, as anyone would do, I went straight to the mirror to see how I looked in each item, and I liked the lines of the clothing and how they defined my shape. They did not hang loose and turn me into a rectangle, nor did they constrict too much and show off my lumps and bumps. Again, I was glad that I had ordered the size up.
When it came to the color of all three, they were all as seen on the website, so there were no surprises. The representation of the look and color of each item is captured well, and what you see is what you get.
Repeated Use
As I mentioned, I have only worn these items a few times, but that has allowed me to gain some insight into the temperature regulation, the care and upkeep, the breathability, and whether or not they really are wrinkle-free.
Temperature Regulation & Breathability
I live in Canada, and Canada in the Spring can move between -30°C (-22°F) and +20°C (68°F), so I got the chance to wear the clothing in hot and cold weather.
I am not a winter sports person, but I am a cyclist, so when the weather warmed up, I got on my bike, avoided the patches of ice, and biked in my new clothing. I got to try out the t-shirt and hoodie together when it was warmer and the same two with a third layer on top when it was slightly cooler.
I was warm when I needed to be and cool when it was warmer out. My bike rides were not long, so it is hard to accurately compare the clothes to those I would typically wear, but I did like the softness, and they did do what they were supposed to. I did notice that there were no sweat patches when I was done my ride, and that was definitely an upgrade. Not that I usually smell bad after a bike ride, but I smelled better than usual while wearing these clothes.
When out walking in colder weather, the polo and hoodie provided a good base layer below my jacket, and they did a good job of keeping me warm.
Related: 12 Best Merino Wool Sweaters for Men And Women
Again, when I got home, there were no patches of sweat, even though the moisture and warmth can be trapped below my outer layer.
Temperature regulation and breathability were great with the Merino wool clothing.
Care & Upkeep
When I received these Merino wool clothes, I knew that I did not need to wash them as often as my other clothes. From the research I did, I learned that most people rarely wash their Merino clothing; instead, they hang them to air out and let the natural anti-microbial properties of the wool take care of the rest.
When people do wash Merino wool clothes, it is after repeated use, wearing them over and over again. I was happy that my Merino wool wear did not smell or look bad after multiple bike rides and casual walks. I know that I will not have to wash them after every use as I do with my other shirts.
However, for the purposes of the review, I decided to wash the clothing to test how it came out.
I knew that I should not wash them in the same way as my other clothing, but I was surprised that perhaps I could combine some items.
The clothing comes with tags explaining how to care for the item, and there was also a guide included in the box that detailed care instructions. Here are the main things that I learned:
I should never use bleach. That was fine with me as I don't ever use bleach anyway.
I should use a mild detergent and no fabric softener. I already use a mild detergent, and I don't use a fabric softener (perhaps through being thrifty).
I should use a gentle cycle with warm or cool water. I don't often use the gentle cycle, and I don't generally use a hot cycle, so there was a chance to combine the clothes with other items.
So, how did they come out?
The three Merino wool items of clothing were washed together with a few other items. When they were done, I hung them to dry. Once dry, there was no color loss and no shrinkage. When worn after washing, they looked and felt exactly the same as when I first put them on.
Essentially, the clothes are not that hard to take care of, and I will wear the t-shirt, polo, and hoodie many times before even thinking about washing them, something I can never do with my other garments.
Wrinkle-Free
This is a big one for me. I find that if I wash and hang my clothing, there is not a lot of need for ironing (unless I need to dress up), and I have become used to this way of life. I was eager to see if these clothes really were wrinkle-free.
The clothes were folded in the box when ordered, but when worn, they looked wrinkle-free. The same was true after washing and wearing. I even threw some in a backpack and changed mid-trip, and the clothes, while looking a little wrinkled when folded up and stuffed in my backpack, were free of wrinkles when put on.
The verdict is that these clothes, and I would guess Merino wool clothes in general, are wrinkle-free.
The Items Reviewed
All of the above applies to all three items of clothing, but what did I think of each individual piece?
Crew Neck T-Shirt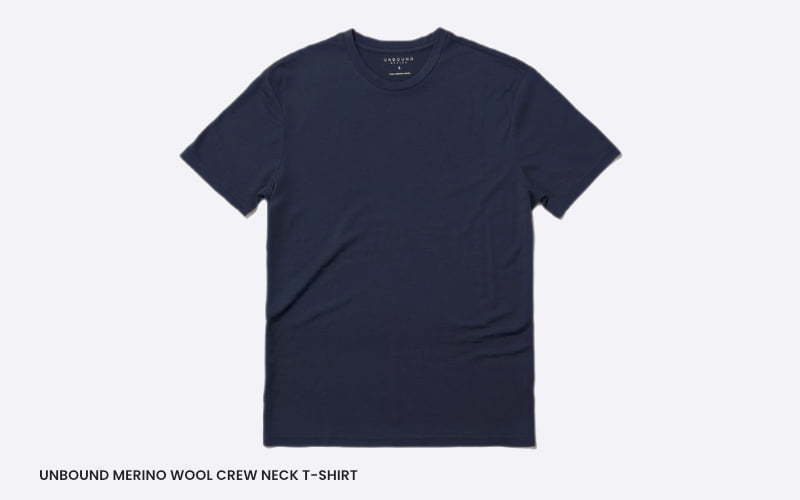 I wear a lot of t-shirts, so it was a no-brainer to order one. This one is a great base layer that can be worn under anything while also being stylish enough to be a statement piece on its own. I can see myself wearing this under a nice jacket instead of a shirt and tie for a more casual look.
The softness is a big plus in an item of clothing that I will be wearing a lot, and I especially like the feel in the neck. It sits on the neck without being annoying, and I can already tell that the elastic is not going to loosen over time. Even though my beard hides the neck, it will be nice to have a t-shirt that looks good for a long time.
I liked that this can be worn on a bike trip or as part of a smart outfit.
Polo Shirt
I do not have any polo shirts but have always liked how I looked in them, so it was a great opportunity to add one to my wardrobe. Even though my beard now hides a lot of the collars of my shirts, I still like how this one looked, giving me a look that was different from what I usually wear.
Again, I appreciated the comfort in the neck. I often feel shirts rubbing, especially when there are larger collars, but this one did not. The material is soft, and the buttons on the front of the shirt feel high-quality.
Again, this is an item of clothing that can be worn in the great outdoors or at a more formal dinner party.
Hoodie
I was most excited about the hoodie, and it is definitely my favorite item of the three. I could go on and on about the softness, but you have already heard me drone on about that. Although I will not be wearing it as a base layer, I do like the softness in the arms and hood.
Related: 5 Best Heated Hoodies For Men And Women
The zip on the front is smooth and has not gotten stuck or snagged, and I like the hood's fit. There are no drawstrings to get in your way, and the hood does not slip from my head, so I can wear it fully up to cover most of my head and perhaps make me look cooler? Or I can pull it back a little to sit just on my head. I'm going to enjoy this in the summer when it will stop me from burning in the sun (being from Scotland, I don't need much to get a burn). I also know that the hoodie is going to help keep me cool when it does get warmer.
This will be my go-to piece of clothing in the warmer months (though it will still be a base layer in the colder ones).
A Little About Unbound Merino
While looking on their website, I took a little look around to see what they were about. Here are their three central tenets.
Related: The 16 Best Merino Wool Brands Your Money Can Buy
Ethically Sourced
They work with independent wool farms in Australia, those who are mulesing-free. When I buy clothes, I like to know that it is not at the expense of nature, the environment, or people.
Renewable
Merino sheep regrow their wool, and that wool is harvested ethically without harming the sheep. The resulting material is biodegradable.
Durable
At Durability Matters, we like products that last. Everything at Unbound Merino is meticulously done so that the clothes last, and Merino wool is notorious for being durable and tough. From my first impressions, I see no reason why my clothing will not last for a long time.
Wrapping Up
What do I think of these clothes?
I love them.
They fit well, I like the colors, and the material is soft. I like how I look and feel in all three pieces. They are easy to take care of, and I am sure that if I take care of them responsibly, they will last for years.
After trying Merino wool for the first time, I would recommend it to everyone. And, I would definitely recommend Unbound Merino.
Long-Term Update (March 2022)

I've been using Unbound Merino T-Shirts, Polo, and Hoodie for almost a year now and all three pieces are still in great condition. I'm still amazed at how long Merino wool clothing lasts without any deterioration and how little washing it needs. This is a great example of sustainable fashion!