Note: Durability Matters is reader-supported. When you buy through affiliate links on our website, we'll make a small commission, without impacting your price. Thank you. Learn more.
If it's cold outside, you pull on a sweater; it's as simple as that. But do you have a sweater in your wardrobe that will work for fall, winter, and spring, all while oozing style? Well, a Merino wool sweater will give you all of that.
No matter your size, shape, style, or gender, there is a Merino wool sweater out there for everyone. A simple addition to your clothing that will bring you style, warmth, durability, comfort, and breathability.
From the great outdoors to curling up by the fireplace with a good book, there is a cold-weather Merino wool sweater out there for you just waiting to be discovered.
In This Article
Our Top Picks For Men
If you are looking for warmth when outdoors in the winter and want to maintain your style, Merino wool will give you that. Check out our list and find your new favorite cold-weather companion.
1. Unbound Merino Raglan Crew Sweatshirt
This Raglan Crew Sweatshirt brings warmth while also looking amazing. This is not a top layer for the winter months, more a base or middle layer that will trap the heat while also giving breathability. You can reach your destination looking and feeling fresh, take off your jacket, and ooze style and sophistication.
Related: Review: Unbound Merino T-Shirt, Polo, and Hoodie
The Merino wool is light and comfortable, allowing you to wear this sweatshirt in warmer weather, too, without overheating. The look is seamless, so along with wearing it in the cold weather, it is suitable for more formal occasions. Being wrinkle-free, you don't have to worry about how you look when you step into a room.
A great sweatshirt for looking your best and a great base layer in the colder months.
2. Ridge Merino Men's Cardi Crew Merino Sweater
If you're someone who loves natural fibers and dislikes synthetics, then Ridge Merino's Men's Cardi Crew Merino Sweater might just be the right option for you. This 100% Merino wool sweater is soft and non-itchy, due to the ultra-fine, 18.5-micron fibers, and rib stitched to allow for stretch and movement without the use of synthetic materials.
Thanks to the excellent natural qualities of Merino wool, such as antimicrobial, insulating, and moisture wicking properties, this cardi crew sweater can be worn in many different weather conditions and circumstances. You won't find yourself clammy when the temperature rises, and you'll find it keeps your body heat in well when it's cold out. It won't hold bad odors either, ensuring that it is always fresh when you pull it out of your wardrobe.
To add to the advantages of this sweater, Ridge Merino knit it to shape, rather than cutting it out which wastes materials and is bad for the environment. And to top it all off, the sweater is certified 50+ UPF sun protection, and comes with a lifetime warranty for manufacturing and material defects.
3. Ibex Men's Tranquil Crew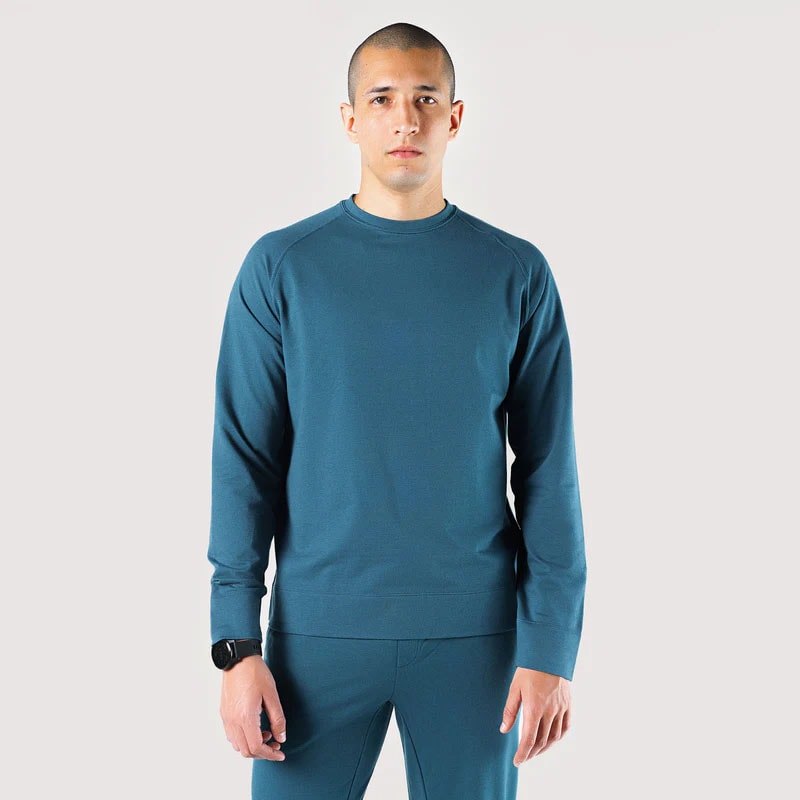 Another amazing Merino wool sweater, and this one has a real focus on moisture-wicking and breathability. There is the same great style and elegance that you expect from a Merino wool sweater, and the raglan sleeves offer you extra mobility and added breathability.
This thermo-regulating Ibex Tranquil Crew sweatshirt is thin and warm. It can be used as a base layer in the colder months and a top layer when the temperatures rise. It also has a sleek elegance that allows you to dress for an occasion effortlessly.
This is a sweatshirt that you are going to want to show off, so we recommend it for the cool months where you can wear this over a Merino t-shirt.
4. Smartwool Sparwood Half Zip Sweater
The men's Smartwool Sparwood half-zip sweater is a casual, warm, and comfortable pullover made with a single-layer jersey knit, with rib-knit cuffs, collar, and hem for a comprehensive look.
The materials are 55% recycled polyester, 30% Merino wool, and 15% nylon, making for a perfect, regular fit that is lightweight, at just 11 oz, and washable – just be sure to wash it on a gentle, cold cycle, and dry it flat.
The sweater comes in four colors with lovely names like "woodsmoke heather", and sizes from small to 2XL. The manufacturer has a policy that they call the "Go Far. Feel Good.™ Guarantee", which allows free returns on their items, ensuring that you are protected when purchasing this sweater.
5. Icebreaker Men's Merino Shearer V Neck Sweater
If you want to stay warm outdoors or indoors and retain your style, then look no further than the Icebreaker Shearer sweater. As with the other sweaters on our list, it is crafted from 100% Merino wool, giving you a soft, comfortable, and breathable sweater, and this Merino sweater has a V-neck design for those who like a little more neck room.
The sleeves, neck, and bottom all have ribbed hems for added durability, adding strength to the spots that are most likely to fray, and it is a lighter sweater than some others on the list. This is a perfect sweater for indoor wear when you need something that will keep you warm while remaining comfortable.
Use this sweater as a base layer or pair it with more formal clothes for a relaxed yet stylish look.
6. Icebreaker Men's Merino Hillock Funnel Neck Sweater
This funnel-neck Icebreaker Merino wool sweater is reminiscent of knitted Scandinavian sweaters, giving you rustic style, but, being Merino wool, it is extremely comfortable, light, and warm. The double-layer funnel-neck not only adds an aesthetic quality to the sweater but also keeps in the heat. The Merino wool will keep you warm, there is a ton of breathability, and the fitted neck adds some extra warmth.
The stylish knit draws the eye downwards, elongating your body and giving a sleek look, no matter your body shape, and there are plenty of sizes to choose from, along with a couple of different colors.
A perfect sweater for the great outdoors, and you will feel at home in this Merino wool sweater when you are boating or fishing.
Our Top Picks For Women
If you want to stay warm all through the winter while retaining your elegance, then there is nothing better than a Merino wool sweater. We have found six of the best.
1. Quince Australian Merino Wool V-Neck Sweater
Australian Merino wool is known as some of the best in the world, and Quince has made the most of its excellent quality with this sweater. The Merino Wool V-Neck Sweater has a simple but timeless design that will suit just about anyone in any situation. It is stylish and comfortable, made from 100% merino wool with a 19.5-micron yarn weight.
Biodegradable and renewable, this sweater is environmentally friendly, and its wrinkle-resistant and UV-resistant qualities make it closet friendly and low maintenance. The fabric is knitted and breathable with a premium quality feel on your skin.
Choose yours in one of 4 stylish colors: navy blue, heather grey, black, or camel, and in sizes from XS all the way to XL. You will also enjoy free shipping and free returns, so you can rest assured that you won't be stuck with a sweater that doesn't work for you. What's all of this going to cost you, you ask? Well, we think you'll be surprised. This Quince sweater will certainly not break the bank.
2. Ibex Women's Tranquil Crew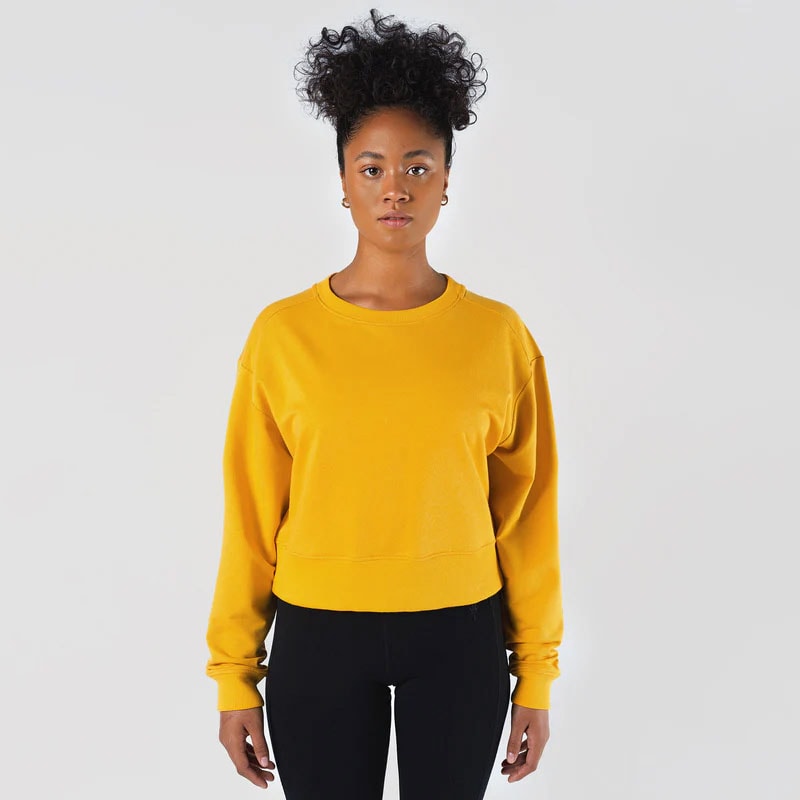 The Ibex Tranquil Crew has raglan arms for easier movement and has a cropped length to create a layered look. Add a Merino wool t-shirt or tank underneath for a stylish look that can be worn throughout spring and fall. Of course, the crew also acts as a perfect base layer in the winter, and the cropped length means that it is not bulky when worn under layers.
The moisture-wicking fibers are perfect for the great outdoors. You don't need to let the weather hold you back, and when you do work up a sweat, the fabric will wick the moisture away; great for long hikes.
A perfect crew for getting back to nature or camping in style.
3. Smartwool Women's Shadow Pine Colorblock Sweater
This Smartwool Colorblock sweater is for those who are looking for something big and warm to see them through the winter months. The sweater is oversized, perfect as a base layer when you are out in the extreme cold, but breathable enough to be worn inside as you read by the window and watch the snow fall outside.
The sweater is like no other when it comes to design, with stripes of color that run diagonally across the front. There are also a variety of colors to choose from. Being a larger sweater, it also works as a top layer in cold weather, and you can apply many layers underneath and go outside in style.
Perfect for the fashion-conscious who are looking for a sweater for all occasions.
4. Smartwool Women's Hudson Trail Full Zip Fleece Sweater
Something a little different with a zipped fleece. If you have worn a fleece before, especially as a base layer, you know that the material can irritate skin and become itchy, but that is not the case with Merino wool. Wearing this Smartwool Hudson fleece is like wearing a cloud. The fit is comfortable, allowing you to wear layers under and over.
We like that some of the Merino wool in the fleece is repurposed, reclaimed, or recycled, though the percentage of recycled wool will vary from fleece to fleece. Having a zipper on the front gives more options, and you will like the thumb holes on the hem of the sleeves, along with the zippered pockets for valuables.
This is definitely a garment for the great outdoors and one that is warm and functional.
5. Icebreaker Women's Merino Shearer V Neck Sweater
A V-neck Merino sweater that is elegant and sleek. Of course, being Merino wool, it will keep you warm in the cold, especially when worn as a layer, but it is also thin enough to be beneficial in the warmer weather too. The Icebreaker Shearer is a lightweight sweater that is breathable and moisture-wicking.
The fine knit of the Merino wool is extremely comfortable and also creates a flawless, sleek look. The cuffs, neck, and bottom hem are also ribbed for extra durability, strengthening the weak points, and it is obvious that this is a sweater that is built to last.
A great Merino sweater for wearing on its own when it is warm, and a wonderful addition as a base layer when it gets cold.
6. Icebreaker Women's Merino Hillock Funnel Neck Sweater
The Icebreaker funnel-neck Merino sweater is not what you would expect, and that is to its advantage. The slimline look and vertical ribbing create a look that draws the eye, elongating your body. The funnel neck also seals in the warmth, making it a great Merino sweater for the extreme cold, as long as you pair it with other layers.
Funnel necks can be off-putting, especially if you do not like to have fabric around your neck, but the Merino wool creates a softness that you will not notice is there. The knitted pattern also adds durability while creating a pattern that is a notch above a sheer sweater.
The perfect sweater for getting outside when others are hiding from the cold.
What To Know Before Buying a Merino Wool Sweater?
Merino wool is becoming more and more popular, so it is beneficial to know what to look for when you are in the market for a Merino wool sweater.
Cut and Style
Before we get to the ins and outs of Merino wool, you should know what kind of sweater you are looking for, and what the terms mean.
Cardigans are the halfway point between a sweater and a jacket. They look and feel like a sweater but are open at the front with some type of fastener, usually buttons.
A poncho (or no-sleeve sweater) is exactly that. Looks like a sweater with no sleeves and is usually baggier than a typical sweater.
A wrap is like a poncho but open at the front, so kind of like a cardigan too. They give an extremely relaxed fit that is easy to get on and off.
A turtle neck (or funnel neck) has a higher neck that adds extra warmth.
Thumbholes are holes in the hem of the sleeve that you can stick your thumb through. This helps the sleeves to act partly as gloves, keeping your hands warm, and also keeps the sweater in place when you are taking off outer layers.
Half Zip is a front zipper that runs partway down from the neck and offers a sporty look while also allowing you to cool down without removing the sweater.
Durability and Care
Merino wool is already durable, but it becomes even more durable due to the infrequency of washing. The fibers wick away moisture, and that stops the material from smelling as quickly as your other clothes. Because you need to wash it less, you are not going to wear down the fibers as quickly.
Essentially, this already durable material does not have a lot working against it.
So, how do you wash it when you need to?
Here are some tips:
Use natural or mild detergent.
Never use bleach.
Forget about fabric softener. It can stick to the fabric and take away the antibacterial and moisture-wicking properties. The material is already soft enough as it is.
Use a gentle cycle and cold or warm water.
Keep the garments out of the dryer and hang to dry instead.
Pro tip: take care of pilling when you see it to avoid the problem getting worse. You can easily remove pills with a pilling comb or fabric shaver.
What Makes Merino So Popular?
There are many reasons. Let's take a look at some of the most common benefits of Merino wool:
Merino wool is super-soft, and you will notice the difference when you first wear it. The weave is tight, and the fibers are tiny, and that means less irritation and itching.
It stays dry all day. Merino does not soak up moisture and is great at wicking it away. That leaves you dry and comfortable.
Because moisture is wicked away, you can say goodbye to sweat patches and the odor that comes with them.
Merino is light, and that means it is comfortable to wear, but it also makes it perfect for travel. You can pack light and still take a lot with you.
Merino wool is temperature regulating. It keeps you cool in summer and warm in winter.
Merino wool is wrinkle-free. Throw it in your backpack, and don't worry about having to iron it when you get to your destination.
Merino wool is extremely durable. Because of the strength and tight weave, the material is not as prone to holes and tears when compared to other materials.
The material looks amazing in all settings. You can wear the same shirt for hiking as you can for a formal meeting. Maybe change in between, though, just in case.