When you think of watches, you do not automatically think of American watches. Your mind likely travels to the Swiss Alps, or other European countries, and the artisans who long-perfected the art. Yet, the American watch industry is one that is on the rise, and responsible for many high-class watches.
While European countries have a long and steady history of watchmaking, the US, the home of the American dream, has a more volatile history. With companies rising and falling, all looking to create the best American watches, the rise has come in waves instead of a direct line.
After the war, many watch factories had been converted to wartime production factories, and they never recovered. It has not been until the early 2000s that the US watch movement (apologies for the pun) finally started. Shinola was a big part of this awakening, and many US companies have followed suit.
Now, is the time of the American watch.
In This Article
US Made Watches vs. Swiss Made Watches: The History
The history of watchmaking is pretty straightforward, right?
Well, not really.
At the end of the 19th century, it was the US and not the Europeans who were spearheading the watchmaking industry. They were the ones who were making all of their parts in-house, and creating high-quality watches, whereas European companies were sourcing their parts and lagging behind.
The Waltham Watch Company, a US watchmaker, was one of the best in the world. They made everything themselves, had custom-built watchmaking machinery, and precision engineers who were the best of the best.
So, when did it all change?
Swiss Engineer, Jaques David, was sent to spy on US watchmakers in 1870 and came back home with new methods and technology. The Swiss, and others, soon implemented these new methods and caught up, but it was still not enough. US watchmakers had a headstart, and they continued to dominate the watch industry through the early 20th century.
Then came WWII, and watch factories were converted to produce military instruments and technology. Bullets, artillery shells, and more were manufactured, and watchmaking took a backseat.
The American watchmaking industry declined, while the Swiss, who were neutral during the war, could capitalize on this, and their watchmaking industry was reborn.
As Swiss watches were manufactured and exported around the world, this Swiss technology and craftsmanship became the industry standard. It was not until the end of the 20th century that American watchmakers were able to catch up again.
Just like the Swiss watch industry was reborn, the US industry has been reborn, and American-made watches are firmly back on the map.
What Does "Made in USA" Mean?
You can find many watches that bear the words, "Made in USA," but what does that mean?
If your watch is older, it may be that most of the parts are not actually made in the US, and are shipped into the States and assembled there. 'Made' has always been a problem word in any industry, and it can mean a variety of things. Some items have all their parts crafted, finished, and assembled in the US, while others are only assembled in the US, yet both can be advertised as "Made in USA."
This marketing ploy caused the watch industry, and governing bodies, to take notice, and they have pinned down exactly what the phrase means, and what you needed to do to have the words printed on your product. For watches, a watch needs to have all, or virtually all of their parts made in the USA to bear the words, "Made in USA."
The True "Made in USA" Brands
So, which watch brands actually make their own watches?
Not all watches from a brand are completely made in the US, and we are fine with that, but we do need to have at least one watch that is for the brand to be featured on our list. If there is one fully American-made watch in a company's inventory, then we are going to feature that company.
These brands have many amazing watches, but not all are completely American made. When you are purchasing a watch from these brands, make sure to look for the "Made in USA" watches. These American watches are the highlights of their collections.
1. Weiss Watch Company
Location: Los Angeles, CA | Range: Starting at $1,150 | Styles: Men's
Weiss watches are among the best watches that you can buy. They can go toe-to-toe with any watch in the world, and feature old-industry watchmaking practices that were forgotten for decades.
When something is not broken, don't fix it, and that is the case with these methods. In fact, many of the old methods create more quality than new methods. These heirloom-quality watches are as authentically American as you can get.
Founded in California in 2013 by Cameron Weiss, the focus has been on quality and craftsmanship. Cameron trained under expert Swiss watchmakers, and brought those skills back to Los Angeles, making all watch parts in the US. Cameron and his team are laser-focused on creating the best watches possible, and they pour over 35 hours of time into each timepiece.
These timeless watches are one of the reasons that the US watchmaking industry is thriving.
2. Keaton Myrick Watches
Location: Portland, OR | Range: Starting at $21,500 | Styles: Men's
When you are able to request a custom-built watch, you know that you are getting a piece of American history. Keaton Myrick is a brand that goes above and beyond, creating watches that are one of a kind, and definitely made in the US.
All of the components, down to the smallest screws, are made in-house, and each watch is hand-finished, ensuring quality.
If you do want one of these watches, you better get in there quickly as only a dozen or so Keaton Myrick watches are made each year. With so much reliability and quality, this could be the best watch that you have ever owned.
3. RGM Watches
Location: Lancaster, PA | Range: Starting at $5,900 | Styles: Men's
Founded at the end of the 20th century, this watch brand has had time to grow and develop. RGM has gained a solid fanbase, and they specialize in limited-edition watches, bespoke timepieces, and repairs.
The fact that they are known for their repairs means that they know what they are doing. When a watchmaker can expertly repair watches, they usually know a thing or two about making them.
RGM was founded in Lancaster County, Pennsylvania, an area that has a rich American watchmaking history. Many of RGM's pieces are inspired by watches from Swiss and American history. By taking inspiration from history, they hope to make history in modern watchmaking, and they are doing that.
The workshop in Lancaster County has a mix of modern and antique technology, and the combination creates watches unlike anything that you have seen before. All of the parts are manufactured and assembled in Pennsylvania, and they even craft their own American movements.
These unique watches are very American.
4. Vortic Watch Co.
Location: Fort Collins, CO | Range: Starting at $1,495 | Styles: Men's
Vortic Watch may be a watchmaking company like no other. Instead of going the traditional route, and crafting everything from scratch, they take antique pocket watches and reverse engineer the movements. What you are left with is a watch that does not compare to anything else on the planet.
When an antique pocket watch is sold to a pawnshop or sold elsewhere, the movements are often removed and the gold and silver parts are sold. What is left is the shell of the pocket watch with missing parts. Vortic takes these antique pocket watch cases and reverse-engineers the parts to create a modern watch that looks and feels like the original, with modern, high-quality parts. A new band adds the finishing touch, and you have something that you cannot purchase anywhere else.
The band and some parts may be new, but everything else is just as it was, and the movement works just like it did all those years ago. What you now have is a watch that has a history, a story that goes with it. Who wore this pocket watch and what did they do with it? This is an added detail that you cannot get from most watches.
Timeless watches with history.
5. Devon Works
Location: Pasadena, CA | Range: Starting at $7,500 | Styles: Men's
When you are the first American watch company to receive a nomination from the Gran Prix d'Horlogerie de Genéve, then you know that you are doing something right.
The electro-mechanical pieces and parts are unlike anything that has been seen before, adding something that no other watchmaker has. By disrupting the way we usually view watches and displaying the hours, minutes, and seconds in truly innovative ways, this a watch brand that, while they may not be for everyone, they are truly unique.
Devon Works are reinventing watches, not just making them. All of the timepieces are manufactured in the US and their innovative approach is part of what is contributing to the rise of American watchmaking.
With so much ingenuity and expert craftsmanship, these watches are not only beautiful and functional but are collector pieces too.
6. Lüm-Tec
Location: Mentor, OH | Range: Starting at $470 | Styles: Men's
Lüm-Tec, the brand name of Ohio-based Wiegand Custom Watch LLC, is known for its rugged and robust timepieces that are perfect for outdoors use. The watches are handcrafted in Cleveland with a special focus on surgical-grade stainless steel cases.
You can be assured of a quick turnaround time for any repair, no matter where you are in the world (Lüm-Tec has service points in all major) This means you can get your watch back on your wrist quickly and continue to use it.
The "Assembled in USA" Brands
Not everything can be made in the USA, and some watchmakers opt to source high-quality mechanical movements from expert craftsmen. These brands still have a focus on quality, and some parts, mainly the watch faces, bands, cases, and some components, are still crafted in the US, but they cannot bear the mark "Made in USA."
These brands assemble watches in the US and have the buying power to purchase high-quality parts and deliver timeless watches at affordable prices. You can find some quality pieces here, and many of them feature American ingenuity.
1. Detroit Watch Company
Location: Detroit, MI | Range: Starting at $865 | Styles: Men's & Women's
Patrick and Amy Ayoub once designed cars. More recently, they leveraged their years of experience to create the Detroit Watch Company. In a short period of time, they have become a favorite of watch aficionados and collectors, while still being accessible to anyone who wants to own a timepiece.
They model their timepieces after specific eras and locations in Detroit, adding a story to each watch. From the City Collection 313 (representing the iconic area code of the city, and featuring a classic rotary face) to the B24 Liberator Aviator (honoring the B24 bombers that turned the tide in WWII), you will be spoiled for choice. If you live in Detroit, love anything American, or want something that is more than just a watch, then this is the brand for you.
These expertly-crafted watches are for everyone and owning one means owning a piece of history.
2. Hager Watches
Location: Maryland, MD | Range: Starting at $550 | Styles: Men's
Founded in 2009, Hager Watches are a brand that is focused on bringing you the very best quality at the most affordable prices. Their line of watches is stylish and durable, while often costing half of what you would pay for a similar watch, making it a great choice for those who want an everyday watch that is going to last.
The American brand has partnered with factories and suppliers across the world to create high-quality timepieces with expert movements. They design and build classically-styled watches that look beautiful but are designed to be used and not just looked at and admired.
For something that can be used when hiking or worn to a formal dinner party, this is an excellent choice.
3. Kobold
Location: Pittsburgh, PA | Range: Starting at $1,950 | Styles: Men's
Founded in Pittsburgh in 1998, this watchmaking company started in an entrepreneur class at Carnegie Mellon University. They are also one of the American companies that is often credited with leading the resurgence of American watchmaking. They are also one of the last independent and family-owned watchmakers in the US.
Since they started, they have been creating their own path instead of following in the footsteps of others. They were one of the first brands to sell watches online amid the dotcom era, and they also released the first serially American-assembled watch in over a generation. In 2008, they followed that up with the first serially-made American watch case in 40 years. Even today, they continue to lead the way among American watchmakers for innovation and design.
Every watch is hand-built in Kobold workshops, which are spread across the US, Germany, and Nepal. Almost all the cases are made in the US or Germany, and everything else is invented, designed, manufactured, and assembled in-house.
Kobold watches are tough and durable, making them popular with adventurers and explorers. A truly American company that other companies are constantly emulating.
Related: The 9 Toughest and Most Rugged Watches For Men
4. Shinola
Location: Detroit, MI | Range: Starting at $395 | Styles: Men's & Women's
Detroit has a rich watchmaking history, and this is another brand that was founded in Motor City. Shinola was founded in 2011, and they have had an unwavering passion for quality watchmaking ever since. While they do manufacture other luxury goods, their watches are their flagship product.
They source many of their parts and materials from the US, supplementing that with parts from overseas too. All Shinola watches are designed and crafted in the US, and they have a dedication to American workers and the advancement of the country.
The historic Argonaut Building in Detroit is home to the Shinola watch company, and it is there that they manufacture all of their luxury and premium timepieces. A team of over 200 artisans and expert craftsmen assemble the watches by hand.
The advanced technology and meticulous attention to detail has made Shinola a brand that has been crafting luxury for years and will ensure that they are around for years to come.
5. Martenero Watches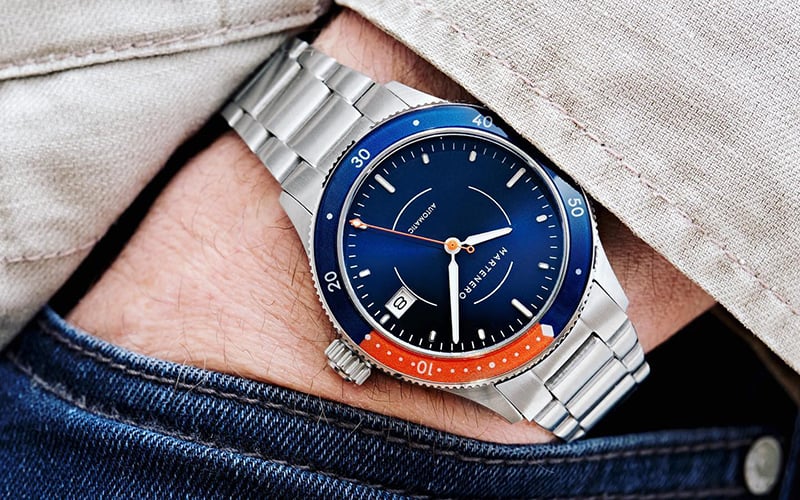 Location: New York, NY | Range: Starting at $350 | Styles: Men's
Martenero is well aware of the rich watchmaking history in the US, but they are here to refresh those historic timepieces, rather than create more of the same. Taking inspiration from heritage brands, those that have been adorned by collectors for years, Martenero mixed traditional with heritage to create unique designs that are out of this world.
Founded in 2014, they have deep roots in American culture, and their own history is long and rich. Before founding the company, a lot of time was put into research and design. That investment was evident in their first timepiece, and they offer a distinct outlook on watchmaking.
The watches have a luxury feel and look, but the addition of some color has created a watch that you can dress down with too. With flashes of color on the dials and hands, these watches are one of a kind. The watches are contemporary and timeless. Martenero set out to refresh the American watchmaking industry, and that is exactly what they have done.
6. Throne Watches
Location: Brooklyn, NY | Range: Starting at $295 | Styles: Men's & Women's
When you are looking to be part of a movement, you do not want to be the same as everyone else. Throne Watches has managed to carve out a niche for themselves in the watchmaking world. They always set out to do things differently, noting that 'we've always been a little different,' and that is evident in their watches.
Throne Watches grew from humble beginnings in East Village, NY, and have built themselves up over a number of years. They initially started manufacturing vintage watches with high-quality bands, but their 'hobby' soon outgrew the apartment they lived and worked in. As demand increased, bigger and better facilities were sourced and their flagship watch, the 1.0, was finally released in 2014.
They now have widespread popularity while remaining a boutique watch company. Taking into account modern manufacturing methods, they have a focus on ethical production, quality, and customer service. With watches for men and women, this brand is only going to enjoy continued success.
7. Mercer Watch Co.
Location: New Jersey | Range: Starting at $299 | Styles: Men's
Mercer watch company was created by Scott Vuocolo in 2014. The company started as a microbrand and took its name from Hugh Mercer, a doctor and brigadier general in the continental army. The soldier met his end in the Battle of Princeton, and the Mercer watch company uses the star motif of the brigadier general rank as its official motif.
Scott founded the company after he observed the high prices of high-quality and fashionable watches and thought that he could do it better and cheaper. He made some designs, created his very first model, and that watch, the Brigadier, is still popular today, showcasing a polished bezel and inset guilloche pattern.
The company has expanded, and they have a wide range of timepieces, all inspired by the military and all having a distinct formal style. Mercer watch company prides itself on creating watches that they would want to wear, and wristwatches have been joined by cases, dive watches, GMTs, and more.
Each watch is a mix of precision, style, and function.