Note: We received this product for free. No other compensation was provided, and as always, all opinions are our own. We may earn money from links on this page, but we only recommend products we back. Learn more.
Online shopping for flashlights can feel like romping through the woods on a moonless night. Without being able to handle the flashlight and test out its brightness, it can feel like a huge gamble to spend as much as a high-quality professional-grade flashlight can cost. I've personally gone through a few duds myself and been sourly disappointed. So, I take investing in flashlights like the Olight Warrior 3 Tactical quite seriously—and want to provide the most accurate, honest, and detailed information to help make others in the shopping process.
However, I knew after reading Steven's review of the Warrior Mini 2, that Olight makes excellent products and would likely exceed my expectations.
I reviewed the Olight Warrior 3—a tactical flashlight that illuminates the value of a high-quality flashlight. Over the course of several weeks, I got a true feel for how this upgraded Warrior flashlight performs.
What's in the Box?
What do you get when you order the Warrior 3? It likely won't come as a surprise to you that this tactical flashlight comes with the necessary accessories. These include:
The Warrior 3 flashlight
Customized 5000 mAh 21700 Rechargeable Lithium Battery
The Olight (MCC3) magnetic USB charging cable
Flashlight holster
Setup instructions
User manual
Performance Specs
Lumens: So, how bright is the Warrior 3? This flashlight has a max brightness of 2,300 lumens. It also has dimmer modes at 800 lumens, 200 lumens, and 15 lumens.
Battery Life: I have been using the flashlight regularly, and the rechargeable battery is still going strong.
Output modes: There are five levels of illumination and a strobe feature.
Turbo mode will last about 3 and a half hours of non-stop use (2.5 minutes at 2,300 lumens, 160 minutes at 800 lumens, then 39 minutes at 250 lumens).
High mode will provide 800 lumens for about 2 hours forty-five minutes then 250 lumens for 39 minutes.
Med mode provides 200 lumens for 13 hours.
Low mode provides 15 lumens for 130 hours.
Moon will give you 55 days of 1 lumen.
Material: The body of the Warrior 3 is aluminum. It has yet to receive any scratches or dents, and it feels extremely solid without being heavy.
Dimensions and Weight: The flashlight is about 6 ounces in weight and 5.5 inches long. The weight is well distributed, making it easy to switch between hands.
Beam Distance: This light has a far reach. Its throw is 300 meters (984 feet) and feels extremely concentrated and accurate. I caught a glimpse of a fox about 250 meters (820 feet) up the trail from me, which was neat!
Main Features
While the quality of light is important to any flashlight, I wanted to be sure that this unit was convenient to use and handle. The last thing you want to do is fumble with your light when you need it most.
Indicator Lights: There are two sets of indicator lights that run along the side button. One tells you what brightness level your beam is on and the other tells you your remaining battery level.
Removable Clip: The Warrior 3 has an aluminum clip that allows you to clip the flashlight with the lens up or down. You can also remove this accessory if needed.
Waterproofing: What Warrior minds a bit of rain? Well, the Warrior 3 is like a Navy Seal when it comes to its ability to withstand the weather. It's rated at an IPX8, which means it can be submerged to a depth of 1 meter or more and still work.
Magnetic Charging: This is a really neat feature. I appreciate that you can easily attach the magnet and not worry about fragile input ports that may break if not handled with the gentlest touch.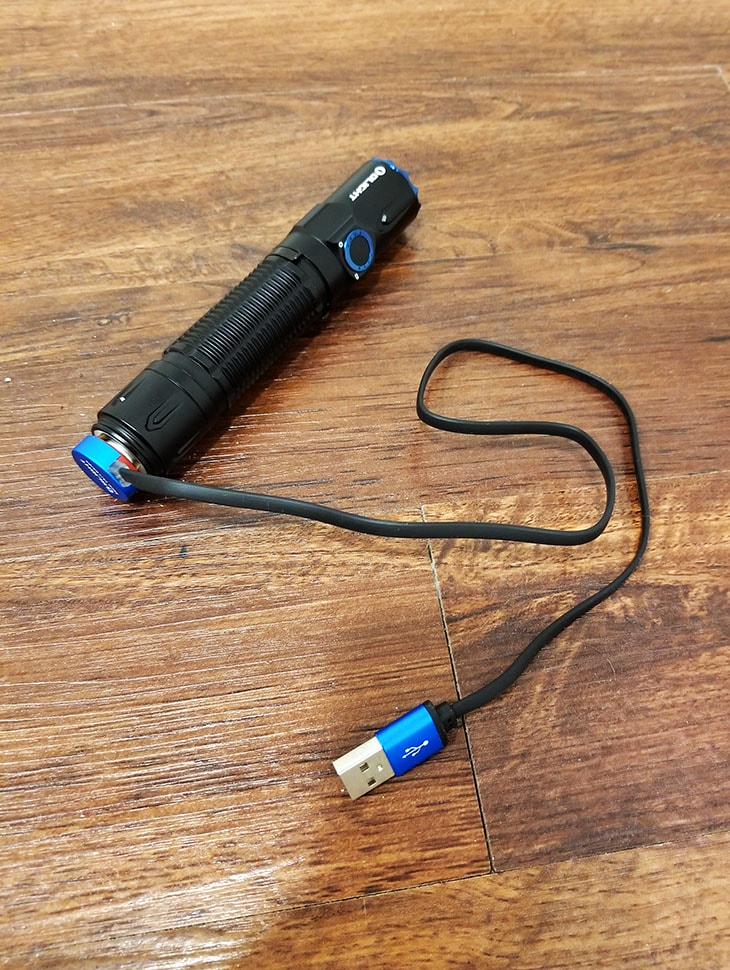 Strike Bezel: The strike bezel has yet to be used, but I can imagine that the compact size and easy-to-grip nature of this flashlight would make this feature quite handy should you need it.
Tail Switch: If you need immediate, bright light, the tail switch is fantastic. It easily depresses and automatically illuminates the unit to its brightest mode. The three ridges on the butt of the light prevent the button from accidentally being depressed in your pocket, and they serve as a stand, in case you want to tailstand the flashlight.
Holster: The holster has held up really well. It has a snap on the attachment, making it easy to clip onto your belt. And the rivets at the top and bottom allow you to see if you accidentally left the light on.
Design In the Field
The flashlight's clip is an excellent detail. In fact, I believe it is one of my favorite features. While the holster is fantastic for carrying the flashlight for longer periods of time between use, the clip allows you to easily snap the flashlight onto your belt or outside of your pocket. This lets you switch between use of both hands and the flashlight promptly. I appreciate that you can take the clip off, too.
I also want to mention that this flashlight is attractive. The black is the perfect level of matte versus shininess (which is to say it looks serious, non-cheap, and stylish). The blue accents are also a nice touch. They add style and help to distinguish your flashlight from others.
The ridged body provides an excellent surface for a firm, no-slip grip.
Dust points are practically non-existent with this flashlight.
Materials & Durability
I noticed because of the even weight that I have yet to really drop my Warrior 3. However, I can say that with active use of the flashlight, it has yet to develop any marks on the body or lens.
Operation
Using this flashlight is easy once you get the hang of it. It did take me a few minutes to get used to pressing and holding the side button to switch modes and press the button twice for full-brightness mode.
Battery & Charging
Charging has been extremely simple. Just connect the magnet. I have yet to have the battery fail or run out during use. Charging the battery full will take about 3 hours.
Recommended Uses
This flashlight is wonderful for indoor or outside use. It will light up an entire room—which is fantastic if your power goes out unexpectedly. Of course, security guards, police, and military would get endless use out of this as well as hunters and campers.
One use that may be overlooked for this light is it performs well for long-distance runs. The clip holds tight and the lightweight makes it easy to carry along. Since it's getting dark before I get home from work, I appreciate being able to bring this light along when running in the dark.
Performance
This flashlight may be compact, but its abilities are anything but. I easily adapted to switching between modes as needed by holding the button down for a few seconds. The highest setting requires that you push the button twice, which is easy enough as well.
Related: Olight M2R Pro Warrior Review
The Warrior 3 is durable. It's built like a lightweight tank. I wouldn't be surprised if it survived a nuclear explosion.
Final Thoughts
The Warrior 3—I would want to be on its side of the battlefield. If you're going to shell out for a professional-grade tactical flashlight, this Olight Warrior 3 is a great investment. It's built to withstand abuse, and it is designed with extreme consideration for how it will be used. It would make a great gift for a co-worker, husband, father, or as a standard piece of equipment for employees.