Note: We received this product for free. No other compensation was provided, and as always, all opinions are our own. We may earn money from links on this page, but we only recommend products we back. Learn more.
I have used some Olight flashlights before, so I know that they create high-quality and innovative products. When I got the chance to try the Warrior Mini 2, I was excited that it was going to be the most powerful flashlight I had ever tried (in terms of lumens) and that it had a built-in proximity sensor.
The Warrior Mini 2 is a nice-sized flashlight that gives a high output for its size without it being too small to not be pleasantly tactile. The proximity sensor is something that I have not yet seen on any other flashlight. Overall, this is a flashlight that I am going to use frequently.
Let's dive into why that is.
Unboxing and Unwrapping
The flashlight comes packaged in a neat little box that is thicker cardboard than cheaper flashlights, and there is not much packed in there, which is a definite strength.
As there is no included storage case, I will be storing the flashlight and accessories in the box, so the strength of the box is a big plus.
So, what comes in the box?
You get the flashlight, a USB-magnetic charging cable (USB type-A on one side and magnetic connector on the other), a lanyard that will fit around your wrist, a carabiner-style ring that looks and feels extremely durable, and an instruction manual.
On the flashlight itself, there is a pocket clip and a lanyard clip, both of which are detachable. That was a touch that I appreciated, as there will be times when I will not use either, and it will be nice to streamline the flashlight when I can.
As I mentioned above, I liked that there was not much in the box, and on initial viewing, it seems like there is exactly what is needed and nothing more.
First Impressions
I like the size of this flashlight, and as I mentioned above, it feels like the right size. When I first looked at it, I liked that it would be small enough to pack in my camping or hiking gear. When I first held it, I liked the size and weight in my hand, and it definitely has that Goldilocks feel of being just right.
The body is comprised of aluminum alloy, and it feels solid. Even the attached lanyard clip and pocket clip feel tough and are going to need some force to break them.
Talking of force, the head of the flashlight has a serrated look, and that combined with the strength would be enough to smash glass (and possibly other materials) in a life-threatening situation.
The Warrior Mini 2 is marketed as a security, tactical & EDC flashlight, so I can also see this used as a weapon to fend off would-be attackers, along with the use of the 1,700-lumen beam.
Related:
The other thing that I noticed about the body was the engraving. The flashlight has a textured feel, and the grooves run deep, so this is definitely a flashlight that can be gripped easily when wet, be it from heavy rain or just sweaty palms after hiking a mountain.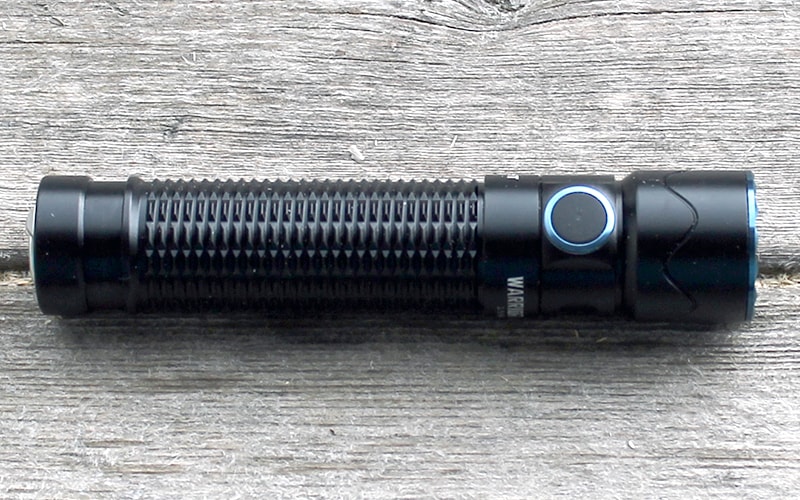 The flashlight comes with the battery already inside and does not weigh all that much, another benefit in my eyes. The main body is completely black, with the brand and name written on the side. The tail is silver, with blue embellishment on the head and a completely blue pocket clip.
The silver tail features a button that controls some of the flashlight functionality, and it is also magnetic, used to connect to the charger, and can be used to attach the flashlight to metal surfaces.
My only fault with the Warrior Mini 2 is that the pocket clip can get in the way when you are gripping the flashlight, but seeing as this clip is removable, that is not really an issue.
Function
Check out the included video below for live-action brightness checks.
I was blown away with the highest output of this flashlight, and I was equally blown away by how few lumens the moonlight setting has. You can go from 1,700 lumens all the way down to 1 lumen.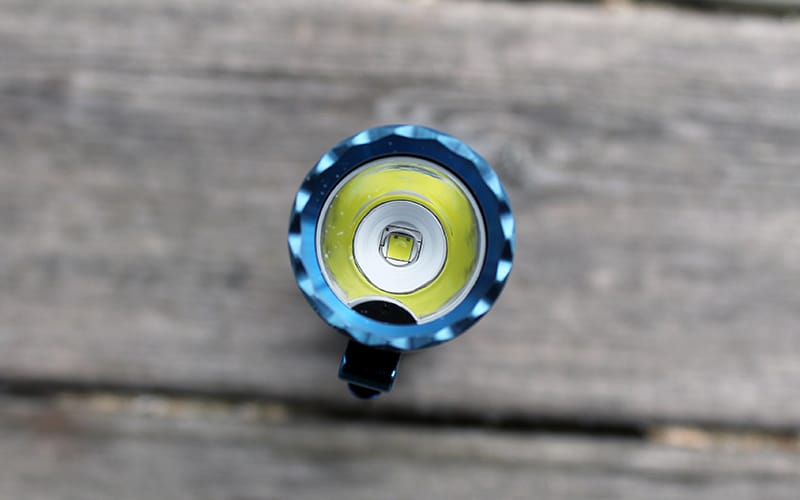 There are five main modes on this flashlight:
Moonlight: 1 lumen (beam distance ~0.8 feet / ~0.25 meters)
Low: 15 lumens (beam distance 62 feet / 19 meters)
Medium: 120 lumens (beam distance 187 feet / 57 meters)
High: 500/200 lumens (beam distance 384 feet / 117 meters)
Turbo: 1,700/500/200 lumens (beam distance 722 feet / 220 meters)
Here is the flashlight in action, scrolling through low, medium, high, and turbo modes (the moonlight does not show up on camera):
If you have the flashlight on Moonlight, you can expect it to run for 45 days (yes, I said days!). On Low, you get 164 hours, and Medium gives you 19 hours. With High, you get 218 minutes at 500 lumens, and it will switch to 200 lumens for 55 more minutes. Turbo does the same and will start at 1,700 lumens for 4 minutes, switch to 500 lumens for 206 minutes, and then switch again to 200 lumens for 40 minutes.
When it comes to lumens, you get a lot. Like I said in the intro, I do not think that I have tried a flashlight that has been brighter, and it is extremely bright. I can definitely see the use in security, and shining this in someone's eyes is going to do some temporary damage (please do not test this out).
The battery life is also impressive, and while 4 minutes at 1,700 lumens does not seem like a lot, it is plenty when needed. At all other power levels, you have a lot of battery life.
Overall, I was very impressed with the brightness of the Warrior Mini 2.
Proximity Sensor
This works on Turbo and High.
When the proximity sensor (in the head of the flashlight) detects an object that is close to the front of the flashlight, it will automatically dim the brightness. When the brightness is dimmed, you cannot switch between outputs with the side switch and can only turn it off. When removed from the object, the brightness will automatically increase again. If there is an object detected for more than 60 seconds, the flashlight will turn itself off.
Ease of Use
There are two buttons on the flashlight, one that clicks in on the tail and another on the side. Both control all functionality of the flashlight, and the one of the tail is used in tactical situations and can also be customized between two settings.
On/Off
Press the side button, and the flashlight will turn on. When you turn the flashlight on, it will return to the last setting you had it on (Low, Medium, or High).
Press the button again, and it will turn the flashlight off.
Low/Medium/High Output
When the flashlight is on, press and hold the side button, and it will cycle through the three options: Low, Medium, and High. Release the button to select the setting.
Strobe
Triple press the side button, and it will turn on the strobe. Press or hold the side button to turn the strobe off again.
Moonlight
Press and hold the side button for 1 second, and it will turn on moonlight mode. Press the button again, and it will turn it off.
Note: if moonlight mode is your last used mode, it will switch on to that with your next single press of the side button. Once you start scrolling through the output options, it will be removed from memory again.
Turbo
Double click the side switch, and it will turn on turbo mode. Click the button to switch it off. If you double click the button while in turbo mode, it will return to the memory mode, except if memory mode was high, it will return to medium.
Tail Switch
When you fully press the tail switch, it will turn on turbo. Pressing it again will turn it off. You can also press and hold to activate turbo and let go to turn it off.
When you half-press the switch, it will turn on medium, and half-pressing again will turn it off.
If you want to switch to configuration two, press and hold the tail switch and press the side switch at the same time. Release the tail switch, and you will now have turbo with a half-press and strobe with a full-press. Repeat the process to switch back to configuration 1.
Lockout
Press and hold the side switch for 2 seconds to enter lockout mode. When you try to activate the flashlight in lockout, a red light will switch on for 2 seconds to alert you of lockout mode. Look for this in the center of the side button. Press and hold the side button for two seconds to come out of lockout mode.
Charging
Charging is very simple, or so I thought.
I initially took out the battery and placed it on the magnetic charger, but nothing happened. I quickly realized that you do not have to remove the battery from the flashlight to charge it. Simply place the flashlight on the magnetic connector and connect the USB to a power source, and the 3,500 mAh 18650 rechargeable battery will charge.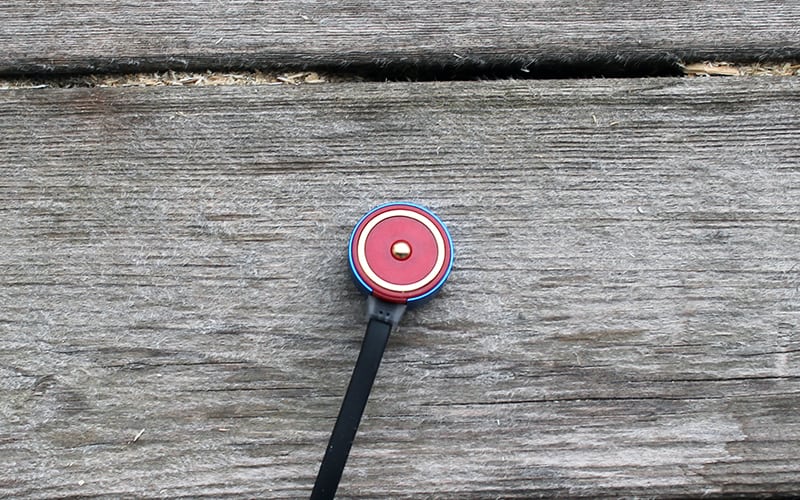 I attached the battery to my Mac, and it charged very quickly. When charging and in use, the light in the middle of the side button will show the charge level.
Green = >60%
Orange = 10%-60%
Red = 5%-10%
Blinking Red = <5%
What Else?
The flashlight does come with an IPX8 rating. That means that it is dustproof and waterproof. You don't need to worry about dropping it in water or dirt, but you should still be careful. While the flashlight will be protected, the magnetic tail switch can collect iron debris, and this can gum it up.
The flashlight has been impact tested to 4.9 feet / 1.5 meters.
The flashlight comes with a 30-day replacement and repair warranty with the seller and a 5-year free repair and replacement warranty from Olight. The battery and magnetic charger come with a 1-year warranty.
Who Is This For?
If you want power, then this is the flashlight for you.
I can see two typical uses for this flashlight. The first is as part of a camping, hiking, or fishing trip. Basically, any trip in the great outdoors. The second is as part of a survival bag or as personal security.
You have carry options, so you really can take it anywhere with you, and the brightness means that it can be used to ward off anyone who means you harm (and that can include animals).
There are 3 main brightness modes at your disposal, so the flashlight can be used in a variety of situations, from going to the bathroom at night when camping to finding your way home if you are lost. With a maximum beam of 722 feet / 220 m, you really can see a long way with the Warrior Mini 2.
Conclusion
This is the most powerful flashlight that I own, and while I may not use the full brightness a lot (except to impress my friends), this is definitely a flashlight that I will use. Camping season is coming up in Canada, and the Warrior Mini 2 will become an essential part of my camping gear.
I really like the size and feel of the flashlight, and it's definitely going to be one that I grab when I need some light. I also find it easy to use, and like that there are two options for switching the light on and off.
The Warrior Mini 2 will definitely be used and gets a big thumbs up for the amazingly high output.