Note: We received this product for free. No other compensation was provided, and as always, all opinions are our own. We may earn money from links on this page, but we only recommend products we back. Learn more.
Once I got my hands on the Olight M2R Pro Warrior flashlight, it became clear to me that it's more than a tactical flashlight – it's a great allrounder for everyday use.
First Look
Admittedly, I was surprised at how excited I was to receive a flashlight – or rather, a quality flashlight. Before the Olight M2R Pro Warrior, my flashlights were borderline embarrassing. I'm talking plastic housing, bright red, light as a feather with batteries rattling around inside. Convenience store flashlights.
The Olight M2R Pro brings the flashlight game to a new high and shows what a flashlight can be and should be. At first, $100 might seem expensive for a flashlight when you are used to buying a two-pack for $10. However, the quality and functionality of the M2R Pro immediately makes that new price point totally reasonable.
Meet the Olight M2R Pro Warrior
The M2R Pro Warrior is advertised as a tactical flashlight (it's placed in the Series M category, which is reserved for tactical and military Olight flashlights).
Related:
It seems like the most tactical feature of the flashlight is simply the look and feel of the housing. With the sleek, matte black finish and hardy exterior, the M2R Pro gives off major tactical vibes but is certainly a versatile flashlight for any household or outdoor use.
This flashlight serves up both form and function with its many features.
Package Contents
M2R Pro Warriror flashlight (5,000 mAh 21700 rechargeable battery included)
Stainless stell pocket clip
USB magnetic charging cable
Holster
Lanyard
User manual
Technical Details
Weight: 6.31 oz / 179 g
Length: 5.37 in / 136.5 mm
Head diameter: 1.16 in / 29.5 mm
Body diameter: 1.03 in / 26.2 mm
LED: High performance neutral white LED
Grip
The housing is accented with various ridges throughout which not only provide aesthetic appeal but also excellent grip. No matter the size of your hands, you will be able to find a sturdy grip with this flashlight.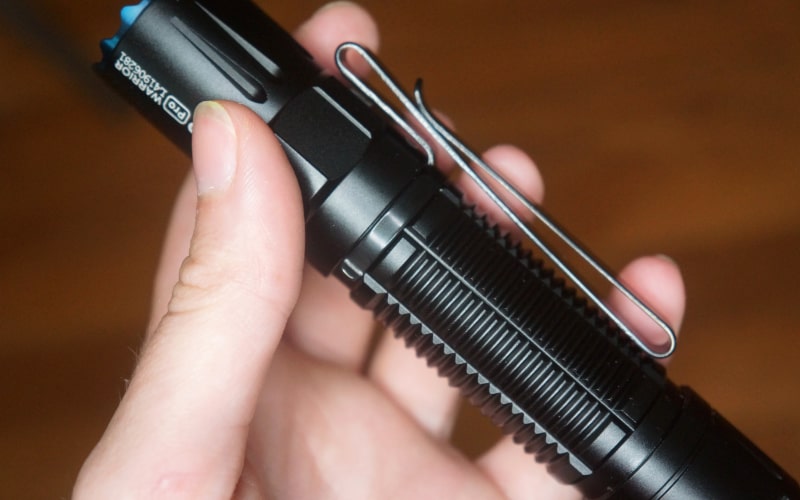 Specifically, the M2R Pro Warrior offers horizontal ridges along with the majority of the flashlight shaft which provides grip for the palm of your hand. There are also vertical grip components that are slightly larger and positioned for the thumb and forefinger.
Both variations of grip provide ample options for maintaining a comfortable and secure hold on the flashlight.
Carry
Small enough to fit in a pocket but still they provide more than one carry option. The M2R comes with a well-made carry case that can be attached to your belt or backpack easily.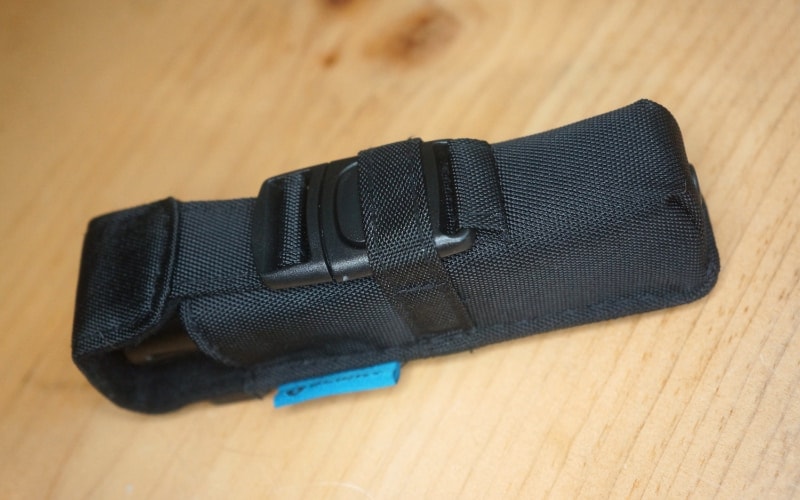 Additionally, the flashlight itself has a two-way clip for attaching your flashlight just about anywhere in more than one position. If that wasn't enough, there is a lanyard attachment option at the base of the flashlight. This lanyard option is ideal for securing the flashlight to your wrist or even, with a larger lanyard, around your neck.
Rechargeable
The rechargeable feature has been a rollercoaster of emotions for me. Initially, I was not surprised and was happy with the feature. Followed by a moment of hesitation; as someone who loves to hike and camp, what if the flashlight charge didn't last a trip and suddenly I was left in the dark, quite literally.
Soon after, I alleviated my fears with a quick disassembly of the flashlight and a look through the Olight website. The battery (which is a customized 5000 mAh 21700 rechargeable lithium battery) is easily removed and additional rechargeable batteries are available for purchase. So, if you are planning a trip without reliable access to charging, simply pick up an additional battery or two and charge them up beforehand.
The battery is rechargeable via a port on the tail end of the flashlight (which also functions as a quick on/off switch while using the flashlight in a tactical hold).
Recharging does not require disassembly as the charging port magnetically attaches to the flashlight as is.
On/Off
As mentioned, the M2R Pro features a secondary on and off switch at the base of the flashlight. This switch is most likely to come in hand for anyone using this flashlight with a tactical hold while on the job.
The classic and primary on and off switch is located at the front of the flashlight where your thumb rests. This switch offers one of my favorite features: brightness cycling.
Once the flashlight is on, simply hold down the on/off switch to cycle through the varying levels of brightness from low to medium one, medium two, high and turbo. Release the switch on your desired level. When you turn off and turn your flashlight back on, it will return to your last used setting. Super efficient and useful.
Brightness and Settings
What we've all been waiting for: brightness and settings. Again, one of my favorite features is the ability to cycle through varying levels of brightness easily and effectively. Beyond all of the previously mentioned features, what sets the M2R Pro Warrior apart from other flashlights is its brightness.
Ringing in at a maximum of 1,800 lumens, this flashlight is super bright. It's practically a flood light on a football field. I can see why it would be a popular choice for police, military, or security.
The ability to use the M2R Pro Warrior at multiple lower settings is what makes this flashlight a winner. The turbo setting of 1,800 lumens (984 ft / 300 m beam distance) is extremely bright and sure to leave stars in your eyes. Meanwhile, there are four other settings besides Turbo: Low, Medium 1, Medium 2, and High.
Turbo: 1,800/750/250 lumens, burn time 4.5 minutes (145+45 minutes)
High: 750/250 lumens, burn time 160+40 minutes
Medium 1: 250 lumens, burn time 10 hours
Medium 2: 60 lumens, burn time 40 hours
Low: 15 lumens, burn time 130 hours
Moon: 1 lumen, 50 days
Medium 2 and High are ideal for outdoor settings such as camping or walks at night. Meanwhile, Low and Medium 1 are great for inside the tent or when you only need a low light for providing a bit of brightness.
Beamshots
The beam has a cohesive hotspot with a smooth spill. It's the perfect all-around beam profile.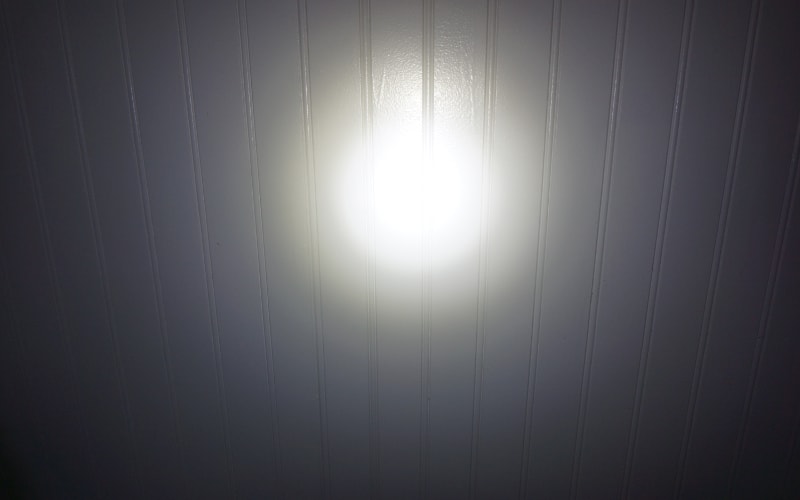 Safety
Yet another feature of the M2R is the strobe setting. Two rapid clicks on the primary on and off button will initiate the strobe feature. Frankly, this feature is blinding. However, it is a useful setting for times of need as it will surely call attention to you.
The M2R Pro also features an aggressive strike bezel (with PVD coating) which is useful in situations where you need to break windows or defend yourself.
The flashlight is drop tested for up to 4.9 ft / 1.5 m and is IPX8 rated (water-proof, dust-proof, can be submerged deeper than 1 m).
Performance
Having tested this flashlight indoors, outdoors, during the day, and at night, I can say it sure does perform. I may have lost vision for a brief moment when using the turbo setting indoors and during the strobe test. Point this flashlight away from you and others while using the turbo setting as those 1,800 lumens will blow you away.
Final Thoughts
I love the options that come with the M2R Pro Warrior. The versatility and compact body of this flashlight are what bring it home for me. The sheer amount of features and functions are next level and make this flashlight a useful addition to anyone's toolkit.
While advertised as a tactical flashlight, I wouldn't let this deter anyone from purchasing this specific model. The uses and functionality of this flashlight speak for themselves and will absolutely prove a good fit to anyone in search of a reliable flashlight for whatever purpose.