Note: We received this product for free. No other compensation was provided, and as always, all opinions are our own. We may earn money from links on this page, but we only recommend products we back. Learn more.
I have used multiple Olight flashlights, and I know what to expect from them in terms of quality and functionality, but it was fun to try something a little different. The Olight Obulb MC is a portable LED orb that can be placed on a flat surface, attached magnetically, or hung with a silicon lanyard. You can even have it floating on water (just not for too long).
There are endless options available. Before even opening the package, I can imagine this as a nightlight or patio light. I know that I am going to take it camping with me. I was excited to open the compact package and check out the light.
Unboxing and Unwrapping
The Obulb MC is small, and the box reflects that. The light itself is around the same size as a small satsuma mandarin, and the box fits everything neatly inside. I slipped off the top cover, and there was a red box inside with overlapping circular flaps that opened like a flower might bloom, allowing access to all the goodies inside.
So, what comes in the box?
The Olight Obulb MC is there, as it should be. You also have a magnetic charging cable and a metal badge that can be stuck to any surface, and then the light magnetically attached to it. There is also, and this is my personal favorite, a pair of googly eyes. You can add some personality to your LED light.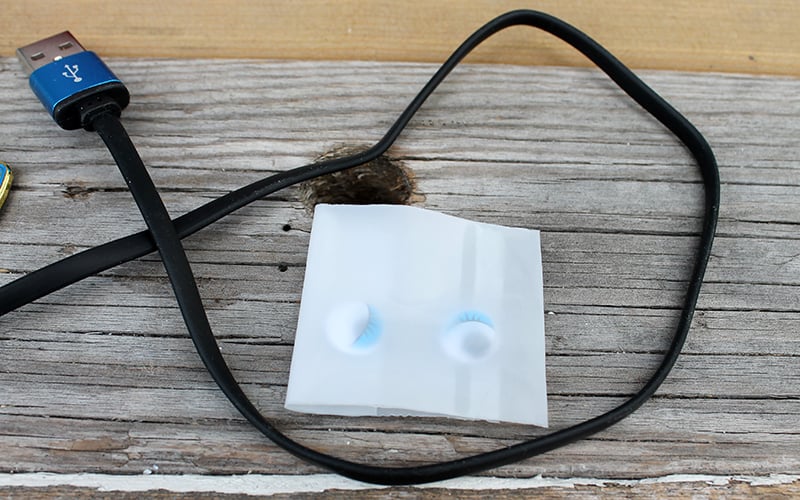 It was also shipped with a silicon lanyard. The light can be slotted into the spherical holder and then hung from a hook.
The instruction manual rounds out the contents, and there is everything you need without being bogged down in extras.
First Impressions
I loved picking up the Obulb for the first time. It is mostly spherical with a flat bottom, and it is extremely tactile. The top half is semi-opaque plastic, while the bottom half is red textured rubber. I liked to play with it, and I intuitively found the button integrated into the bottom of the light, which can be pressed to turn the light on, or you can press down on the top of the light when it is on a surface.
The Obulb is light, but there is enough weight there to suggest that it is not made from cheap materials and will not break easily. From using previous Olight products, I know that they are made well.
Without even looking at the instruction manual, I was able to get the light charging (there is an integrated battery) and then able to switch the light on and move through the functions.
From a little research done before opening the box, I know that the light can be dropped from 4.92 ft / 1.5 m, so it is going to be safe on most indoor and outdoor surfaces. It is also waterproof, with an IPX7 rating (more on that later), so it can be used in wet conditions or even placed on the surface of the water to create an amazing ambiance.
My first impression is that I loved this little light, and I know that I am going to use it a lot.
Function
This is an extremely easy flashlight to use, but there were some extra modes made available when I consulted the user manual.
Normal Operation
If you press the button on the base of the flashlight or press down on the top when it is on a surface, it will scroll through the light modes:
White light (low) -> White light (high) -> Red -> Green -> Blue -> Fade between colors -> Cycle between colors -> Flashing Red –> Off
White light – Low: 3.5 lumens – 40h
White light – High: 75 lumens – 3h
Colors (Fantasy): 3-7 lumens – 7h
The white, red, green, and blue lights are lights of a solid color.
The Fade function will fade from one color to another, cycling through them.
Cycle will move from one color to another with no fade in-between.
Flashing Red will flash a red light, working as a beacon or warning light.
On/Off
Click the button once to turn the flashlight on. You can cycle through the modes to turn it off again, or you can press and hold the button to turn it off. When you turn it off like this, it will store the last mode in memory and turn back on in that mode.
Low Light
When the light is turned off, press and hold the button down to switch to low light no matter what mode is stored in the memory.
Special Mode
This one took me a while to figure out. The instruction manual says to press the button between 20-200 times, with no more than 5 seconds between each press, and a special light show will start, lasting 30 seconds before switching to white low.
It's pretty much as it says. Keep pressing the button and keep an eye on the light. The number of presses is different each time, but if you leave enough time between each press, a second perhaps, you will be able to identify when the special mode has been entered.
The light show is pretty cool, but I am not sure why it is set up like this. The extra button presses may wear down the light over time, and they could have integrated it in a different way, like a double press or a long press.
This is a function that I will not use a lot, if at all.
I like all of the other light functions, and the contrast between the two white light modes is perfect, in my opinion. The high is bright enough for an evening outside on the patio, and the low is perfect as a night light.
Here's a demoing video of the Olight Obulb MC.
Charging
Charging is as easy as it gets. Connect the USB to a USB port and the magnetic end to the base of the light.
When the device is charging, there will be a red light where the wire joins the magnetic charging base. This light will turn green when the light is charged.
The device will fully charge in 2 hours, and that was true when I charged it.
When the battery in the light is low, it will switch from high to low if it is set to that mode, and it will also flash every 30 seconds when the battery is less than 10%.
What Else?
IPX7
The flashlight does come with an IPX7 rating. The LED light can be submitted up to a depth of 3-28 ft / 1 m for 30 minutes.
You likely won't be submerging the light, but seeing as it floats, it can add some ambiance to a pool or lake. You could even have it floating in a jar.
From the manufacturer's website, they don't recommend having it float for longer than 30 minutes.
Impact Resistant
The flashlight has been impact tested to 4.92 ft / 1.5 meters.
From holding the light, it does feel solid enough that it won't break easily, but also not heavy enough that an impact from that height will be destructive. 4.02 ft / 1.5 meters will cover the height of most surfaces that you will place it on, so you don't have to worry about it falling.
If you are worried about that, check out the next section.
Magnetic
The flashlight has a magnetic base so that you can attach it to any metal surface, and it will hold. This can be a horizontal or vertical surface or even an inverted one. The hold is solid, and it won't be knocked off easily.
Failing that, you can also take advantage of the rubber lanyard to hang it.
Warranty
Olight products all come with the same warranty. If the product is faulty or defective, they want to make it right.
Return the product to the retailer or manufacturer within 30 days for repair or replacement. No questions asked.
If the light is not working because of factory defects, you can return it within 5 years for repair or replacement.
You can do the same after 5 years, but there may be fees.
Who Is This For?
This is a really versatile light.
I'm definitely going to take this camping with me, and it will likely be used in one of two ways. As it is, I will have it on our picnic table when it starts to get dark, using the high mode. In the tent, I will use the lanyard to hang it, and have it set to low while we get into our sleeping bags and ready to sleep.
If you want a nightlight for a child, this will be perfect (I will also be using it for that), and out on your patio or back deck in the evenings is another great way to use it (guess what, I will be using it like that too).
I like the magnetic base, and the immediate use that comes to mind is stuck to the underside of my van hood when I am doing any engine maintenance. It could be a useful light to keep in your car, especially with the flashing red light.
Basically, this is a light that you can use anywhere.
Conclusion
I really like this light, and it is definitely one that I am going to use a lot and in a variety of places and scenarios.
This is a nightlight, patio light, camping light, and more all in one compact build. It is solid and feels great to pick up and touch. It is also small enough to be packed into any bag or equipment set.
The only negative thing that I have to say about the light is how the special mode is accessed, but that pales in comparison to the positives.
This is a great light that will get a lot of use.