Note: We received this product for free. No other compensation was provided, and as always, all opinions are our own. We may earn money from links on this page, but we only recommend products we back. Learn more.
When it comes to a wallet that will last, Trayvax has a superb reputation. They're known for crafting durably designed wallets with a minimalistic flair. When asked if I would carry one of the wallets daily to test its performance, I was more than happy to oblige! I knew I could put their wallet through the wringer on hikes, daily errands, and in my back pocket on bumpy back roads.
I put the Venture Billfold to the test over the course of about a month of everyday carry, and I will cover how this sleek designed, utility wallet performed.
First Impressions
The Venture Billfold arrived in pristine condition, tucked into a clear-plastic clamshell. It was easy to see the product through the packaging, I could tell right away that the quality of the Horween® leather and aluminum frame was superb.
The deep brown contrasts perfectly with the light metallic frame. And the embossed logo with the made-in-the-USA tag are both tasteful and attractive.
The only aspect that made me raise an eyebrow while unboxing the wallet is the plastic clamshell. I don't need frills or anything too fancy, but I wondered if such a well-crafted wallet deserved a bit more fanfare. For example, if I bought this wallet as a gift for my father or brother-in-law, I would want the packaging to have a bit more 'wow-factor' that reflects how premium this product is.
I believe that having the wallet engraved for a gift recipient really makes the product feel even higher-end.
Details of the Venture Billfold
While most Trayvax wallets are designed to carry cards, this billfold is also designed to hold bills. Trayvax has a clear minimalist aesthetic, and everything about the Venture Billfold reflects this. It's obvious that their team put thought and ingenuity into a durable yet striking wallet.
Materials
The Venture is made from a single piece of Horween® leather, so there are no seams except where it has been stitched to the aluminum metal frame.
I appreciate that Trayvax opts for Horween® leather. This is a truly luxurious touch. Horween® leather is tanned and finished by hand and is renowned for its beauty and durability. And this quality is apparent in the soft nature of the wallet.
The aluminum metal frame is handsome, with a subtle bevel and the Trayvax logo along the side.
Design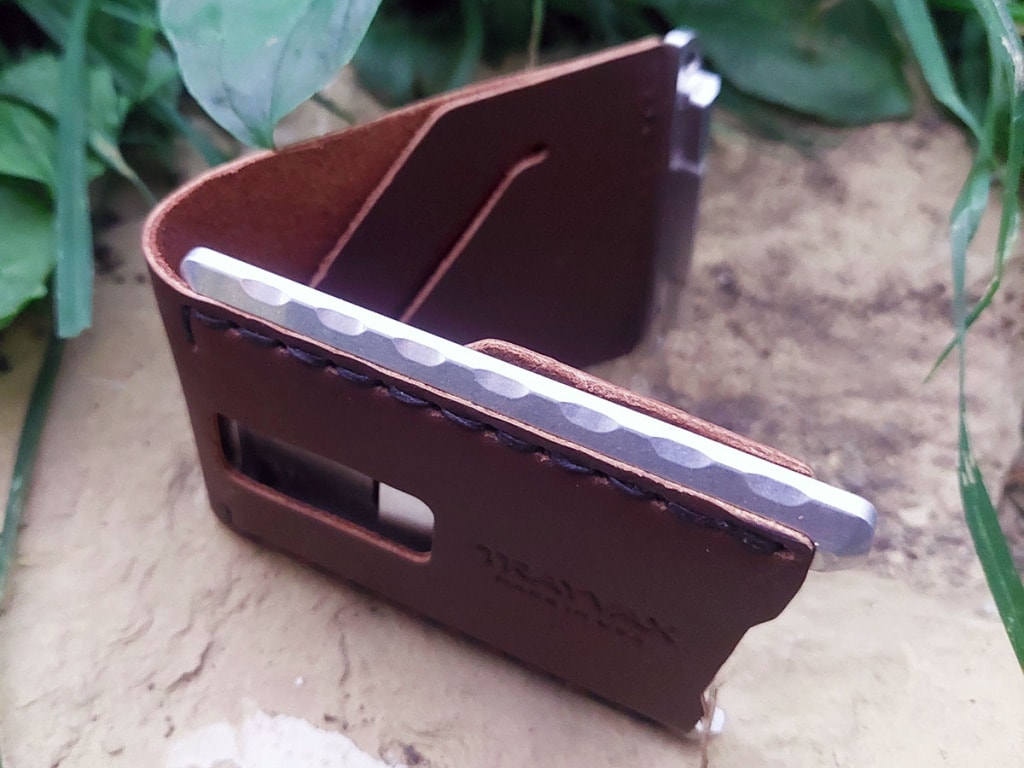 This wallet looks impressive. I've gotten quite a few compliments on it. However, the design of the wallet is slightly unintuitive upon first use, and it has a limp feeling when not filled with cards despite the metal plate. At first, I wasn't sure where to put my cards within the wallet.
The Venture Billfold holds up to 20 bills and 9 credit cards (12 after the leather relaxes).
Functionality
There is no doubt the Trayvax Venture is a handsome wallet. It's functional for day-to-day use but seems better suited for a person that travels extremely light but likes to travel with some cash. I struggled with some minor hiccups over the course of this trial, but none that were monumental.
This wallet is distinct from Trayvax's other offerings as a billfold. With the Venture, bills are placed against the metal plate and behind the inner card slot. There is very little excess space, so bills must be placed straight or their corners will stick out of the wallet. And at the fold, the wallet creases bills behind the metal plate.
Closure & Capacity Testing
The wallet closes easily with nine cards and three bills, but more cards can cause it to pop open. I don't normally carry much cash, so I was unable to test the effect of additional bills. However, I can imagine that getting 20 bills all straight and tucked away would be a bit of a tight squeeze.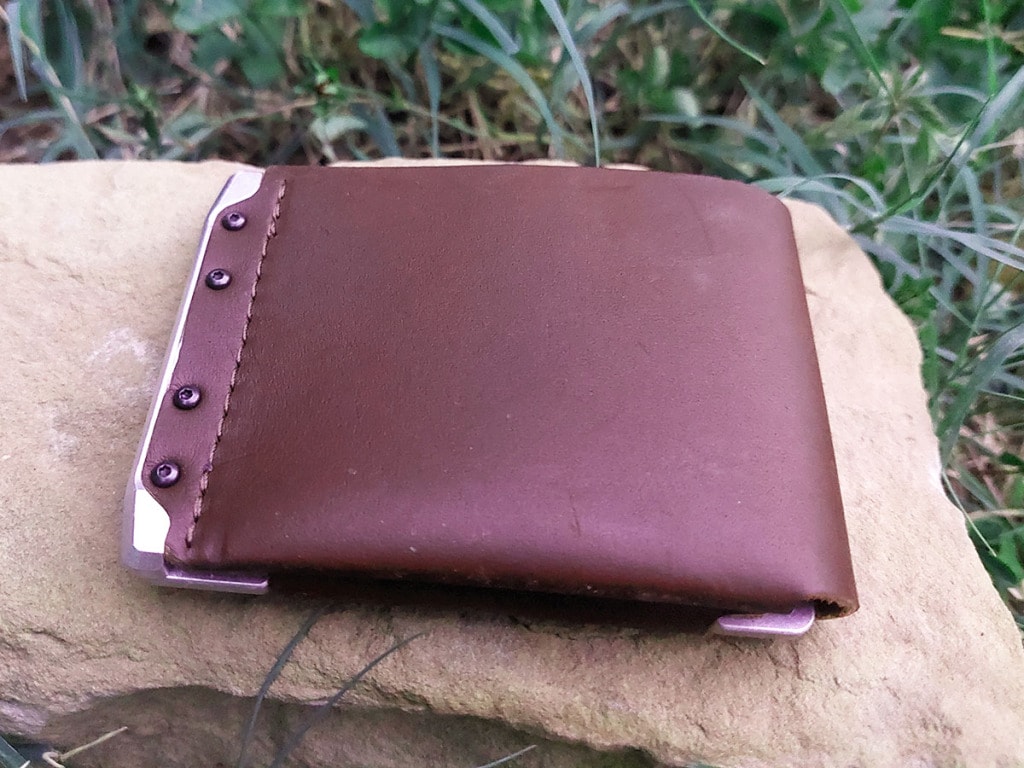 Because the wallet has plenty of flex, bills seem to want to pop out when the wallet is unfolded. This isn't an issue with cards, which are held with surprising sureness. Cards are easy to retrieve from each of the card slots but don't fall out.
The clasp holds well, but occasionally feels misaligned, especially when the wallet has more than nine cards in it. Since it is held in place with magnets, this isn't an issue and is easy to fix by pushing it into place. The magnets are a good strength and the wallet hasn't ever opened unexpectedly when latched correctly.
The Credit Card Window & RFID Blocking
The credit card window allows you to "Tap-to-Pay" which is nice. However, I was unable to test if the RFID blocking works despite this window. Obviously, nobody stole my credit card information while I used the wallet.
Capacity In-Use
It is possible to overfill the wallet beyond the recommended nine cards, but I was unable to achieve the maximum "12 when stretched." Maybe after carrying the wallet for a few more weeks I will be able to fit more cards in it.
Comfort
This wallet is streamlined and comfortable to carry. It doesn't cause that "I'm carrying a Big Mac in my pocket" look. In fact, you can sit comfortably with the wallet in your back pocket. I've found myself forgetting to pull it from my pocket before setting out on a drive and not noticing that it's there.
Durability
After weeks of testing, the wallet shows no signs of wear. The stitching and edges look pristine, and the leather and aluminum haven't been scratched by my daily use. It remains striking and people do notice it when I pull it out.
Related: 9 Most Durable Leather, Minimalist, and Tactical Wallets For Men
Conclusion
As a traditional daily carry billfold, this wallet leaves something to be desired. While it does hold bills, I would feel more secure leaving my cash in something that conceals it a bit better and holds it more securely. I also wish this wallet had a slightly higher capacity for cards. Because of this, the wallet edges right up to being "sleek" but doesn't quite get there. But it has proven more durable than expected and the slim profile makes it easy to carry in a front or back pocket.
If you're the type of person that likes to carry some cash and a few cards, the Venture Billfold would be ideal for daily carry. Otherwise, I highly recommend it as an alternative for when you're traveling or going on an expedition.