Note: We received this product for free. No other compensation was provided, and as always, all opinions are our own. We may earn money from links on this page, but we only recommend products we back. Learn more.
I use a leather wallet, so my standards are already high. I switched my wallet around a year ago, and I have never looked back. I liked that it forced me to downsize what I was carrying around, and I have enjoyed seeing the leather change and age over the past year. So, can another leather wallet live up to my expectations?
The short answer is yes.
I had the chance to try the traditional bifold leather wallet from Popov Leather, and you can read on to find out why I loved it.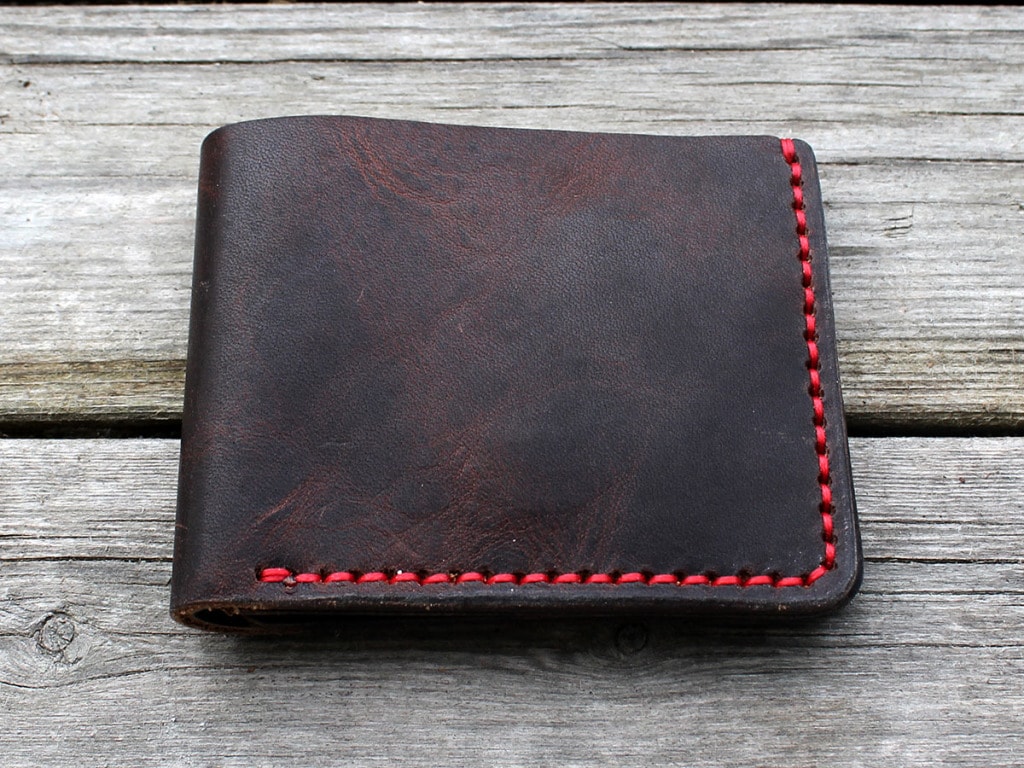 The Material
Before I even had a leather wallet in my life, I knew that there were different types of leather: full-grain, top-grain, bonded, etc., but I had never heard of Horween leather.
The Horween Leather Company is one of the oldest tanneries in the United States. They are one of only five tanneries in the U.S. that processes leather completely from start to finish. They work out of the same building, using some of the original machinery and their original processes. Simply put: if it ain't broke, don't fix it. While many companies streamline the process, making more products for less money, Horween has stuck to its roots, hand-crafting much of the leather and fine-tuning where needed.
The result is leather like no other, and that shines through in this wallet.
Leather has a character of its own, and the rich Horween leather is going to develop its patina over time, taking on a beauty that is one-of-a-kind. The wallet feels soft but sturdy, firm but flexible, bold but beautiful.
The only thing that was off was the color. I opted for the Heritage Brown with the red stitching. Tanning leather is an art and a science, and the wallet I have is slightly darker than the picture on the website, but this is not a problem whatsoever. I love the color, and the darker leather makes the stitching pop.
Excellent Craftsmanship
The Popov Leather wallet is hand-stitched with strong Tiger thread. When you are stitching a leather wallet, you had better have strong stitches or it is going to fall apart after a couple of years. Handling the wallet, it is obvious that the stitches are strong and are going to hold the wallet together for as long as the leather lasts (which is going to be a long time). The stitching also adds extra character to the wallet, and I was immediately drawn to the red stitching when I was browsing the wallets on the website.
The edges are burnished and polished to ensure a smooth finish and to stop any fraying of the leather on what is the obvious weak point, though I can say that there are no real weak points in this wallet.
When you open the bifold wallet, the stitching carries through to the inside, and there are six pockets for cards and a generous-sized cash pocket. There is a nice mix between simplicity and style.
Size
The wallet measures in at 4.3" x 3.3" x 0.5".
This wallet is smaller than many fabric wallets due to the use of leather that does not have to be overly thick to withstand the test of time. It is also going to hold up, so the size of the wallet when you buy it is going to be the same after a few years.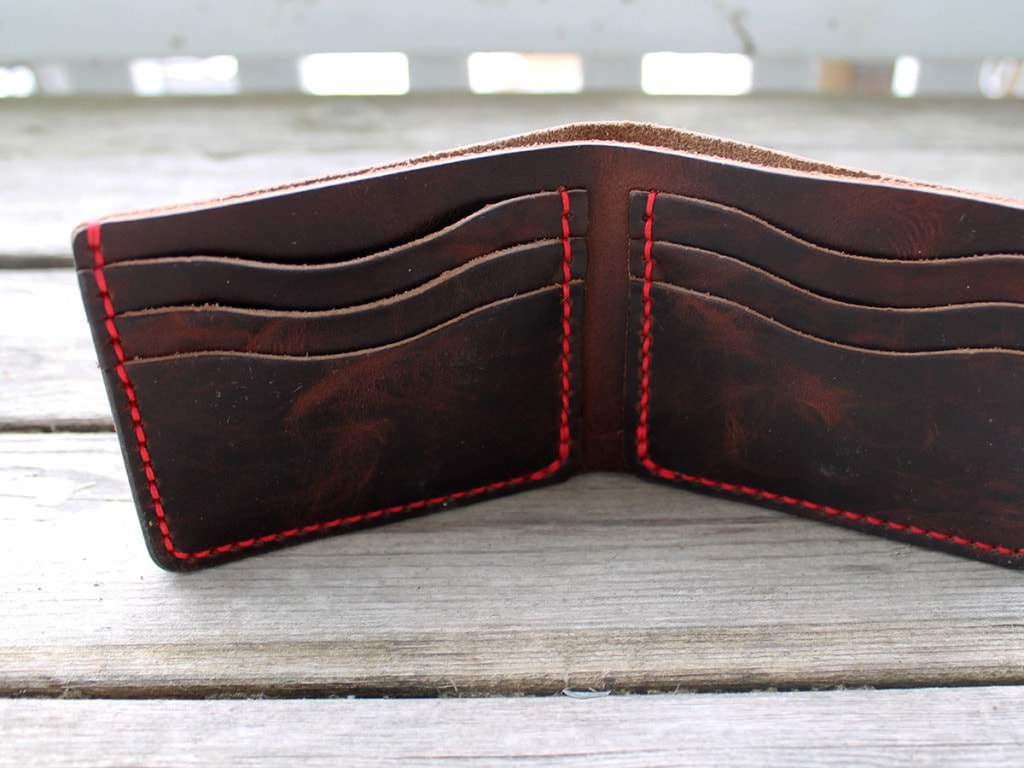 Even though it is not designed to be a typical minimalist wallet, it does not take up much space in my pocket. When it folds in half, the streamlined shape does not stick out when I am walking around.
Each card pocket can accommodate up to 2 cards, and that is much more than I need. Most people are going to have between 6-12 cards (and if you have more, you need to downsize), making this wallet the perfect size.
Who Is This Wallet For?
Basically, this is a wallet for anyone. The Popov bifold is stylish enough to be carried with you when you are in a tuxedo for a formal occasion and casual enough to be used when you are dressing down. There is enough space for the average person to carry all of their important cards and space for most currencies. The stitching allows you to add some character to match your attire or keep it simple if you want a more streamlined, elegant look.
The Popov leather wallet is durable and is going to last a lifetime. It might cost a little more than others wallets on the market, and some could argue that it is a luxury wallet better suited to those who have more disposable income, but I would argue against that. When you put it in perspective, this could be the last wallet you but, and that makes it affordable.
Conclusion
I have to admit that the red stitching definitely drew me in, and I like the colorful accent on the wallet, but it is the overall craftsmanship of the wallet that had me fall in love with it. I already have a leather wallet, so it was going to be hard to impress me, but I really like this Popov bifold wallet.
The leather is extremely high-quality, and I like the richness of the color, the red stitching is a definite bonus. The leather is going to change over time, and the unique patina is going to be personal to me, a journey that the wallet and I are going to go on together.
This is going to be my new everyday wallet, and I don't know if I am ever going to need to buy a new one.