Note: We received this product for free. No other compensation was provided, and as always, all opinions are our own. We may earn money from links on this page, but we only recommend products we back. Learn more.
Buying belts is not usually an event that we plan for, but sadly, many belts don't last very long. They are under constant pressure, they rub, are strained, and often wear down quickly. That is if you don't have a high-quality leather belt.
I got to try out just that. I know from using a quality leather belt previously that they last a long time, even without caring for them. So, I was excited to try out the Popov leather belt.
Crafted from heavyweight Horween leather, the full-grain leather belt from Popov is an excellent balance between style and durability.
Horween Leather
The smell of the high-grain leather is what hit me first when I opened the package. Without even trying it out, I was sure that the belt was high-quality—leather has an unmistakable scent, and I was drawn in from the very first moment.
Let's talk about that leather. On their website, you will notice Popov points out that they use Horween leather. What is this, you might ask? It is not a type of leather or the grain of the leather, but rather the company that creates the leather. Horween is a U.S. company that has been making the highest-quality full-grain leather for over a hundred years.
Horween believes that there is a right way to tan leather, and that can be efficient, but they are all about sustainability and transparency along with quality. In fact, much of their equipment is original to the company and has been used for over a century. So, why am I talking is much about Horween and not Popov? Simply put, if Popov is using Horween leather, they are starting with the best base possible.
You can see that shine through as soon as you see the belt in person. The leather is thick and dense while being flexible. Horween leather has an exquisite patina that showcases the natural grain of the leather and will only become more beautiful and unique over time. As you develop your character, your leather belt will too.
Leather is not going to stretch over time, and while the patina is going to show the natural grain, it will not crack and fray like faux leather belts. A good leather belt will stand the test of time, and this leather belt is going to do that while becoming more and more beautiful.
Excellent Craftsmanship
It is very well having the best leather, but what about the buckle and weaker points? You wouldn't take a Picasso and surround it with a frame from the dollar store, right?
The belt buckle is solid brass, polished to a smooth finish. The metal rivets are solid brass too, and there are two by the buckle to secure it in place. The look and feel of the construction tell me that the metal hardware is going to last as long as the leather (possibly a lifetime), and it looks amazing too.
I like the thickness of the leather and the width of the belt. It is a chunkier belt, which sits comfortably on my waist. The leather itself does not have a lot of weight to it, which is a good thing, and there is some heft to the buckle, so it sits well on your pants, giving some weight to the belt and a lot of support.
The belt is hand-crafted in Nelson, BC, Canada. The lack of any stitching and the thick brass rivets mean that there are no weak points. The leather edges are burnished and polished to prevent cracking and fraying.
The belt comes with a 90-day return policy and a lifetime guarantee.
Sizing
I've bought belts online in the past and found that they do not necessarily fit. The Popov website includes a guide and a video to help you measure your belt correctly, either by measuring your previous belt or your pants. I measured my previous belt, and I am happy with the fit of my Popov leather belt.
Who Is This Belt For?
I can't pin this belt down to one demographic. This is a leather belt that is high-quality and elegant. For that reason, it can be easily paired with a suit or semi-formal attire when in the office. On the other hand, it goes great with a part of jeans for a dressed-down look. You could even wear it as a work belt—the strength holding up to the rigors of a construction site.
There are four finishes to choose from, ranging from an English tan on the lighter end to black on the darker side of the spectrum, so there should be no trouble matching the belt to your look.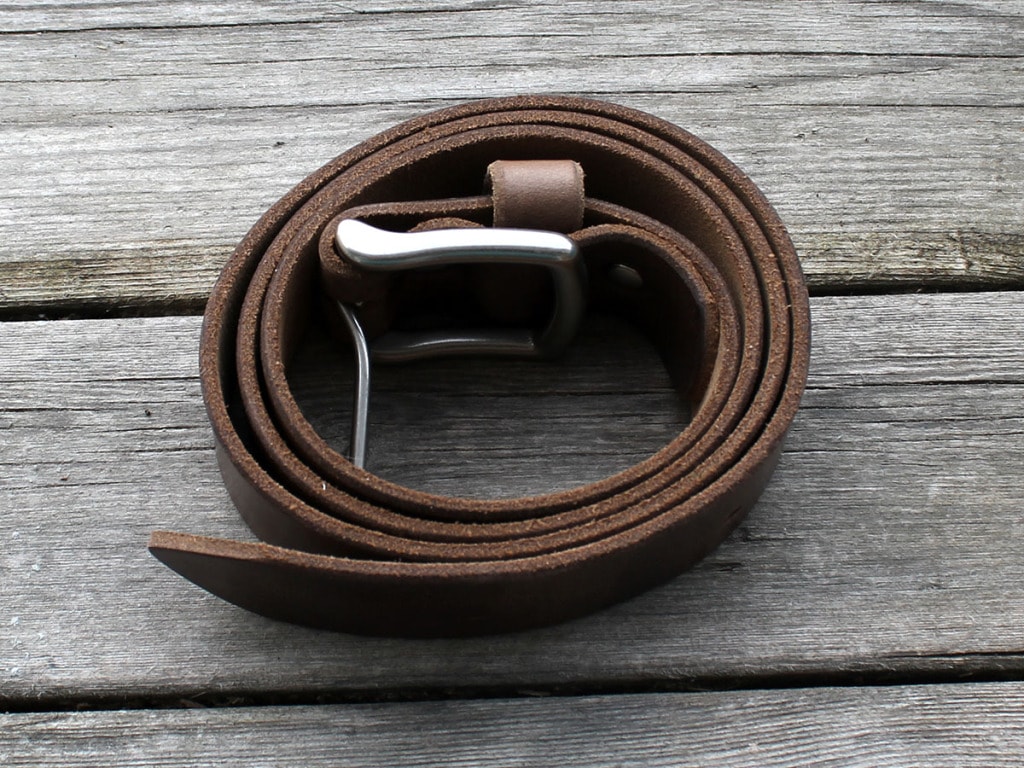 To cut a long story short, this is a belt for everyone. It combines functionality, style, and durability to create a belt with versatility.
Conclusion
Everyone needs a belt, and I am no exception. The Popov leather belt is my new favorite accessory. This is a belt that I am really going to test when it comes to 'buy it for life' products. I can see this belt lasting for a long time, and it brings me some excitement to know that I won't have to shop for another belt for a long time (if ever).
The Horween leather is luxurious, and the brass buckle and hardware add to the durability. You get what you pay for when it comes to durable products, and the Popov line of belts will set you back more than a standard belt, but it is going to last a lot longer (and I mean, much, much longer). From what I have seen so far, you get a lot of value for your money.
This is a great belt. I am going to wear this all of the time, and I can't imagine having to buy another belt for a very long time.