Note: We received this product for free. No other compensation was provided, and as always, all opinions are our own. We may earn money from links on this page, but we only recommend products we back. Learn more.
Heated socks can be quite a luxury for some people while, for others, they're a necessity. I fall somewhere in between. Tennessee's winters linger just around freezing, and the predominant forecast is: rain. With all this being said, I do run about 20-25 miles per week, even in the winter, hike quite a bit in the Smoky Mountains, and enjoy sitting by the fire on a cool evening—this is where ORORO's Sequoia Heated Socks earn their keep.
When ORORO reached out asking if I would try their heated socks, I jumped at the chance. I knew the brand had a reputation for producing quality winter wear, and I was thrilled to put them to the test.
Initial Impressions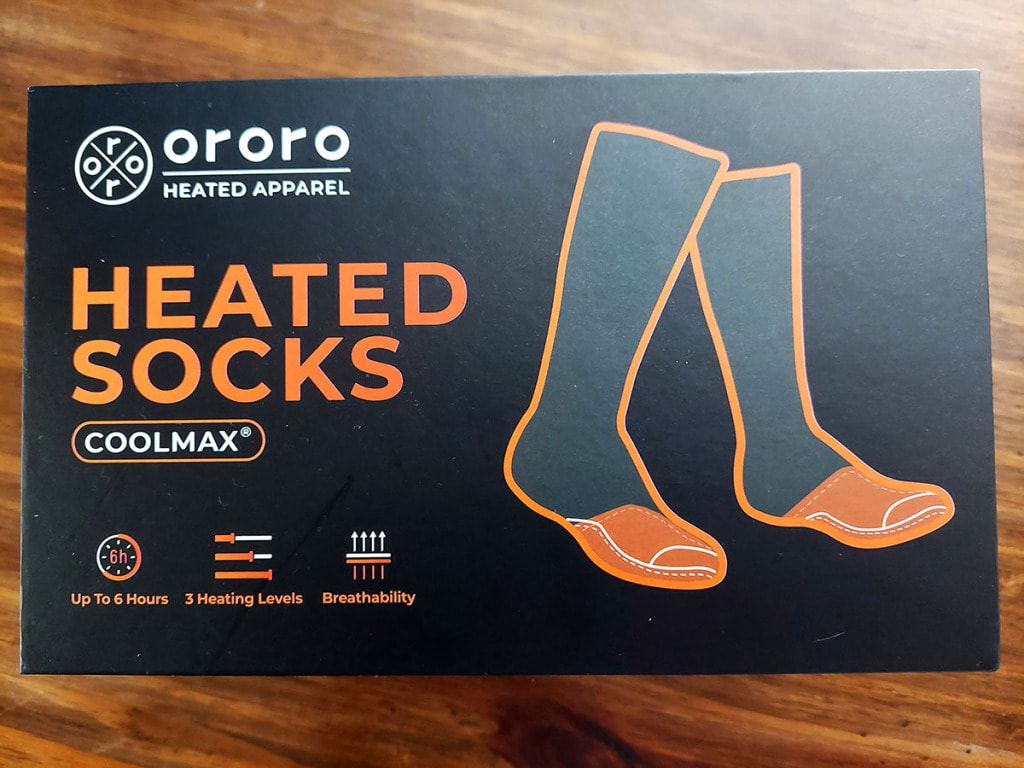 My ORORO heated socks arrived well-packaged and neatly arranged. If you're considering these socks as a gift, you can feel confident that the packaging does a fantastic job of presenting the socks attractively and prominently.
The Material of Sequoia Heated Socks
I must admit that I'm a bit of a socks-snob. After working for the parks department in winter, I learned the worth of quality materials in keeping your feet warm, dry, and comfortable. I usually stick to cotton for moderately cold days and wool blends for super cold days.
Did ORORO change my mind? Yes.
These socks feel fantastic. They're mostly cotton (60%) with 30% COOLMAX®, 8% polyester and 2% spandex. The result is a soft, sturdy, thick-woven sock that stays put.
You may be thinking what I was, "What is COOLMAX?" The tag that comes with the product essentially explains that COOLMAX is designed for moisture-wicking. But with a bit of research I discovered, this fabric is primarily polyester.
Style of the Socks
I ordered the gray, which I thought would match with a wide array of shoe, legging, and pants colors.
Most heated socks look utilitarian, masculine, or overtly technological. Not these socks. The Sequoia heated socks are very stylish. And truly are unisex in their style. And they look fabulous with my brown boots, black boots, and gray boots.
ORORO omits the distracting lines that outline where the heated filaments—nor do they have the heel coloration that can feel detract from the style.
The Battery Pocket
The battery pockets are on the outside of the calf. It's inconspicuous but kind of cute. The cord that connects to the battery is covered in fabric.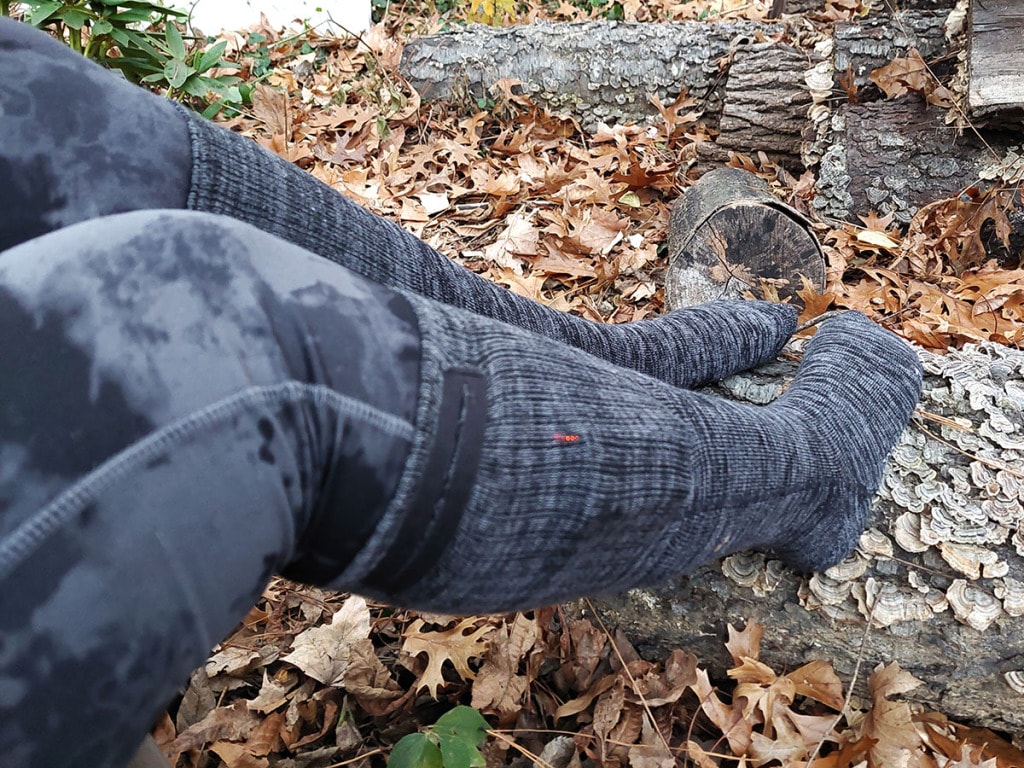 What I love about how ORORO's heated socks look:
The heathered gray adds personality to the socks and they look cute on the exterior of leggings or peeping out at the ankle.
The ribbed top band pay homage to leg-warmers or retro socks.
The battery pack isn't bulky in appearance.
The Fit
I wear a US women's 6.5. This was always a point of pain when trying to find durable workwear when I worked for the park's department's maintenance crew. So, I was impressed to find that ORORO's small socks fit shoe sizes 5.5 – 7.
How did they fit? Perfectly. There was no extra material bunched around my toes. They were snug but not too tight. They extend up and over my calf, landing about 3 inches below the knee.
My calves are not petite, and these socks hold snuck without stretching out. And the battery doesn't press uncomfortably into my legs.
The Heated Socks in Action
Is true Durability Matters' style, I knew I had to run, walk, hike, work, and relax in these socks to get a full understanding of how they'd perform. Here are the results:
Working in the Sequoias
Yes. Yes. Yes. These socks offer even heating that you can easily adjust if needed. They stay put hour after hour of stomping, squatting, and heavy lifting. They also do not turn your feet into a sweaty, pruned mess.
Hiking in These Socks
The perfect hiking pair. I hiked about 5 miles in these socks and loved every minute. No blisters or pressure points. My feet stayed dry and the battery didn't sag.
Running in These Socks
I wouldn't necessarily recommend wearing these on long runs in moderately cold winters. I did try them out, and they were comfortable but seemed excessive for temperatures above 30 °F.
But I bet they would work well for extreme cold runs. They will stay put and the battery pack won't rub or press into your calf as you run.
I would avoid running with them through puddles, of course. Batteries just are meant for that. And while the battery rides high on the calf, you never know.
Relaxing in These Socks
These socks truly are a wonderful treat for winter relaxation. You can wear them indoors, as you toast marshmallows by the fire, or relax in a hammock while camping.
How Do These Heated Socks Feel?
Heat Distribution
Unlike some heated socks, ORORO's do not have hotspots. The heat is evenly distributed over the entirety of your foot.
Additionally, the COOLMAX material does its job. I hate sweaty feet, especially when it's cold out (you know that weird 'my feet are sweaty and on fire, while the rest of my body is freezing' feeling?). These socks are breathable and do a great job of keeping my feet dry.
Bulkiness
These socks are not bulky whatsoever. You could layer them if you wanted to. They fit well over leggings and under loose-fitting pants.
How Do These Socks Hold Up After Washing?
So far, so good. I've sent my ORORO heated socks through the wash four times and they still look great and continue to function properly.
What Activities Would I Recommend These Socks for?
Hiking
Skiing
Sledding
Camping
Working outdoors
Outdoor chores (like snow blowing)
Hunting
Ice fishing
Ice skating
Relaxing outdoors
Snowball battles with the kids
About the Battery and Heating
Hooking up the batter is easy. Be sure to put the batteries in button-side-up for easy access to changing the heating level.
The socks begin heating up within seconds. I appreciate that there aren't any areas that become overly hot. The filament is also coated in rubber to prevent shorting.
The battery will stay heated for 10 hours on the lowest setting. The longest I wore them was 9 hours and they stayed toasty the entire time.
You may be wondering if the batteries are heavy. And the answer is "No". You won't notice the battery.
Special Features
One of the best aspects of these socks is that they have three heating settings. And switching the setting is as easy as pressing and holding the button on the battery pack for 3 seconds. The tiny light will change colors to indicate with setting it is on.
Battery specs:
3350 mAh
3.63V CE-certified battery
5 hours of heating on high
7 hours of hearing on medium
10 hours of heating on low
ORORO Sequoia Socks Review At-a-Glance
| | | |
| --- | --- | --- |
| General Performance | Yes | No |
| Comfortable | X | |
| Even Heating | X | |
| Hot Spots | | X |
| Soft | X | |
| Snug | X | |
| Numbness from Tightness | | X |
| Sagging | | X |
| Stay Dry | X | |
| Stylish | X | |
| Durable | X | |
| Value for Money | X | |
| | |
| --- | --- |
| Pros | Cons |
| 3 heating settings | Need to be washed in a mesh bag |
| Stylish with heathered fabric | Not the best option for mild winter running |
| The perfect snug fit | Not sure of waterproofing of the battery |
| Even heat | |
| Fit comfortably under most pants (not skinny jeans) | |
| Fit well over leggings and skinny jeans | |
| Color matches most shoes and pants | |
| A great gift for men or women | |
| Versatile for many outdoor activities | |
| They stay put | |
| Have held up wash after wash | |
| You don't notice the weight or feel of the battery | |
Wrapped Up and Warm
Warm your toes or give as a heart-warming gift: ORORO's heated socks live up to the brand's reputation. They're comfortable, cozy, durable, and attractive. They would make a great gift for yourself or a loved one, including your wife, husband, mom, dad, sibling, or friend. If you're wondering if these socks are worth their price, I would respond with a resounding "yes!" They should last for years of use!