Note: We received this product for free. No other compensation was provided, and as always, all opinions are our own. We may earn money from links on this page, but we only recommend products we back. Learn more.
High-quality tactical flashlights are, figuratively and literally speaking, real lifesavers. They are versatile enough to be used in everyday situations as well as in emergency or survival situations.
The Pelican 7600 Tactical Flashlight is as versatile as it gets. This high-performance LED torch is loved by enthusiasts, professionals, and law enforcement alike.
So, let's find out what makes it special.
In This Article
First Impressions
As soon as I took the Pelican 7600 out of the box and held it in my hands, it was obvious that this is a well-constructed flashlight. The type III hard-anodized finish not only makes the surface abrasion-resistant, but it also makes it feel premium. In fact, everything you touch has a high-quality feel to it.
Aside from the flashlight itself, your purchase also comes with the Peli Li-Ion rechargeable 3.7 V 2600 mAh (9.6 Wh) battery, an adapter for CR123 batteries, and a USB charging cable. The instructions are short and easy to understand (if you misplace them, you can also find them on Pelican's website).
You'll notice the level of craftsmanship that went into making this flashlight when you start unscrewing the cap to insert the batteries (if not sooner). It has a nice resistance to it, but it's buttery smooth. It's a small pleasure in itself.
Specs
The Pelican 7600 is a compact flashlight, positioned between the 7100 series and the 7620 series. It measures 6.19" (15.7 cm) in length and it weighs only 196 grams (with batteries inserted).
The body is made out of aircraft-grade aluminum using high precision CNC machines which ensure a durable construction, suitable for heavy-duty use. The lens is made out of glass with an anti-reflective coating which improves efficiency by reducing the reflection.
The machining is exceptional and there are no faults on the grooves, threads, body rings or the bezel.
The flashlight features 4 light modes—High, Strobe, Medium, and Low.
The "High" mode outputs 944 lumens, has a beam distance of 738 ft (225 m), and a run time of 3 hours and 15 minutes. The "Medium" mode outputs 479 lumens, has a beam distance of 515 ft (157 m), and a run time of 4 hours and 30 minutes. The "Low" mode outputs 37 lumens, has a beam distance of 144 ft (44 m), and can run up to 29 hours.
Another thing that makes this torch stand out are the two color modes: red and green LED. To activate them, all you need to do is turn the bezel on the top.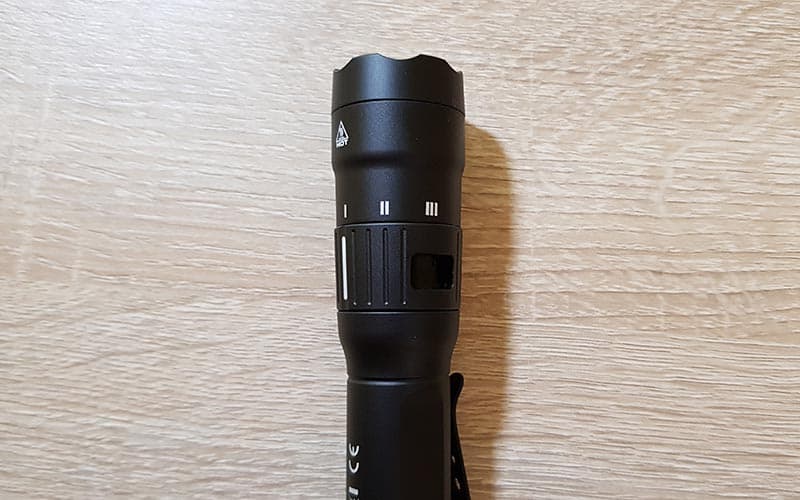 The II setting activates the red light and the III setting activates the green light.
These two modes make the Pelican 7600 usable with night-vision goggles. With the optional slip-on wand accessory, it also means this torch can be used for directing traffic.
The high-performance battery can be charged via the integrated micro-USB port in just 5 hours. When not in use, the micro-USB port is perfectly covered, so dirt can't get in. There's also a battery level indicator on the torch body so you'll always know how much power is left.
If you expect to use the light for extended periods, you can take the CR123 battery adapter with you and a couple of non-rechargeable batteries (depending on how long you plan to stay off the grid).
If you're out in the woods in damp conditions, or if your flashlight happens to fall in a stream, you don't need to worry. It's IPX8 certified which means that it will survive being submerged in water (up to 1 m) for at least 30 minutes.
On top of that, the Pelican 7600 comes with Pelican's "Guarantee of Excellence" which is, in other words, a lifetime limited warranty. If you're familiar with the Pelican company, you'll know that they are all about producing the toughest, most durable, and heavy-duty products (including cases, drinkware, coolers, and more) on the market, which are all backed with their Guarantee of Excellence.
It's worth noting that if you're looking for this product in Europe, it's sold under the Peli brand, so you'd be looking for the Peli 7600 Tactical Flashlight. Since we're based in Europe, I got the European version. However, except for the brand name, everything else is the same.
As far as accessories go, you can get the wand kit mentioned earlier which includes a heavy-duty nylon holster for the flashlight, or, if you don't need the wands, you can choose between the nylon or a plastic holster.
Programming
The Peli 7600 is fully programmable to your liking. It's a somewhat complicated process, so instead of me trying to explain it here, please watch this instructional video (it's made for the Pelican 8060 LED flashlight, but the process is the same, except that the 7600 has an extra program available).
Performance
I'm in the "everyday user" group for this flashlight so I'll mostly use it when fixing stuff at home and when out in the woods hiking or bicycling. In winter it gets pitch dark at 4:30 PM, so I'm not leaving my home without it. The compactness and lightness of this flashlight make it easy to carry in my messenger bag or my backpack.
As an everyday user, I was most interested to see how the Peli 7600 performs outside in the pitch dark. So, on a cloudy night, I went with my family on a short hike to the outskirts of our city, where we could properly test it.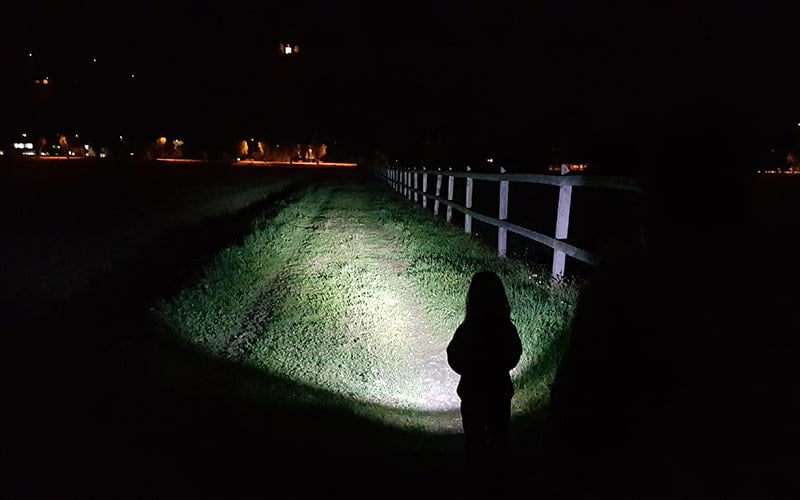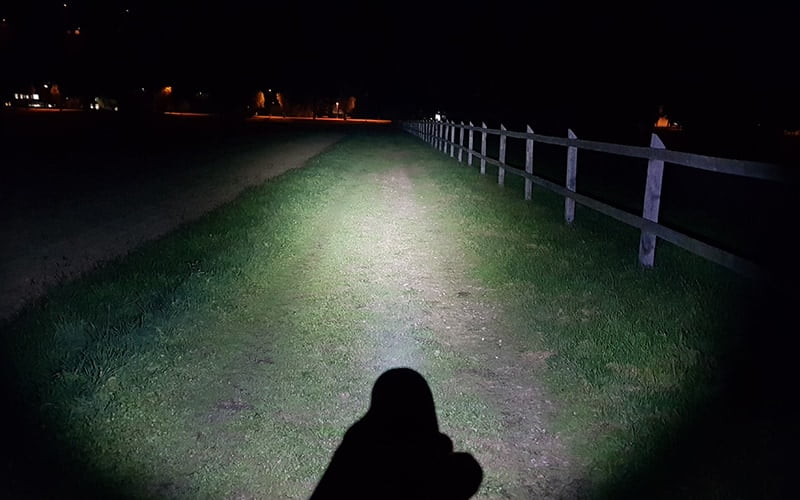 On the "High" beam setting, the power of almost 1000 lumens provides serious illumination. My 4-year-old daughter was visibly impressed and I had a hard time persuading her to give back the torch.
We also checked out an abandoned property nearby.
Mind you, if the flashlight is turned off, there is zero visibility here.
I also made a short demonstration video by the nearby stream and on a stretch of poorly lit pavement near our elementary school.
Despite its compact build, this torch provides more than enough light in pitch darkness. It makes it very easy to navigate, no matter where you are, and it gives you a lot of confidence.
For me, the dimensions of this flashlight combined with its capabilities make it a perfect torch for everyday carry.
Who is it for?
Due to its versatility, the Pelican 7600 is a great choice for just about anyone. The military-grade anodized finish makes it super durable, it's sealed against water intrusion, and it is resistant to dust and debris.
Related:
With its strobe light function, this flashlight also doubles as a self-defense tool, or in an emergency you can use it to attract attention to yourself.
At the time of writing, the Pelican 7600 retails from $100 to $120, depending on where you shop. This might seem a bit steep, but the price is comparable to other similar, high-quality torches, yet very few of them offer a limited lifetime warranty.
Based on how well this product is built, it just might last you a lifetime and can be considered as one of those "buy it for life" purchases. For me, such products are not considered an expense, but an investment.
Conclusion
A good flashlight is an essential tool in every household, emergency kit, or professional setting.
The Pelican 7600 Tactical Flashlight is a seriously impressive torch. With its multi-purpose features, quality build, and high-performance LEDs, I highly recommend it if you're looking to buy a tactical flashlight.