Note: We received this product for free. No other compensation was provided, and as always, all opinions are our own. We may earn money from links on this page, but we only recommend products we back. Learn more.
Winter weather in the continental United States has been, in a word, intense this winter. Between lake-effect blizzards, bomb cyclones, and atmospheric rivers, cold-weather layers have never been more important. Quince's Australian Merino Wool V-Neck Sweater has provided just the right amount of comfort and warmth as a mid-layer for this once-in-a-generation weather anomaly.
The weather deteriorated pretty quickly where I live, in Asheville, North Carolina, and cold weather use has been my experience of this sweater, but I can imagine that it would be perfect for an autumn stroll or a hike through the woods in less chilly weather. For now, I pair this sweater with a warm undershirt and a winter coat, and I feel perfectly snug, and ready to attend a dinner party or settle down for a workday.
Quality
I'll be honest; I'm a very picky customer. I'm the type who can go shopping for a whole day and leave the stores empty-handed, while my friends have their arms laden with bags. I live in a single-paycheck home, and I need quality items that will last – I'm not willing to compromise on clothing. I'll only buy an item if it's obvious that the fabric is durable. Quince's clothes provide that satisfaction.
I was surprised by how thickly knit it was, because too often, a sweater can be warm, but have gaps that allow wind to sneak through to your skin. When it arrived, I could feel that this Quince sweater is of a high quality, and that it would be comfortable, and warm enough to keep the chilly weather at bay (and it has!).
Warmth may be the most important consideration for a sweater, but comfort comes a close second, and I can say that I have happily spent an entire evening on the couch wearing this one. You won't be in a hurry to change into your pajamas when wearing Quince's Australian Merino Wool V-Neck. How often can you say that?
Versatility
Aside from comfortable and warm, this sweater is also surprisingly lightweight. I chose the heather grey color because it works best with my wardrobe, and was the most versatile color to go with my other winter weather gear, such as my gloves, coat, and boots. However, the other colors on offer (black, navy, and camel) would all very work well with just about any autumn or winter gear in the average wardrobe.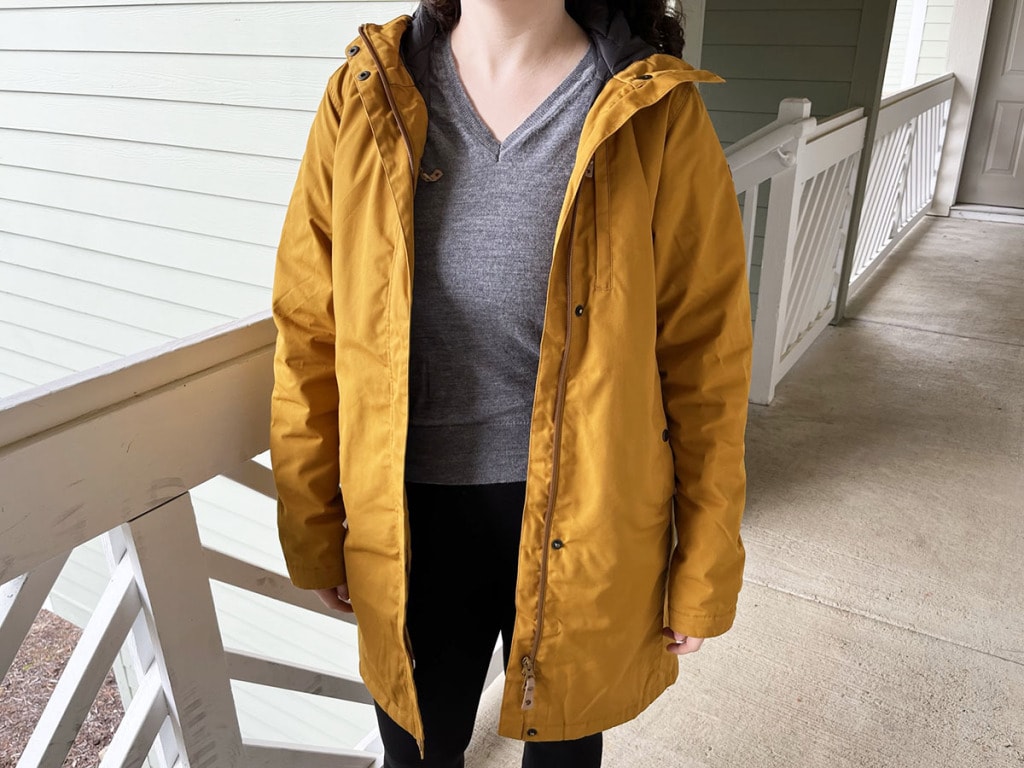 This all-season sweater will also be useful on cool Spring days, and is very comfortable paired with a maxi dress and leggings. If it's a bit warmer outside, it works well with tights, a skirt, and your favorite ankle boots. I've tried this combination on cold nights inside my home, because you take what you can get when the temperature is below freezing outside, and date night comes in many forms.
Search for What You Want
Quince's ideals are just what I look for in a world that needs more sustainability. The sweaters were packaged in individual plastic sheaths, and shipped together in a simple plastic shipping bag. It was easy to remove them from the packaging – no scissors were necessary, and there was no risk of damaging the lovely sweaters.
Quince aim to eliminate all virgin plastic packaging by the end of 2023, in their drive to lower their carbon footprint, and I aim to shop better in future by buying high quality, durable, and eco-friendly clothes from Quince.
Their website is very easy to use. Simply select the product you want from the drop-down menu (sweaters for me), and then you can choose your fabric (cashmere, alpaca, cotton, or merino wool). Their sustainability, paired with a pleasant-to-use site, make Quince a game changer.
Style and Fit
This sweater fits me snugly, and hugs all of my curves correctly. It can be tricky finding clothes for different body types, so this was a pleasure to discover. I'm usually a fan of loose-fitting clothes, so if you're also into that also, then I'd order a size up.
As for the style, this sweater couldn't be more versatile. I love a sweater that could be paired with jeans or slacks, dresses or skirts, or just about any other combination you can imagine. You can't get away from versatility with Quince's products.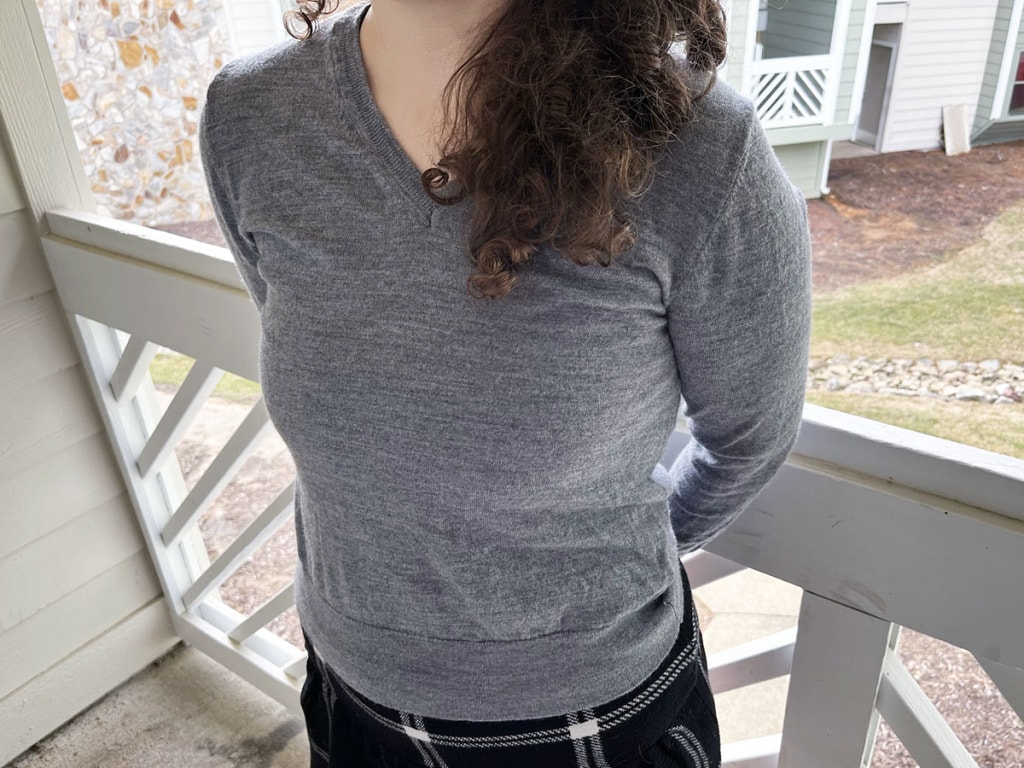 This V-neck sweater also layers well, whether you are piling clothes on top or fitting a shirt underneath, and it was still flattering with a layer beneath it. One of the best things about this sweater is that my dog's hair does not seem to really stick to this fabric. I can't speak to the other colors, because I haven't owned each of them, but the heather grey was a win in my book.
Quince Australian Merino Wool Sweater: Quality to Hang Your Hat On
I lamented, recently, that it's exhausting to shop for clothes, only to have to replace them in a few months because they don't last. This is a sweater I'm proud to show off, and that I know will last. I would be confident gifting a Quince product to a friend, and I wouldn't buy something for a loved one that I wouldn't want myself.
Overall, Quince is a company I will continue to support. Their values, their quality, and their focus on sustainability of packaging and fabric, along with the sheer comfort of their clothes, make their brand a no-brainer for me.