Note: We received this product for free. No other compensation was provided, and as always, all opinions are our own. We may earn money from links on this page, but we only recommend products we back. Learn more.
A heated jacket can be a great buy for those who live in colder climates. As a Tennessee resident who works outdoors, no matter the temperature, I rely on my outerwear to keep me warm, dry, and comfortable. Tennessee's fall, winter, and spring temperatures can fluctuate quite a bit from week to week and day to day. This made trying out the Venustas Heated Jacket, with control over the heated areas, ideal.
If you're like me and you want a jacket that is versatile, durable, flattering, and comfortable, I'll give you the insight you're looking for in this review.
First Impressions
I ordered the unisex Venustas Heated Jacket with area control, with a 7.4-volt battery, in large. I selected the green, which you will notice says "olive green" on its tag – bear in mind that this jacket is not "olive" green. It's more of a teal or blue-green, though I would even say that the color, in-person, is a bit more bright blue than the aqua-green that the product photos show on the Venustas website.
The jacket comes neatly-packaged in a waterproof bag. This is pretty typical of heated jackets and coats, and can come in extremely handy if you're traveling, especially by plane. The branding on the waterproof bag is bold and fun.
I was surprised by how lightweight the jacket is – it's not heavy by any means. It is also quite puffy.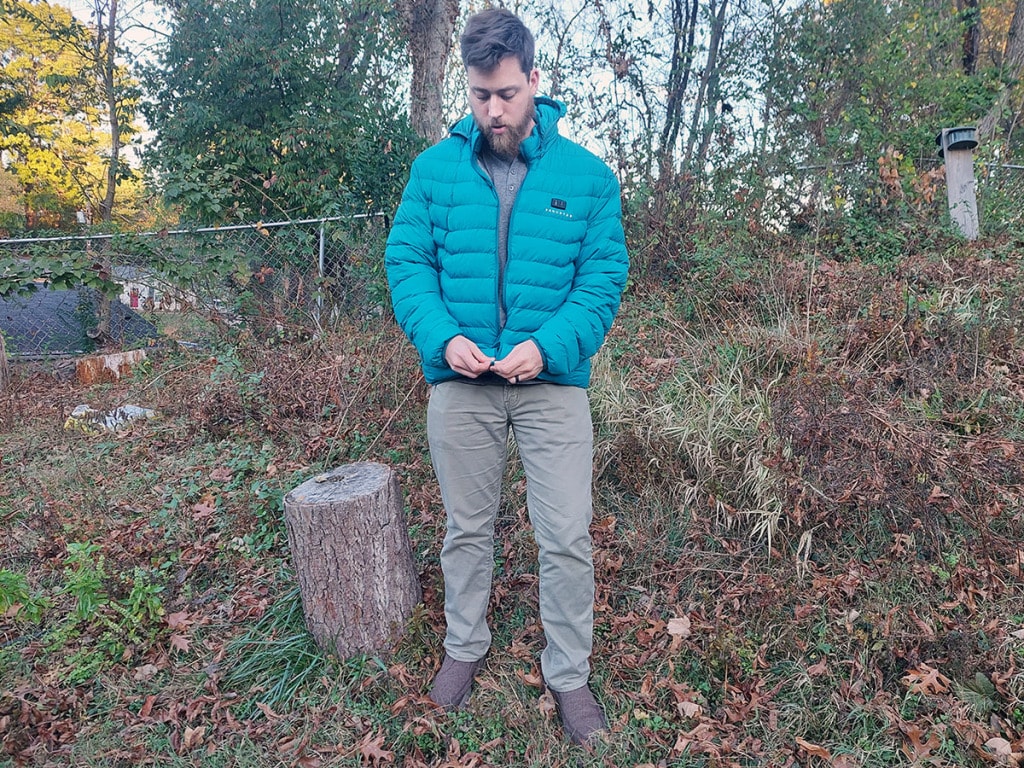 One thing that caught me off guard is that the jacket zips on the left. This is normal for women's coats but was a little surprising to me.
Fit and Style
Honestly, I was not 100% sure what to expect, fit-wise, when it came to a unisex coat. However, I was pleasantly surprised. The coat does not taper in at the waist like a women's coat, and the sleeves and torso are also long enough for my form. Overall, there are no areas that feel too tight, pinched, or awkward.
The jacket looks great on – I really like the color and fit. It's bright but not feminine, which works well for wearing to a variety of work and social functions. I appreciate that the 'green' offers me an option other than just the standard black jacket.
The exterior of the coat is nylon, and the interior feels like a dense windbreaker.
Performance
Did the Venustas heated jacket live up to my expectations? Long story short: Yes! I've tried more heavy-duty heated coats, and this one offers a nice alternative. It works well to block wind without the heat on for cooler days. On cold days, the heated elements warm up quickly and provide even, consistent heating.
Heating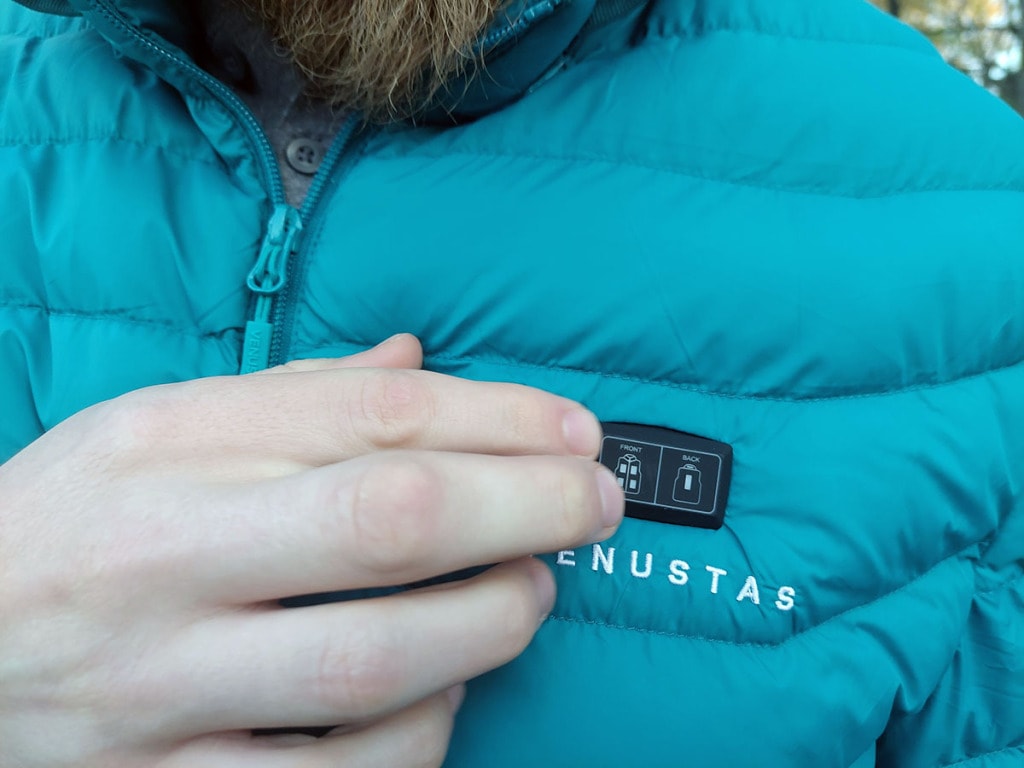 The three heat levels allow you plenty of control over how much heat the panels put out. The heating elements produce heat nearly immediately, heating fully in under a minute. The controls/buttons are easy to use and self-explanatory.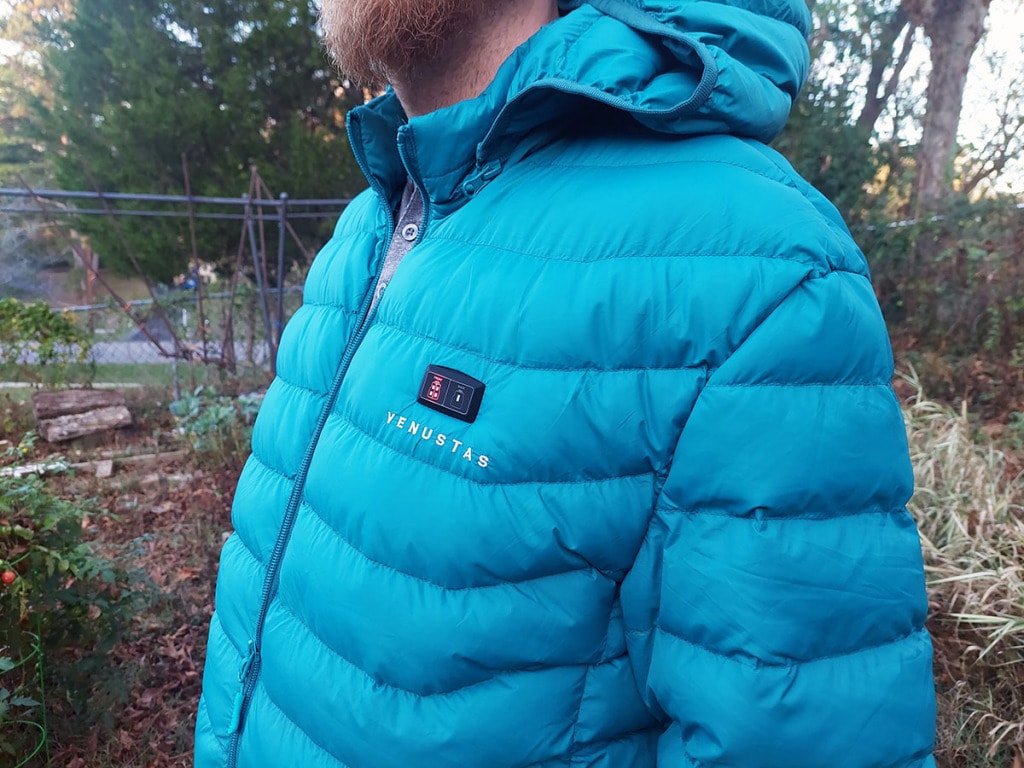 The heating element is a network of graphene threads, and you will not feel any uneven 'hot spots'. Due to the placement of the rear heating elements, you can quickly warm up your lower back, shoulders, and even your neck, when necessary. They offer a nice, relaxing level of heat on a cold day. The front heating element is perfect for keeping your core comfortable, too.
I have yet to experience the battery running out of charge while I am wearing the jacket, but I have never worn the jacket for more than 4 hours at a time.
The Battery & Charging
This jacket comes with a 7.4V 5,000 mAh capacity battery that weighs just under 7 ounces. This provides low heat for up to 9 hours, medium heat for about 5 hours, and high heat for 3 hours.
I was impressed by how small and light the battery is – it stays snug in its pocket and connects easily to the heating elements. However, the battery is the heaviest part of the coat, so you will notice a difference when carrying it.
The battery charges quickly and intuitively. The LED lights make it easy to figure out how much charge remains in the battery, as well as how much longer it has to go while on the charger. The first full charge took just about an hour.
Additionally, the battery comes with its own case and charger, which is nice for staying organized on the go.
My Favorite Performance Features
By far, the best feature of this jacket is the heated neck area. This is not something I've experienced in other heated coats, which focus most of their heat elements on the body's core. The heated neck feels amazing and is perfect for a drafty day. If the cold makes you tense up and shiver, this is like having a heated blanket under a windbreaker – super relaxing.
The area controls are also fantastic. On days that aren't extremely cold, I like to turn on just the back.
The removable hood is also a smart addition. The hood zips off easily for a less 'deep winter' look.
Durability
I've worn the Venustas heated jacket daily for nearly a month. It's gone through the woods, brambles, and anything else my daily routine threw at it. Overall, it held up well. We've been in a dry spell, so I haven't been able to test how it holds up in rain or snow, but I suspect it would perform admirably. The cuffs, collar, and hood provide great protection from the elements.
Related: 6 Best Heated Jackets for Men and Women
What Could Be Improved?
The only drawback I've found to this jacket is simply that it could have some interior pockets. In a coat that is so well designed, I feel like a pair of interior pockets would be a no-brainer.
The Venustas Unisex Heated Jacket: Controlled Heat and Versatility
This jacket, or coat, performs well in a range of temperatures and weather conditions. I appreciate the bright color, as well as the ability to truly tailor the heat level to my needs. Overall, this jacket is comfortable and durable, and provides even, consistent heat. If you're looking for a jacket you can count on and wear from fall to spring, this is it. For the price point, the Venustas heated jacket provides good value for money.
Get 15% off your purchase on VenustasOfficial.com by using "DM15" discount code.