Note: We received this product for free. No other compensation was provided, and as always, all opinions are our own. We may earn money from links on this page, but we only recommend products we back. Learn more.
If you want a wallet that will last a long time, simpler is usually better. The basic leather billfold has been a staple in men's fashion for decades for a reason, but Axwell's approach to simple and long-lasting offers a more modern design, made from modern materials. In this review, we set out to discover whether Axwell's copper and aluminum wallets truly are an upgrade from leather.
Axwell Wallet's Mission
Axwell aren't just known for their premium wallets – they're also admired for their commitment to improving the lives of American and Canadian veterans. Axwell Wallet donates a portion of their profits to two charities that house and provide for veterans. They also offer a military, first responders, and law enforcement discount.
First Impressions
Axwell sent two wallets; one copper and one aluminum. They arrived in small, handsome boxes, each inside a protective plastic cover. The boxes each showed a life-size preview of the product inside. Within each box was the wallet itself, along with an instruction card, an Axwell sticker, and a money clip that can be swapped out for the cash strap that comes attached to the wallet.
The first thing I noticed was how hefty the copper wallet was compared to the aluminum. The aluminum wallet weighs in at just 2.6 oz, while the copper is more than twice as heavy, coming in at 5.35 oz. Both wallets feel extremely solid and durable coming out of the packaging. The aluminum wallet is purely orange, except for the black elastic band. The copper wallet appears to have a frame made of black aluminum, while the face and back plates are anti-microbial copper.
Details of the Axwell Copper and Aluminum Wallets
These wallets are incredibly simple in their design and operation. Two metal plates are held together by an elastic strap to squeeze your cards into place. If you also carry cash, you have the option of using a cash strap that comes attached to the wallet, or a money clip that can be easily swapped out by popping off the back plate.
Axwell offers customizable back and face plates, and swapping is a breeze, thanks to their Mag-Lock technology. The plates are RFID secured, which is a handy security feature that not all leather wallets can offer.
Materials
The copper wallet I received is made out of Copper and 6061-T6 Aerospace-Grade Aluminum, with trademarked material accessories, such as Tear-Stop™ elastic and Mag-Lock™ replaceable cover plates.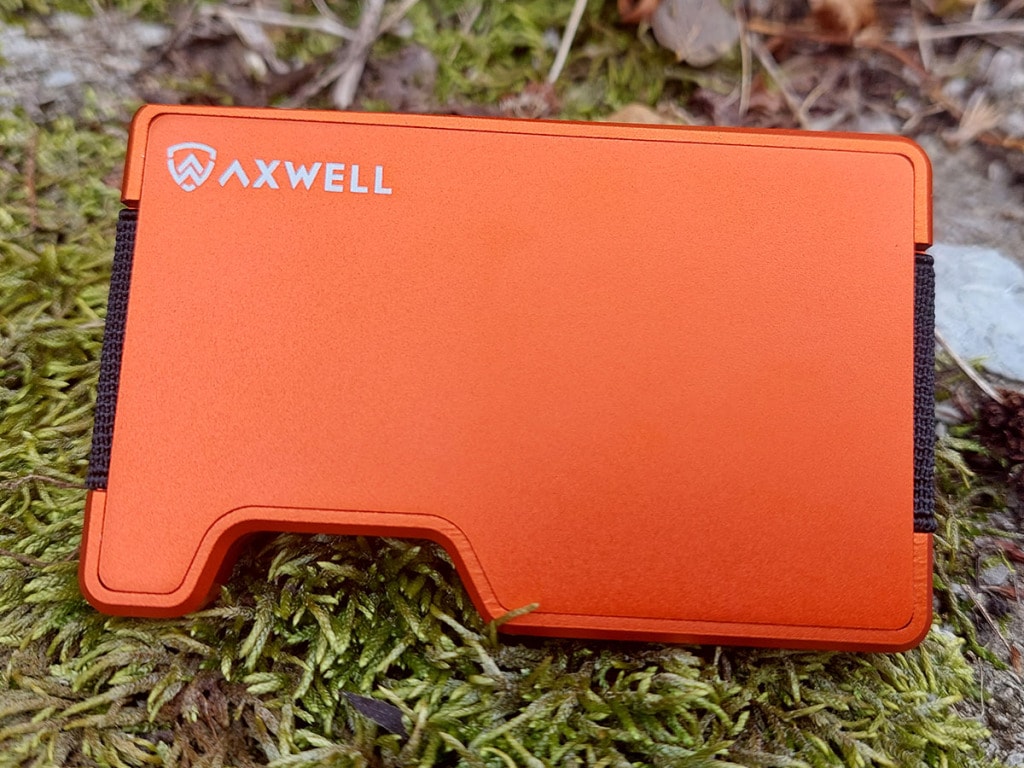 The orange wallet is simply 6061-T6 Aerospace-Grade Aluminum, with the same trademarked materials for the money band and cover plates.
The copper wallet comes with its own unique personality, so don't expect it to look flawless. The markings are natural, and give it a bit more character. This wallet is also quite a bit heavier than the aluminum one.
One neat perk of the copper wallet is that the copper is antimicrobial, which naturally kills viruses and germs. This made me realize how gross my past wallets could have been, considering I would handle them in high-traffic areas, like check-outs and restaurants.
The orange aluminum wallet is extremely lightweight, and the orange coloration is even, solid, and well-saturated.
Style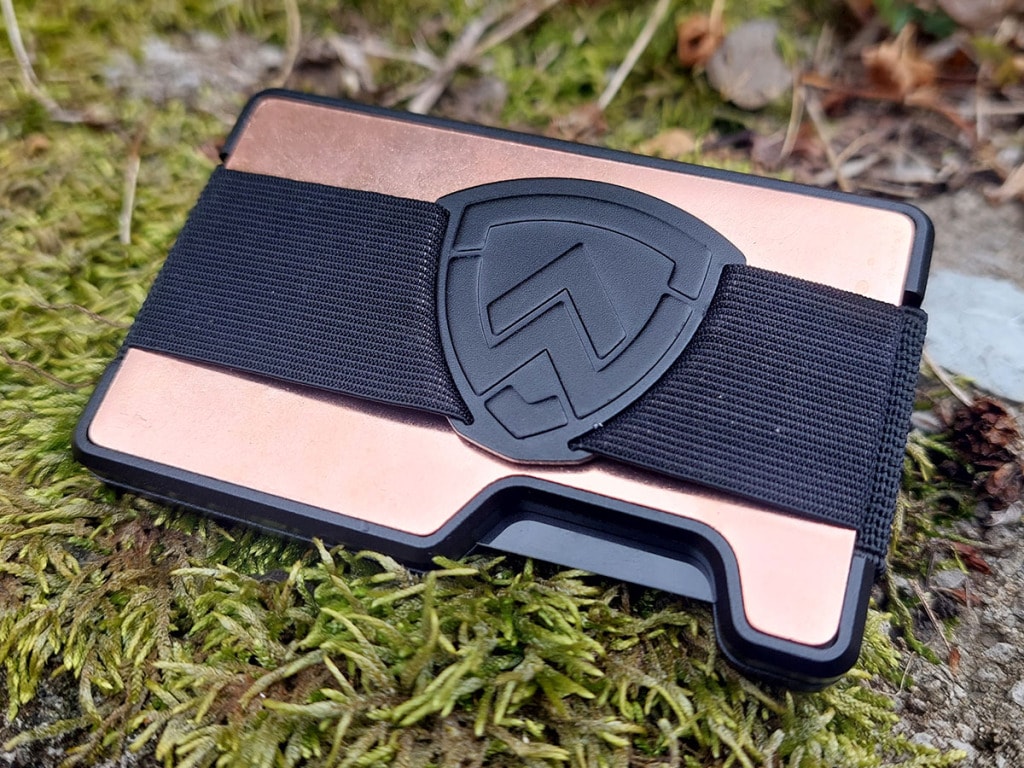 These wallets are very attractive – they're sleek and slim, yet eye-catching. The copper is an authentic color (I was a tad nervous it would have a rose-gold appearance, but it doesn't), and the orange pops, and is quite a fun option.
As far as size goes, these wallets are significantly smaller than other minimalist wallets I've owned.
As far as aesthetics, Axwell's wallets hit a balance of tough, utilitarian, and modern. Axwell do a great job of branding their products without venturing into the gaudy. The Axwell logo and name on the metal are etched in, so they won't wear off over time.
Design Details
One misconception about minimalist everyday carry items is that not much effort goes into their design. This is false, and Axwell proves it with their considerate design features that may be small, but make a huge impact. Here are the highlights of Axwell's smart design and why I appreciate them:
The swappable money clip and money band
While I prefer the money band, I appreciate that Axwell still provides the option of a money clip. This can come in handy for those who prefer a more traditional approach to carrying cash. Plus, it can double as a clip to keep your wallet secure in a bag or pocket.
Mag Lock™ technology
Not only are these magnets extremely strong, but they're nearly fail-proof. They allow you to easily switch out the cover plates, add and change accessories, and they hold the wallet tightly closed. How strong are they? They won't budge should you drop the wallet.
Wide thumb push card access
Nothing could be more frustrating than fumbling with pushing your cards out far enough to easily grip them. Axwell has solved this problem. With 12 cards packed tightly into the wallet, you won't have trouble pushing them up enough and spreading them out to be able to access the one you want.
RFID Security
This technology gives you added peace of mind as you go about your day.
High-quality metals
The copper option is unique and stylish. How often do you see someone with a copper wallet, after all? It's also neat that this material keeps the wallet clean. Furthermore, copper and aluminum are SO durable. They will last a lifetime, and only get more attractive as they age.
The optional coin tray
While I don't carry change often, it's nice to have the coin tray when needed. It's easy to pop a key into, or a few quarters should I need a cart at Aldi. It's also slim, and doesn't add a lot of bulk to the wallet. I try to travel as lightweight as possible, so I appreciate being able to pop my house key in the tray, and not having to carry a keyring.
The tray is made from the same aluminum that goes into the wallets. The black of the coin tray matches well with both the copper and orange, as well.
Performance & Durability
I have to admit, I'm a bit smitten with Axwell's wallets. The construction, design, and durability are all very impressive. The aluminum wallet is so light it disappears in your pocket. It also functions flawlessly, and there were no pain points or frustrations when adding or accessing cards.
The wallet holds your cards tightly, so if you drop your wallet, you don't have to worry about cards exploding out – nor will the face plates pop off.
There's no bulk or discomfort, whether you put the wallet in a front or back pocket. And as far as the weight is concerned, the copper wallet isn't far behind.
Both wallets have held up remarkably well. There are no real signs of wear – no garish scratches or dents. The elastic cash strap continues to hold tight, and is not showing any snags. Both wallets hold my cards and cash extremely securely – the magnets have not failed at all.
Will an Axwell Wallet Last a Lifetime?
I believe so. Everything I've experienced with my Axwell wallets has pointed to superior quality and durability. The only material that may weaken after years of daily use is the elastic track, but Axwell sells replacements, so you can always repair it.
Switching Accessories and Cover Plates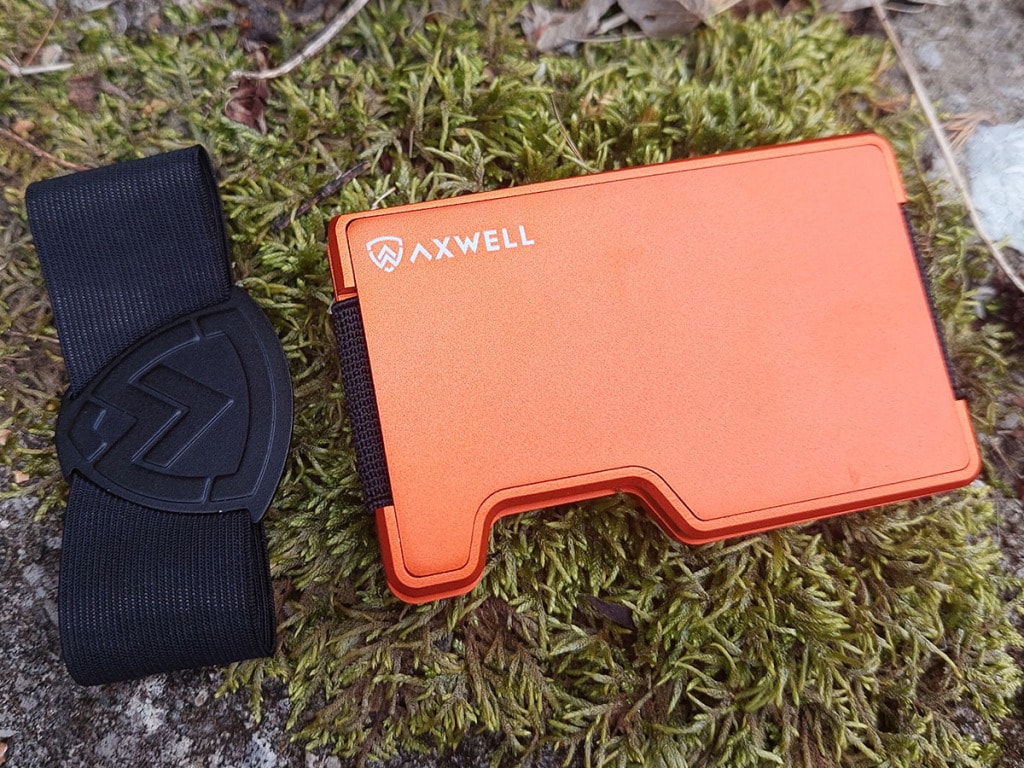 I played around with adding the coin tray, switching out the cash strap for the money clip, and swapping cover plates. Each process was intuitive, easy, and didn't require any tools.
Capacity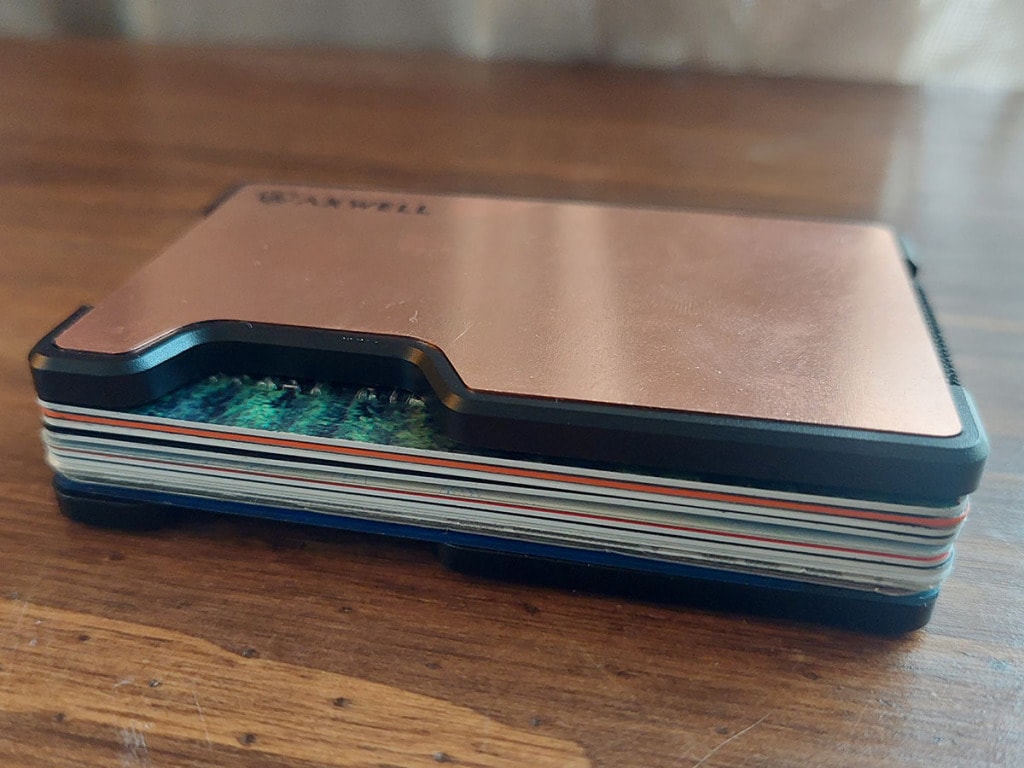 I had no trouble fitting all of my cards into the wallet, and I certainly cannot say the same for some of the minimalist leather wallets I've used in the past.
Axwell Wallets: Well-Built, Unique, & Minimalist in All the Right Ways
I have become a fan of Axwell. Their wallets have performed the best of any I've carried. I won't go back to a typical leather billfold after this. I highly recommend these wallets to anyone who wants a wallet with personality, industrial strength, and convenience. They have backbone, and a hardiness that's difficult to find in the world of minimalist everyday carries. Axwell is a company that doesn't cut corners or skimp on quality materials. These wallets are well worth their price, and would make excellent gifts.
Get 10% off your purchase on axwellwallet.com by using "DM10" discount code.