Note: Durability Matters is reader-supported. When you buy through affiliate links on our website, we'll make a small commission, without impacting your price. Thank you. Learn more.
Travel, exploration, and the outdoors have always been popular ways for people to spend their spare time, and in recent decades, new technologies have allowed us to take our adventurous spirits to the next level.
There are a number of companies providing outdoor gear, clothing, and supplies, and the best of these stand head-and-shoulders above the rest by providing gear that is not only durable, high quality, and built to keep you alive, but also manufactured in a way that is environmentally friendly and socially responsible.
Two companies that come to mind when we think of the best outdoor giants are Patagonia and The North Face. Both known for their innovation, environmentalism, and high quality, durable products, these companies may seem like twins in their industry, but in fact, they are more different than they might seem at first glance.
With significantly different histories, varied product lines, and historically, vastly different values, Patagonia and The North Face are more like cousins than siblings, so when you start looking for the best outdoor gear for your next adventure, how do you know where to look?
In terms of durability and quality, you'll do well with either brand, but where your search will differ is when you start to look at the specific product lines, as well as the values of the companies if that sort of thing matters to you.
This article will delve into the histories of these companies, the differences in their product lines, as well as their missions and values, and we'll also look at a few products from each so that you can get an inkling of the differences and similarities between them.
Comparison
Patagonia and The North Face have a lot in common. Both are well-known suppliers of outdoor gear and clothing, and both are known for the quality, durability, and these days, environmentalism of their products, although that wasn't always the case with TNF.
The main difference between them is in their outdoor gear product lines. Both offer outdoor clothing and packs, but although Patagonia does offer a smattering of gear, you won't find anything close to the range that TNF supplies. The North Face's range of tents, sleeping bags, parkas, general camping, and cold-weather gear is almost unparalleled.
Another difference is in their clothing lines. Patagonia provides clothing lines for numerous sports and activities, but very little in the way of cheaper, casual clothing. The North Face has a significantly larger product line, which has, in recent years, broadened out to include a number of mid-range, casual, daywear options.
The most notable differences between these two brands are their histories and core values. Throughout the history of Patagonia, environmentalism and philanthropy have been a major focus, and although TNF has recently begun to take action towards limiting its effects on the environment, its main focus, historically, has been on innovation, and in that regard, they are difficult to beat.
The History Behind the Titans of the Outdoors
Interestingly, both of these companies were born on the coast of California within five years of each other, the love children of passionate mountaineers, but that is where the similarities end.
Patagonia
The story of Patagonia began in 1953 when a fourteen-year-old boy named Yvon Chouinard discovered a love for rock climbing. Over the next five years, that love would deepen, and at the age of nineteen, the young man would take on the interesting and arduous task of teaching himself blacksmithing. With that unusual skill, he began to manufacture climbing pitons for himself and his friends, which they used to climb in Yosemite. To support his passion for the next few years, Chouinard sold the climbing picks from the trunk of his car for $1.50 each.
In 1965, Chouinard teamed up with Tom Frost to establish Chouinard Equipment, which they ran for about nine years. In that time Chouinard Equipment became the largest supplier of rock-climbing gear in the USA, and it was during this phase that the environmental focus of the not-yet-conceived Patagonia began. Chouinard discovered that his iron pitons were causing damage to the structure of the rocks he so loved to climb, so he redesigned his product into an aluminum chock.
In their search for the best climbing and sports clothing and equipment, the founders of Chouinard Equipment began to branch out, selling a larger range of gear, and some apparel. Thus, Patagonia was born, officially founded in Ventura, California, in 1973. Chouinard Equipment continued for some time under a protégé of Chouinard, until 1989, when it was sold off to become Black Diamond Equipment.
Patagonia thrived, streaking ahead in its industry, and setting the bar high for innovation and style.
The product line expanded to include clothing for other sports, such as surfing, mountain biking, trail running, fly fishing, and various winter activities. Their most notable innovation was long propylene underwear, which began the move away from cotton for performance-focused clothing.
In its early years, Patagonia's success was due to its reputation for caring, as well as its high-quality products, and nothing has changed. Today, Patagonia stands strong, outspoken about the causes that matter to them, and focused, as always, on fairness, philanthropy, and environmentalism.
The North Face
In 1966, a young couple named Douglas and Susie Tompkins, who loved hiking, opened a little retail store in San Francisco that focused on gear for camping and rock climbing. Two years later they sold the business to Kenneth Klopp, who moved it to the Berkeley area and started producing in-house. During the next 30 years, the company would go through three different owners and numerous ups and downs.
In the early years, TNF's focus was on serving those with an adventurous spirit and creating a closer relationship between the intrepid explorer and the greater world, quickly cementing the company as a favorite supplier amongst outdoor enthusiasts.
The company did well in the 1980s, expanding its catalog, and becoming the only supplier in the USA with a full range of sleeping bags, packs, tents, and ski gear.
TNF also became known for its innovative designs and trendsetting ideas, coming up with technologies and projects that nobody had yet dared to dream of.
In 1993, things went awry for The North Face, when the company had to file for bankruptcy during one of the transitions. TNF survived and made a comeback, but despite doing very well with their brightly colored Nuptse Jackets in New York in the cold winters of that decade, the late 90s saw TNF accused of fraudulent accounting.
In 2000 the failing company was bought out by VF Corporation, which owns it to this day, and over the last 20 years, The North Face has cemented itself as one of the leading outdoor brands. Despite having had very little concern for the environment in the past, the outdoor giant has begun to recognize its impact on the planet and has committed to some major changes in the years to come.
Philanthropy and the Environment
Patagonia
Big business carries a lot of responsibility when it comes to the lives of workers and the health of the planet, and being one of the largest companies in the outdoor industry, Patagonia is no different. What is different is that, as an organization, Patagonia acknowledges this, cares about it, and does everything in its power to remedy it.
The company's focus is squarely on environmental and social issues, and they are well known for not only being outspoken on these concerns, but also for acting bravely, selflessly, and authentically on what they say. An example of this was their announcement that the tax cuts affected by the Trump administration were "irresponsible", followed by their donation of all their resulting savings (around $10 million) to worthy causes.
Patagonia's well-known spirit of conservation began with founder Yvon Chouinard changing his first design to protect the rocks he loved to climb, and continued from there with a number of notable actions. In the 1970s Patagonia fought against a development that was set to destroy a stretch of natural coastline, and in 1988 they protested vehemently against the development of Yosemite Valley.
Since their campaign of 1988, Patagonia has been involved in at least one major cause every year, and some examples of these include suing former President Trump for minimizing protected lands and fighting against the construction of oil pipelines. Aside from acting against these issues, the company donates 1% of all sales to environmental causes.
The company is not only lauded for fighting against outside issues, they are also known and respected for fighting against its own ecological footprint. A large portion of their products are made from recycled materials, 56% of their fabrics are bluesign®-certified, and all their cotton is certified by the Global Organic Textile Standard.
To further limit their negative effects on the environment, the company has a program called Worn Wear, which discourages customers from buying new clothes all the time, by offering a repair and reuse service. Items of clothing can be repaired and returned to the owner, or traded in for credit on the Patagonia store. Traded-in items are repaired and resold as second-hand goods, or recycled to prevent them from ending up in landfills.
Patagonia has an educational platform called Patagonia Action Works, which educates people about conservation, expands the company's reach as activists, and supports other organizations that are working towards the same goals.
Not all of Patagonia's focus is on the environment. The company cares greatly about the lives and livelihood of the people involved in the manufacture of their products, and the company is Fair Trade Certified™.
The North Face
The North face has, historically, been a far cry from Patagonia in its concern for the environment. The focus of the company has largely been on innovation and, as its mission statement says, "Inspiring a global movement of exploration". TNF has never been accused of being callous with the planet, but conservation has simply never been one of their forward focuses.
In recent years, the company has made an enormous shift towards, if not activism, then at least lowering their own ecological footprint. A number of ambitious commitments have been made by the company, including sourcing all materials for gear responsibly by 2025, and for footwear by 2030.
Other projects include reducing waste in their factories, eliminating single-use plastics by 2025, and following Patagonia's lead, recycling or refurbishing gear through their "Renewed" program. In a massive move towards ecological improvement, the company switched its entire ThermoBall Collection to 100% recycled materials in 2019, renaming the collection ThermoBall Eco.
TNFs grant program, called the Explore Fund, was launched in 2010, and helps to support non-profit organizations with a passion for getting people outdoors and defending the planet.
Highlighted Products
Patagonia and The North Face are both well-known brands for a reason: their products are top-notch, durable, and almost unparalleled in the industry. These companies' catalogs are so comprehensive that it would be impossible to list everything they offer, so we've chosen to focus on a few highlights from each brand's catalog to give you an idea of what they do. Keep in mind, that this is just a tiny sampling of the excellent merchandise both brands produce.
Patagonia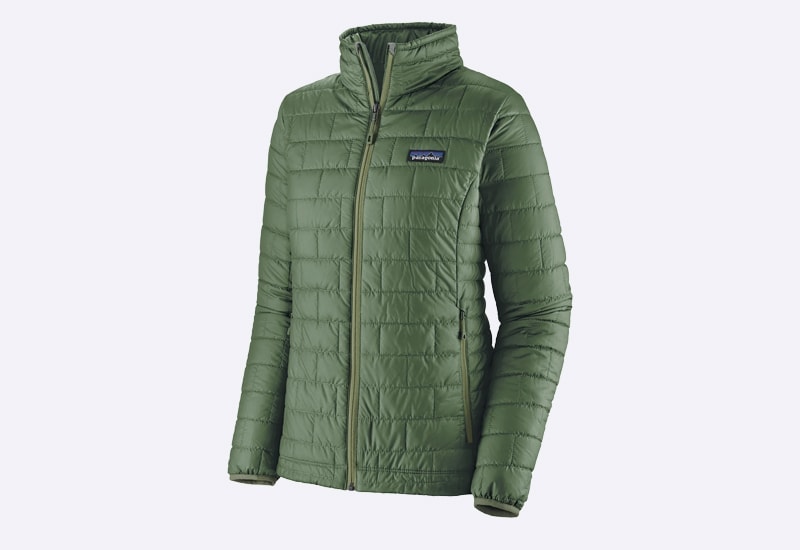 If you're looking for a jacket that is warm, water-resistant, windproof, lightweight, durable, and environmentally responsible, this is likely the jacket for you. The Nano Puff Jacket comes in eight beautiful colors, and sizes anywhere from XXS to XXL. The coat is made from 100% postconsumer recycled polyester with a ripstop shell and is Fair Trade Certified sewn with bluesign® approved fabric. This jacket will keep you warm even when wet, due to the synthetic insulation, and folds into its own pocket for easy packing.
Available in a range of 10 colors, and in sizes from XS to 3XL, the Men's Down Sweater Jacket is lightweight, windproof, and filled with 800-fill-power Advanced Global Traceable Down, ensuring no animal cruelty. With moisture-wicking storm flaps and elastic cuffs, this jacket will keep you warm in most weather. The durable, 100% recycled polyester ripstop shell is made with a Durable Water Repellant (DWR) finish, and all zippers are Vislon®. Like the Nano Puff, this jacket folds into its own interior chest pocket for storage.
The Black Hole Duffel comes in 40, 55, 70, and 100 liter options, but the 55L is the recommended go-to size. Patagonia describes the bag as a workhorse, designed with enough space for a weekend trip, or a well-organized extended stay. The bag is made from 100% recycled materials, and is weather and abrasion resistant. As seems to be a theme with Patagonia, the duffel will fold away into its own pocket when empty. Padded, removable, ergonomic shoulder straps make for easy carry in the backpack style, and reinforced haul handles will survive the rigors of travel.
The North Face
Rated 2/3 for warmth, 2/3 water repellant, 3/3 windproof, and 2/3 for weight on TNFs website, this hoodie is definitely a top product from this brand. Featuring high-pile stretch fleece, this jacket has a standard fit and an attached hood, ensuring your warmth and comfort. Extremely lightweight, the coat weighs just 1lb 13.63 oz and is labeled with the Exploration Without Compromise badge, meaning it is manufactured from more than 75% recycled, regenerative, or responsibly sourced, renewable materials by weight.
With a water-repellent finish and moisture-wicking FlashDry™ technology, these joggers are made for enhanced mobility and comfort. The pants have a standard fit with an elastic drawcord waistband and cuffs, and seams at the back of the knees will further enhance mobility. The non-PFC DWR (Durable Water Repellant) finish is environmentally friendly, soothing your conscience. Choose from four colors, and sizes from XS to XXL.
The North Face Advan 20 water-resistant black daypack has minimalist, city-style, and trail-ready features. The fabric has a water-repellent finish, and the bag has an internal sleeve for a 15-inch laptop or a water bladder. There are two external, concealed water bottle pockets on the sides and a corded front pocket for extra storage. The padded shoulder straps and back panel made with NextVent™ technology offer comfort and breathability, and the sternum strap has a whistle buckle.