Note: We received this product for free. No other compensation was provided, and as always, all opinions are our own. We may earn money from links on this page, but we only recommend products we back. Learn more.
When looking for your next set of sneakers, look no further than Loom. Loom is a company committed to eco-friendly business practices, like using cruelty-free materials in their shoes and obtaining them from sustainable sources.
The headline act? Their waterproof sneakers made for men and women.
When the opportunity came to try out a pair of these shoes for myself, I jumped at the chance. Loom promotes these shoes as the ultimate generalist: able to handle jogging, hiking, or standing around at a desk. I was excited to test out the shoes in different conditions to see how they would hold up.
Wondering if these shoes are right for you? Let me share my impressions and see for yourself how well these sustainable and versatile sneakers will fit into your shoe collection.
First Impressions
The shoes arrived at my doorstep in a plain cardboard box. There was nothing inside other than the shoes and packing paper, leaning into Loom's reputation as a sustainable company, as all the packaging is recyclable.
At first glance, I noticed that the sole is very firm, with enough cushioning on the inside to keep your feet comfortable.
There is little flex to the sole, taking a lot of force to bend it in either direction. My thought was that was the sole is very hard compared to the rest of the shoe, especially the super-soft upper.
The upper is a knit mesh, designed for breathability. Its design is quite simplistic which makes it easy to clean, since there are no crevices for dirt to get caught in. It also has plenty of flexibility, but not in the way I was expecting.
As I first put on the shoes, I assumed they would stretch and slide on easily. In reality, they flex very little around the ankle: at one point I dropped the shoe when I heard a tearing noise, as a testament to how hard I was trying to get the shoe on over my foot. The shoes do not have a tongue, per se, so you need to shove your foot through the ankle hole.
Once the shoe is on, the flexibility of the upper comes into its own. The mesh fits snuggly around your foot, and the rigid parts that had worried me when I was putting it on provide excellent support. This is partly thanks to the interior lining, which has built-in foam to cushion your feet from all sides.
The lining is also made with merino wool, famous for its temperature-regulating properties and its quick-drying. Merino is super soft too, which only adds to how comfortable the interior is.
Related: The 16 Best Merino Wool Brands Your Money Can Buy
As I got the shoes on and took a trial walk around my house, I found them to be a bit uncomfortable. There are two reasons for this: first, the shoes are too small for me. Loom suggests rounding up if you take a half-size (I am usually an 11.5 US) with the warning they use EU sizes and their US chart is an approximation.
I received a size 12, and I really needed a size 13. The shoes are very snug around the toes with no extra space. I would recommend buying one or even two sizes about your usual, or trying to get a hold of your EU size and then rounding that up a bit. Even then this is a gamble, because without a tongue the shoes are difficult to tighten up if they are too large.
The second reason for the discomfort is that the interior of the shoes is slightly uneven. I am not sure if it is an attempt at arch support, but the shoes dig into my foot arch.
When I took the shoes off to inspect this, I noticed that the insole did not fit in the shoe properly. The insole was popping out, too long and too wide for the shoes. With some maneuvering, I managed to fit the insole inside by letting it ride up the arch, and yet even then the insole never laid flat around the heel. Clearly the shoes needed breaking in.
Two Weeks Later
After a couple of weeks with the shoes on—taking daily walks in the city, going on a hike, and strolling along a rocky beach—their feel has improved. The rigidity around the ankle has lessened as it got stretched out and the front of my foot and my toes have a bit more space. The insole has also flattened somewhat.
As I walk around, the shoes support my feet well and the cushioning compensates for the foot pain I sometimes get with generalist shoes.
Oddly enough, the firmness of the sole seems to melt away while wearing the shoes. The good news is this means the inflexibility of the sole is not a problem, and it bends much more easily when on my feet. The bad news is I can feel every pebble and crack from the sidewalk I walked over, almost as if I was barefoot.
I found the shoes felt best when standing still, which was remarkably comfortable. I think these sneakers would suit someone looking for indoor shoes to wear at work—professionals such as nurses or office workers (and the soles are non-smudge too, so even better for indoors).
I was also pleased to note that there was practically no wear and tear. The only exception was normal wear on the sole tread.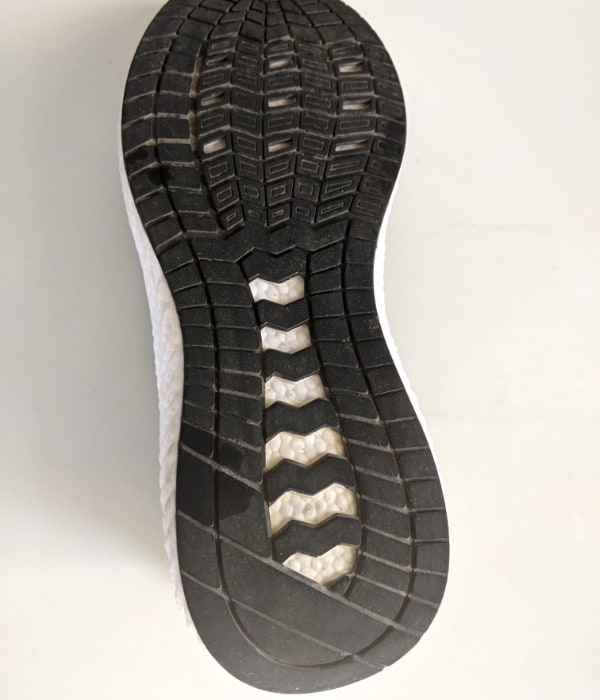 Otherwise, none of the laces or the mesh upper or the lined interior have any fraying or rips. While I never tried to damage the shoes, I did not go easy on them either. The fact that they survived in such good condition is a testament to how well they are made. Loom's commitment to using high-quality materials is much appreciated, as is their durable design.
Specs
On the outside of the shoes is a tight-knit layer of merino wool, which is naturally water resistant. The whole exterior is designed to be breathable, allowing moisture to evaporate off your feet while blocking water from soaking into the shoes.
The interior lining and the cushioned sole are both made with merino wool. In addition, the cushioned sole takes some of the pressure off your feet, which pairs well with the Excelcast outsole. This outsole is shock-absorbent to provide a comfortable feel while also acting as a springboard when running to give a spring to your step. For use indoors, the shoes have non-marking soles which are also slip resistant.
One big advantage of using merino wool on every part of these shoes is they are odor-resistant. Merino is antibacterial, which prevents the build up of unpleasant odors over time. This is also helped by the shoes' breathability.
Waterproofing
As you may have gathered by the name, a big selling point of these sneakers is that they are waterproof. I performed a few tests to see just how well they shrug off water.
I took the shoes down to a local beach and submerged my feet.
As you can see from the pictures, the foot I had the sneaker on barely got wet at all.
The only splashes of water are from waves that were taller than the shoes.
Overall, I spent about a minute standing in water and none of it soaked through.
After these tests, I inspected the shoes and found the interior was bone dry. The water on the exterior beaded as soon as it touched the shoes, and left such a thin layer that the exterior was completely dry after I left them in the sun for about 20 minutes.
Conclusion
These shoes may not be perfect for everyone, but those who want a pair of durable, well-cushioned sneakers will not be disappointed. And thanks to the waterproofing, you have a pair of shoes that transition seamlessly from indoor to outdoor use.
Some of my issues with comfort come down to personal preference, and what makes-or-breaks a shoe will be different for you.
So, if you are getting tired of replacing your sneakers every year and are ready to invest in a pair of expertly-crafted shoes, or even if you just want to buy from a company you know is doing its part to look after the environment, try on a pair of Loom's waterproof sneakers!
Get 10% off your purchase on loomfootwear.com by using "DM10" discount code.