Note: We received this product for free. No other compensation was provided, and as always, all opinions are our own. We may earn money from links on this page, but we only recommend products we back. Learn more.
Calgary goes through a multitude of weather conditions and temperatures, and those conditions can change quickly from day to day, and even over the course of an hour. So, I am always on the lookout for a high-quality jacket that can keep me warm in the cold while still looking stylish.
When I got the chance to try the Leather Bomber from Angel Jackets, I was excited and intrigued. I have not owned a leather jacket before. It is not a jacket type I have ever thought about, but the old-school cool of this leather jacket drew me in.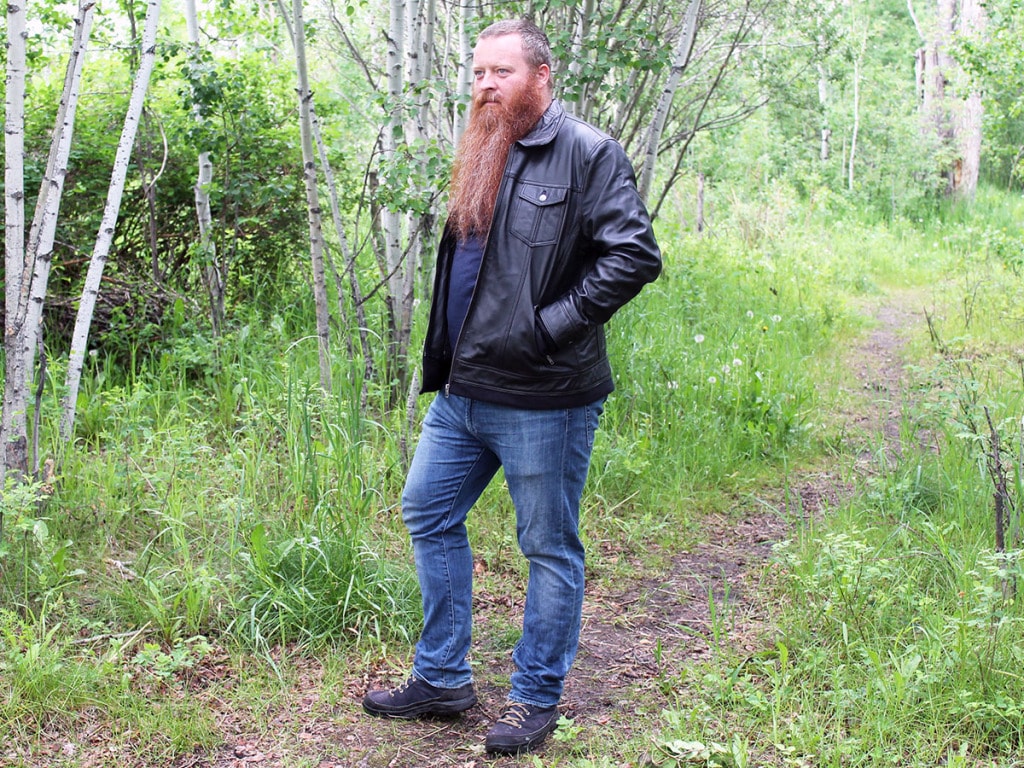 And, not only that, but it looked versatile too. It has a quilted lining, adding extra warmth and layers, and a removable hood. The only question I had was whether it would be light and cool (in both ways) enough to wear in the warmer months too.
First Impressions
The jacket was delivered quickly. When I opened the package, the jacket was contained in a clear plastic. From doing a little research into the company before being shipped the jacket, I knew they were focused on durability as well as fashion. The inclusion of a dust-poof bag added to that, and I knew I had a jacket that was going to last for a long time.
The first thing I did, as is the case with any clothing I am shipped, was to try it on. When choosing a size through the website, I entered my measurements, and it suggested a 3XL for me. I'm normally an XL, and I was one the cusp of the 3XL sizing, so I made the decision to go for the 2XL, expecting that it would fit and perhaps be a little tight, but that would also be a good motivator to shed a couple of pounds. I was happy to find that the jacket fit really well. The moral of the story is to follow the sizing guide mostly, but if you are in doubt, go for a size above what you normally choose.
Once I had it on, I went and checked myself out in the mirror. As I already mentioned, I have not bought a leather jacket before, so I was eager to see how I looked. I liked it. This was my first foray into the world of leader jackets, and I liked the look—it is completely different to any jacket I have worn previously.
For a leather jacket, it was not too warm or heavy. And, I could see that it would pair well with a variety of clothing options, both formal and casual.
Material
Leather
This is a leather jacket, so it makes sense that this jacket is predominately made from leather. The leather used is 100% lambskin leather. While I knew that leather can be made from a variety of animals, I had never thought about lambskin leather before or what sets it apart from other leathers. With a little investigation, I was able to find out that lambskin leather is a luxurious leather compared to most others.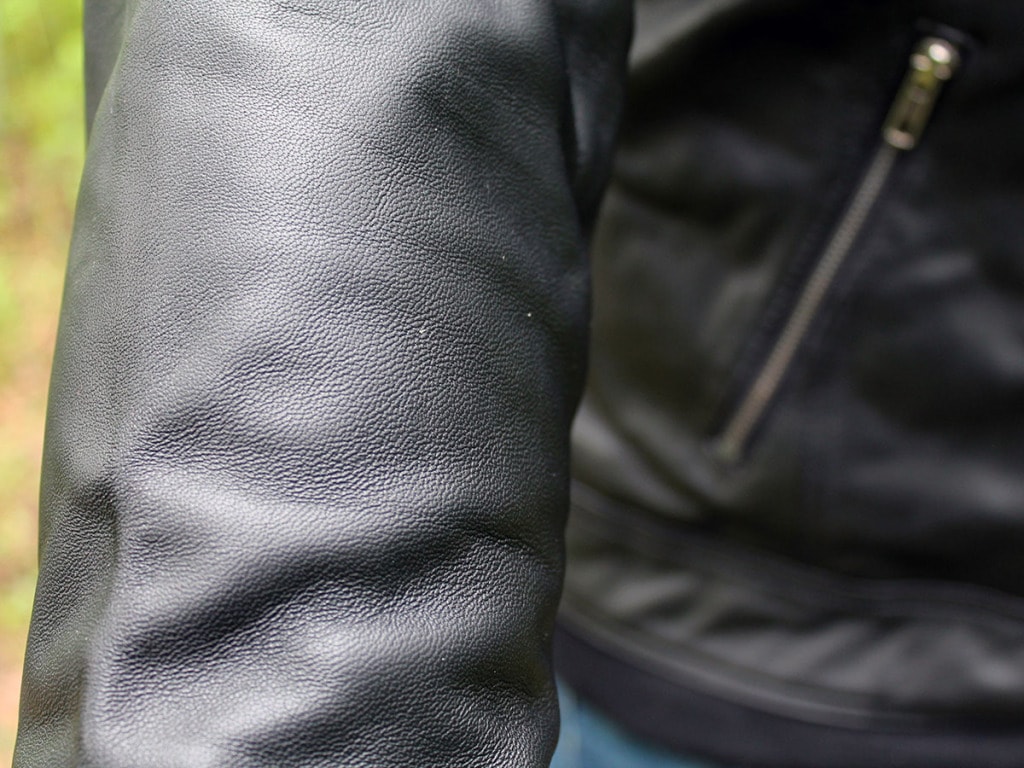 I could feel this when I was wearing the jacket. The leather is soft and pliable, both when moving around in the jacket (the flexibility) and to the touch. It is buttery smooth and velvety and does not feel like the leather I am used to. Definitely a thumbs up so far.
The jacket is jet black, and that gives the jacket a uniform look, but a closer inspection shows the grain of the lambskin leather. The jacket has a slight texture, just enough to give the jacket some character. And, from what I know about leather, the jacket is going to acquire more character over time as the leather ages.
Lining
We can split the lining into two components: the padded lining attached to the leather, and the detachable hood and faux hoody layer.
As part of the jacket, you have an interior lining that is crafted from polyester and foam to provide more warmth in the colder months and comfort against the leather when you are wearing it. This layer is also going to protect the leather.
We also have the hoody layer. This is woven cotton, and we can further split this into three components. There is a cotton hem sewn into the leather around the bottom of the jacket, cotton cuffs that you can hook your thumbs through, and a detachable hood.
When wearing the jacket, you can zip the front, but below the main zip, there is second zip on the cotton hooded layer. With the leather jacket unzipped, you can zip the faux bottom layer so it looks like you are wearing a hoody underneath the leather jacket. Or, as a style choice, you can unzip the hood, unzipping the two pieces of cotton running down the front of the jacket, detaching everything in one piece.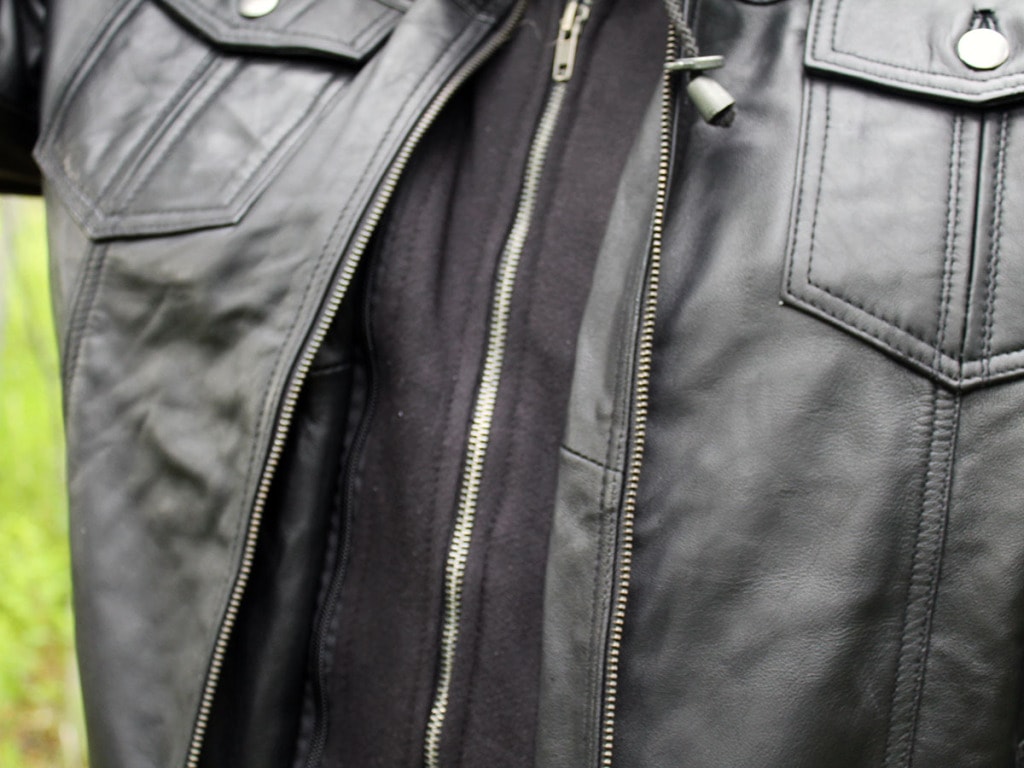 Features
This is more than just a leather jacket. The following are the main things you need to know about this jacket:
The leather is 100% lambskin leather, which is soft and luxurious.
There is a detachable hood.
You can hook your thumbs through the cuffs to keep the jacket in place or as a fashion choice.
The cuffs can also be rolled up.
There are three inside pockets: one small and two large.
2 zippered pockets on the lower part of the jacket.
2 buttoned pockets on the chest.
Option for a hoody below jacket look or jacket only.
Durable toggles for the hood with high-quality metal ends.
Smooth, durable zip.
Padded internal layer.
Shipping, Customer Service, and Warranty
Shipping is free for orders over $45 (to the UK, USA, Canada, and Australia), which means you always get free shipping with this leather jacket. The ordering and shipping were seamless, and I was happy with the turnaround time. Your order is also insured when it is shipped, so if it is damaged during shipping, the item will be replaced.
I didn't have to deal with any customer service reps, but Angel Jackets does provide customer service seven days a week. From a little digging into reviews, I am confident that the customer service represents a company of this quality well.
All clothing items can be retired within a 30-day window, as long as they are unworn, unwashed, and undamaged (by you). Returns are free in the United States, and you can contact the company for a shipping label.
Conclusion
I am happy with this jacket. I am not someone who has worn a leather jacket before, so I was a little hesitant to try it, but I'm glad that I did.
I had never worn nor felt lambskin leather before, but it is definitely my new favorite leather, and this is quite possibly the softest letter I have ever touched. I am glad that I have a black leather jacket as my first foray into the leather world, and it looks like a leather jacket without being too in your face. And the balance between modern and old-school style is excellent.
This is a jacket I am going to wear, and if anyone is looking for a leather jacket, Angel Jackets is the company I would recommend. They were a pleasure to deal with, the shipping was quick, and I now have a leather jacket that I believe is going to last me a lifetime.