Note: We received this product for free. No other compensation was provided, and as always, all opinions are our own. We may earn money from links on this page, but we only recommend products we back. Learn more.
I am becoming somewhat of a flashlight connoisseur. I have reviewed numerous flashlights and use most of them regularly. As a result, I know what I want and what to look for in a high-quality flashlight.
I have some experience with Acebeam flashlights, and have always been satisfied. The last one I tried was the Acebeam Rider RX EDC – a flashlight and fidget toy combined. The Acebeam Pokelit 2AA is explicitly an EDC flashlight.
So, is this flashlight worth your money?
Let's find out.
What's In the Box?
This is a simple EDC flashlight, and that is the bulk of what you will find in the box. The slim Acebeam flashlight is thin but solid, and has an attached metal clip that can be removed easily.
Along with the forest green flashlight, there is a short charging cable, two spare O-rings, and the instruction manual.
What more do I want?
The answer is nothing. I knew going into this that I was getting a simple EDC flashlight, which is precisely what this is.
After some initial handling, it feels right to grip this with my thumb on the button on the base, instead of flipped around with my thumb resting on the body.
The 2-way clip allows the flashlight to be attached to a belt or MOLLE gear (or pretty much anything thin enough) when not in use, and it can also attach to a ball cap for hands-free usage. In addition, the flashlight is light enough to be attached to a hat for long periods.
I played around with it a bit, and I am confident that I discovered the full functionality of the flashlight without looking at the included instructions (we will find out in a later section). The battery was easy to access, and the port for the charging cable was right on the side.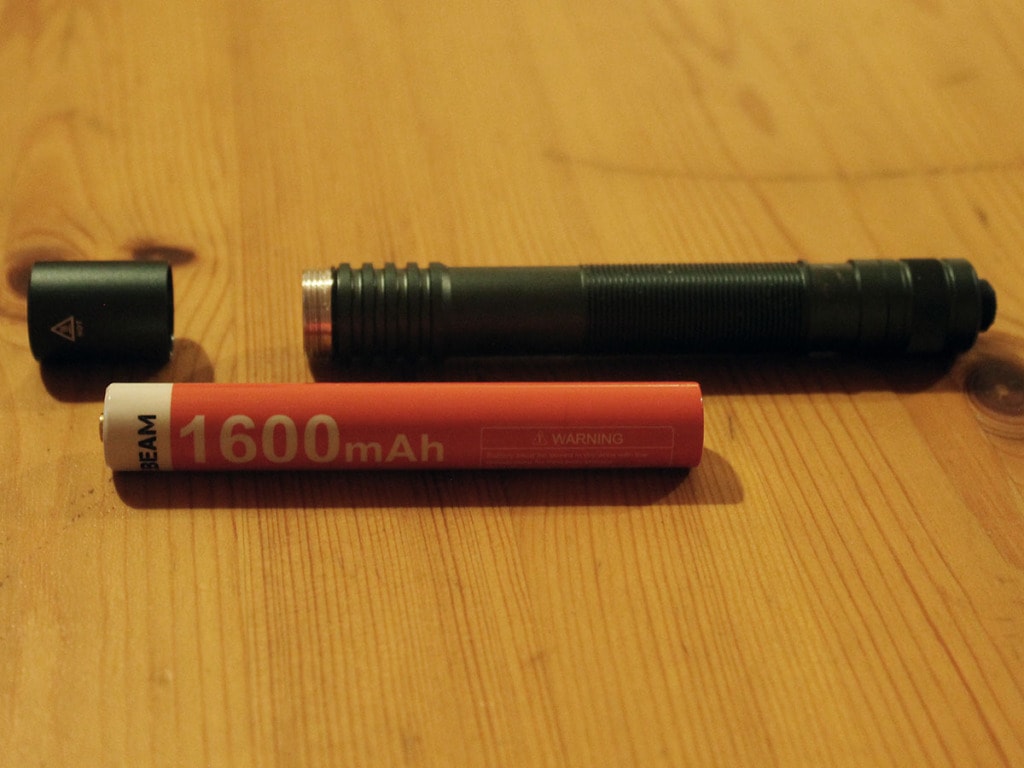 The only surprising thing was the battery's length – one of the longest I have seen in a flashlight. In a pinch, you can use 2 AA batteries instead of the rechargeable battery, since the included battery is the length of 2 AAs.
As far as the contents go, you get exactly what you need from an EDC flashlight.
Main Features and Technical Specifications
The Acebeam Pokelit 2AA is a simple EDC flashlight with simple functionality.
What You Get:
2 levels of brightness
1 button to control everything
Removable belt/hat clip
Up to 600 lumens and 101 meters
Rechargeable 1600mAh battery
Fast type-C charging
Light can operate on 2 AA batteries
Thin and compact
Tough aluminum body
Nichia 529A 5000K CR190 LED
High CRI for more vivid color illumination
One-handed operation
144 mm long
Lightweight design: 42 grams (without battery) / 85.5 grams (with battery)
IP68 rated
Impact resistance: 3.3 feet / 1 meter
Waterproof: 6.6 feet / 2 meters
1h 45m high-output runtime
Output, Runtime, and Beam Distance
The maximum beam distance of the Acebeam Pokelit 2AA is 331 ft / 101 m when used on high. The flashlight will give you 600 lumens for 35 seconds, and then switch to 360 lumens to not overheat.
There was no information on beam distance in low output.
If you use 2 AA batteries instead of the included li-ion rechargeable battery, you will get a lower output. The output on high is 300 lumens, moving down to 100 and then 50, and low will give you 0.5 lumens.
Output & Runtime:
High: 600 lumens (35 seconds) then 360 lumens (1h 44m)
Low: 20 lumens for 23 hours
Body Design and Materials
The body of the Acebeam Pokelit 2AA is sleek and durable. The main body is crafted from high-quality aluminum alloy, and is available in black and forest green. I preferred the forest green of the two colors, and was glad to have received that one.
The clip is also high-quality aluminum, and the button on the base of the flashlight is aluminum on the side with a rubber grip on top. This gives the button a smooth motion, while also providing an excellent grip (that will be especially useful in wet conditions).
The Acebeam Pokelit 2AA is both rugged and lightweight, and while it is impact rated for 3.3 ft / 1 meter, I am sure I could drop it from a much greater height without causing any damage. The threads on the head and base seal tightly so water will not get in – I don't want to test that out if I don't have to.
The removable clip is 2-directional, allowing you to clip it to your belt, kit, pocket, or hat. Perfect for everyday carry when hiking, fishing, camping, and much more.
The Beam
EDC flashlights are not designed to throw light an extremely long distance, but the 332-foot / 101-meter beam distance on high is impressive. And 600 lumens is bright enough for all your EDC needs, indoors or out.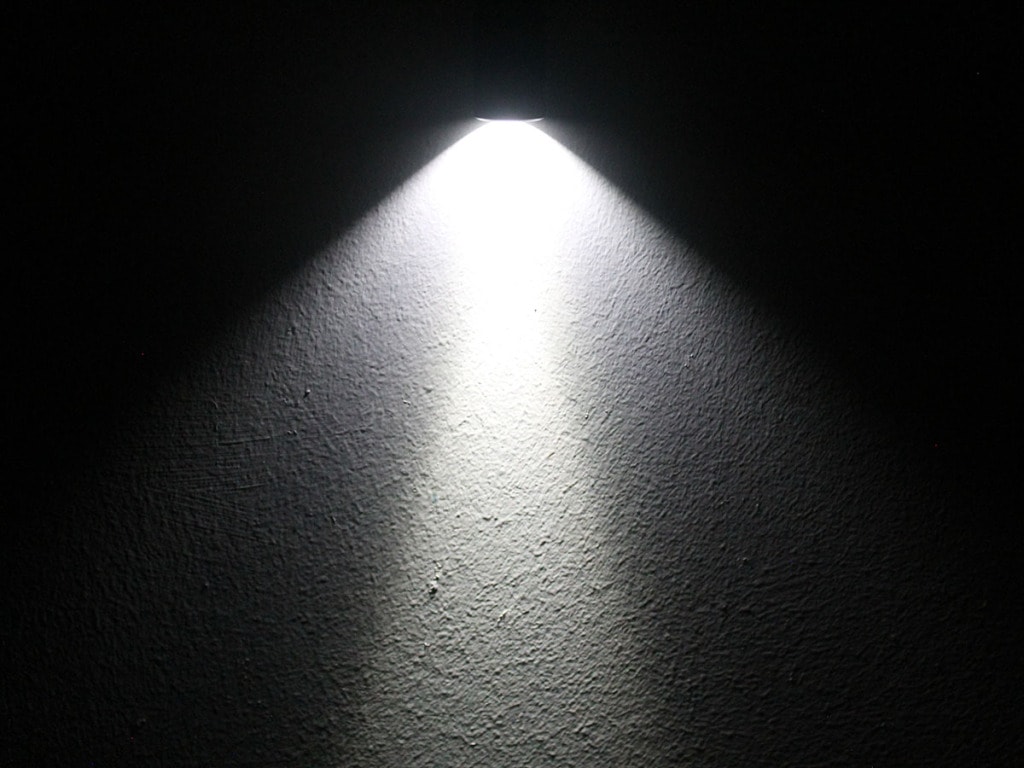 I am impressed by the distance and intensity of the beam, especially from such a compact flashlight, but the thing that interested me the most was the CRI value and neutral white light. The two combined give more natural illumination and realistic colors. As a result, when using the flashlight, you get colors that are not washed out, but rather look how they would look in daylight.
The Pokelit 2AA gives you a smooth beam with a relatively small hotspot compared to the overall splash, with minimal spill. The reflector inside the head is smooth, offering a definite whiteness to the beam and spill. All of this adds to the throw of the light.
This Pokelit 2AA has a wide beam pattern with a high-lumen beam for such a small flashlight. The EDC flashlight gives a good balance between natural illumination and beam distance, making it an excellent light for outdoor activities at night, like camping and fishing.
Operation
This is an extremely easy flashlight to use, since there is only one button. You can either half-press it or full-press it to switch it on and off and cycle through the two brightness options.
There is no memory mode on this flashlight, so it will always default to low when you press the button, if it has not been pressed for a few seconds.
Half Press
When the flashlight is off, press the button half way and hold it to activate the low mode. Then release the button to turn the flashlight off.
Quickly press and hold again to activate high, and release to turn the flashlight off.
Continue to quickly press and hold to cycle back and forth between the two modes.
Full Press
Fully press the button to switch on low mode. Fully press again to switch the flashlight off.
Do the same to switch on high mode, and press once more to switch the flashlight off.
Battery and Charging
The head of the flashlight screws off to reveal the battery. The rechargeable li-ion battery slides out, and the small charging cable is connected to the battery on one end and a USB port on the other.
USB-C charging is quick and the battery came partially charged, so I don't have accurate data for charge time. I hooked up the battery to the USB port in my laptop, and it showed a red light initially on the top of the battery, followed by a green light when fully charged.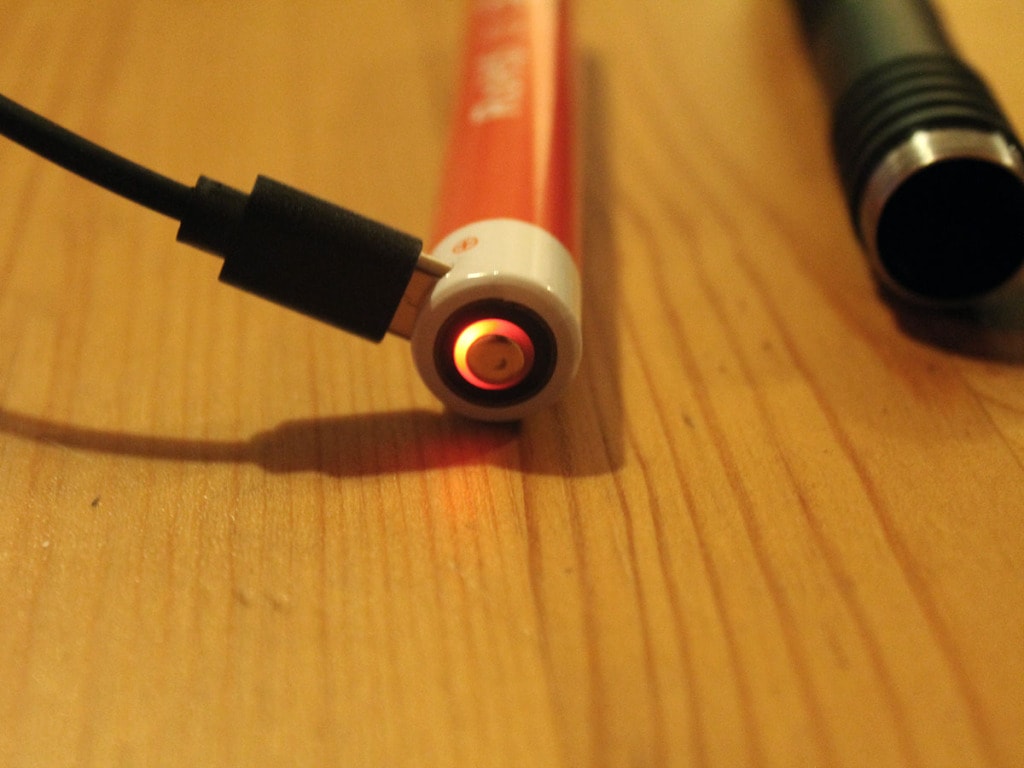 You can use 2 AA batteries instead of the li-ion battery, but you will have less power.
Conclusion
If you are looking for a simple EDC flashlight that gets the job done, look no further than the Acebeam Pokelit 2AA. There are no fancy bells and whistles here, but that's to its advantage.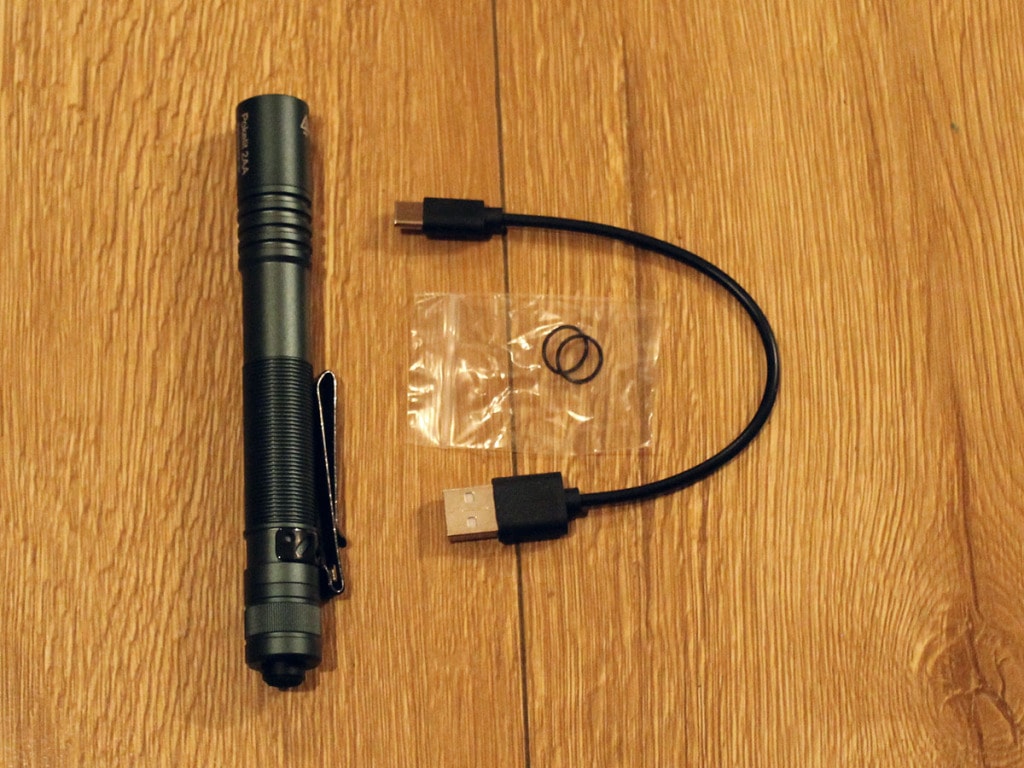 You have two light modes (low and high), a rigid aluminum body, protection from impact, dust, and moisture, and a long-lasting battery. The throw is fantastic for a flashlight so small and compact.
The Acebeam Pokelit 2AA is an EDC flashlight, and while I might not need to use it every day, I will be reaching for it a lot.