Note: We received this product for free. No other compensation was provided, and as always, all opinions are our own. We may earn money from links on this page, but we only recommend products we back. Learn more.
No matter where you live, sunglasses are a must. And they're even more important if you drive a lot and work outside as I do. Throughout my career as a forester and now a land conservationist, I have gone through countless pairs of sunglasses. So, when WMP Eyewear contacted us to try out and review their sunglasses, I said, "Sure!"
Since I have blue eyes, I'm super sensitive to bright light, and I wear my glasses even on overcast days. So, my review will cover how these sunglasses held up after day-in and day-out wear over several weeks.
A Company with a Mission
Before my glasses arrived, I did my homework on WMP Eyewear. Their claim to fame is they create fashionable glasses that are affordable for their customers. I thought this was pretty cool since glasses can get pretty pricey at times. They promise quality from a small, family-owned company. How can they offer glasses for a lower price tag? Careful selection of a Chinese manufacturer that aligns with their values.
They also commit to making products that are worn and made with purpose. And their purpose has paws! A portion of every purchase of glasses goes to the Arizona Humane Society. So, that's cool!
First Impressions
At Durability Matters, we test a good deal of products, and I can confidently say that WMP Eyewear's packaging and the personalized postcard were some of the nicest I've received. The exterior packaging was true-to-brand teal, and the box within was bright and inviting.
Within the box, I found–surprise–two more boxes and a very kind note! Each box held a well-protected pair of sunglasses, a glasses cleaning cloth, and some awesome stickers!
I received the Emerson and the Wesley models.
Sunglasses with Style
Both pairs of sunglasses offer a straightforward, classic style. I liked how both looked, off and on. They're very attractive without being too garish. Both the Emerson and the Wesley glasses can be worn with anything or for nearly any occasion.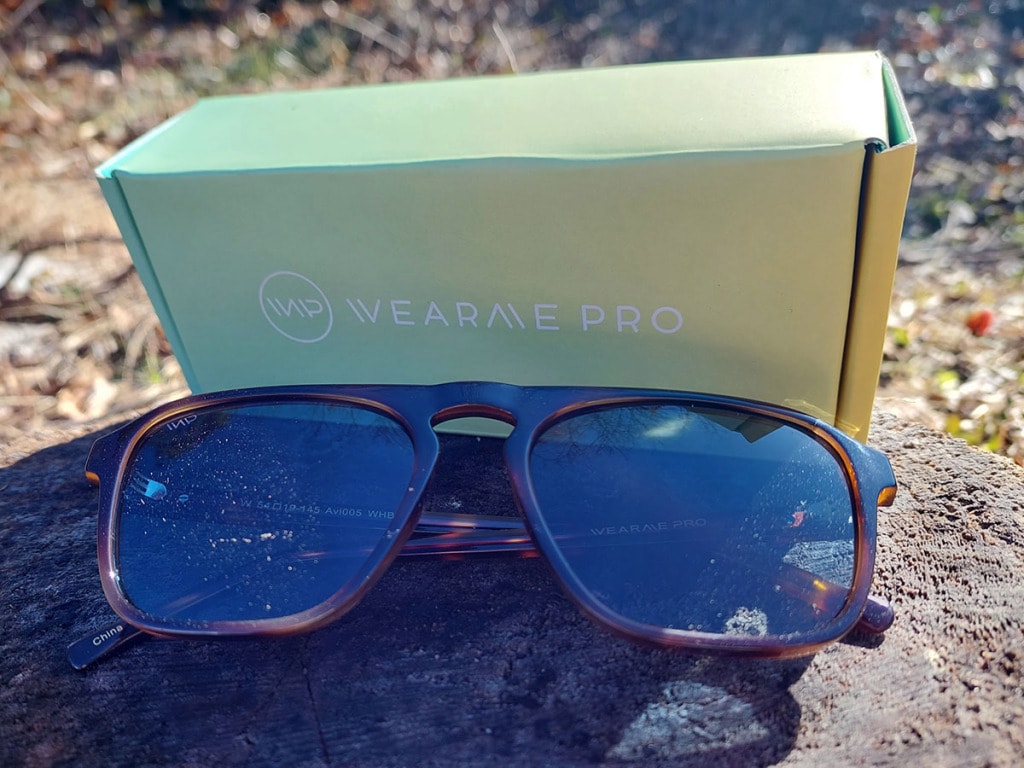 I like the subtle nod to the contemporary look of the Emerson frame. They're like a plastic aviator without the extra bridge over the nose. The tortoise shell looks great. They're well marbled and the coloration saturates the entirety of the plastic (it's not just a coating).
The Wesley offers a wink at Raybans without looking like a knockoff. These are extremely versatile and the back is solid, as well.
Logo Placement
WMP Eyewear is a brand built on the idea that you shouldn't have to pay a premium for a logo. However, they do smartly place their logo on the left lens in the top left corner and near the temple on the arm. The logo is tasteful, classy, and has the right level of branding.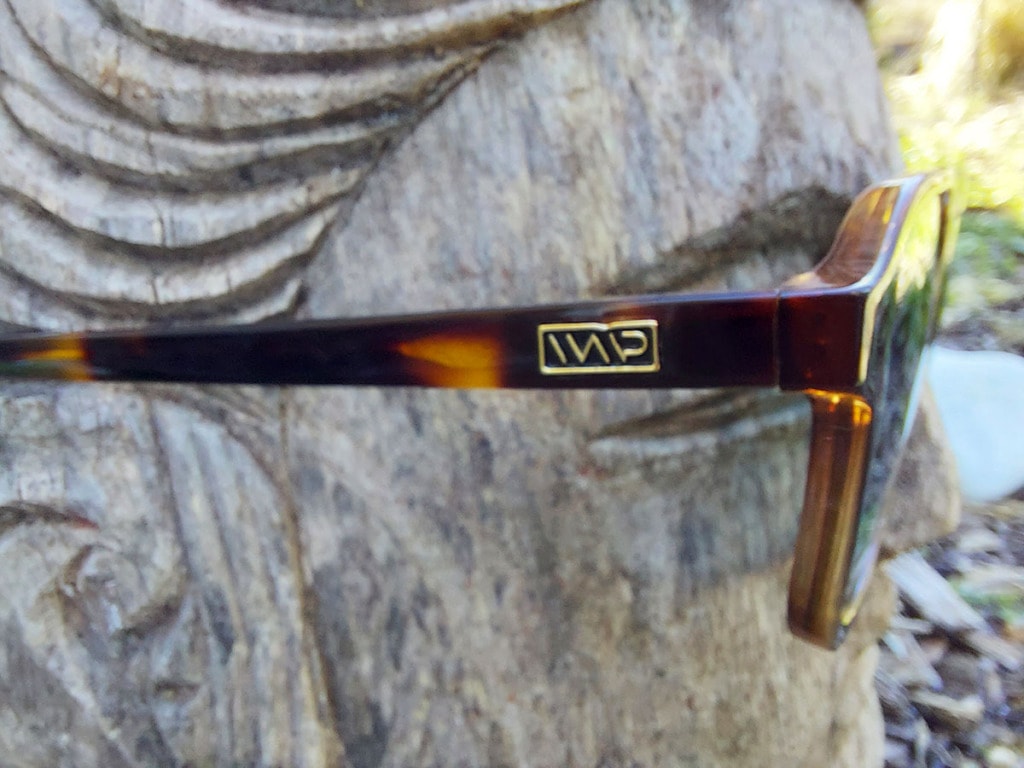 Sizing
One of the concerns I had about these glasses was if they were going to be too big or too small for my face. I was pleasantly surprised when they were an ideal, balanced fit.
The Emerson is listed as unisex on their website, but they were a bit big on my wife's face. She does have a narrow face, though. But she did say they didn't feel like they were going to slip down.
Frame Quality
My first thought when I opened the package to inspect these shades was, "Wow! The plastic of these frames feels like it could survive being sat on by an elephant." So far, they have not disappointed me at all. The frames are quite solid and durable.
On the Emersons you can clearly see the metal arm support. You won't find this in most 'fashion' sunglasses (they often have solid plastic arms). This metal provides extra support in keeping the frames tight on your head and prevents stretching the frame out over time.
I did notice that the Wesley frame is a bit stiff. The hinges on the arms seem to need just a bit more muscle to open. Additionally, these sunglasses do not have spring-style hinges that flex outward to prevent stretching over time.
Lens Quality
Both pairs of sunglasses:
Are polycarbonate: more impact-resistant than typical plastic
Are scratch-resistant
Have an anti-glare coating
Provide maximum optical clarity (not sure how this is measured)
Are polarized for less glare
100% UVA/UVB protection
The Emerson lenses are more transparent than those in the Welsey. The transparent nature of the lenses caught me off-guard. I felt like a darker lens would possibly provide better sun protection, however, they're both rated to provide excellent protection.
Comfort
One of the best features of these sunglasses is how comfortable they are to wear. Both frames are extremely light. I really thought they would be heavier considering the plastic of the frames is so durable. However, they're feather-light.
The glasses stay tight and do not slip down my nose. Nor are there any pinch-points to these frames. And they do not squeeze too tight to the point where they could give you a headache from too much pressure. If you lift your glasses onto your head headband-style when you go inside they don't slip off your head.
Durability
These sunglasses have held up well. There have been no lens-pops or broken arms. In fact, they pretty much look the same as the day they arrived. I don't keep either pair in a case.
I keep the Wesley in my car and the Emerson in my house. I primarily use the Emerson for outdoor work at home while the Wesley is my go-to shade for driving and errands. I haven't noticed any marks on the lenses, yet. Overall, I'm very pleased that these glasses aren't fragile or flimsy.
Related: 16 Sunglasses Brands with Lifetime and Limited-Lifetime Warranties
On The Cons Side
While it may seem a bit inconsequential, I have a few minor complaints about these glasses. First, sometimes they reflect light from the bottom corners on the inside of the lenses. This can be a bit distracting and a tad uncomfortable if the sun is behind you.
Second, the lenses on the Emersons are just a tad too transparent for me. You can see my eyes through them (which doesn't bother me but may bother some people), and on bright days, I find myself squinting while wearing them.
Final Thoughts
These sunglasses offer great value. They perform like sunglasses that would cost you twice as much (or even more). They're comfortable, stylish, and durable. I appreciate that WMP Eyewear is an American family-owned business that supports a Humane Society.
If you're looking for sunglasses that make you feel good when wearing them and when purchasing, WMP Eyewear is a great decision. You won't regret the quality or the company's kindness.
Additional Photos