Note: We received this product for free. No other compensation was provided, and as always, all opinions are our own. We may earn money from links on this page, but we only recommend products we back. Learn more.
I've worn my fair share of workwear, including Carhartt, Duluth Trading Co., Caterpillar Apparel, and various others. So, I was excited to try out a new brand and discover how BRUNT Workwear compares to some of my go-tos. As someone who relies on their workwear every day for protection, comfort, and utility, I knew that I could provide the insight readers need to 'try on' BRUNT before investing in their gear. I paid careful attention to comfort, fit, flexibility, and durability, so I hope this hands-on review of BRUNT's Shevlin Hoodie and Torra Pant provides you with clarity about whether these clothes will live up to your expectations.
BRUNT Workwear
It seems like the big players in the workwear industry have monopolized the markets for decades, so it's refreshing to see a new player in the game, with affordable offerings that truly focus on the needs of tradespeople.
First Impressions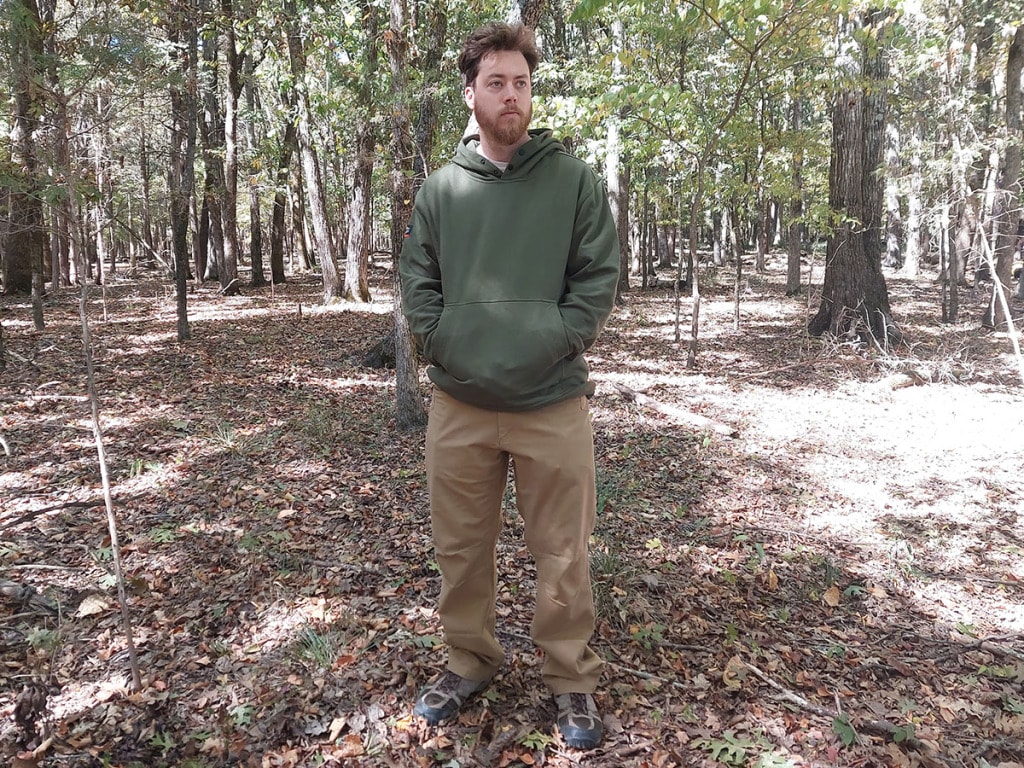 BRUNT doesn't overly package their gear, and I appreciate this. Excess packaging and plastic can be quite wasteful – plus, fancy packaging is just an added cost.
When the Shevlin hoodie and Torra pants arrived, the first thing I noticed was how soft the materials are. Often, work pants are stiff, and even scratchy, before a few wears and washes. The Torra pants are neither stiff nor scratchy.
The next thing I noticed was how lightweight they are.
The Shevlin hoodie is also remarkably soft. The exterior is smooth to the touch, while the interior has that 'can't resist running my hand over it' feel. Honestly, after feeling just how comfortable and soft this fabric is, I worried the hoodie may not be able to handle the wear-and-tear I would put it through.
Style and Fit
When it comes to workwear, utility often takes precedence over style. However, I often meet with landowners, or need to go from the field into the office, and vice versa. Plus, no one wants to feel out of place if they go into a restaurant for lunch or stop by the store on the way home. Luckily, BRUNT's hoodie and pants look great and fit well, allowing you to blend in to any environment.
Neither item of clothing has garish branding.
Torra Pants: Room to Move & Look Great
I ordered the Torra pants in the tan coloration, with a 36" waist and 32" inseam. I wanted a little extra room, and knew I could always throw on a belt. I've been burned before by other brands that run small, and a waistband cutting into me is the last thing I want while I work.
The outcome: The Torra pants strike the perfect balance between offering room to move and not being too baggy. The pant legs cover the tops of my boots, which is what I look for. I don't want dirt, debris, or ticks finding their way in while I work.
Shevlin Hoodie: A durable option for all seasons
The Shevlin hoodie also fits extremely well, and it doesn't create the paunch effect that other hoodies give. The hunter green is also very attractive.
The sleeves are a tad long, but that's better than being too short, in my line of work. It prevents gaps between my sleeves and if I need to wear gloves. The length of the hoodie is also great. It is long enough that it will cover the top of your pants as you squat down to work.
The hood is luxuriously large. It will cover your ears, and snaps closed up the neck to the chin, to prevent wind intrusion. I can also see the larger hood being a huge advantage if you wear hearing protection or a hard hat.
Utility
These clothes are built for work. They're well-designed, without any frivolous tags that can get caught while you work. They're also designed to function in harmony with your work tasks.
The belly pocket on the hoodie has plenty of space for items like plans or a folded map. It also has a hidden pocket for your phone. This is great, since it keeps your phone from bouncing around and in an easy-to-access location. I appreciate this design detail, because working with a phone in my pants pocket can restrict movement when it comes to bending.
The Torra pants also offer intelligently-designed details that come in handy. One of my favorite details is the reinforced belt loops – nothing frustrates me more than having a belt loop tear off the waistband, rendering an otherwise good pair of pants trash.
The slanted back pockets reduce fumbling when I need to slip something into my pocket, and they're wide enough to not trap my hand when I'm retrieving something.
The knees on the Torra pants are an unsung hero. They're extremely comfortable, and you will not even think about constricted knees as you squat and bend. I've worn other pants that actually chafe my knees and rub away hair – these pants will not do that.
Again, the extra room in the pants offers a great balance between easy movement and the right amount of extra fabric. The pockets are deep, too.
Comfort
Yes, these clothes are comfortable. They truly are extremely lightweight, which is so refreshing after wearing so many heavy workwear fabrics.
The hoodie has quickly become my favorite piece of clothing. It's warm and cozy, yet breathable. Even after several washes, it remains soft as fleece.
The pants are more comfortable than some of my previous favorites (including Duluth's firehouse pants). At no point during the workday do I think about them, which is a great sign. They're lightweight, breathable, and flex with the body.
There's no gapping at the back when you bend down, and they don't ride up or rub as you walk or work.
Durability
So far, BRUNT workwear has lived up to its promise. These clothes are tough, and hold up well. The hoodie and pants have yet to show any wear and tear. This is especially impressive when it comes to the hoodie – I was quite worried that, because it was so soft, it would develop pilling and snags from working in the woods. So far, the hoodie remains smooth, without holes, seam splits, or snags.
The fabrics of both items also wick away dirt, so you can get away without washing them after every wear. Because they're breathable, they don't get grimy or funky from sweat quickly.
BRUNT Workwear: Clothes That Earn Their Place in Your Closet
If you're looking for workwear that offers more comfort, versatility, and durability than the standard big brands, BRUNT Workwear is a safe choice. Their clothes are lightweight, yet durable, and designed with work utility in mind. Both the Torra pants and the Shevlin hoodie are superb value for their price. When I wear these clothes, I don't feel like I'm settling for "adequate" – I feel like BRUNT has designed these clothes to meet every expectation I could conjure up.