Note: We received this product for free. No other compensation was provided, and as always, all opinions are our own. We may earn money from links on this page, but we only recommend products we back. Learn more.
This clothing could not have come at a better time. I am traveling from Calgary, Canada to Edinburgh, Scotland in two months, and I have to admit that I don't have any dedicated travel clothing, nor did I know that there was such a thing (except for wearing your most comfortable clothes for a long flight).
I will be taking two flights (with my family) with a total travel time of 13 hours to get there (and that doesn't include the time before boarding the first flight and after disembarking the second flight).
So, I was equally intrigued and excited to have the chance to try some dedicated travel clothes that were for much more than just the physical traveling part. I hoped the Airway 2 Travel Pants and Upgrade Soft Shell Jacket would be useful on the long flights and during my time in Scotland.
First Impressions
Delivery was extremely quick from receiving the notice from NxTSTOP that my order had been processed to having the package arrive at my door. Customer support also emailed before sending out the order to confirm the correct sizing, and during shipping to give support and answer any questions related to the product. I did not have any additional questions, but it was good to have a point of contact if needed, and I would assume from my interaction that this level of professionalism carries on to customer support for all customers at all stages of the ordering and aftercare process.
The two items of clothing came in one plastic package, and within that, the pants and jacket were individually wrapped. The jacket came in a 100% recyclable plastic bag, and the pants came in a 100% compostable bag. I am always looking for companies that reduce waste, and this was a definite positive for me.
The Look & Fit
As I always do with clothing that has just arrived, I tried the pieces on. When ordering, I used the size chart on the website to choose sizes for each individual item, choosing XL for both. When I tried them on, they both fit me, so the initial impression was good.
I tried on the jacket atop a t-shirt, and the fit was good with enough room that I could wear a second layer beneath, and not so bulky that I could not wear an additional jacket on top.
The pants were also the right size, and the elasticated waist means that you do not have to worry about adjusting them. They come with a lot of pockets, and I know that I will be able to fill them without the pants slipping down. There is also a cord that can be tied to give extra support. There are loops for you to add a belt.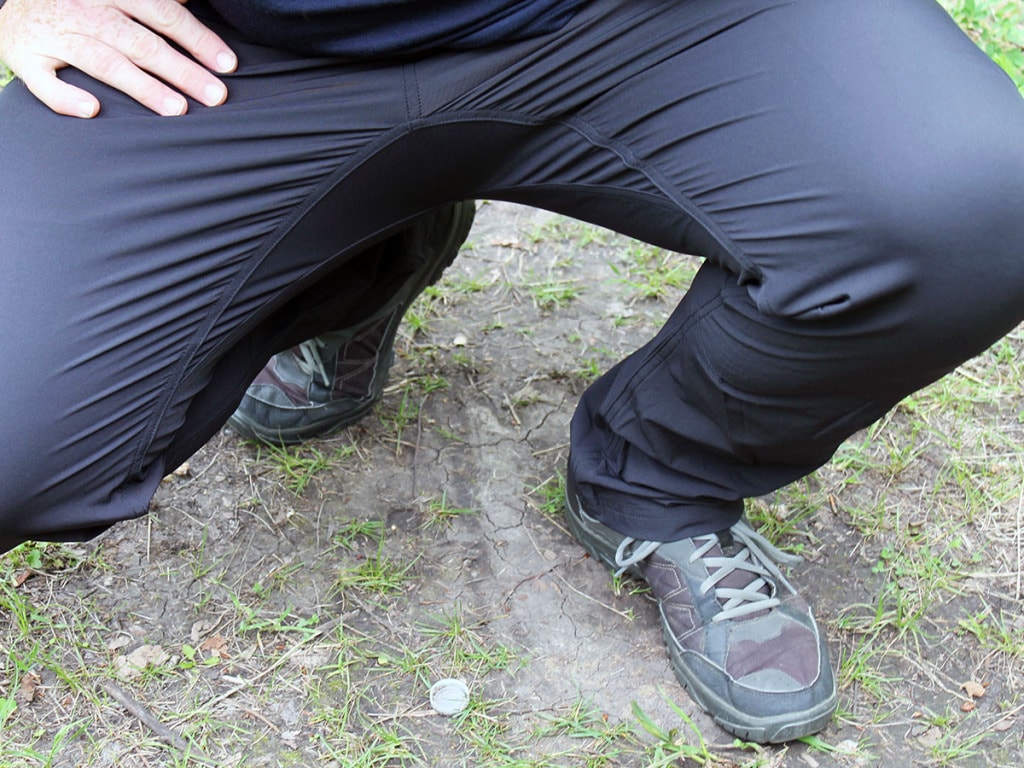 As far as the look, you can't really go wrong with black. At the moment, that is the only color that both items come in, and I am not sure if there are future plans to branch out with more colors. I liked the color. The jacket's color is on the slightly lighter side, but the two items pair extremely well together, and I liked how I looked in them.
So far, I was happy with what I had received, and I can definitely see myself traveling in these clothes.
Material
Airway 2 Travel Pants
The pants are 90% recycled nylon and 10% spandex. Again, I am happy that the company uses recycled material, and being on the larger side, I appreciate the elasticity that comes from the spandex. The pants have a gentle stretch that makes them comfortable around the waist and thighs (they are comfortable all over, but those are generally the two points I feel most restricted).
The combination of nylon and spandex means the pants are wrinkle-resistant (great for travel or someone who does not like to have to iron clothes). The material feels durable when I have the pants on, and it is thin and lightweight—a definite positive. Scotland is a rainy country, so it is a great benefit to have quick-dry pants. The Airway pants dry within the hour when wet (also great for biking in the rain, which I do occasionally in Calgary). The pants are also odor-resistant.
Basically, all of the above translates into comfortable pants that can be worn again and again in multiple situations before they need to be cleaned.
Upgrade Soft Shell Jacket
The exterior of the jacket is 86% recycled polyester and 14% spandex. Just like the pants, you have material that is not being wasted, and a 4-way stretch that keeps you comfortable when traveling. The exterior of the jacket is also water-resistant (again, Scotland has its fair share of rain). From the details on the website, and from wearing the jacket for a short time, I know it is going to keep me warm, and it is going to keep out the wind and rain.
The interior is brushed fleece, and that is where a lot of the warmth comes from. I would always wear a layer under the jacket, but from wearing a t-shirt below, I can feel how soft the fleece is on my arms, so there is going to be no annoying rubbing at the color or cuffs.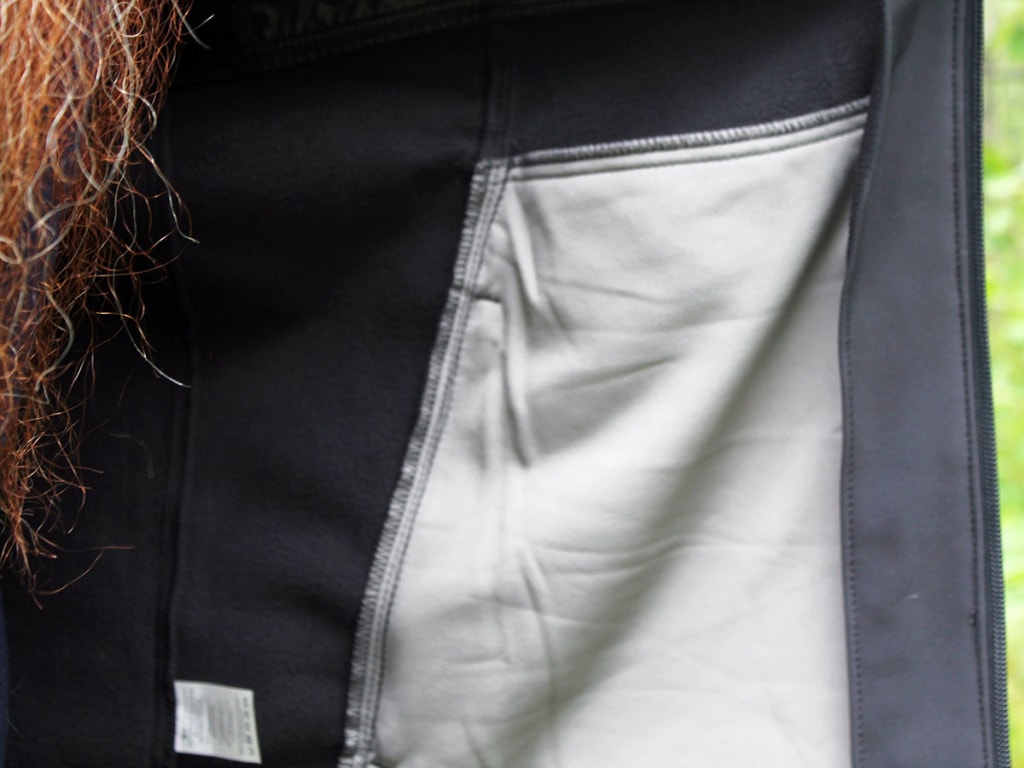 Features
These garments are meant for travel, so they should offer more than just comfort, and they most certainly do.
Airway 2 Travel Pants
4-way stretch
Anti-microbial
Internal drawstring and stretch waist
Wrinkle-resistant
Quick dry (< 1 hour)
Uses recycled material
3 back pockets – 1 zippered
4 front pockets – 1 zippered
Upgrade Soft Shell Jacket
4-way stretch
Water-resistant and wind-resistant
Water-resistant chest pocket (zippered)
2 additional zippered pockets
Jersey cuffs to lock in warmth
Warm & comfortable
Caring For NxTSTOP Clothing
The pants are wrinkle-resistant and anti-microbial, so you will not have to care for them as you with other pairs of pants. You can wear them at least twice as long as traditional pants before you need to wash them. When you do, machine wash them on cold and hang them to dry. You can iron them on cool heat if you want to.
You can follow the same care instructions for the fleece jacket, and how often you wash it is up to you.
Shipping, Customer Service, and Warranty
NxTSTOP ships anywhere in the world, and they have partnered with Amazon to ship within the US. That means free shipping in the US with orders over $50. If you have an Amazon Prime account, you might be eligible to receive free delivery for items under that amount.
Items can be returned within 30 days as long as they have not been worn or washed, but this is only available within the US. All items shipped outside the US are considered final sales.
I don't know if there are exceptions to the rule, but I do know that NxTSTOP provides exceptional customer service, so if there is a problem with your clothing, I am sure they will do everything they can to make it right.
Conclusion
I have never really thought about dedicated travel clothing before, and now I have a full outfit, and I am happy that I do.
The website does explain that the clothes are about travel experience and not only travel. They are clothes that are eco-friendly, comfortable, and stylish. This is clothing that I can see myself wearing in a variety of situations.
Both items are extremely comfortable, and I am happy to add them to my wardrobe. I feel and look good in them, and I like that they can be paired with a variety of clothing and used in many different formal and informal events.
I would recommend NxTSTOP clothing for travel and much, much more.