Note: We received this product for free. No other compensation was provided, and as always, all opinions are our own. We may earn money from links on this page, but we only recommend products we back. Learn more.
There are few work bags as timeless in style and convenience as a messenger-style, leather satchel. Yet a quick Google search will pull up hundreds of brands and styles at varying prices. This can make finding the best workbag for your money difficult to do. And, the reality is, not all leather goods are constructed as durably as they should be.
Additionally, you want to invest in high quality leather that will last a lifetime – or as Kodiak Leather suggests, leather that will last "beyond lifetime". So, does the Kodiak Leather Satchel live up to this promise? We'll dive into its quality, design, and more in this in-depth review, with the goal of aiding you in your decision as to whether or not this bag is best for you.
First Impressions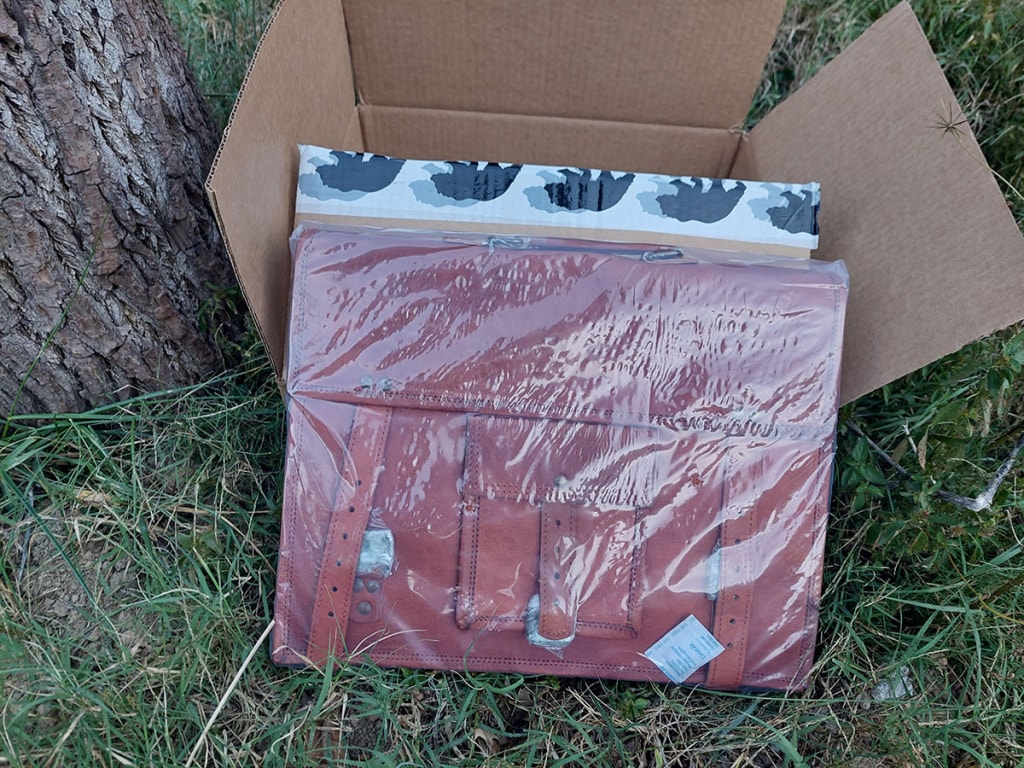 The Kodiak Leather Satchel arrives wrapped tightly in plastic in a no-frills box, in a timely fashion. The Kodiak team is careful to ensure that all of the brass hardware is protected by plastic cling. Additionally, the bag is well-stuffed with paper to help it keep its shape in transit.
The first thing you will notice about your Kodiak bag is that iconic leather scent (indicative of a high-grade leather), followed by the stunning orange-tan glow of the leather. The classic green canvas lining is a delightful contrast to the leather, and reflects the quality you would expect from a superior bag.
Style
The Kodiak Leather Satchel is flawless in style. I received a bag with the chestnut coloration, which is rich, yet bright, without looking dyed or too red. This bag is extremely attractive, with all the external elements being well-proportioned and balanced with one another. It is also lightweight, and pairs well with a range of personal styles. This satchel is both masculine and professional, without being too bulky. It wouldn't look out of place in a traditional office, but it could also work with a more hipster-esque style for a graduate student.
Overall, this satchel offers a minimalist approach to a leather bag. The exterior pocket and handle lie flat when not in use, which makes the bag sleek. The brass hardware is timeless, and melds perfectly with the leather.
One thing you will notice is that the bag lacks any emblems or logos. I can appreciate this, since it could detract from the simplicity of the design.
Design and Utility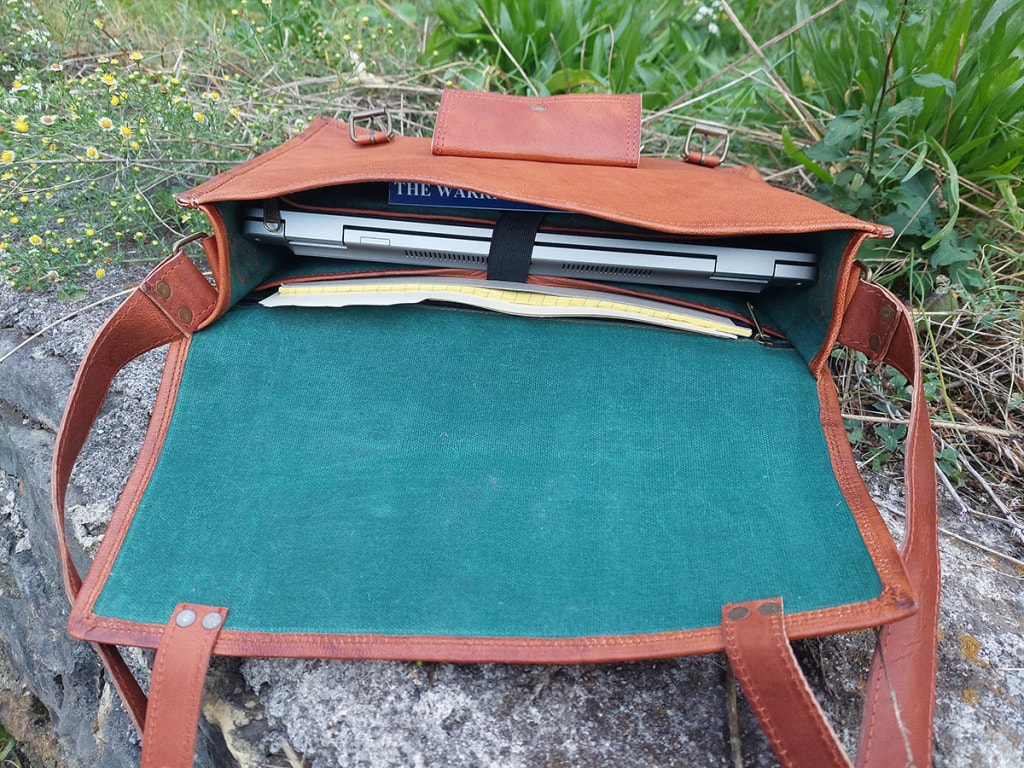 For a briefcase or satchel, this bag is remarkably well-designed. There are so many compartments that it's easy to stay organized and access what you need, quickly and effortlessly.
Carrying a Laptop
The laptop compartment holds my laptop snugly. Of course, because of the nature of the bag, there's not as much padding as you would find in a typical laptop bag. However, the back laptop pocket does have reinforced panels. You just don't want to plunk this bag down with your laptop in it.
Size
This bag is 15" x 11" x 4".
I appreciate that the bag is not bulky. It is easy to carry with the handle or shoulder strap. The shoulder strap is easily adjustable, so you can carry it across the body or over the shoulder.
Storage
You will read in the product description that there are 3 main compartments. This is accurate, but the two "full-length zippered side pockets" are quite generous, and can hold a decent amount, too.
This satchel easily fits my laptop, along with several manila folders of papers, my small electronics, and some pens.
Functionality
I appreciate the small exterior pocket for quick retrieval of pens and other small items, even though the bag isn't so deep that items get lost in the bottom. The buckle belt-style closures are straightforward and built to last.
If you're used to just zippers or plastic clip buckles, the traditional closures may slow you down or even frustrate you at times. But they do hold tight.
I've also owned shoulder strap-style bags that want to tip over as you go to access your papers or laptop; this bag doesn't have that issue.
Comfort
The Kodiak Leather Satchel is quite comfortable to carry. I find myself using the handle when moving more quickly, to prevent that annoying bag bounce against the hip that happens with every shoulder-strap bag.
The shoulder strap is wide to disperse the weight of the bag well, and having a shoulder strap long enough for a cross-body option is really nice for travel.
Veg Tanning or Vegetable Tanning
I appreciate that Kodiak takes a more eco-friendly approach by vegetable tanning their leather. Not only is this the most time-tested approach to tanning leather, but this process is actually more sustainable and has less impact on the environment than either faux leather or chrome-tanned leather. Plus, if your bag lasts forever, you also reduce lifetime waste.
The result of veg-tanned leather makes every piece unique. As the bag ages, its one-of-a-kind patina will become more and more apparent.
Durability and Quality
I strongly believe the Kodiak Leather Satchel will last a lifetime as an everyday carry (EDC) bag. The traditional artisan approach to construction is apparent in every inch of the bag. Each seam is flawless, and all of the rivets are tightly in place.
Related: The 5 Most Durable and Stylish Leather Satchels
After carrying the bag for several weeks, I feel it has proven its worth and has not failed me. All of the seams have stayed tight, and there are no signs of stress around the rivets.
Drawbacks
The only drawback to this bag is that the buckles will slightly slow you down if you're in a rush. Kodiak could have also added pen compartments to the wall storage areas and the exterior small compartment.
The Kodiak Leather Satchel: Excellent Quality & Timeless Utility
The Kodiak Leather Satchel is an EDC workbag that is made to last. It's exceptionally well-designed and glows with style. While the bag tends to be more masculine in style, it is compact enough and beautiful enough to work for any gender. I could see this bag being ideal for a graduate student, a professor, an engineer who spends time in the field and office, or any other working professional.
Additionally, the value for the price holds up. You can rest assured that the quality of any Kodiak Leather bag or other product will live up to your expectations.