Note: We received this product for free. No other compensation was provided, and as always, all opinions are our own. We may earn money from links on this page, but we only recommend products we back. Learn more.
A space-grade aluminum smart wallet?
A few years ago, I would have wondered exactly what you were talking about, but with advances in wallet technology, these wallets have become a staple in the accessory world, being practical, durable, and secure.
I got to try out the Aluminum Cardholder from Ekster, with its patented innovative card-access design that fans your cards out (up to 6) with the press of a button, cutting down on the profile of the wallet while also blocking radio signals that may steal your identity or credit card details.
This wallet is durable and really, really cool. Let's check out why.
Quick Overview
The aluminum wallet has space for 6 cards on the inside, and an additional 9 on the outer clip (or a combination of 9 and banknotes. Seeing as I never carry more than 15 cards around with me, this is a practical wallet that will fit into my life.
The one thing that is obviously visible, from look and feel, is the durability. The space-grade aluminum is going to hold up better than any fabric wallet and last as long as a premium leather one. The only concern would be scratching up a phone if kept in the same pocket, but that is something that is easily remedied (and I don't know anyone who carries their stuff like that).
Related: 5 Best Metal Wallets for Men: Durable, Stylish & Spacious
There are 10 colors to choose from, and the wallet is slimmer than almost every other bifold or trifold wallet out there, especially when the cards are inside.
Material
The main body of the wallet is crafted from space-grade 6061-T6 aluminum. The expandable backplate is also aluminum, held on with a thick elastic strap with an aluminum clip.
The button used to access the cards is plastic, and I could not tell you the materials of the inner workings (which cannot be accessed and look plastic by looking down into the wallet).
One thing that I really like about the wallet is that the body is a single piece. It is open at the top for card access and open at the bottom to fit the mechanism, but there are no seams on the body, adding a lot of strength.
If you want a wallet that is durable and is going to last, then this is well worth your consideration. Even if you drop this on a solid surface, like concrete, it is not going to break, will unlikely dent, and will need some real force to be scratched. With your cards inside and even outside, they are going to have protection.
The wallet is smooth and light. It fits easily in your hand, and the material looks sleek and flawless.
My only concern would be the internal mechanism failing, but from the look, feel, and design of the product so far, I cannot see that happening any time soon, and Ekster offers a 12-month warranty on all their products.
Size
The wallet measures in at 0.29″ x 4.1" x 2.3".
As far as wallets go, it is one of the smallest that I have handled, especially when you realize that it is not going to increase in size from folding out (the thickness will increase depending on how many cards you add to the backplate).
If you want to make the wallet smaller, you can remove the backplate and strap and only use the main body of the wallet, carrying around 6 or fewer cards.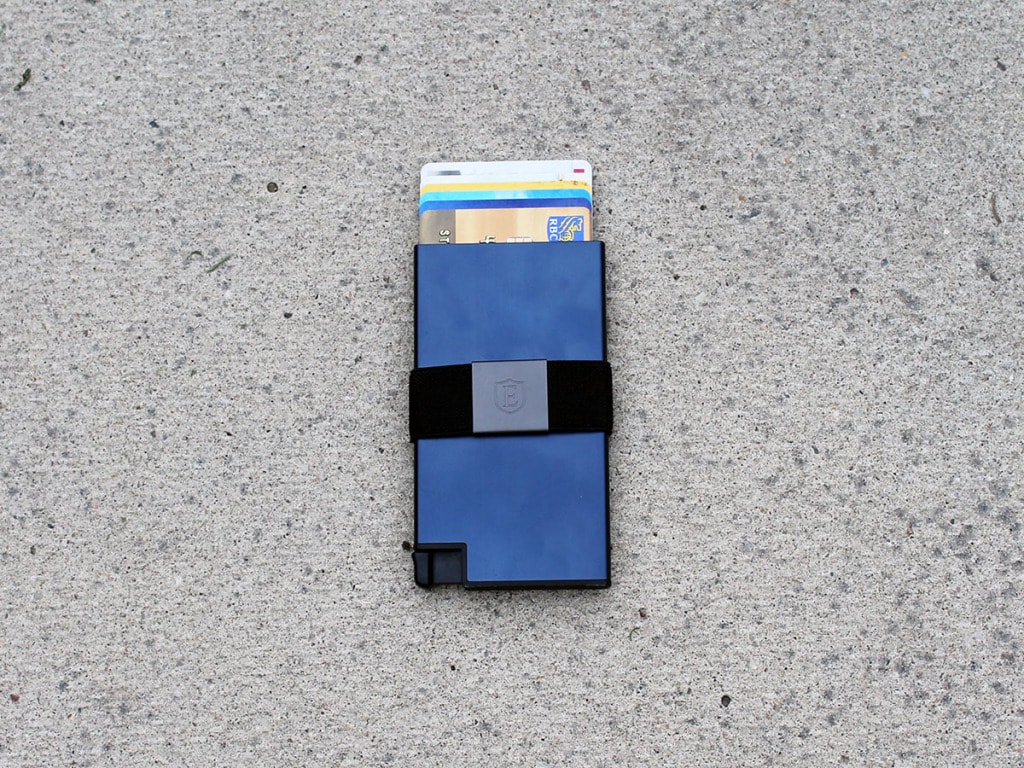 The wallet is marginally wider than a credit card, friction is used to keep the cards in the wallet, and it is about an inch taller. The backplate is around the exact size of a credit card. The extra height of the main body allows for the internal mechanism that lifts up your cards.
As far as wallets go, it is small and compact and will fit into any pocket or bag without adding too much weight. It is recommended that you do not sit when the wallet is in your back pocket as it can cause damage.
Functionality
We can break the functionality of the wallet down into two main areas: innovative card access and RFID blocking technology.
Card Access Part 1
The main body of the wallet allows you to hold up to 6 cards. It is recommended that you have at least four in there for the wallet to function correctly, though it will work with fewer. When you slide your cards in, you will notice that there is a strip of what looks like textured rubber running down one side of the interior. This is what stops the cards from falling out, should the wallet be held upside down, either in your pocket or as you are using it.
Once you have all of your cards slid into the main compartment of the wallet, you simply need to press in the button on the lower corner of the wallet to raise them all.
They will be raised slightly above the top of the wallet (enough for you to grab any of them), with each one slightly more elevated than the one in front so that you can see all six of your cards. This way, you can slide one out without disturbing the others. When you are done, simply replace the card and push them all back down into the wallet.
Card Access Part 2
If you have more cards than the main body of the wallet can hold, you can secure them in the backplate (along with any bills). The backplate will hold up to 9 cards against the body of the cardholder, securing them.
There is a piece cut out from the bottom of the backplate, allowing you to slide your cards up with your thumb for access.
Related: Ekster Solar-Powered Tracker Review & Guide
The cards are not as easy to access as the main body (I mean, they are still easily accessible), so this is a great place for your less frequently used cards.
RFID Technology
When your cards are in the main body or the backplate, you will benefit from the wallet's RFID technology. Any cards that have a chip in them, or can be accessed by radio signal, will be protected. This stops anyone from stealing your identity or credit card information. It also stops your cards from being read by other devices (for example, a pin pad accidentally scanning your credit card chip as you walk past).
Card & Money Pockets
As mentioned in the article, there is space for up to 15 cards (6 in the main body and 9 in the backplate). The backplate is also where you can store any bills. You may not be able to fit 15 cards and a stack of bills, but there is certainly enough space for most users.
The only downside is that there is no coin storage. As we move to a cashless system, this is not usually a problem, and people do not usually carry coins, so I would not even consider this a negative.
Overall, the wallet has a solid and minimalist feel, and I like it.
Conclusion
This is a really good wallet.
The key feature may be the patented innovative card-access design, and I do love how that works, but durability is a big factor here too. With space-grade aluminum, the wallet can take a beating and still look as good as new.
If you want something solid while still remaining light, then this wallet is for you. You are also going to impress your friends when you access your cards, sliding them out with ease while they are all fumbling around. Though, this might mean that the drinks are on you.
Sale
BUY FROM AMAZON